When You Can Find The Best Holiday Decor Clearance Sales At Target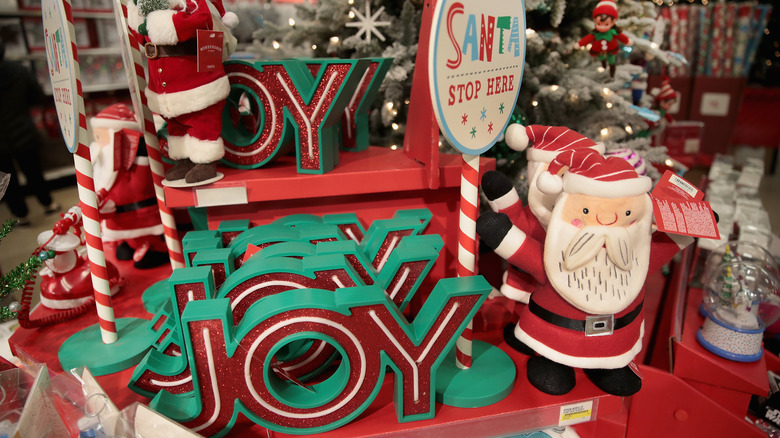 Scott Olson/Getty Images
If you're into the thrill of finding a good deal, you probably love the hype around holiday discounts. One store that you can always count on for a great clearance section after major holidays is Target. This retailer significantly marks down their items once each holiday is over, so that you can stock up for next year without breaking the bank.
According to Hip 2 Save, when perusing holiday clearance aisles, you should keep your eyes peeled for certain items. The site recommends looking out for cheap disposable plates and bowls, as these could be used even after the holiday season. You could also try to get your hands on some discounted wrapping paper to store for the next holiday season. If you love eating pumpkin spice flavored goodies in the fall and peppermint candy in the winter, you're sure to find these items during the sales as well. Below we've highlighted the details on exactly when to hit up Target in search of Halloween and Christmas clearance sales.
The day after Halloween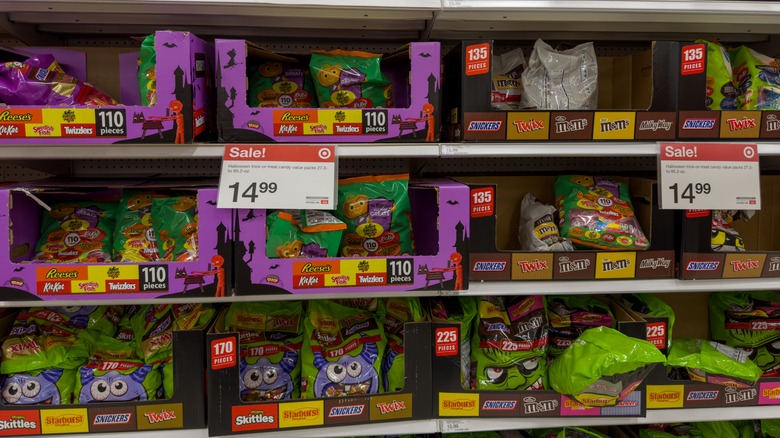 melissamn/Shutterstock
On November 1, you should start seeing discounted Halloween decorations at Target. According to The Krazy Coupon Lady, these discounts begin at 50% and may raise as high as 90% a week later. If you're looking for a costume or some spooky decor for next year, this is a fantastic way to score great stuff and also save some money. Of course, you'll want to get to the store as early as possible because just about everything sells out fast. 
All Things Target says that Halloween candy and food typically begin at a 30% discount, but sales have on occasion started at half off; you'll have to see for yourself how much of a deal you can get on these items. Lucky shoppers may snatch up next year's costumes for as little as $3 each. Also, some of the products that are marked down may not be specifically Halloween-themed; they may just display the season's autumnal colors. Therefore, you might find goods deal on items that don't only have to be used in conjunction with All Hallows' Eve. Coupon Cabin recommends stocking up on discounted candles and lights that you could repurpose as Christmas decorations.
The day after Christmas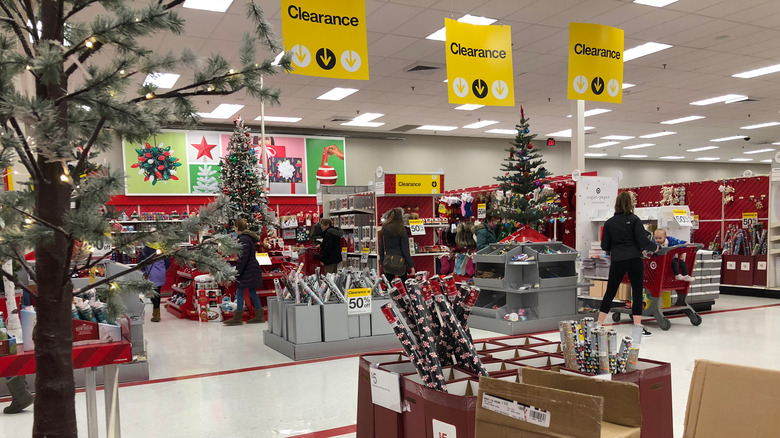 melissamn/Shutterstock
Just like the Halloween sales, Target's Christmas clearance begins the day after the holiday, on December 26. The Krazy Coupon Lady reports that the discount can vary. Sometimes it begins at 30% to 50% off, but it has also started at 70% off. Everything including decorations, gifts, wrapping paper, and baking supplies will go on sale, and they could be as cheap as $2 or less. However, as with Halloween, items can and will sell out quickly, so you'll want to take advantage of the deals as fast as you can.
Blacker Friday notes that, in 2021, the post-holiday sale included clothes, toys, and beauty products (along with decorations, of course). The sale ended on January 1, and the availability and discount amount varied from store to store. Hip 2 Save claims that you could possibly find knocked down prices even after New Year's Day, though we all know your options will be very picked over and limited!