Good Bones Star Mina Starsiak Hawk's Best Tip For A Cozy Feeling Kitchen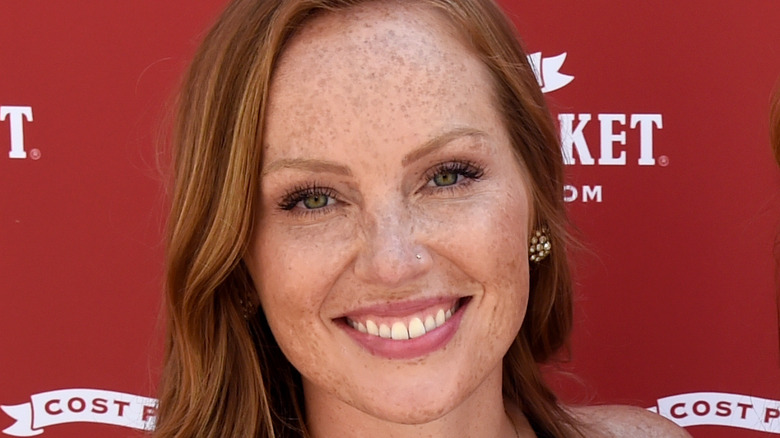 Michael Kovac/Getty Images
Whether you're crafting intricate meals or spending a little time with the family, a cozy kitchen is the best setting. Creating a cozy space makes it feel more inviting, a place where you want to spend a significant amount of your time, and there are plenty of ways to do that. First, you can add warm-toned lighting to set the mood in your space, suggests Posh Pennies. Then consider adding different textures with rugs and textiles and incorporating plants or flowers to add some life.
Mina Starsiak Hawk has one material she tends to gravitate to when redesigning kitchens on HGTV's "Good Bones." HGTV recounts some of Starsiak Hawk's most loved designs, and they all have one thing in common: butcher block counters. These wood counters are stylish and timeless, adding a little warmth, texture, and visual interest to the space. These qualities make butcher block a great alternative to stone materials.
Butcher block adds warmth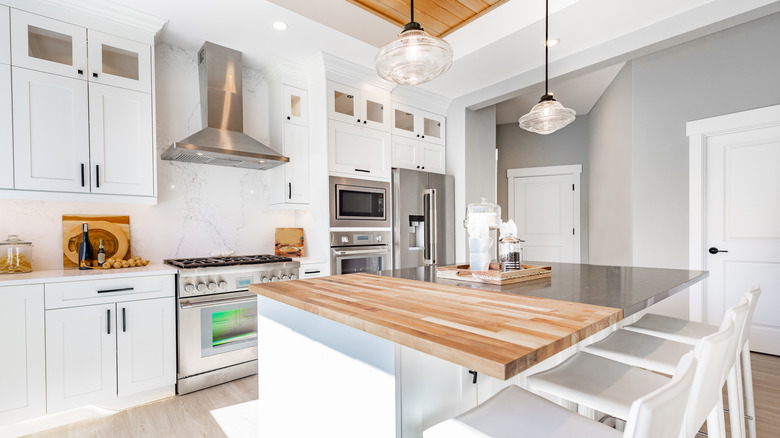 Sheila Say/Shutterstock
Mina Starsiak Hawk often incorporates butcher block counters into the homes she flips. And her impressive portfolio shows her making this material seamlessly work in various design styles. The wood is emphasized in a simple Scandinavian-style kitchen Starsiak Hawk completed on an episode of HGTV's "Good Bones." She opts for wood counters, shelves, and a fully wooden island to complement the warm white cabinetry.
Of course, wood works well with rustic, farmhouse, and minimalistic designs. But you can also incorporate butcher block counters with more modern and sleeker designs. In one kitchen, she adds a small slab of Carrara marble in the center of two butcher block counters. In another kitchen, she adds butcher block counters to warm up metal ones.
The versatility isn't the only reason to love butcher block counters. According to Forbes, butcher block counters can be an inexpensive alternative to natural stone, costing, on average, between $30 and $40 per square foot. They're also long-lasting, durable, and easy to clean. Choosing the correct wood is one of the keys to a butcher block counter that stand the test of time. Cherry wood is loved for its durability, but can be pretty pricy, says Hardwood Lumber Company. Maple is one of the most common woods used for counters because of its quality and cost. Oak and walnut are two other common options. Choose a stain color that complements your overall scheme and graining that adds some texture to the space.