Home Depot Or Lowe's: Which Has Better Deals On Shiplap?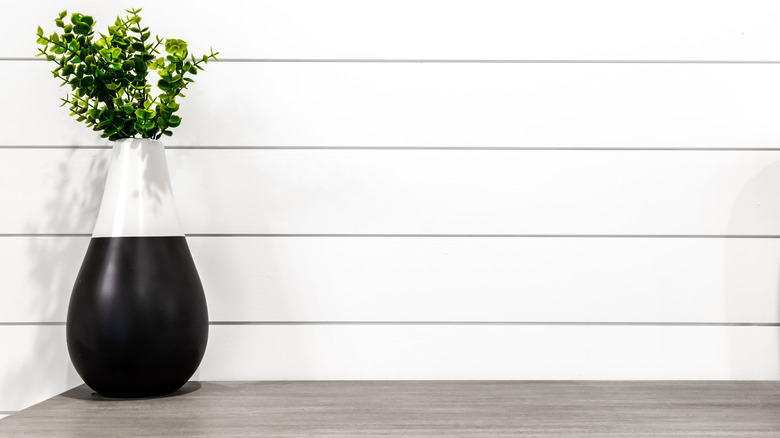 Aspects and Angles/Shutterstock
Adding shiplap to your home can be a quick and easy way to incorporate some rustic charm — and it's a fun project that most people can DIY. To get started, you'll need to buy your materials. As Metrie points out, shiplap can be hard to identify — and there are key differences between shiplap and other types of wood paneling. Shiplap boards have overlapping tracks to lock in and create steady spacing. These tracks make them simpler to install than tongue and groove paneling, for example.
You'll want to map out your design first to determine how many boards to purchase. You'll also need to find a material that matches your home's aesthetic and decor. Since you'll need enough paneling to cover your space, costs can add up quickly. So, where should you buy it from? As with most things home improvement related, Home Depot and Lowe's carry a wide selection of shiplap to choose from. We've looked at the top sellers from both stores to determine which has the better deal.
Home Depot's shiplap boards
One of Home Depot's best-selling shiplap boards is a nickel gap model made from radiata pine. Available for just under $18, depending on your region, these boards are 12 feet long, 5 1/4 inches wide, and 9/16 inches in depth. Covering around 5.28 square feet of space, the material contains finger joints for the boards to fit snug together. However, the retailer also recommends using glue or nails when installing to ensure they fit in. Since they are made from pine wood, they're meant for interior use only. Already primed, these boards come in a natural shade of white but can be painted whatever color you desire. Unfortunately, a warranty is not available when purchasing.
Based on over 700 reviews, this product received a 4.6-star rating and a 91% recommendation rate. Most of these reviews are positive, with one consumer stating that they used this product in a bathroom remodel and were pleased with the price and quality. Even though they did not install it themselves, they stated that it appeared to be easy to cut and work with. Another purchaser chimed in and stated they bought over 100 boards and only had a problem with two pieces. They went on to say that it was worth investing in the pre-primed pieces as it made finishing their project a lot easier. A third consumer stated they looked amazing and were easy to install.
Lowe's shiplap material
One of Lowe's most popular shiplap boards is a classic white pine model. Costing just less than $18 per board, depending on location, this material is also primed and ready to be painted should you choose to. Sitting at 12 feet in length and 5.25 inches in width, these boards each cover up to 5.35 square feet of space. The edges of the boards are self-spacing to allow for an easier installation process. It should also be noted that these boards are reversible, which means you can decide on two different looks. While you can use this material indoors, they aren't intended for exterior use. There isn't a warranty available when purchasing.
Out of almost 100 reviews, this product has a 4.1-star rating and an 81% recommendation rate. These reviews are mostly positive, with one consumer stating that they were easy to install and looked beautiful. However, they also warn to ensure the boards are not warped when purchasing directly from a store location. Dissatisfied customers said that the sizing was inconsistent and the material was easily breakable.
Although each of these products contains similar features, we have to say to play it safe and go with Home Depot. Since both products are very close in price and size, we're basing our decision on ratings. More customers seem to be satisfied with Home Depot's boards — and it's hard to argue with nearly 500 5-star reviews.