Designer Lauren Makk's Savvy Tricks For Combining Modern And Rustic Styles In Your Kitchen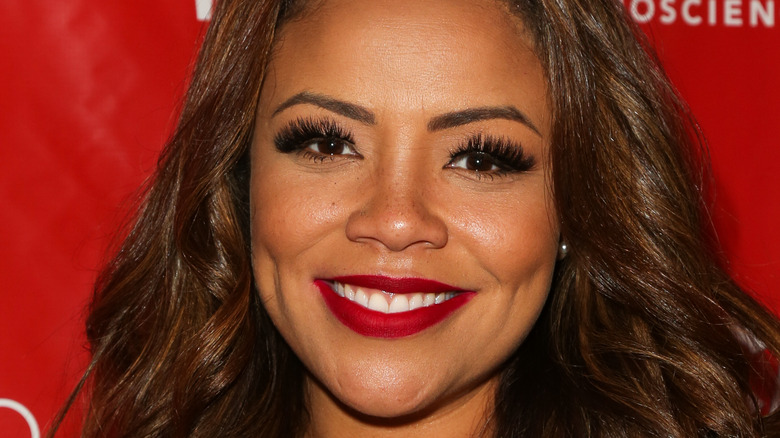 Paul Archuleta/Getty Images
When designing a space, one of the best ways to add interest is by mixing styles. Perhaps you love the clean lines of modern furniture but the character in rustic pieces. If so, you could combine these two elements to create a room that has lots of personality.
According to The White Buffalo Styling Co., rustic and modern pieces pair beautifully together because they create a nice contrast. They also make the design appear well-balanced; if every element is rustic, it may appear dirty or worn down, and if it is all modern, the design could feel cold or boring. Combining these two styles creates the perfect mixture of old and new pieces.
So, where do you begin? HGTV interior designer Lauren Makk has some tips on combining modern and rustic styles in the kitchen. Here are the things she says can bring a little bit of each into your space.
Choose dark vinyl flooring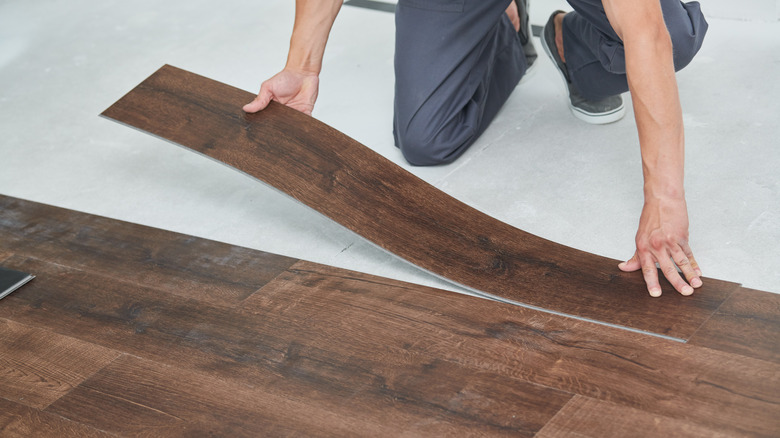 Dmitry Kalinovsky/Shutterstock
On the Rachael Ray Show, Lauren Makk gives a viewer some advice on how to create a kitchen that has both rustic and modern qualities. To begin, she recommends using dark brown vinyl flooring with wide planks, as this will perfectly mix the two styles. When pointing out a specific flooring that matches this description, Makk says that "this one nods to the traditional and the rustic with all of the veining and the ribbons. You could see that it's got some texture on it. It's just beautiful; it's very rustic, but the 90-degree angles [where each plank ends] makes it really modern and sleek. And the wide planks are a very modern look."
Makk also helps homeowners design their spaces through Yelp. When helping one particular person, she recommends replacing the carpets with dark wood floors, which will elevate the space. However, while real wood looks beautiful, vinyl may make more sense in the kitchen, as it's cheaper, more durable, and water-resistant.
Paint modern cabinets a bold color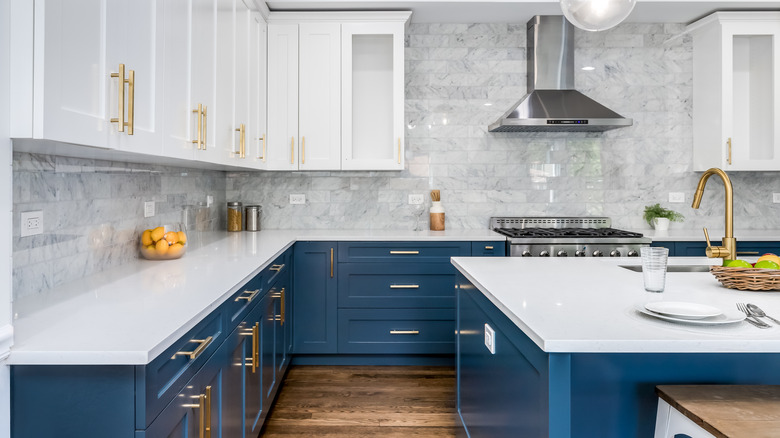 Hendrickson Photography/Shutterstock
Lauren Makk's next piece of advice for the viewer on the Rachael Ray Show is to paint modern-looking kitchen cabinets a navy blue shade (or another bold color). In her words, "navy blue is a very traditional color, but going for a flat panel cabinet door is very modern and sophisticated. So, bringing in some of these elements and marrying the two is a great way to get a little bit of both out of your design." This way, the style of the cabinets looks sleek, while the vibrant color brings out a more rustic flare.
Makk is no stranger to color; in fact, instead of creating an accent wall, she recommends painting the whole room a bright shade. According to Yahoo! News, she says, "I say take the leap and commit to painting all [four] walls of your space [an exciting new shade]." And she has the same stance when it comes to kitchen cabinets; she says to go all in with a statement color.