Does Home Depot Responsibly Source Their Lumber?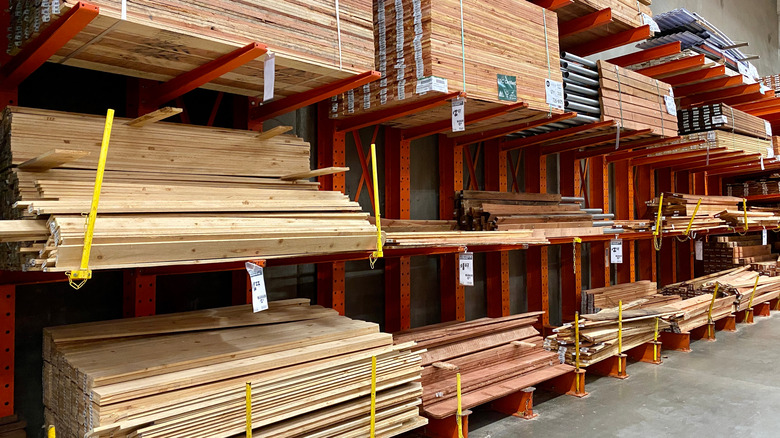 ZikG/Shutterstock
Lumber plays a key role in the manufacturing of a home, from the foundation to its intricate interior details. In fact, carpenters and DIYers alike can turn just about any piece of wood into a gorgeous dining table or cabinetry for the kitchen — and many buy this material from stores like Home Depot. If you're a woodworker and live near a forest, it may be easier to obtain lumber based on the local rules and regulations for cutting down trees. While this likely presents fewer obstacles, going this route means the wood isn't responsibly sourced or harvested in a managed forest, according to Reseat. Not only that, but home improvement stores are also easy targets for sourcing lumber unethically.
Despite the popularity of Home Depot, there are many untold truths about the retailer that can leave someone second-guessing whether to shop there. While the store sells various types of lumber, it begs the question: "Does Home Depot ethically source its lumber?" By not ethically sourcing lumber, the continued cutting down of trees can lead to deforestation, which impacts the ecosystem and wildlife (via Reseat). 
Ultimately, if we want to shop for sustainably sourced materials, it's our responsibility as consumers to understand which businesses adhere to such practices. Reviewing policies and value statements is the easiest way to find out how a company conducts operations. Thankfully, Home Depot has managed to make this environmental practice one of its main priorities.
Working with ethical suppliers is a top priority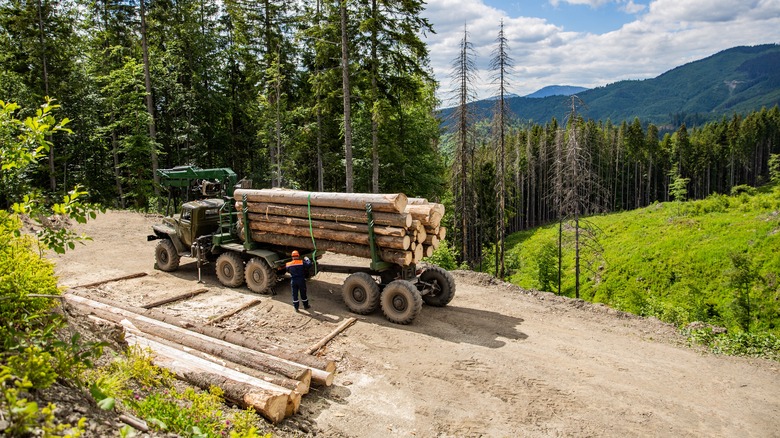 Body Stock/Shutterstock
Since Home Depot works with many suppliers worldwide, it has created a Responsible Sourcing Supplier Manual that lays out best practices for ethically sourcing lumber. According to Home Depot Eco Actions, the Atlanta-based retailer has obtained wood from sustainable forests for almost three decades, making it just one of the many items to buy there. In doing so, its mission is to protect endangered forests and ensure its suppliers do the same. 
For suppliers and factories to partner with Home Depot, they must take part in a series of trainings that cover various standards with the company's responsible sourcing team. This means the factories and suppliers are required to adhere to environmental laws, rules, and regulations on a local and global scale. Additionally, Home Depot is transparent with how it wants suppliers to conduct operations, such as refraining from deceptive hiring practices and providing a safe working environment, for any partnerships to continue.
If any organizations fail to comply, they will be terminated from working with the company, per the manual. By creating relationships with trusted organizations, Home Depot can continue its work sourcing lumber sustainably.