5 Important Things You Should Know About Being A New Homeowner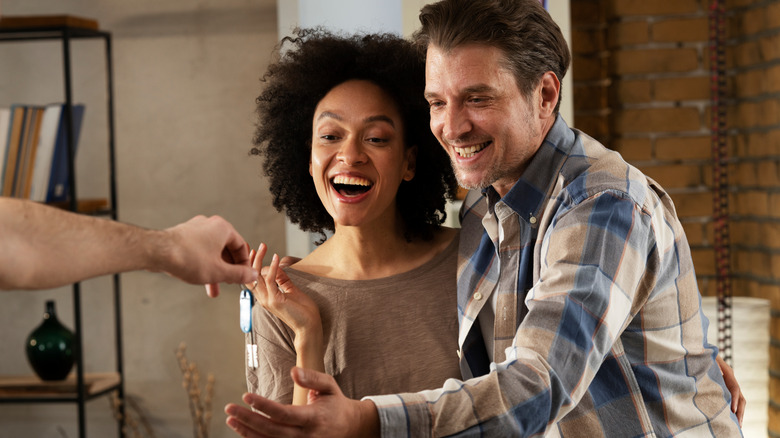 Just Life/Shutterstock
Homeownership is an ongoing project that requires knowledge building, structural maintenance tasks, and a head for budgeting well in advance. For those transitioning from renting to owning a property, the change in responsibility and required knowledge can be demanding and highly challenging, but it is often incredibly rewarding.
Homeownership unlocks access to property equity that can be leveraged for all kinds of things in the future. This change enables you to build wealth in a meaningful way (via Homesville) and then utilize its weight to purchase a newer, more lifestyle-appropriate home when your needs inevitably change. Becoming a homeowner also grants you access to financial products like a home equity line of credit (HELOC) that can be used for other leveraged purchasing needs at a very low rate compared to traditional credit card or personal loan borrowing options.
The project of homeownership is exciting, but it can become overwhelming if you don't approach it with caution and a healthy respect for all the work involved in maintaining a functional and comfortable home for you and your family. With these five things in mind, this change to the world of property ownership can be just a little less daunting.
A deep clean can make the home sparkle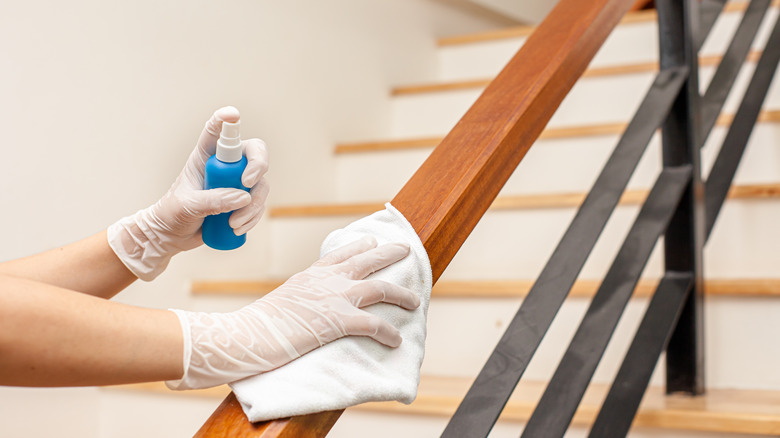 Nitiphonphat/Shutterstock
One of the first steps in the process of moving into a new home is the task of deep cleaning. A deep clean will make your home shine, and Golden Maid Services recommends conducting a serious cleaning operation in any home at least once or twice per year for this reason. When moving into a new property, starting with a thorough scrubbing will give you a more intimate knowledge of the nooks and crannies of the home and eliminate any leftover debris or build-up that may have come from the previous owner. Of course, you'll be creating your own messes and build-up along the way, but it's important to scrub away any trace of the debris left behind by a previous resident to really make the space your own.
Cleaning out air ducts and vent spaces, the dryer duct, and hard-to-reach areas like those under appliances will make all the difference in creating a fresh, new home for you and your family. You'll probably also want to replace filters and may even consider renting floor-cleaning equipment to start off on the right foot. Whether you're cleaning carpets, tile, or hardwood floors, a deep clean and any refinishing processes that go into the maintenance of these spaces can be a huge game changer when moving into your first home.
Get to know the ins and outs of your new property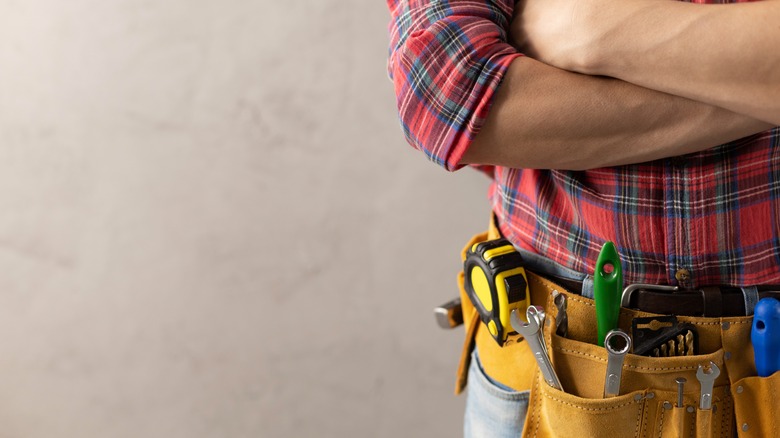 Seregam/Shutterstock
Another thing that many homeowners do when moving from one house to another is an assessment of renovation potential in the home. But for a first-time homeowner, the entire project of owning property will be new. Frugalwoods reports that you should wait on renovations for at least a year when taking up residence in your own home for the first time. Everything about this experience will be brand new, including maintenance routines, spatial constraints within the home, and the layout of furniture and storage features for your specific items and lifestyle requirements.
Spending time getting to know the property itself will help you understand what you like about the home and what can be improved for greater comfort and utility over the long term. According to the National Association of Realtors, the average American homeowner spends about 13 years in any one property that they own. As a new homeowner, there should be no rush to the process of altering your living space because the consequences of a botched home improvement project can be dire. Get to know your home, and all that homeownership entails first, and then consider the changes that might improve your lifestyle.
Take a tour of the critical utility hookups for effective emergency preparedness
The Toidi/Shutterstock
Another important thing that new homeowners should prioritize is getting to know where crucial hookups and amenities are in the household. Your home is more than a set of four walls, and the things that create comfort in your property involve using services and utility connections. Exploring the water hookup from your neighborhood's main line, your electricity and gas connections, and evaluating components of the property, like your circuit breaker box, will help you internalize critical knowledge about the property. For example, Moen notes that the main water connection will be directly outside or perhaps in the front yard in many cases.
The features bring modern comforts into your home, but they also serve as a set of emergency control units in case of any problems. If water is coming into your home from a burst pipe, you'll need to know how to turn off the connection to stop the free flow of water into your property. Similarly, when repairing or replacing an electrical circuit in your home, you'll need to turn off the electrical connection to this part of the house to ensure safety.
The only way to fully understand these features is by exploring them before the demand for this critical knowledge presents itself. Take the time to learn about your home's lesser-known features and the connectivity that brings the trappings of modernity into the space.
Forming relationships with your neighbors will improve your experience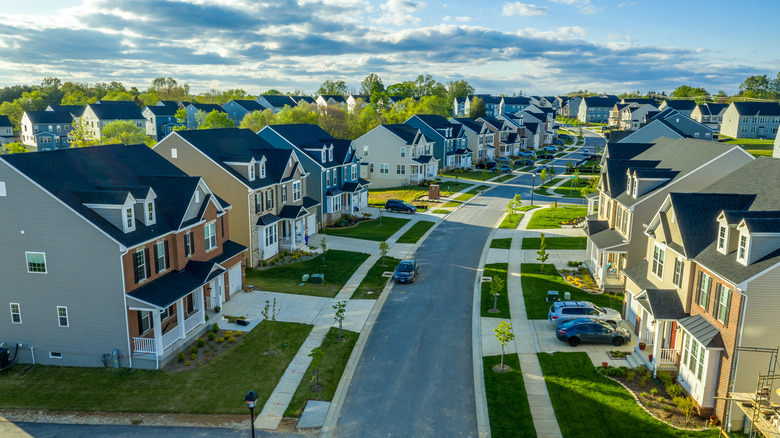 tokar/Shutterstock
Getting to know your neighbors is also important because a friendly community provides an excellent place to live. By meeting and chatting with your neighbors, you will create a bond of friendship with the people who live closest to you (via American Advisors Group). On a social level, this means that you'll always have someone to spend time with and share important moments with. If your neighbors have children around the same age as your own or enjoy the same kinds of hobbies that you do, you're likely to enjoy an almost instant connection, and this can dramatically improve the quality of life that you experience at home.
But a relationship with neighbors isn't just about friendships and social visits. A neighbor you trust can be given a spare key, and you can call them if you are locked out of your home. This person is also someone who might look out for your children while playing in the street or yard, call the police if there's a break-in at your property while you're away, and much more. Neighborhood communities look out for the people that call them home, but only if they have taken the time to form relationships with others in their area. From friendships to an added layer of protection when it counts the most, spending time with your neighbors is a critical step when you're a new homeowner. 
Budgeting for unexpected financial requirements is a must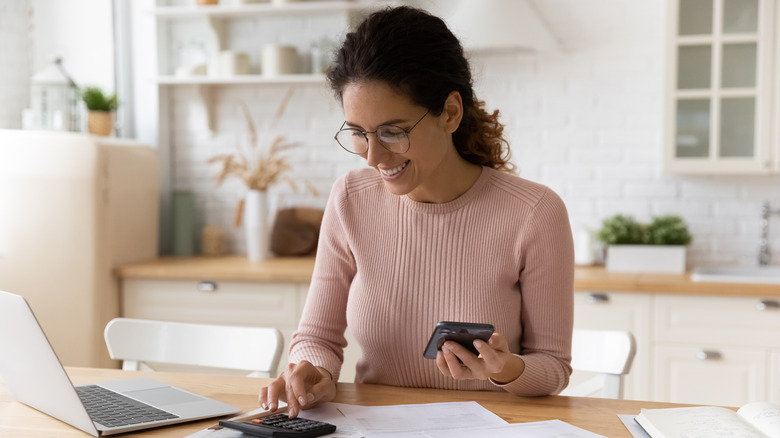 fizkes/Shutterstock
Lastly, the project of home ownership involves significant capital expense. As a homeowner, you'll need to budget for different purchases, some of which may come as a shock from time to time. For one thing, owning a home in the United States (and just about everywhere else, as well) means that you'll be on the hook for property taxes corresponding with your state regulations, according to USA Today. As a renter, you may not have had to pay any type of taxes associated with the place that you lived in, but this all changes once you purchase your own home.
Similarly, as a homeowner, you are responsible for the upkeep of the property, including its appliances and fixtures. If a window breaks or the fridge stops working, you can no longer call your landlord or property management company for a quick and cost-free fix. As such, it's important to budget for the unknown that may lie just around the corner. CNBC notes that most Americans don't have $1,000 stored away to cover the cost of an emergency like this. But maintaining the cash reserve to pay for these unexpected expenses is the best way to keep yourself in a position of financial strength, no matter what is happening around the house.