This Latest Bathroom Trend Favors Aesthetic Over Practicality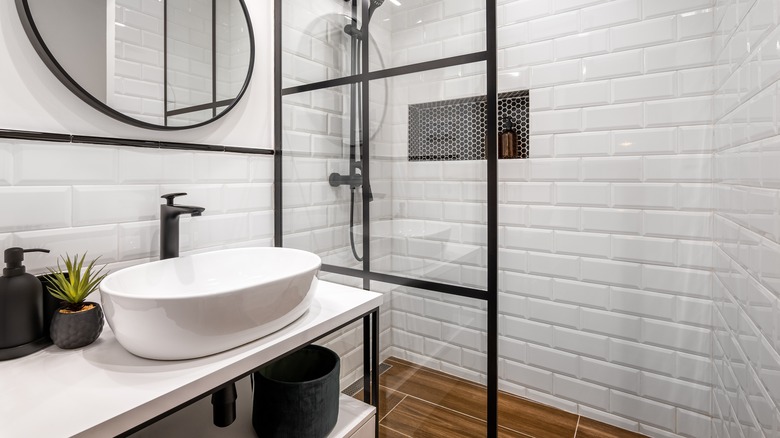 Pavel Adashkevich/Shutterstock
We spend a lot of time in the bathroom — showering, doing our hair, brushing our teeth — so it makes a lot of sense that this small space is one of the first rooms that often goes under the knife in home renovations. New backsplashes, sculptural sinks, and photoshoot-ready lighting can take your morning routine from a chore to a relaxing, spa-like experience, but this new trend in bathroom design may lean too far into aesthetics at the expense of practicality.
According to Home Advisor, the average bathroom remodel costs over $11,000. It's easy to get swept away in the details of the final look, but when you're investing that much money into a project, it's important to consider if certain upgrades are right for you and your lifestyle. One new trend, for example, popular in HGTV home flipping reveals and hastily-built city apartments, might leave you with a streamlined result, but it cuts out a major luxury that a lot of homeowners will miss.
No more bathtubs?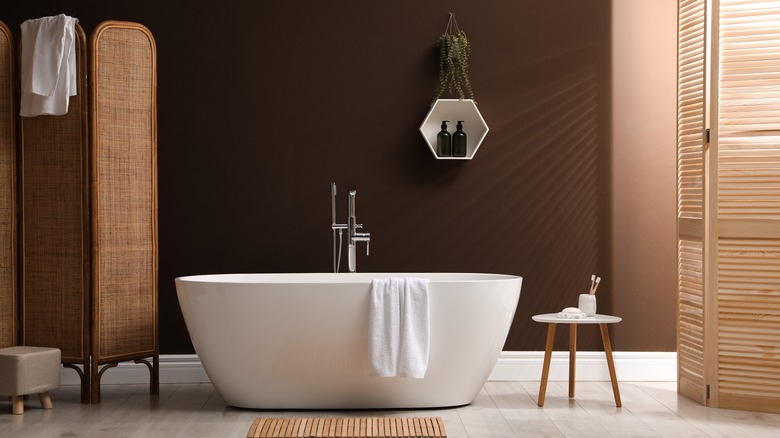 New Africa/Shutterstock
We get it. That built-in shower/tub combination can be an eyesore. Molded plastic edges and outdated fixtures are far from the modern, zen aesthetic that many are looking to achieve with a total bathroom remodel, but ripping out the bathtub in favor of a large, luxurious shower might seem better on paper than it does in reality. According to Bath Fitter, half of Americans take a bath at least once a week, while over half wish they had the chance to soak more often. Showers still prevail as the most common way to wash, but you may find yourself missing the luxury of a bathtub if you opt for a shower-only setup.
If you have kids or pets, or plan to in the future, having a bathtub is important to keep them clean. Trying to wrangle an energetic toddler or an overwhelmed dog in a standing shower is much less convenient than the traditional high sides of a bathtub. That relaxing rain shower head might be a fun upgrade now, but it loses points for practicality.
Alternatives to the no-bathtub trend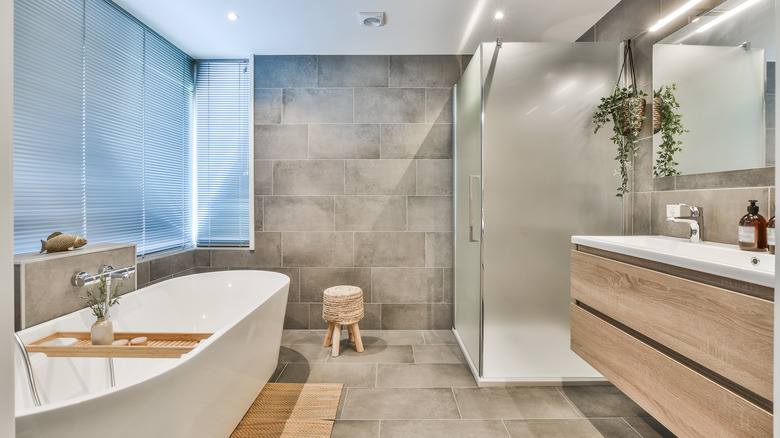 Procreators/Shutterstock
If you have the space, a separate tub and shower are definitely worth the investment. A modern, clean look can still be achieved with a bathtub in the room, and, according to Streamline, they can even increase your home's value down the line. Freestanding options have become popular in recent years, and having a large, deep, and modern-looking tub can transform your bathroom into a relaxing space that potential buyers will love.
If you're working with a smaller footprint, not to worry. There are still upgrades you can make that give you the convenience of both a shower and a bathtub without the boring built-in look. If you're a fan of a classic aesthetic, a popular choice is installing a clawfoot tub with a shower head above. There are also combination showers and bathtubs on the market with clean lines and open space above the edge so you can customize with your own tile (e.g., Wayfair). Either way, a bathtub is important to the value and functionality of a home, so following the trend and scrapping it in your next renovation might cause more harm than good.