15 Clever Ways To Use Windex Around Your House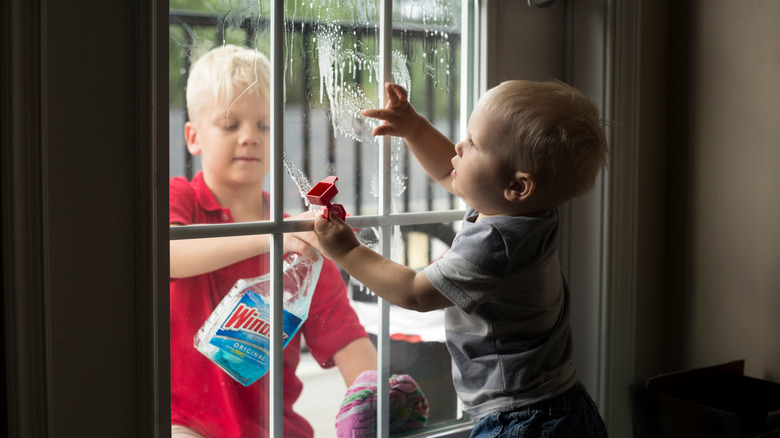 Valphotog/Shutterstock
We may receive a commission on purchases made from links.
Cleaning days at home require almost a full day's commitment. There are bathrooms, kitchens, bedrooms, yards, and cars to be cleaned, and many minimal cleaning hacks to keep your home tidy. Most families use multiple cleaning solutions to target different areas, but what if we told you that the magic blue liquid of Windex could help reduce the amount of cleaning bottles you own? Windex, as we know, is meant to clean glass, windows, and shower doors, leaving them shiny and streak-free. So, besides the indicated, Windex is suitable for cleaning various areas around the house.
According to S. C. Johnson & Son, Windex has three cleaning ingredients that target dirt, oils, and grease, which are perfect for use in the kitchen, in the car, or outside. Having Windex around the house eliminates up to three other products that aim to clean grime and stains without leaving scuffs behind. Your storage cabinets will be grateful for the extra space and leaving a more organized area. We know what it's like to own over 12 different cleaning products, which is why we rounded up clever ways to use Windex around the house that doesn't involve only glass surfaces.
1. Clean floors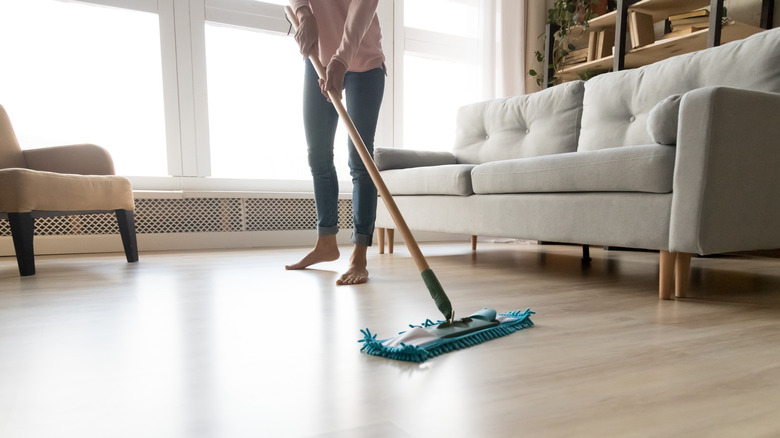 fizkes/Shutterstock
Walking in and out of the house with dirty shoes can cause stains on the floor. Using Windex will remove the stains easily, but use the Ammonia-free Windex since it has a lower pH level and won't destroy the floor's surface, especially hardwood floors. Spray the Windex on a clean cloth and wipe away the stains.
2. Clean toilet bowl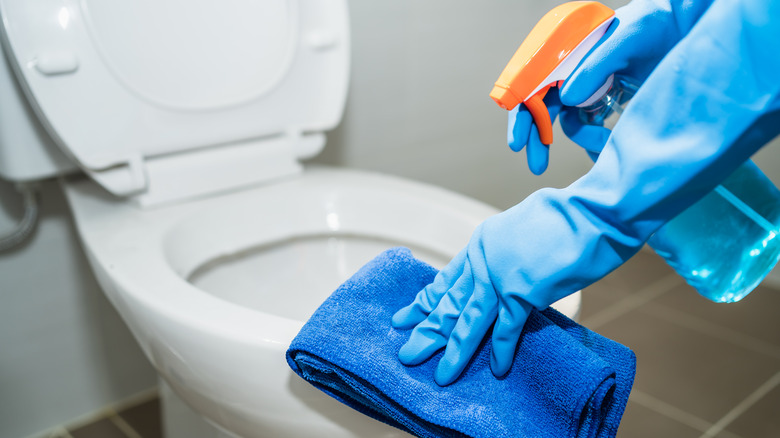 Gumbariya/Shutterstock
Windex can get rid of the toughest stains with its strong chemicals, even on the surface of the toilet bowl. Spray Windex directly inside the bowl, let it sit for 10 minutes, then scrub it with the toilet brush, and you'll notice the stains are gone. It'll easily replace your other toilet bowl cleaner.
3. Bathtubs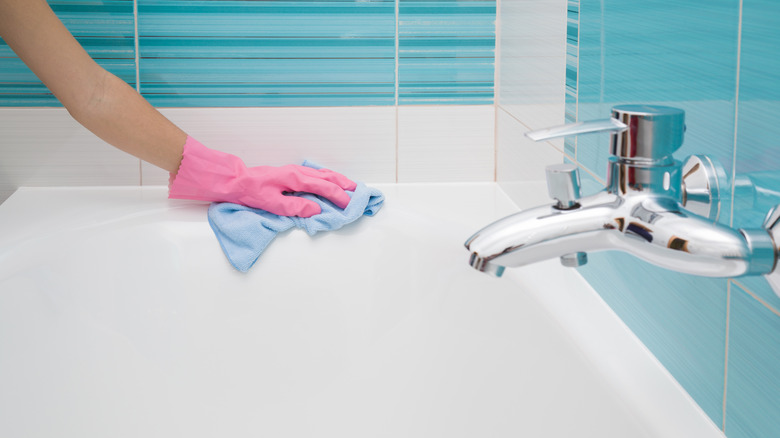 FotoDuets/Shutterstock
The bathtub is prone to catching dirt and stains after numerous uses. First, spray the inside of the bath with Windex. Then, let it sit for 10 minutes, scrub it with your regular sponge or washcloth, and watch how the tub shines.
4. Clean car windows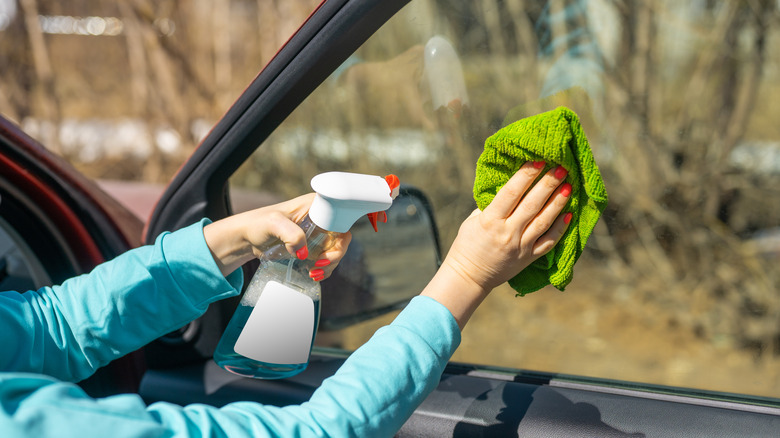 CeltStudio/Shutterstock
Since Windex is meant to clean windows, use it the next time you wash your car. While the soap and water clean the dirt and dust from the outside, use Windex to clean the inside of the vehicle. Refrain from using the product on tinted, hot, or cold windows because they could get damaged.
5. Remove whiteboard stains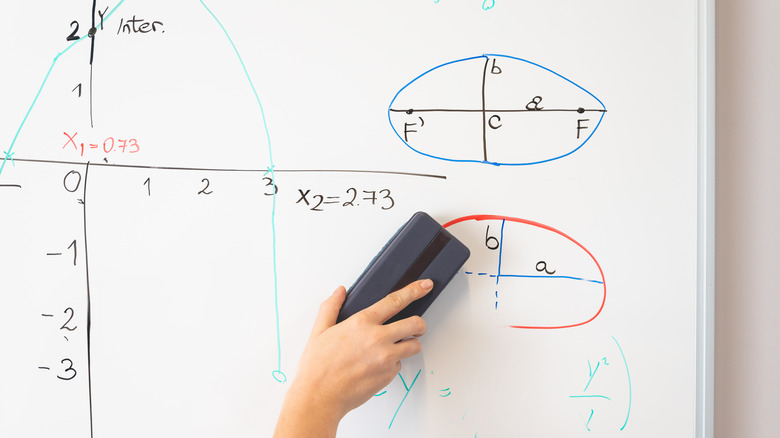 Markohanzekovic/Shutterstock
It's easy to let dry-erase markers sit for days, but when it's time to use the whiteboard again, it can be hard to remove the writing. However, spraying a little bit of Windex and wiping it with a paper towel or microfiber cloth will quickly remove the stains.
6. Countertop cleaner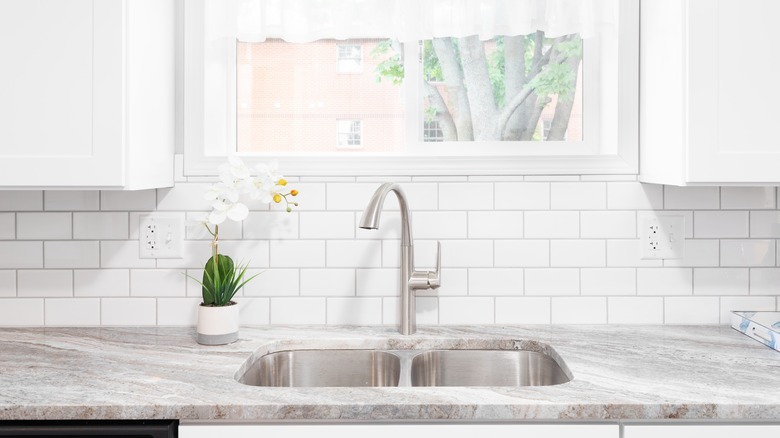 Hendrickson Photography/Shutterstock
Whether you have tile, granite, marble, or laminate countertops, Windex is perfect for cleaning up stains from spills. While most folks use 409, Windex works the same, if not better, for removing sticky messes. Spray the surface with Windex and wipe it down with a clean cloth. 
7. Clean metal jewelry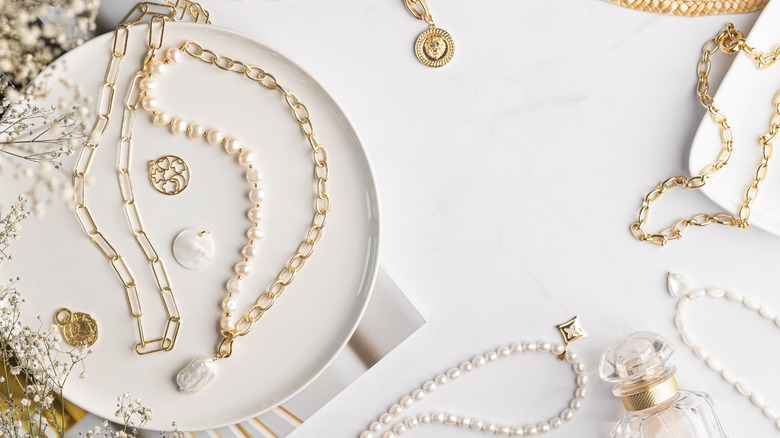 Alena_Kos/Shutterstock
Jewelry can tarnish over time the more it's worn, especially store-bought options. Windex is excellent for brightening up metal, sometimes better than the jewelry cleaner you can buy at the store. To clean the jewelry, spray Windex on the metal areas, scrub with a toothbrush, and rinse with water.
8. Tile cleaner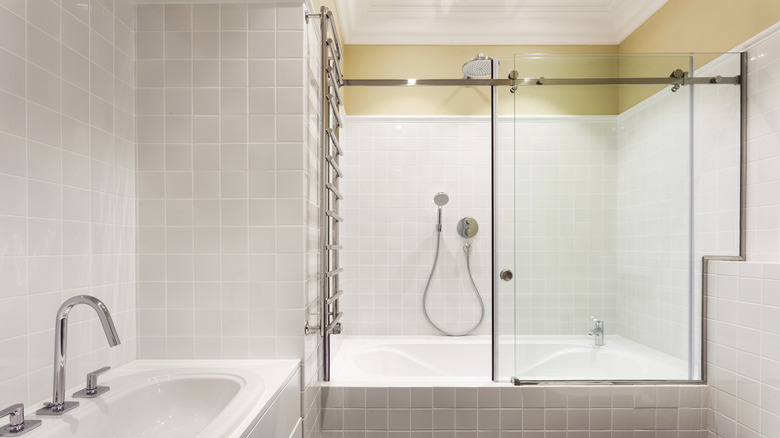 brizmaker/Shutterstock
Tiles in the bathroom always accumulate dirt and grout between them, so cleaning them with a regular solution can be challenging to make them brighter. However, with the multiple ingredients Windex carries, it's powerful enough to buff out the grout, so you can clean around the sink and inside the shower.
9. Disinfect door knobs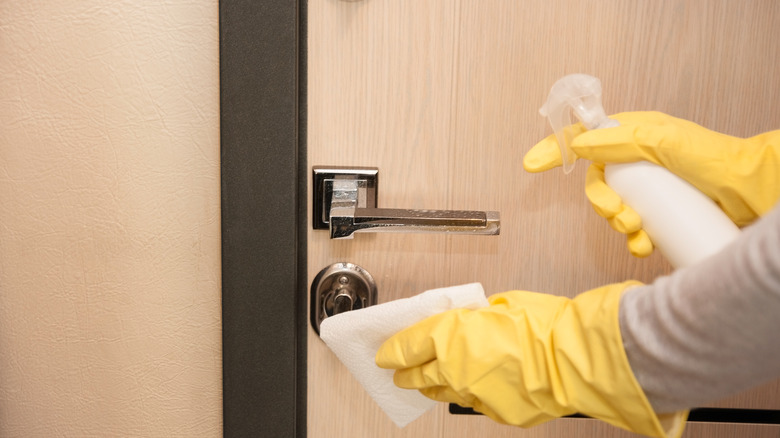 JoAn_Z/Shutterstock
Disinfecting highly touched surfaces is crucial to prevent getting sick, especially during flu season. For example, door knobs are used the most around the house, so wiping them down with Windex can help remove germs and keep them sanitary.
10. Insect repellent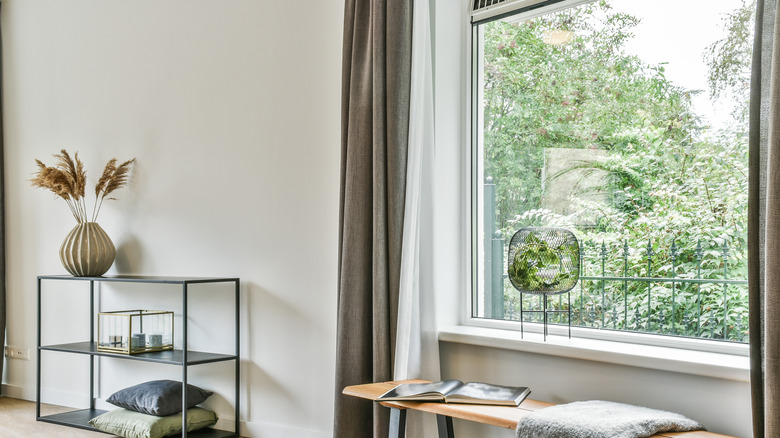 Procreators/Shutterstock
Getting rid of bugs can be frustrating, especially when they enter through small cracks. Insects don't like the smell of window cleaners, so spraying Windex around the doors and windows can prevent them from entering.
11. Degreaser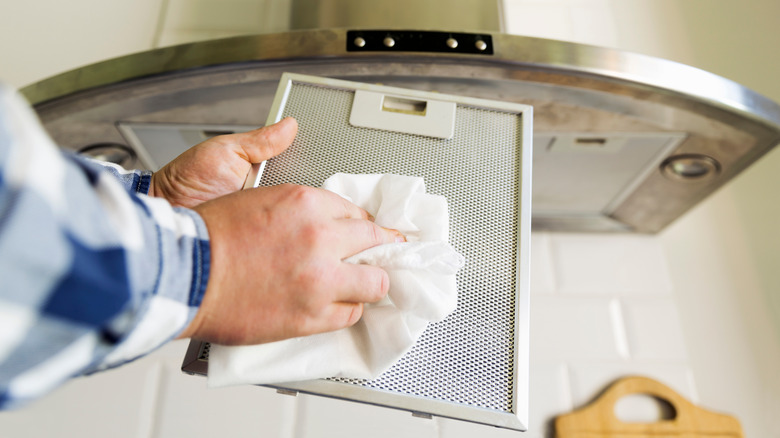 Arturs Budkevics/Shutterstock
We mentioned how one of the cleaning ingredients in Windex targets oil and grease, so using it around the kitchen, such as the kitchen fan, pots, pans, or range hood, can help remove fatty oils. If you use Windex on food prep areas, go over them with soap and water to eliminate any solution residue.
12. Clean up patio furniture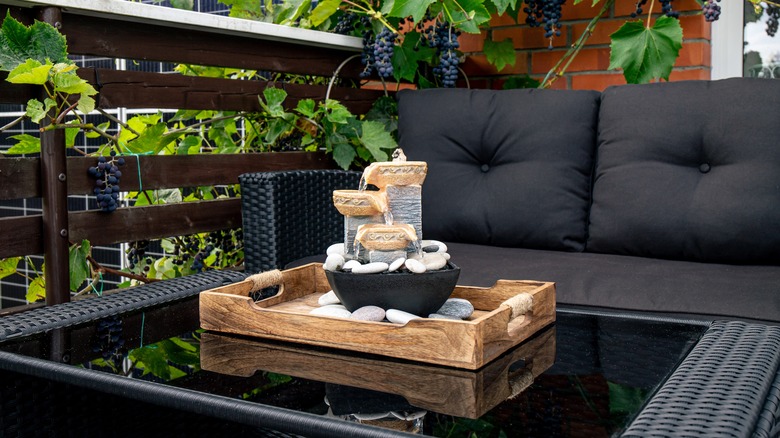 FotoHelin/Shutterstock
Windex is ideal for cleaning inside and outside the house. Patio furniture, such as glass surface tables or plastic chairs, can always use a wipe-down or two throughout the seasons. Spray the furniture a couple of times, let it sit for a few minutes, then wipe it down with a microfiber cloth.
13. Polish crystal glasses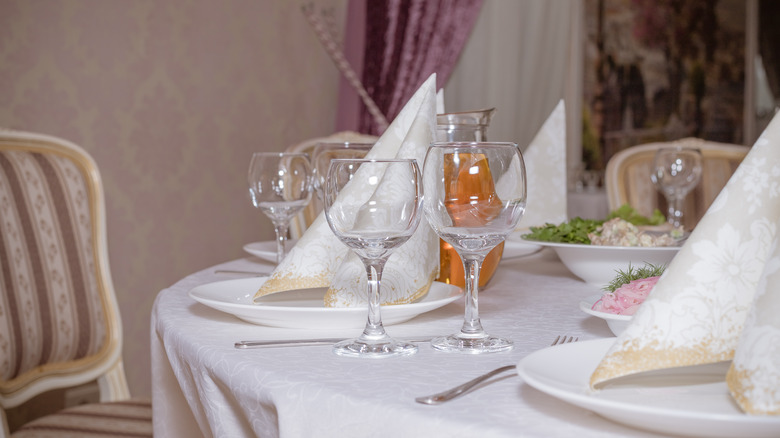 Yulia YasPe/Shutterstock
Crystal glasses are beautiful to display in a china cabinet, but they can collect dust. Dust is noticeable, so wiping them down with Windex can make them shine again without ruining them. However, it'd be best not to use Windex on tinted or painted glasses.
14. Stain remover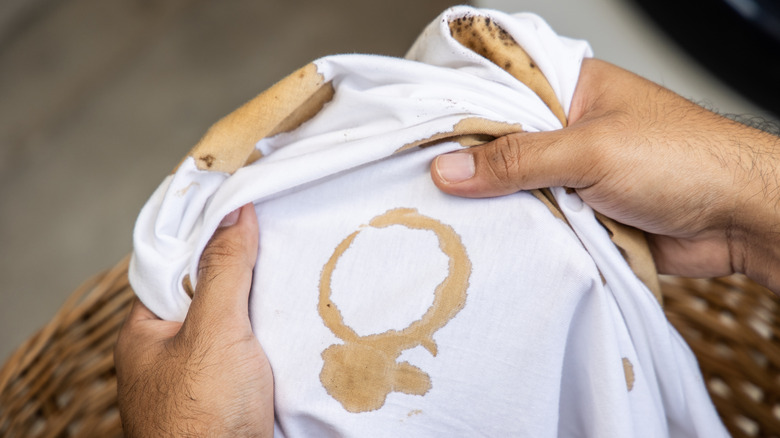 GBJSTOCK/Shutterstock
It's embarrassing when you're enjoying a meal, and it splatters over your shirt or pants. Lightly coat the stain in clear window Windex and let it sit for 20 minutes, then dab a cloth and rinse in cold water. Once satisfied, throw it into the washer.
15. Clean children's toys
Olesya Myzzz/Shutterstock
The kid's playroom contains germs, spilled food, and some spit up, which can cause them to get sick if the area isn't regularly cleaned. Wiping down toys and play areas with Windex can disinfect all the germs. After spraying with Windex, rinse them in water to clean up the solution.