15 Savvy Ways To Decorate A Large And Empty Wall
While grand and high-ceilinged interiors are often the stuff of dreams, they present unique challenges when it comes to utilizing all that space. Even lower-ceilinged, more intimate rooms can suffer from a lack of inspiration when it comes to decorating large expanses of blank walls. While you can modify some things with furniture placement of varying heights, many spaces can feel bare, unfinished, and echoey without sufficient visual interest on the walls.
According to Forbes, there are a number of affordable techniques and approaches to help you with bare areas in your interior that seem just a little too large and lacking. Some approaches require simple painting or hanging, while others need a little more preparation or supplies. Whether you own or rent, there are plenty of great strategies for improving the visual impact of your home and eliminating the dead space that oversized, blank walls often present. The end result is a finished and intentional look that provides a great focal point for any room. Keep reading to get inspired.
1. Paint an accent wall
While the temptation may be to paint your large, blank wall all one color, using several colors may add the visual interest you need. Whether it's stripes, an ombre effect, or geometric shapes, it immediately adds variation for the eye that provides a backdrop to other décor or looks beautiful alone.
2. Use wallpaper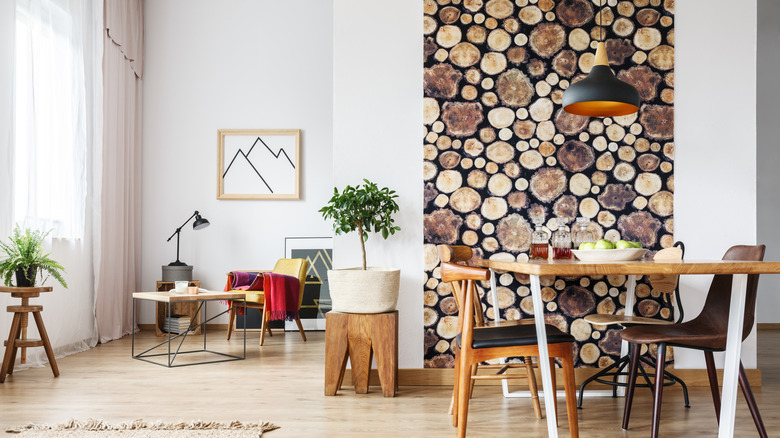 Ground Picture/Shutterstock
Wallpaper is definitely making a comeback, coming in a number of cool and innovative patterns. Even applied on a limited surface, as seen here, is a great way to provide focus and demarcate different areas of use. 
3. Add a mural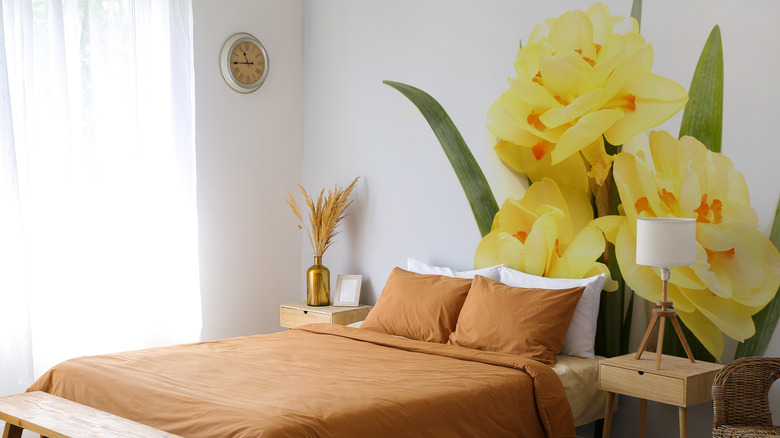 Pixel-Shot/Shutterstock
A mural, whether painted or peel-and-stick vinyl, immediately provides the feel of a large-scale, floor-to-ceiling work of art. If you're looking for instant results, this option can eliminate the need for any other wall décor and instantly provide a focal point for the room. Here, the mural also serves the role of a faux headboard.
4. Hang a tapestry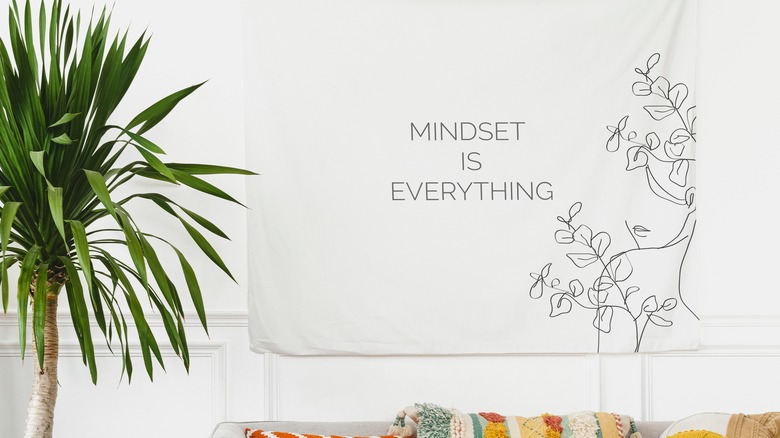 Rawpixel.com/Shutterstock
Fabric and tapestries are a great way to cover a large, open wall, be it a set of drapes, a swooping curtain, or a tapestry containing art or text. They are perfect for placing above a sofa or a bed, particularly in earthquake-prone locales where you don't want too much weight overhead.
5. Make a gallery wall
Ground Picture/Shutterstock
The great thing about a gallery wall is that it can be adjusted to any size, thanks to its outer edges and the space between pieces. A mix of frames, formats and textures provides an excellent strategy for larger open spaces like hallway and stairwell walls, above the sofa, and over a sideboard or buffet.
6. Add a mirror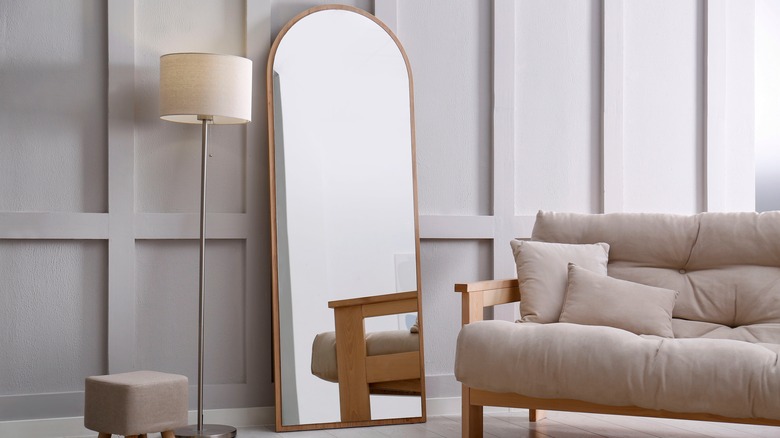 New Africa/Shutterstock
Mirrors add architectural interest and lots of reflected light instantly, changing the feel of any space. Consider propping a large mirror on a piece of furniture or using a full-length mirror in any room of your home. A gallery wall with different-sized and shaped mirrors has a similar effect, as does a wall filled with mirrored tiles. 
7. Build a faux mantle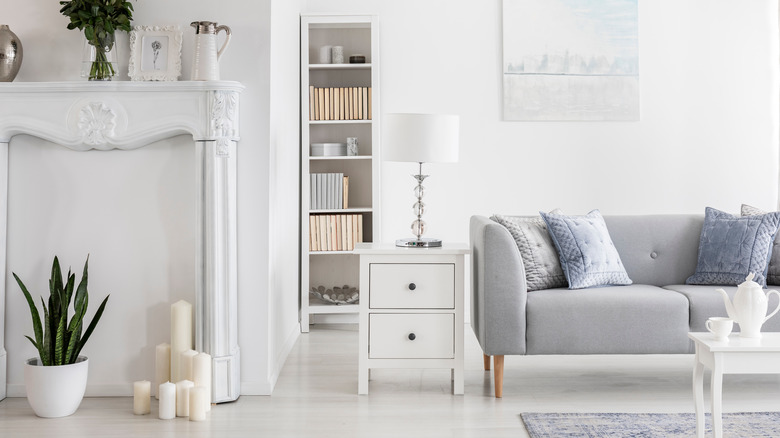 Ground Picture/Shutterstock
If you are looking to add a focal point in any room, you might consider a faux fireplace, which adds architectural interest and coziness to any area in the house. The mantle provides a great shelf for décor, and you can fill the middle with plants, books, or candles. 
8. Paint a chalkboard wall
Ground Picture/Shutterstock
A coat of chalkboard paint is an excellent strategy for turning a blank wall into a useful surface for artwork and reminders. It's particularly a great idea for playrooms, offices, and kitchens. 
9. Install frame molding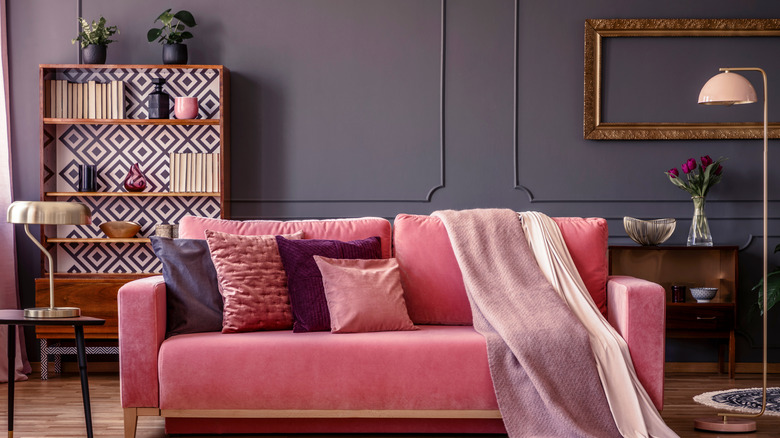 Ground Picture/Shutterstock
Frame molding comes in a selection of more and less permanent varieties, including a peel-and-stick version perfect for rentals. This option, which can be painted or left plain, instantly adds an old-world feel to any room. 
10. Add floating shelves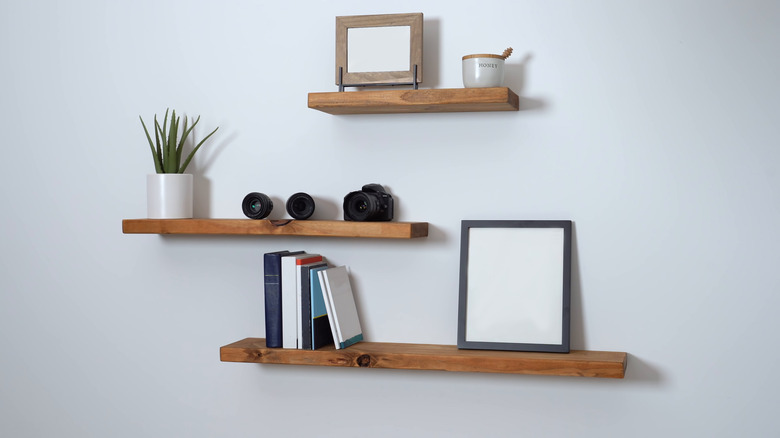 jenhde/Shutterstock
Shelves immediately occupy a blank space and provide great storage and display. Free-floating wood ones can house décor pieces, plants, books, and artwork, creating a stunning highlight. They work particularly well in the large blank space above a television set or entertainment console. 
11. Hang large format art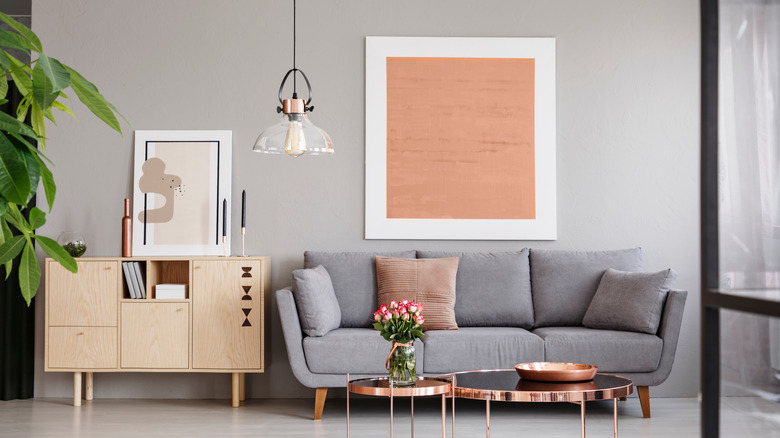 Ground Picture/Shutterstock
In rooms with ample open wall space, large-format art is a great solution. Even a minimalist or abstract canvas can make a substantial impact in filling up the area, providing an instant lift to the whole décor. 
12. Create a plant wall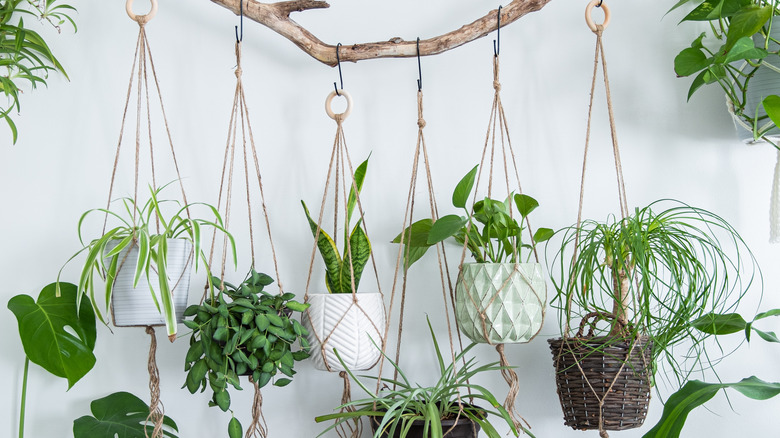 TippyTortue/Shutterstock
Hanging plants are perfect for filling open spaces along walls. Here, a branch provides a berth for a number of decorative planters. They are flanked by floor greenery that create a welcoming wall of greenery.
13. Install wood paneling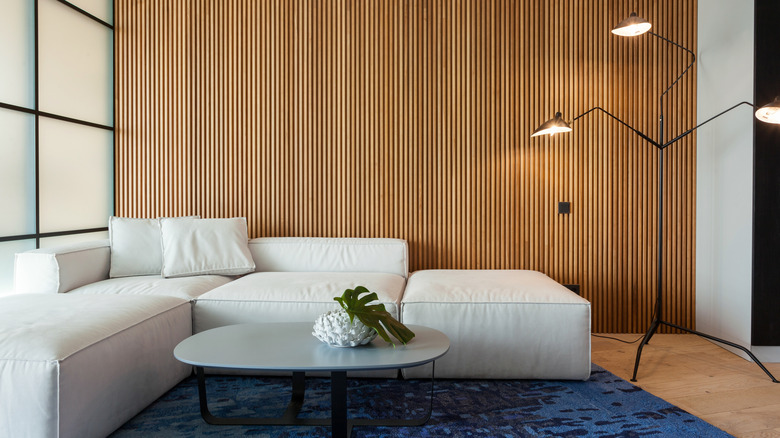 brizmaker/Shutterstock
An easy way to add texture and architectural interest to a blank wall is to install wood paneling. You can cover the entire space to create an accent wall or use it strategically along the bottom of the room.
14. Add dynamic lighting
There are a number of ways to install lighting elements to occupy wall space and break up vast open swathes of a wall. For instance, sculptural hanging lamps and decorative wall sconces provide illumination and add decorative interest to the room.
15. Hang textile pieces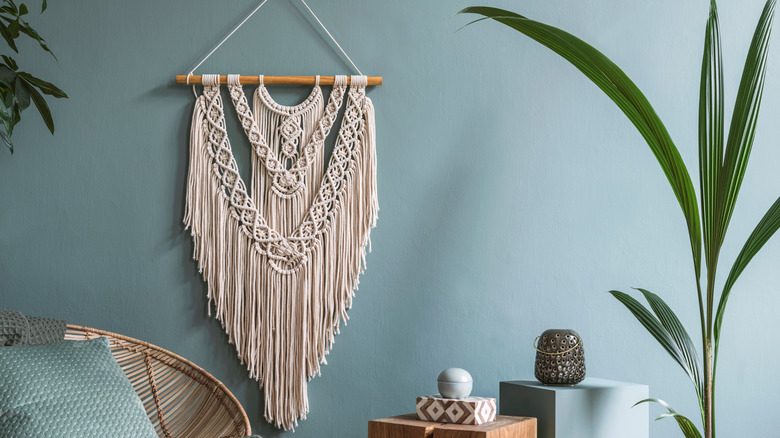 Followtheflow/Shutterstock
Textile art pieces are a perfect way to add texture and a 3D pop to any wall. Here, a vintage-inspired boho macramé hanging occupies the open area flanked by large floor plants. The effect is a rich mix of textures that instantly scales down a large space into an intimate nook.