Bed Bath & Beyond Vs. Kohl's: Which Has The Best Deal On Christmas Trees?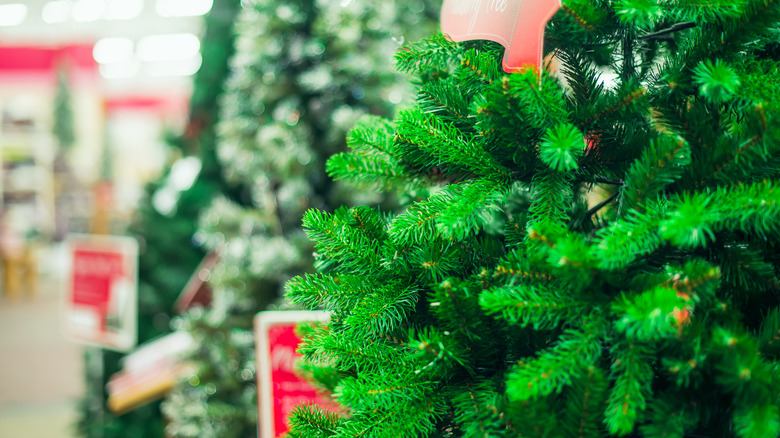 Okrasyuk/Getty Images
With the holiday season just around the corner, those who celebrate Christmas are likely gearing up to deck their homes out in tinsel, ribbon, lights, and, of course, a big, beautiful Christmas tree. Whether real or artificial, there is nothing that screams the holiday season like a lovely and decorated tree.
There is a longstanding debate between the two types of trees — real or artificial — and while there is no definitive right or wrong answer, there are quite a few positive attributes offered by artificial trees. As PuroClean notes, these Christmas trees are the more economically sound option, purchased once but used year after year. One other hidden advantage of artificial Christmas trees is that they're much easier to buy than real trees; instead of going all the way out to a tree farm and having to strap it to your car, you can head out to your nearest department store and pick one up pre-packaged. 
Two stores you should consider when purchasing your next artificial tree are Bed Bath & Beyond and Kohl's, both of which sell beautiful options at affordable prices. Between the two, though, which store offers the best deal?
Bed Bath & Beyond Christmas trees
To know which store offers the best deal, you first need to know what constitutes a good artificial Christmas tree. For instance, Balsam Hill says a 7- to 7.5-foot tall Christmas tree is an ideal average height. Pre-lit options are also preferred — even if you intend to hang more lights on your Christmas tree, you have a good base. However, PVC needles, though cheaper, tend to look a lot more plastic and less realistic.
Bed Bath & Beyond has a large cache of artificial Christmas trees, ranging in terms of quality, price, and appearance. One of their more realistic but fairly-priced trees is from Puelo International; this pre-lit 7.5-foot tree costs $688 and has 2,446 pine inspired tips, as well as 800 warm white lights. It also has a two-year warranty. As for customer feedback, it has a 100% recommendation rate and 5 stars.
A slightly cheaper but nonetheless stunning tree is from National Tree Company, which is also 7.5-feet tall and pre-lit. It costs $537, with 750 warm white lights and 2,817 tips. It has a similar realistic look as the other option, except it has a frosted design — perfect for a winter wonderland. It also comes with a two-year warranty, and has 5 stars with 100% customer recommendation.
Kohl's Christmas trees
Kohl's also offers a vast collection of artificial Christmas trees, especially in terms of more colorful selections. As for their natural trees, they have a few affordable options; the first is from National Tree Company and costs $730. The 7.5-foot tree is pre-lit with 900 warm white lights, and has 2,315 tips. It also has a five-year warranty. However, it only has four reviews, which come out to a measly 2-star rating.
For a more affordable option, Kohl's also sells a tree from North Valley that costs just $475. It has fewer bells and whistles, though, with only 1,346 tips, and 550 lights. The lights are also multicolored, which Balsam Hill identifies as a little more festive, but certainly harder to inspire decorations. It does not come with a warranty, but it does have a 4-star review and an 80% recommendation rate.
Bed Bath & Beyond and Kohl's both sell a wide range of artificial Christmas trees, any of which would add a ton of festive holiday charm in your home. However, when comparing which one has the best deals, Bed Bath & Beyond comes out on top. While prices between the two stores are almost even, the former has a more realistic look and construction, as well as better reviews and customer feedback. That isn't to say that Kohl's doesn't have anything to offer, but when buying your next Christmas tree, check Bed Bath & Beyond for the better deals.