How To Keep Your Wood Flooring Looking Like New, According To An Expert
Martin Barraud/Getty Images
Whether for one room or the entire house, flooring is a major investment. Those considering new hardwood can expect to spend as little as $8 per square foot for something low-grade and up to $25 per square foot for a high-grade style, according to Fixr. And you'll pay even more for higher quality wood. Recognizing this is a significant expense, it's often best to do whatever possible to extend the life of any flooring once in place.
But how do you keep hardwood floors looking pristine with kids, pets, and everyday life getting in the way? Rotem Eylor, founder and CEO of Republic Floor, offers some insight into what homeowners can do to protect their flooring in an exclusive interview with House Digest. "Ensuring you know how to maintain your flooring in the proper way will make it last for years," Eylor says. "Knowing the type of finish on your floors is paramount for using the right cleaning products to keep those floors looking brand new." Keep reading for these tips.
Be smart when vacuuming wood floors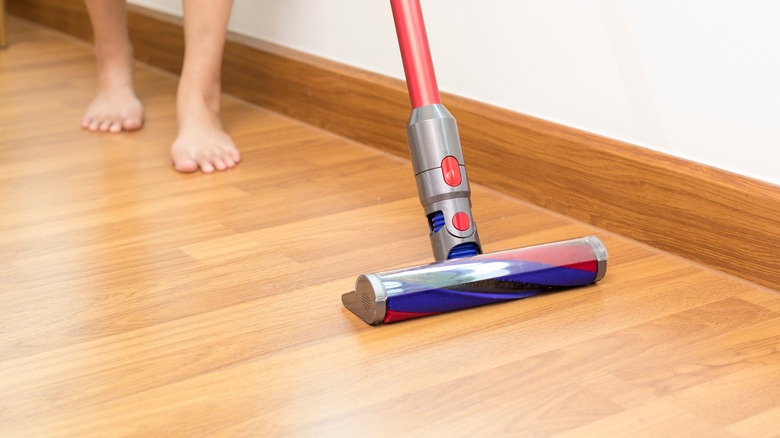 ben bryant/Shutterstock
When your time is limited, and someone is stopping over, it's easy to make the mistake of simply grabbing the mop to clean up. However, doing so can cause a number of problems. "Always vacuum up any loose dirt or dust before applying any cleaning agents," Eylor recommends. This will help to prevent any type of small particles from digging into the hardwoods when later cleaning them. More specifically, small, loose particles can wedge into grooves and may even make cleaning the floor far more difficult once water is used.
It's also important to choose the right vacuum for the job. "Do not use a vacuum with a beater bar so as to not damage/scratch the flooring," Eylor explains. Taking this simple step can help to preserve the flooring, even if just slightly, and is well worth the investment. Moreover, consider using a vacuum that's designed specifically for hardwood floor cleanup.
How to care for wood floors with oil-based finishes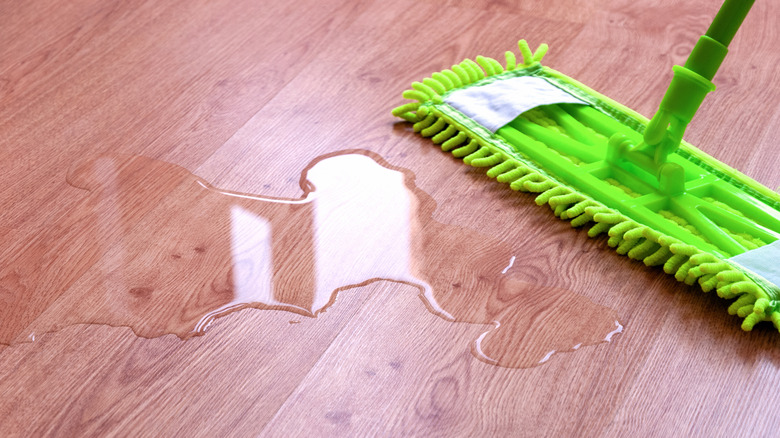 Nadya So/Shutterstock
Many hardwood floors have an oil-based finish, which helps to keep the surface pliable and beautiful while adding a layer of shine to the top. However, this type of flooring needs careful protection when cleaning.
"For an oil-based finish, wood oil soap can be used by following [the] manufacturers' directions, usually applying a thin application with a damp mop and spreading it throughout the floor, [and] following the wood grain of the surface," Eylor shares. Going with the (literal) grain helps to pull up material from within and minimizes any risk to the pattern itself.
Eylor also cautions against walking on any wet surfaces, thereby creating a higher risk for damage and the potential for footprints to be left behind. "Allow the floors to dry before walking on them," he said. Finally, be sure to check the manufacturer's recommendations for how long it takes for the wood oil soap to dry before walking on the hardwood.
How to care for wood floors with lacquer finishes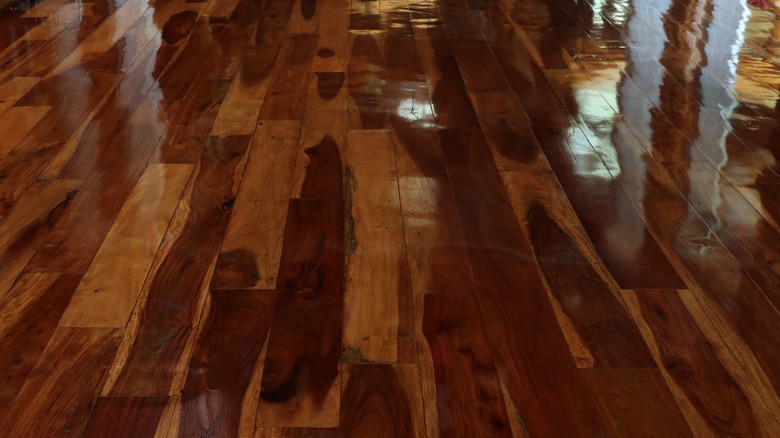 Siriporn-88/Shutterstock
Then there is flooring that has a lacquer type of finish, which tends to be higher-end. While this surface type offers benefits like waterproofing and fast drying, it also requires careful attention when being cleaned. 
"For lacquer finishes, warm water with a pH-neutral cleaner or mild dish soap can be used by following manufacturers' directions, again usually applying a thin application with a damp mop and spreading it throughout the floor, [and] following the wood grain of the surface," Eylor said. Indeed, it's important to take your time and do a good job in order to achieve good results.
Per Vermont Woods Studios, lacquer finishes are often ideal for floors because they do a good job protecting against liquids. But for that to be the case, quality cleaning habits are essential. "Rinse with a damp mop of warm water and allow it to dry before walking on it," Eylor continued. It's also a good idea to check with the manufacturer to determine how long it usually takes for this cleaning product to fully dry.
Protect surfaces with mats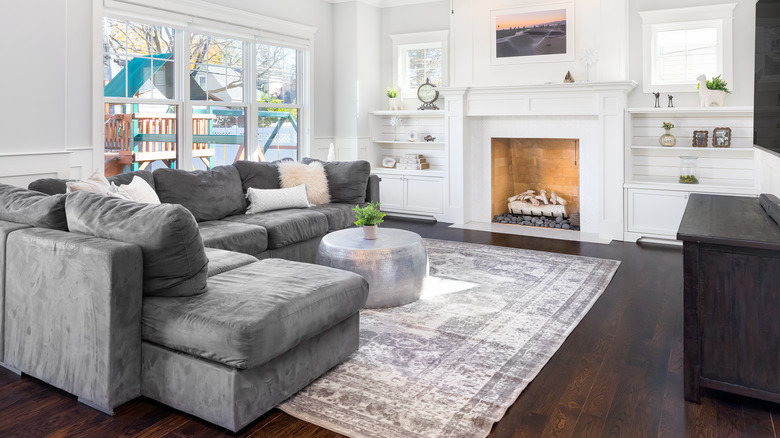 Hendrickson Photography/Shutterstock
While cleaning hardwood floors properly is an important part of overall maintenance, you can take additional steps to protect them against further damage. "Use protective mats at all entryways to collect outside debris, and use mats underneath rolling furniture," Eylor says. Protecting the surface of the wood from hard edges like this and high traffic is also critical. "Avoid rubberized mats and pads, as they can damage the finish," he warns.
Of course, life happens, and dirt, spills, and other messes are likely to occur. "Clean all spills immediately," Eylor recommends. It's also important to keep these floors as dry as possible, even when cleaning them. "Use limited water when mopping, as excessive water can damage the wood," he reveals. It may not seem like cleaning hardwood floors is easy, but these methods tend to benefit homeowners with long-lasting, beautiful flooring that increases their overall home value.