Should You Get A Garden Tub In Your Bathroom?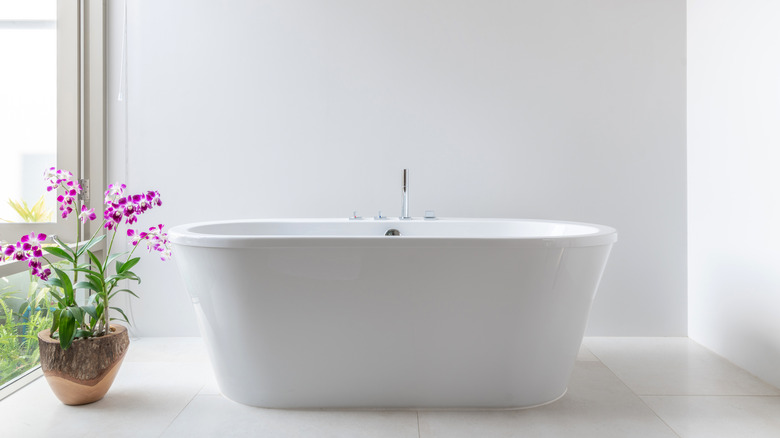 stock_SK/Shutterstock
Your bathtub should be a relaxing centerpiece where your worries wash away. However, you must choose the right option for your space to create such a tranquil environment. There are corner, alcove, drop-in, free-standing, walk-in, and many other different types of bathtubs to choose from, according to Home Depot. But have you ever heard of a garden tub? It's a popular option among homeowners for several reasons, a few of which include its large size, relaxing nature, and ample depth that maintains heat, per Badeloft USA.
However, is installing a garden tub in your bathroom a good idea? Some say they're expensive endeavors and need a lot of space for installation. However, others adore their aesthetically pleasing properties and enjoy how they can sometimes elevate the design of a bathroom. We'll further break down the characteristics of a garden tub to help you make the right choice when planning your next bathroom renovation project.
Pricey relaxation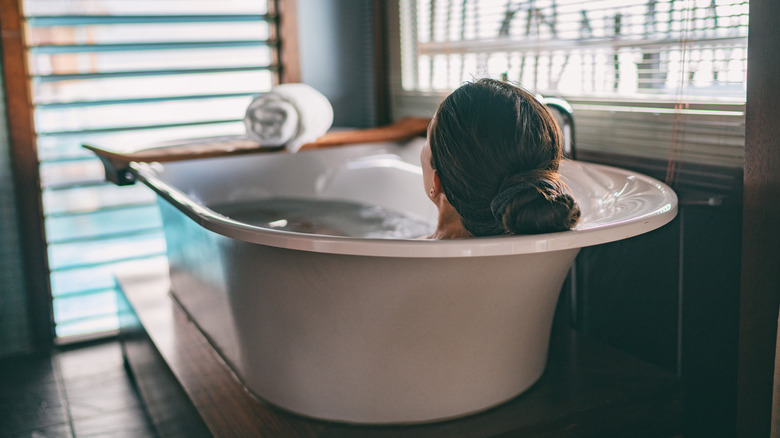 Maridav/Shutterstock
According to Badeloft USA, a garden tub can cost anywhere between $3,000 to $5,000. It is optional to purchase a more affordable plastic version between $500 to $1,000, but they've been noted to be less durable and have poor heat retention. However, you may be able to overlook the price depending on how much you enjoy taking a bath. Also known as a soaking tub, it allows homeowners to fully submerge their bodies even while sitting in an upright position, per Cabuchon Bathforms.
The average size of a garden tub is 3.5 feet high, 5 feet long, and 2 feet deep. However, there are many other size options, and it can be as big as 5.8 feet wide, 5.8-feet long, and 2.5 feet deep. The heat retention of an average garden tub is also better than a standard one because the depth can conceal most of the water's surface area, so less is cooled down by the air.
Several styles to choose from
The one thing about garden tubs is they come in many different styles to accommodate various aesthetics. For example, this Copper Soaking Clawfoot Tub from Build would make a great addition to a home with a rustic or farmhouse theme. The feet of the tub has beautiful detailing, and the warm copper color is sure to make your bathroom feel more inviting. If traditional designs aren't your thing, there are also more contemporary options.
The Industrial Concrete Soaking Bathtub from Homary is made of cement and features smooth yet curvy lines. Installing something like this into your bathroom will elevate the design and create an extravagant focal point. As we think about all of the characteristics of a garden tub, we believe it's worth giving a shot if you've got the budget. We conclude that the various styles available and the comfort it provides are almost too good to pass up.