Home Depot Or Lowe's: Which Has Better Deals On Grills?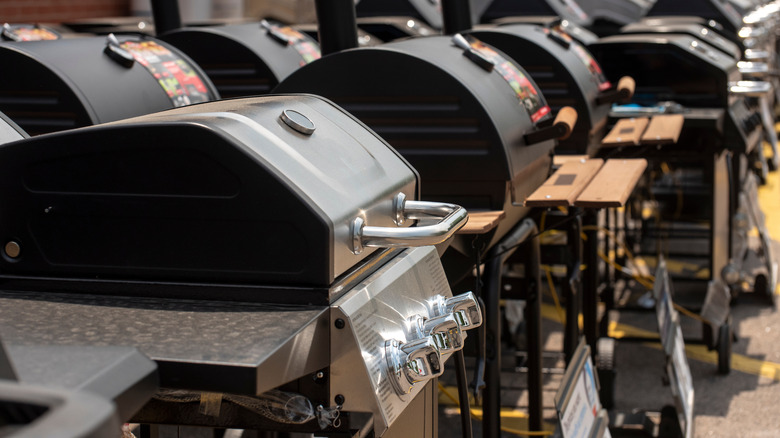 Sharkshock/Shutterstock
If you're passionate about barbecuing, making sure you have a top-notch grill is essential. For many people, gas models are the top choice, whether it be propane or natural. This is because, as Grill Seeker points out, gas heats up quicker than charcoal or wood. Not only that, but the temperature is also easier to control. And, because of the potential dangers of cooking with ashes or embers, some folks may not be able to use charcoal or wood in their neighborhood, making gas the safest option.
Like many things in life, when choosing between propane or natural gas, it all comes down to preference, according to BBQ Guys. The biggest difference? Natural gas is typically cheaper and more convenient if your house already has a natural gas line. You also wouldn't have to risk running out while cooking like you would when using a propane tank.
If you're trying to decide between buying a gas grill from either Home Depot or Lowe's, comparing some of their most popular options is your best bet. Lucky for you, we've done just that. Below, you'll find everything you need to know to make an informed decision about where to purchase a grill.
Lowe's grills
One of the most popular grills (pictured above) sold at Lowe's is from Char-Broil. The four-burner propane model, which comes with an extra side burner, costs $249 and includes professional assembly. Its warranty is broken down into specific parts: The burners are covered for five years, the firebox for two years, and the remaining parts for one year. 
Out of more than 2,100 reviews, the Char-Broil prototype has earned a 4-star rating and a 72% recommendation rate. While some praised its price and overall workability, many complained that it allegedly burst into flames after only a few uses. Others said it didn't heat up enough, arrived with dents and scratches, or was assembled incorrectly by Lowe's.
Additionally, Lowe's sells the Genesis E-325s three-burner grill by Weber, which comes in both natural gas and propane versions. Available in three colors, the copper and black models sell for $999, while the stainless steel version costs $1,129. This model, which has earned a 4.7-star rating and a 95% recommendation rate, comes with a warranty — each part is covered in a range of three to 12 years — and professional assembly. 
Out of more than 1,500 reviews, those who love it said it heats up fast, was well worth the money, and is a pure joy to cook on. Others complained about dents, blemishes, and the grill not working.
Home Depot's options and which store has better deals
Home Depot's best-selling grill is the Nexgrill four-burner propane model (pictured above), which includes a side burner and a stainless steel lid. Right now, it's on sale for $199 — it usually costs $299 — and is covered by a five-year warranty; professional assembly is also available. 
Out of more than 3,800 reviews, this grill received a 4.4-star rating and an 81% recommendation rate. Many buyers say it works great and is easy to use and assemble. However, others expressed frustration, saying it doesn't heat up properly, arrived with dents, and quickly rusts.
Additionally, just like Lowe's, Home Depot also sells the natural gas or propane Weber Genesis E-325s three-burner grill in the same three colors. However, while prices for the copper and stainless steel versions are the same as Lowe's ($999 and $1,129, respectively), the black model is $100 more at $1,099. 
Similar to Lowe's, Home Depot also offers professional assembly. Out of more than 500 reviews, this grill received a 4.7-star rating and a 96% recommendation rate. Many adore this grill, saying it's "next level" and cooks food evenly. Meantime, complaints centered around noticing dents and scratches during delivery and an overall lack of heat.
Overall, Home Depot's cheaper propane grill currently costs less and has better reviews than the popular option from Lowe's. When it comes to the Weber grill, both retailers offer the same services and prices, except that the black model is $100 cheaper at Lowe's.