The Best Way To Store Your Grill This Winter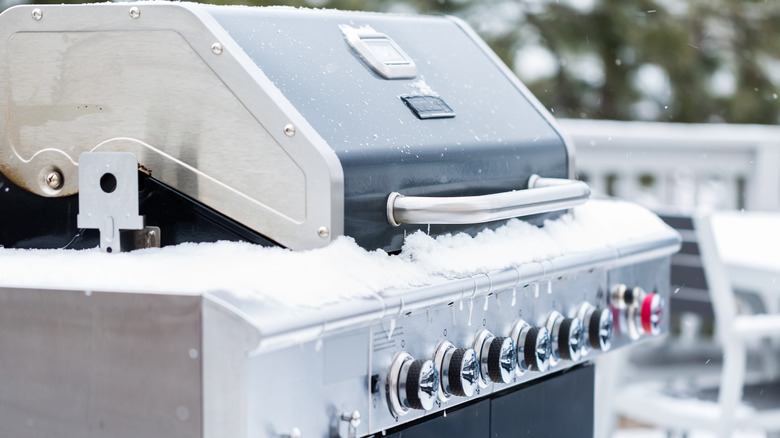 Arina P Habich/Shutterstock
Your grill helped you enjoy some fantastic barbecue this year, perhaps becoming your go-to way to cook in order to keep the heat out of the kitchen during those hot days of summer. Now that the season is coming to an end, you're probably preparing more meals indoors and wondering what to do about your grill this winter.
According to Energex, it's certainly possible to grill during the coldest months, though you'll need to account for longer preheating and cooking times as well as the higher amount of fuel that will become necessary. If you want to hold onto the taste of summer longer, you could do so, but if the thought of going outdoors to cook in knee deep snow just doesn't sound worth it to you, then it's time to consider keeping your grill safe with some winterizing techniques. Taking a few steps now to properly store it will help ensure it's in great condition as soon as the first warm day of the new season arrives.
Give it a good cleaning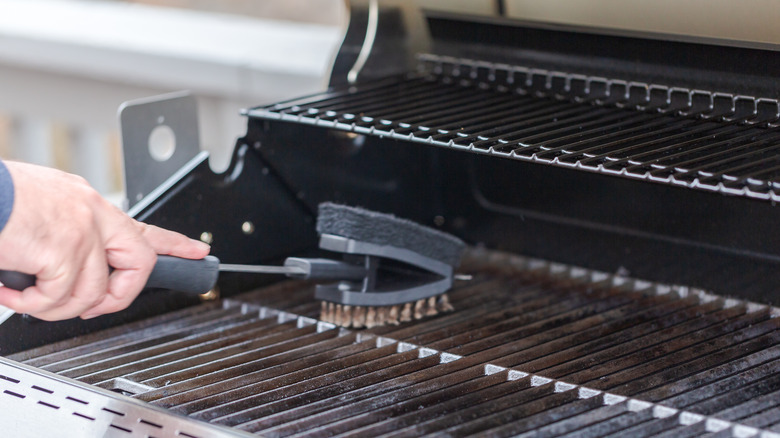 Arina P Habich/Shutterstock
Chances are good your grill has been through quite a bit this summer, and that means it needs a really good cleaning before you put it away for the winter. According to the folks at BBQGuys, the first step is to get rid of any remaining food debris on or inside the grill, as this will help prevent corrosion while also eliminating the desire of pests to call the interior of it home during the oncoming deep freeze. Wipe away all grease, scrub the grates, and clean out the traps to ensure no moisture or material remains.
Skipping this step enables oxidation of the grill's metal components. More so, mold can flourish. Though mold cannot grow once temperatures drop below 40 degrees Fahrenheit, it could do damage before it gets that cold, and it'll be hard to clean away later. Most likely, you'll be covering and tucking away your prized outdoor cooking machine for a few months. Cleaning it thoroughly now minimizes unwelcome surprises in the spring.
Preparing for storage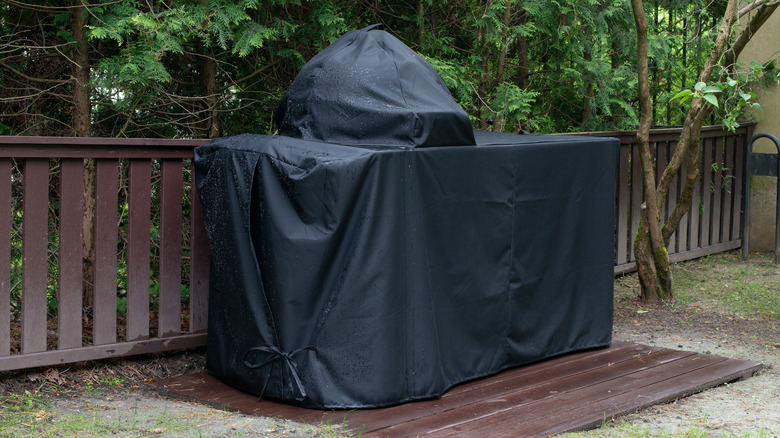 Ausra Barysiene/Shutterstock
Winter conditions can be harsh on all of the metal components, and that's why you'll want to use a high-quality cooking oil to coat the grates and burners. Simply apply a thin layer on each metal surface by adding a small amount of oil to a cloth and rubbing it on. This helps to reduce moisture buildup which could lead to rust if left unchecked, according to Cenex.
If you haven't done so yet, disconnect the fuel tank and be sure it's fully shut off. In most cases, a grill cover is a must for protection. From there, you'll need to decide if indoor storage, such as in a garage or shed, is possible. For a high-value grill, that could definitely be worth the effort and sacrifice of space. If not, you can store a covered grill outdoors through the winter, but be sure to remove the propane. If this is the case for you, consider situating the grill close to the house to provide as much stability and protection from inclement weather as possible.