The Dirtiest Spot In Your Bathroom Isn't What You Think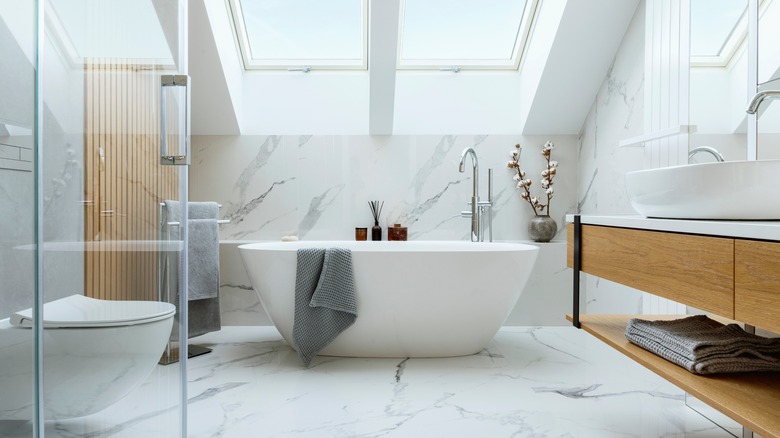 Followtheflow/Shutterstock
The dirtiest spot in your bathroom isn't the toilet. An experiment done by SafeHome showed that the top two places with the most germs are your shower curtain and floor. The results showed that toilets, which most people perceive to be the dirtiest part of a bathroom, are actually 60 times less dirty than your shower. In fact, after the shower curtain and floor, the next place with the most germs is the handle of your toothbrush.
SafeHome based its results on samples taken from three different home bathrooms, specifically looking for colony-forming units. CFUs are an approximate amount of microbial cells that could grow if given the proper environment (via Toppr). Showers turned out to be covered in bacteria because they're almost always moist. Germs need a warm, wet environment to grow; your shower is precisely that. This is why mold is often found in bathrooms around the tub.
Clean your shower curtain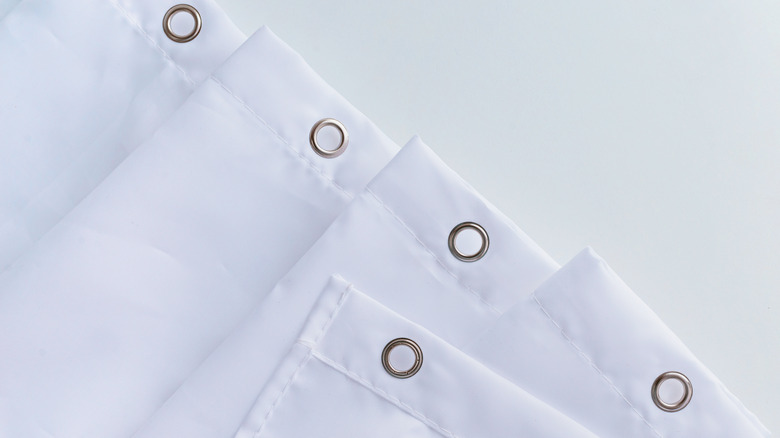 Ira Shpiller/Shutterstock
Your shower curtain is easier to clean than you may think. There are different ways to clean it depending on what it's made of. The two main types are fabric and plastic shower curtains. For fabric, remove it from your shower and take all the rings off. Then set your washing machine to gentle, with the largest load option and warm water. Molly Maid recommends using 1 cup of vinegar with only a few drops of your regular detergent. Add in your shower curtain and once the load is done, leave it to air dry. The best place to do this is by hanging it back in the shower.
You can wash plastic shower curtains in two different ways. One is to keep it hanging in your shower, and with a damp cloth or sponge, wipe it down. You can use mild soap as your cleaner or diluted vinegar. To do this option, mix 2 parts water to 1 part vinegar and spray it on, according to Pro Housekeepers. Cleaning with bleach will help cut down on bacteria and prevent mold growth. For this method, add ¼ cup of bleach to your washing machine. You can use the same settings as fabric.
Scrub the grout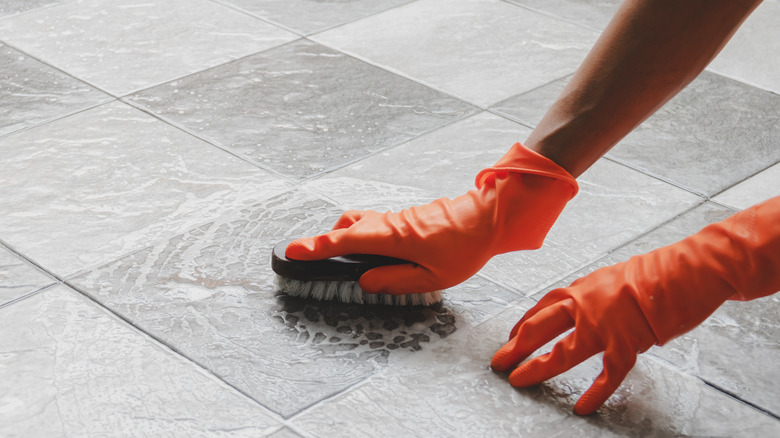 ETAP/Shutterstock
The grout between the tiles on your shower floor is the perfect hiding place for bacteria and mildew. You should regularly clean your bathroom to prevent it from getting out of hand. If not, you may have to deal with mold in the future. There are many ways to clean this part of your shower that are not exclusive to the floor. The tiles and grout go up the walls to keep this part of your bathroom waterproof and are also susceptible to bacteria, mold, and mildew.
The Eco Hub has a homemade recipe to easily clean the grout and tiles of your shower without having to scrub them. Mix ½ cup of baking soda with ¼ cup of hydrogen peroxide. Once it turns into a paste, add 1 teaspoon of dish soap. Then, apply the mixture to your shower floor and leave it to soak for five to 10 minutes. When the time is up, wipe the paste away and rinse with water.