Home Depot Or Lowe's: Which Has Better Deals On Paint?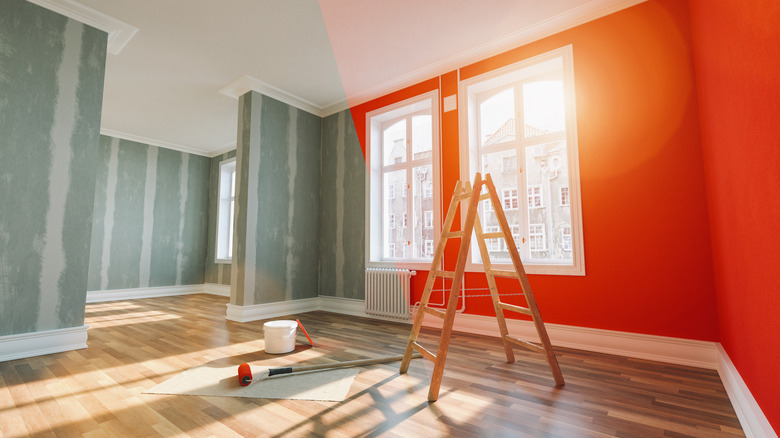 r.classen/Shutterstock
When you are faced with the task of painting your home, there are a lot of factors to consider, and, according to How Stuff Works, these depend on which part of your home you're redoing. Painting your interior walls comes with a few different requirements than the exterior of your home. This can then help you decide which type of paint you need. Solvent-based paint dries more quickly which can be convenient for interior projects that you need to finish within a time limit. Alternatively, water-based paint is easy to clean up should any unforeseen messes occur.
Image Works Painting also states that when painting your home's exterior, you should take into consideration the durability of the paint. While most brands state that their paint will last 20 to 30 years, many choose to redo their home every seven years. Therefore, the warranty that is included with their paint can help determine the stronghold of the product. Generally, the longer the warranty, the better the quality will be. As for interiors, Forbes suggests buying the paint based on how much traffic each room gets. For more common rooms such as bathrooms and the kitchen, you'll need a type that is stain-resistant and can withstand cleanings. No matter where the paint will be used, you'll need a retailer to purchase this paint from. Since Home Depot and Lowe's each have many options, let's see who has the better deal.
Lowe's Valspar interior paint
Over at Lowe's, one of their best-selling paints is made by Valspar. It comes in a one-gallon size that can cover up to 400 square feet of space for just under $46. Available in a satin ultra-white finish, it's said to be fade-resistant as it is made from tintable acrylic. While it takes about an hour to dry, you'll need to do multiple coats. Aside from walls, this paint can be used on fiberglass, metal, wood, plaster, ceilings, and doors. However, it is not recommended for use on basement walls or trim. A lifetime warranty is available with purchase.
Out of over 9,000 reviews, Lowe's Valspar paint received a 4.5 rating and an 89% recommendation rate. Most of these reviews are positive with one consumer stating that they were very happy with this paint as the first coat covered most of what they needed it to. They went on to add that there were no roller marks left and it went on smoothly and evenly. Another purchaser said that they opted to choose two different colors in this brand for different locations. They added that each went on smoothly without any run marks as the paint is of good quality. A third consumer said they would recommend this paint as it dries fast.
Home Depot's Glidden interior paint
One of Home Depot's most popular paints is made by Glidden. Available in a 5-gallon can, this paint covers up to 2000 square feet and is sold for $152. This standard cotton tail eggshell shade also doubles as a primer. It's said to be scrubbable allowing you to clean it without fear of ruining the paint. This also allows you to use this paint in many common rooms. It's made of 100% acrylic latex and has advanced leveling to provide a smooth and even finish.
Low in odor, this paint dries within an hour and can be recoated in 2 to 4 hours as needed. However, it's said that you'll only need one coat to complete most projects. If messes are made, you can easily clean this product up with warm soapy water, and a lifetime warranty is included with the purchase. Based on over 400 reviews, this product received a 4.7 rating and a 94% recommendation rate. One consumer stated that this is an excellent product and that they only needed one coat of paint to go over a darker shade.
Taking all factors into consideration, we say the better deal is at Home Depot. While their paint is slightly more costly, you also get more paint for the money. In addition, they have slightly better reviews and a higher recommendation rate. It is also known to get the job done in one application, whereas Lowe's product will often need multiple coats.