Do You Need To Spend A Lot Of Money On A Christmas Tree?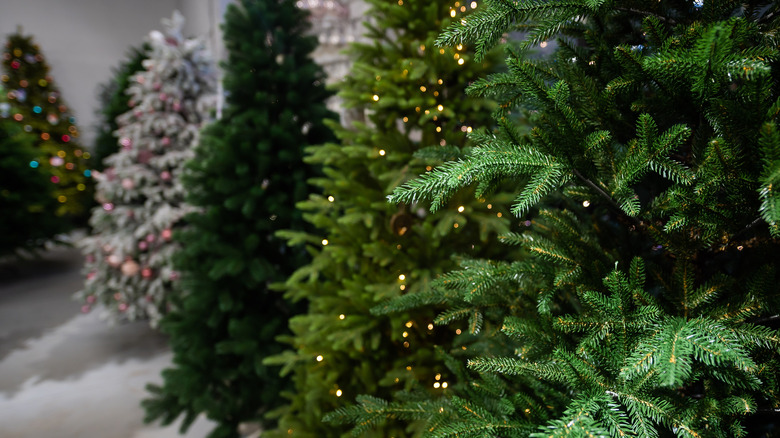 Reshetnikov_art/Shutterstock
While Christmastime comes with lots of joy, it can also cause stress, and one of the largest anxiety inducers is a limited budget. Expenses like food, presents, traveling costs, and decorations can add up during this time of year. Something else that may be costing you quite a bit of money is your Christmas tree.
When perusing Christmas trees in your local store, you may be baffled at the wide price range. According to Consumer Reports, while basic models typically cost around $150 to $300, luxurious trees could cost more than $2,000. Or, if you've decided upon a real tree this year, you may still come across the same dilemma. For instance, at Tree Towne Christmas Trees, some cost $40 while others are priced at over $800 — with such a large price range, you may be wondering what makes certain trees more costly than others and whether it's worth it to pay more. 
Factors that determine the price of trees
Bloomberg/Getty Images
When it comes to fake trees, a higher price typically means better quality, per Yahoo! Finance. More expensive models will most likely be easier to store, set up, and take down. Additionally, they may have nicer lights and may look more like real trees. They should also last a long time (up to 20 years); Because of this, they may be a better financial investment than a real tree. 
However, if you're getting a real tree, the price is mostly determined by the size and the type. U.S. News says that they could be priced by the overall quality, by the foot, or by a flat rate. The various prices for different types of trees will also be determined by individual stores: At Home Depot, a 5- to 6-foot Douglas Fir costs just under $80, while a Noble Fir of the same size costs about $92. Pre-cut trees will most likely cost more, so cutting down your own tree could save you money, suggests Farmers' Almanac.
Do you have to break the bank?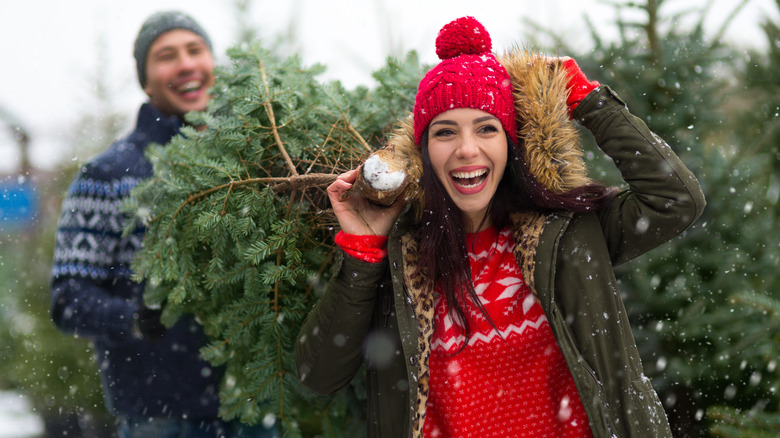 pikselstock/Shutterstock
The truth is, you don't need to spend a lot of money on your Christmas tree, whether real or fake. However, as discussed, when it comes to artificial trees, you usually get what you pay for. While beautiful trees can be found for a low price, they may be harder to set up or may not last as long. At the same time, there are ways to get a high-quality tree for less money. 
If your budget is really tight, you could choose a smaller model that sits on the counter or table, per U.S. News. Or, you could decide upon a less trendy look, for instance, multi-colored lights are less popular than translucent ones, so they may cost less. The time of year you purchase could have a huge impact on the price as well. The Krazy Coupon Lady explains that Black Friday may be the best time to buy. If you want an amazing deal, you could also wait until after Christmas to purchase for next year. 
When it comes to real trees, you definitely don't need to spend a huge amount, as the tree will only last for the current season. However, whatever tree you choose, make sure it's healthy to ensure it will last until Christmas. To do this, U.S. News says to run your hand through the branches; If clumps of needles fall out, choose a different tree.