20 Paint Colors That Will Go With An Oak Wood Trim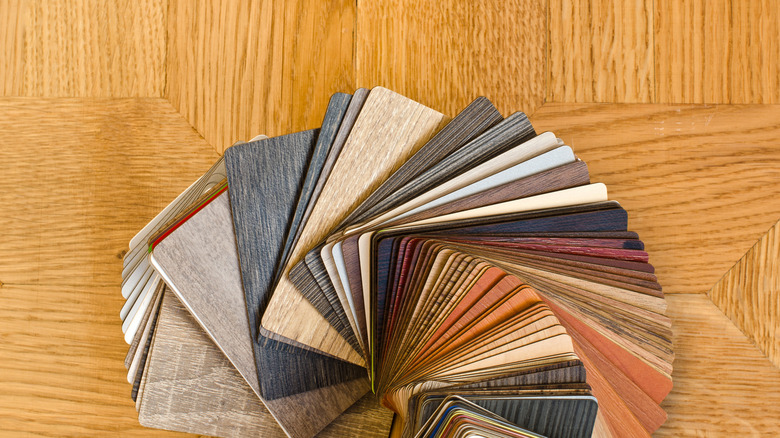 luanateutzi/Shutterstock
Need some color inspiration for your oak wood trim? Naturally resilient, oak is a highly valued hardwood known for its durability and permanence. For centuries, oak has been utilized as a top choice for households among cabinetry, flooring, furniture, crown molding, trim, and other features. Two types of oak often presented are red and white, which may vary in appearance from a light beige, honey, or brown to rich pink, orange, and red hues (via Vermont Woods Studios). Depending on how light or dark your oak trim is, it can naturally contain more reddish and/or yellow undertones, which may not produce an optimum contrast with similar colors.
Which colors best suit an oak wood trim? Compare lighter shades of oak with various darker paint colors (and vice versa) to determine the perfect match. You might choose complementing shades like smooth, velvety neutral shades, including beige, ivory, and gray as well as various hues of blue and green. Within this warm, coastal yet craftsman-like vibe, steer away from shades that resemble a dominance of red, yellow, or orange, especially if the oak is within the same tone. Whether it's an entire room, an accent wall, a stairwell, or other intended space, there are several colors to pair with your oak wood trim. Places to consider might include window framing, crown molding, door frames, baseboards, built-in shelving, and more. Keep reading to discover some of the most harmonizing paint colors.
1. Feather gray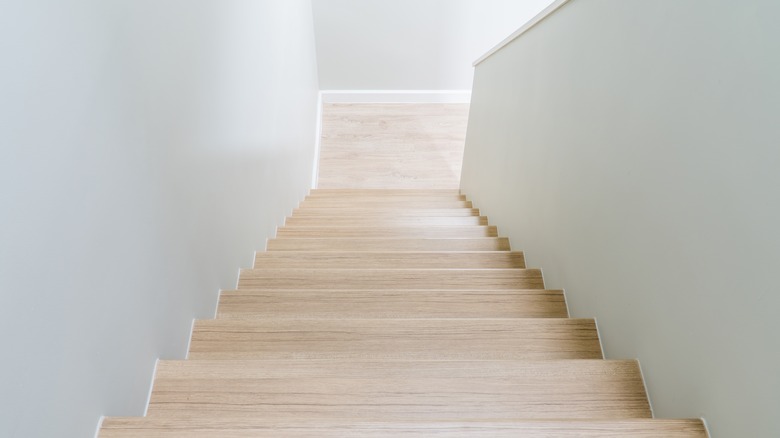 mariokinhed/Shutterstock
Like a fallen seagull feather, this staircase features a soft and airy gray to highlight the side walls that lead down to the main level. The light hue creates a faint, misty presence to slightly contrast the faint white oak wood steps. Placing pictures or other artwork on the walls might add some appeal and focus.
2. Drifty gray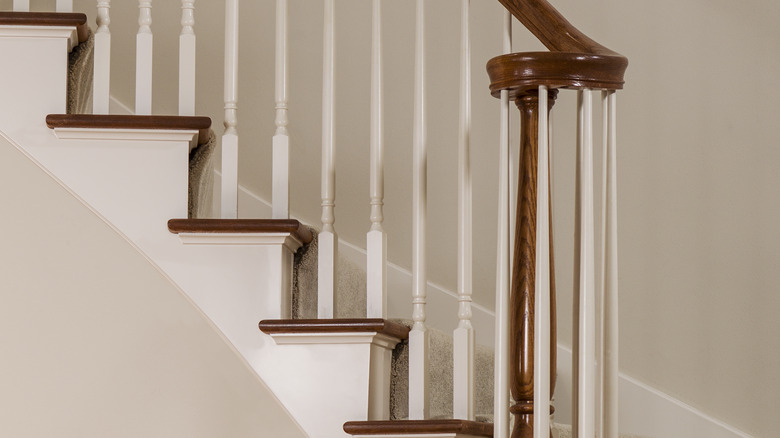 tab62/Shutterstock
Like the soft, muted tone reminiscent of driftwood, a warm grayish-brown hue accents the walls and base of this stairwell. The sophisticated staircase features a white carriage, or siding, with dark, reddish oak wood molding present on the steps and railing. The delicate, earthy hue significantly contrasts against the rich tones of the wood, including the nearly matching carpeted steps.
3. Chic gray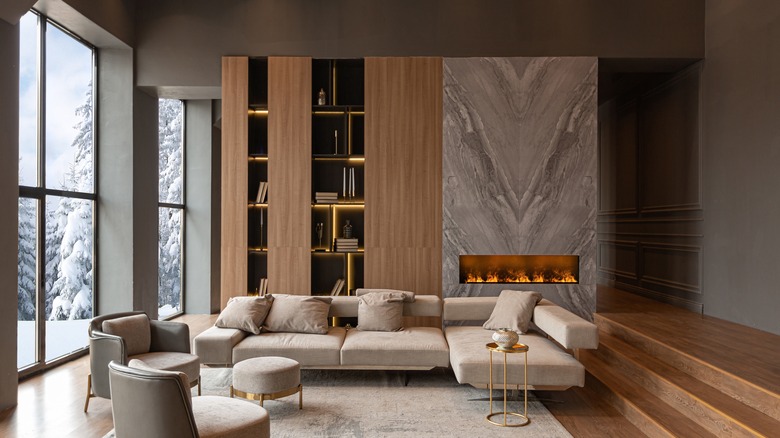 Pinkystock/Shutterstock
A classic gray paint color is seen pictured above within a spacious and modern cabin-like living room. The cloudy color encompasses the walls on both sides while unique light oak paneling is centered alongside a large marble wall fireplace. The neutral-toned furniture balances out the lively oak amidst the paneling and the floors.
4. Pewter metal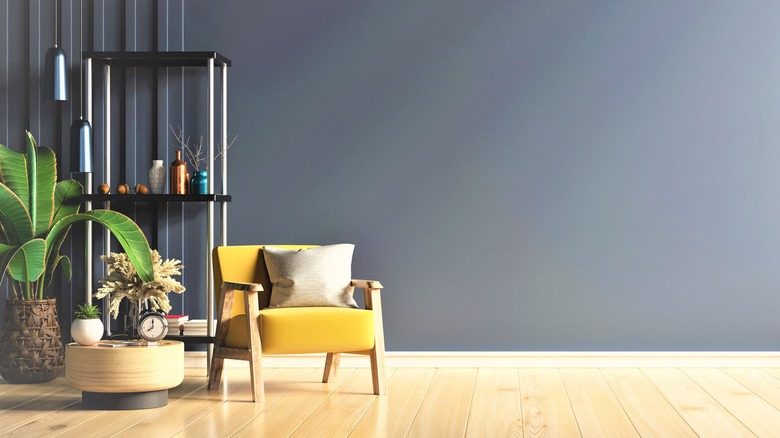 fazilran1234/Shutterstock
With a slight metallic finish, this wall features a regal blue-gray silver shade that resembles vintage pewter metal. The deep, distinguished color brings out the vibrancy of a golden wood trim. Here pictured are examples of oak with the chair, accent table, and flooring.
5. Bridal white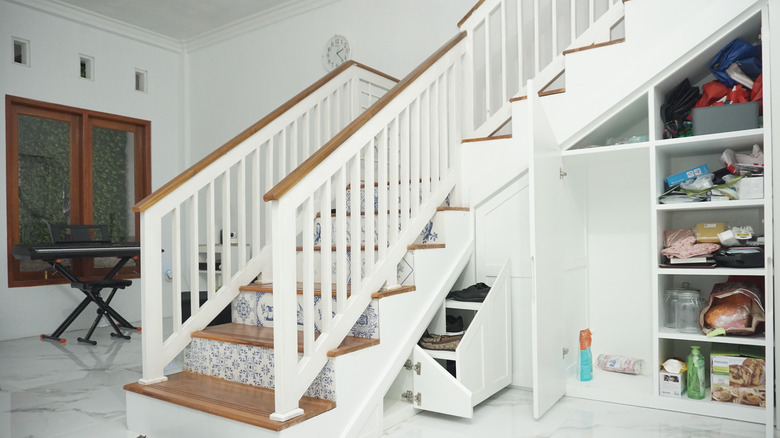 rifky naufaldy/Shutterstock
This home features an eye-catching staircase with light oak wood trim on the railing and the steps, which makes the fresh and spotless shade of white beam from the walls, cabinetry, and stairwell. A slightly darker oak wood appears on the trim of the window, which gives additional contrast, including the marble flooring and blue geometric risers.
6. Old English white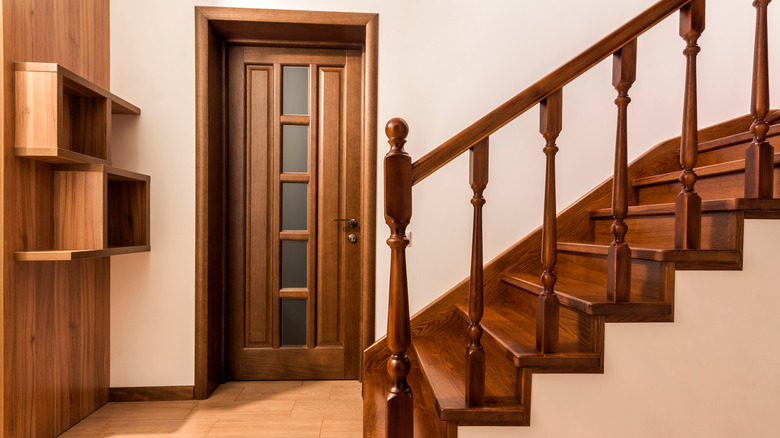 Bilanol/Shutterstock
Although this image features a variety of brown oak elements, an antiquated white shade with a hint of bronze is presented throughout the walls for a dynamic visual. From the dark, reddish brown staircase railing to the lighter door trim and cabinetry, these parts combined radiate an old English cottage aura with the distinct brown and white contrast.
7. French vanilla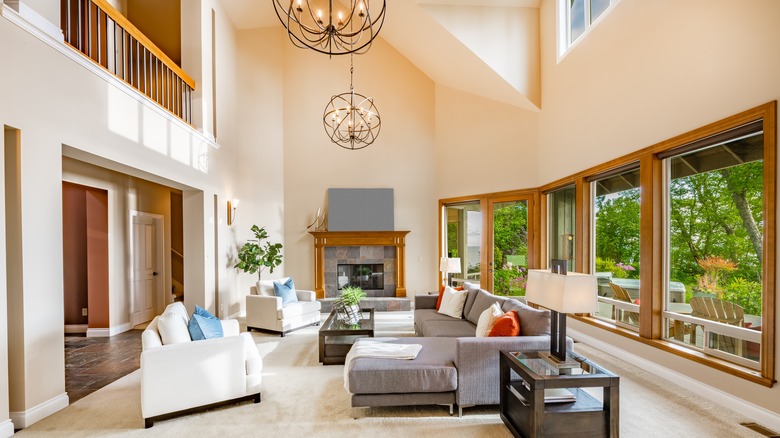 Sheila Say/Shutterstock
Like vanilla ice cream, or ivory, this gigantic yet sophisticated living room appears fresh and elegant, as it features vaulted ceilings and gaping picture windows. A honey oak trim is prevalent on the fireplace, window frames, and upstairs railing, while the neutrality of the furnishings remains relaxed in gray and white.
8. Sandy beige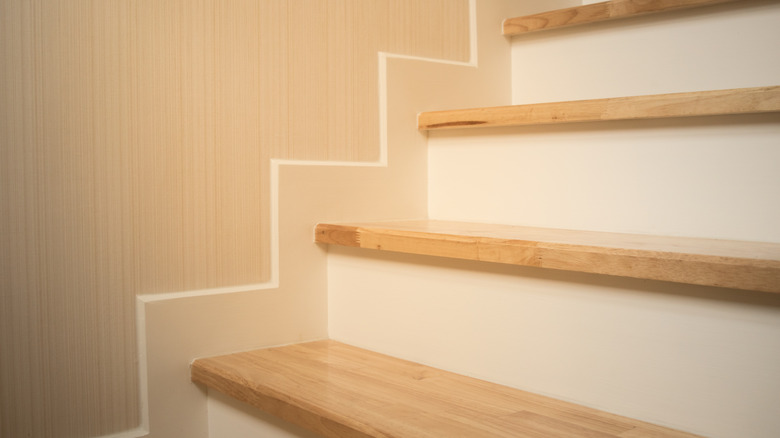 PW.Stocker/Shutterstock
Reminiscent of the beach, a light sand-like color is featured on the wall of this staircase, which complements the glossy oak wood steps. The white on the risers and wall string gives a delicate contrast against the sandy, golden hues.
9. Mint green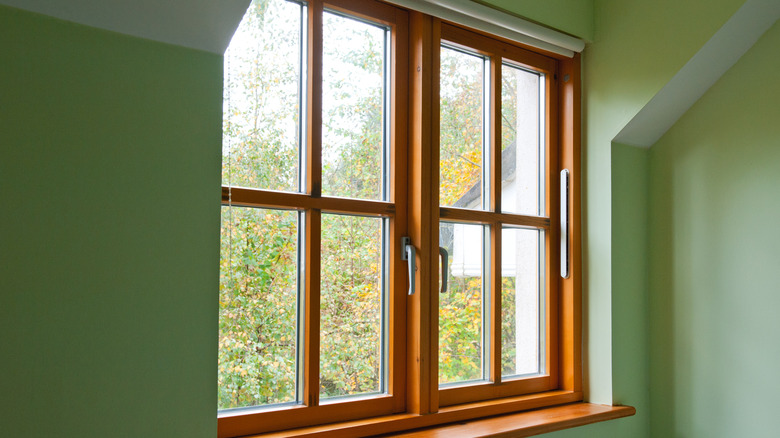 CTatiana/Shutterstock
This image features a pale green color as appetizing as mint and chocolate, which complements the striking reddish oak wood window frames. This shade of green offers a lively contrast against the rustic windows shown in an upstairs room.
10. Sage green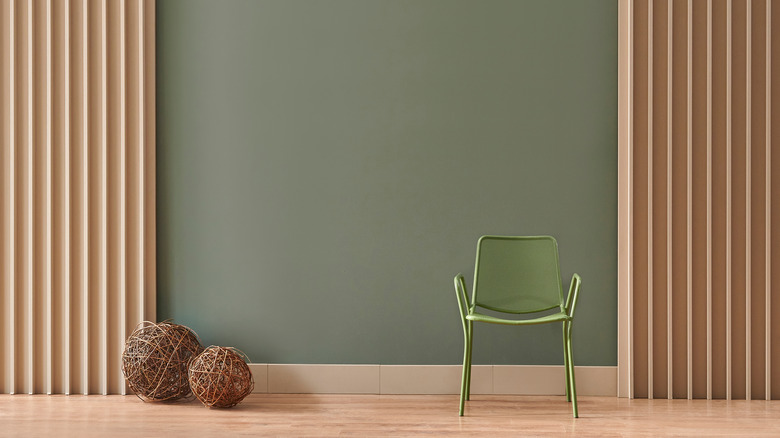 united photo studio/Shutterstock
Balancing life and light, green and gold are a compatible duo. Here pictured is a muted sage green wall with contrasting oak-colored panels and flooring. The subdued green enhances the lighter-toned panels rather than overpowering their sunny color. Accompany it with similar shades of green and brown as presented in the chair and décor.
11. Enchanting green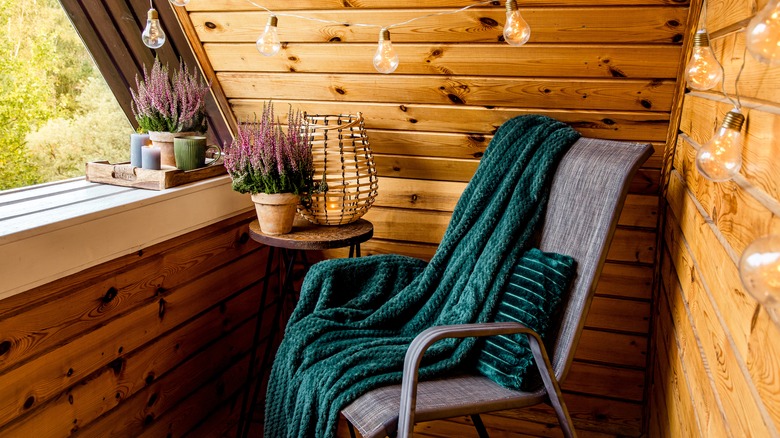 FotoHelin/Shutterstock
Deep in the woods, an earthy, dark green shade captures the outdoor elements amidst a log cabin nook. This cozy corner embodies a composed atmosphere with the emerald and forest green colors present in the blanket and pillow, which contrast the brilliant oak hues of the wood siding. Purple lavender plants also contribute to the serene space.
12. Coastal blue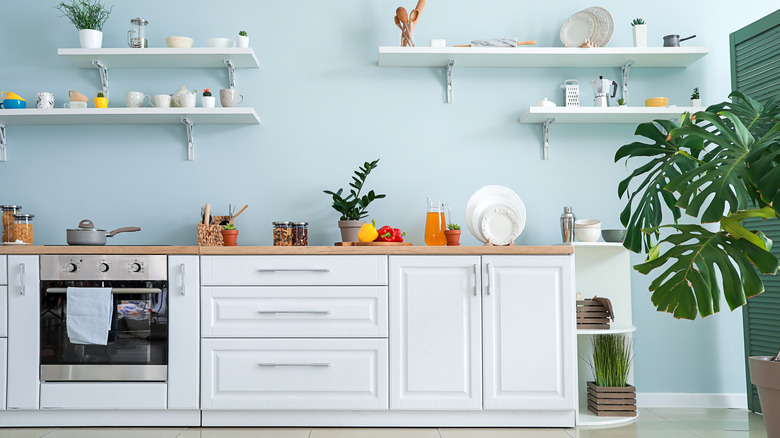 Pixel-Shot/Shutterstock
Like a seaside oasis, a light, misty blue shade livens up this kitchen amidst the white cabinetry and shelves, green plants, and particularly the complementing oak wood countertop. With a mixture of browns, blues, greens, and white, this convivial space reflects a beachy, tranquil vibe throughout.
13. Tranquil teal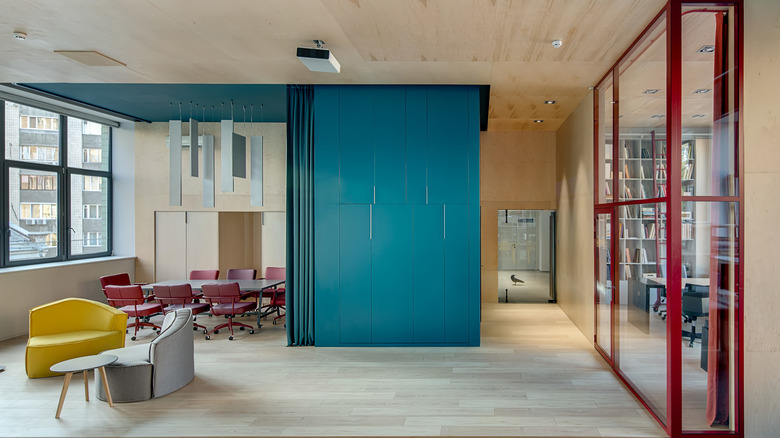 bezikus/Shutterstock
Whether it's through water and sand or sky and trees, teal and brown complement each other in many natural ways. Here pictured is an office space that features a vibrant teal accent wall, which juxtaposes a reddish brown window trim. Other colors to balance the scene are the light wood tones within the flooring and the yellow chair.
14. Cool blue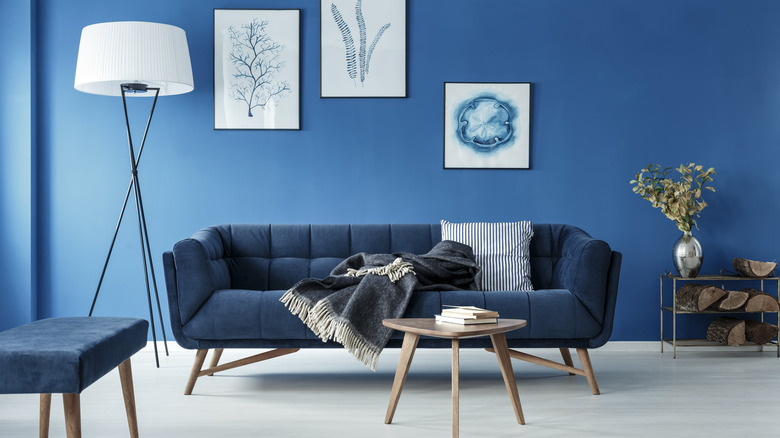 Katarzynabialasiewicz/Getty Images
Rich and noble, this blue wall is a cool hue to accentuate the light white oak trim elements. The blue monochromatic scheme of this modern living area features plush navy blue furniture with light white oak flooring and table legs for high contrast. A brighter sky blue might contrast a darker, brown oak better.
15. Nauti blue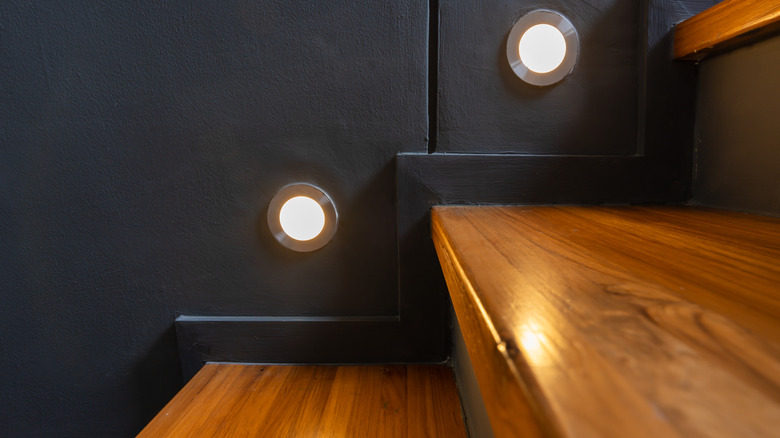 Supermop/Shutterstock
Like a modern boathouse, this dark blue-gray hue is deep and oceanic. The wall is endlessly captivating as it sets the background for the lively honey hue within the oak wood staircase steps, along with the supporting recessed lights that appear like small portals on each step.
16. Dusty pink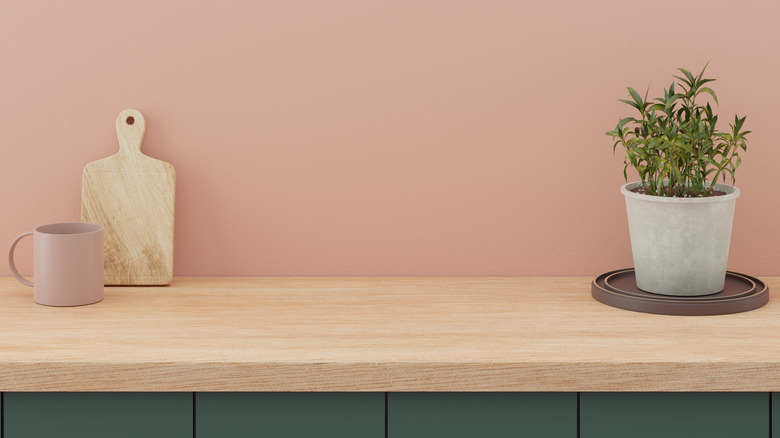 Kueakoon T/Shutterstock
A creamy, feminine color, the above wall features a dusted pink shade, which contrasts a white oak countertop with an earthy green cabinet base and plant life. Like strawberry and mint, dusty pink blends well with shades of green, as it is a combination of beige, red, and white.
17. Bold gold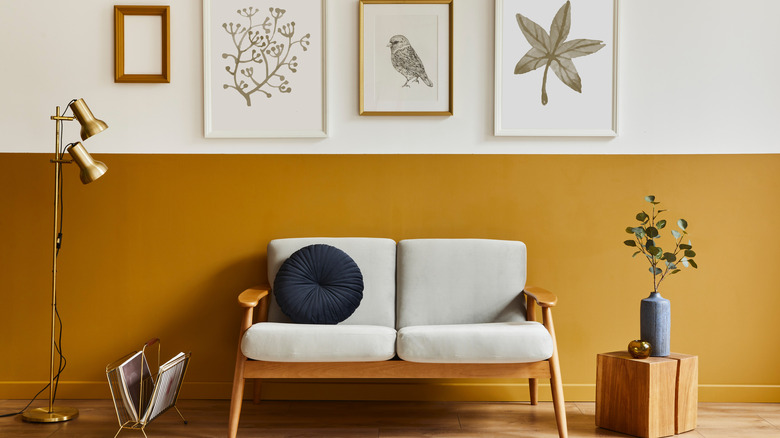 Followtheflow/Getty Images
You might feature a duo of contrasting colors within your oak trim elements. Here we see a bright, golden hue showcased on the lower half of a wall amidst a distinctive white upper portion. The furnishings and picture frames showcase various light oak-type hues while exhibiting a more monochromatic color scheme amidst the warm, yellowish glow.
18. Tender taupe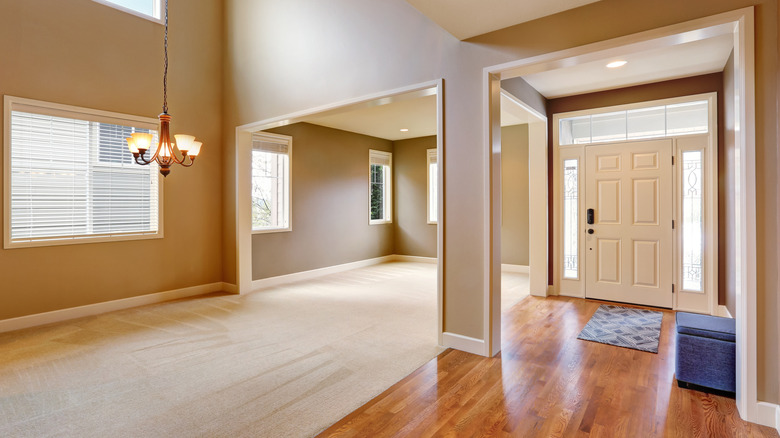 Artazum/Shutterstock
For an easy, contemporary look, you might incorporate a gentle taupe shade upon your walls or other space to pair with your oak wood trim. This image features a lavish living area with vaulted ceilings painted in a neutral brownish-gray hue, which complement the vivid hues of gold, brown, and red within the hardwood floor.
19. Vintage violet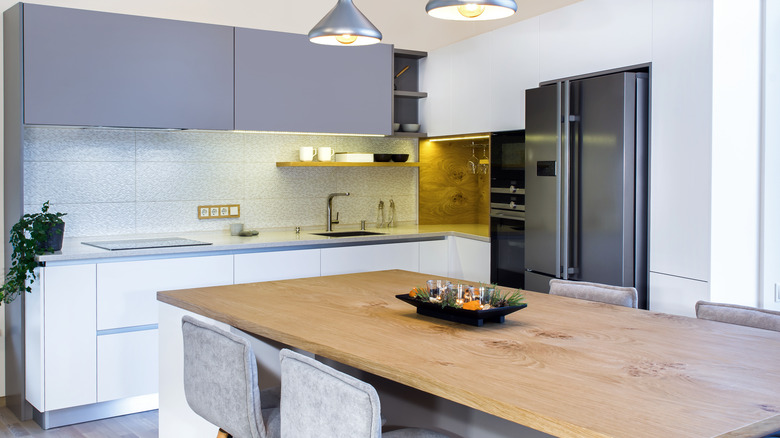 Richard Salamander/Shutterstock
A pretty, delicate hue, this kitchen features a dusty purple color on the cabinetry, which complements the gray and silver elements within the space. The large island stands out against the muted violet-purple shade with its rustic oak countertop, including the sectioned wood backsplash displayed in the background.
20. Modish black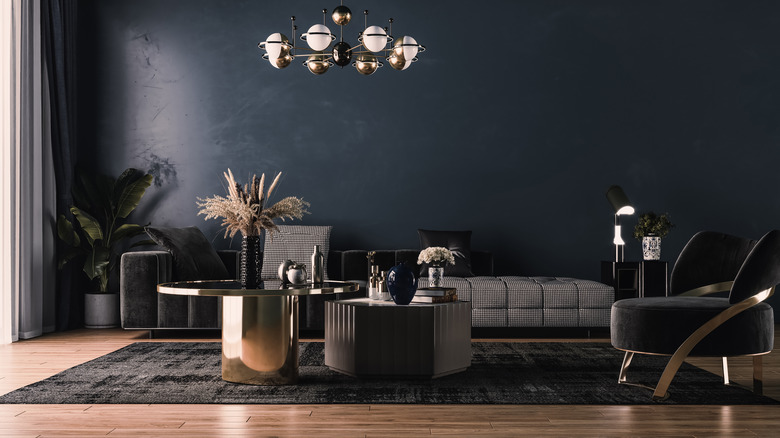 mixphotos/Shutterstock
Add drama with a black paint color for your walls to go along with your light oak trim. Here pictured is a chic, modern vintage living area with a dark scheme all around that accentuates gold metallics within the furniture and chandelier, including a light golden hue that exudes from the flooring.