36 Tree-Free Festive Decor Ideas Perfect For Your Small Apartment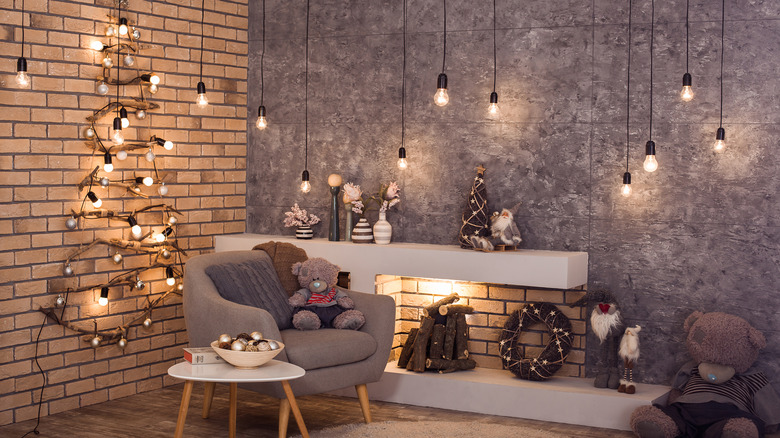 Favorestudio/Getty Images
Because families typically gather around the tree to open presents on Christmas morning, this item is the obvious focal point in most homes during the holiday season. However, if you live in a small apartment, there may be a number of reasons why you're not using one this year.
As Holidappy points out, the most obvious is that your apartment may be too cramped. Or, maybe you plan to celebrate at a relative's house, so buying a tree is pointless. Other reasons include that it may be too difficult to carry up to your floor, dangerous for young kids or pets, or your apartment complex may not allow them, as they pose a fire risk.
If you're not decorating with a tree this year, that doesn't mean your holiday setup has to lack any wonder and beauty. In fact, it can have just as much merriment as a space with a show-stopping tree. To inspire you, below are 36 apartment-friendly décor ideas that don't involve Christmas trees.
1. Display a snowy village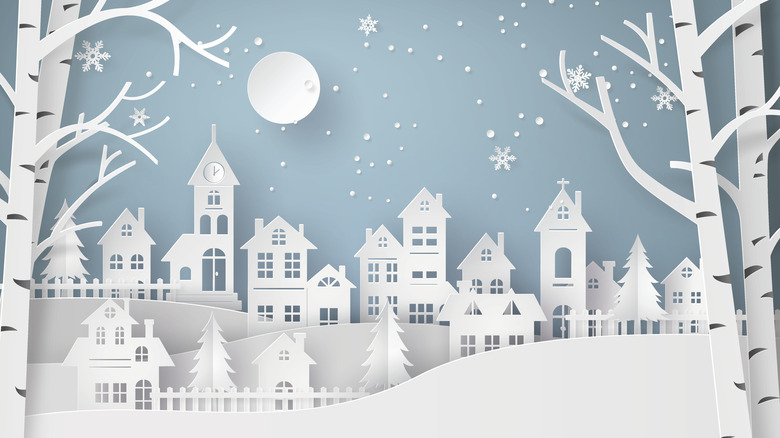 Thanaphiphat/Getty Images
A white-colored Christmas village, whether made out of paper or ceramics, could become the new focal point in your apartment.
2. Use items you already own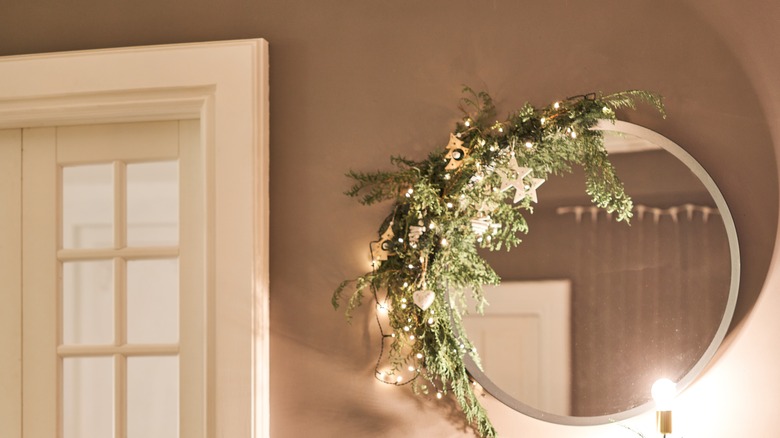 Fusionstudio/Shutterstock
To easily transform your space, utilize items you already own. For instance, you could make a hanging mirror more festive by adding a garland.
3. Decorate with presents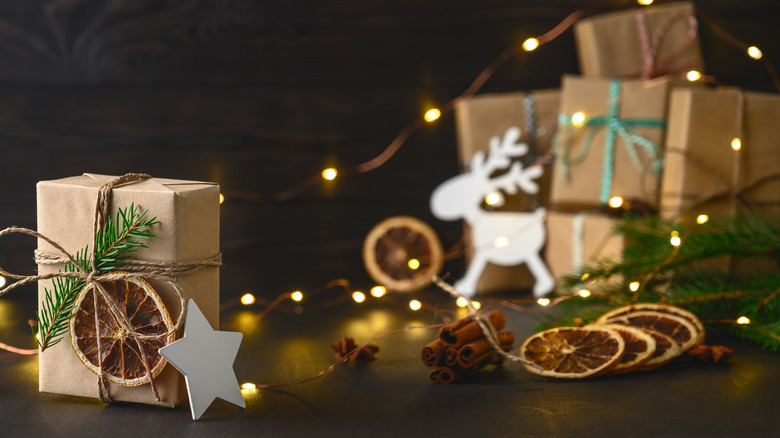 Ramil Gibadullin/Shutterstock
While presents are typically housed under the tree, they don't necessarily have to be. Instead, place them front and center around your focal point, such as your entertainment center.
4. Cover unique places with greenery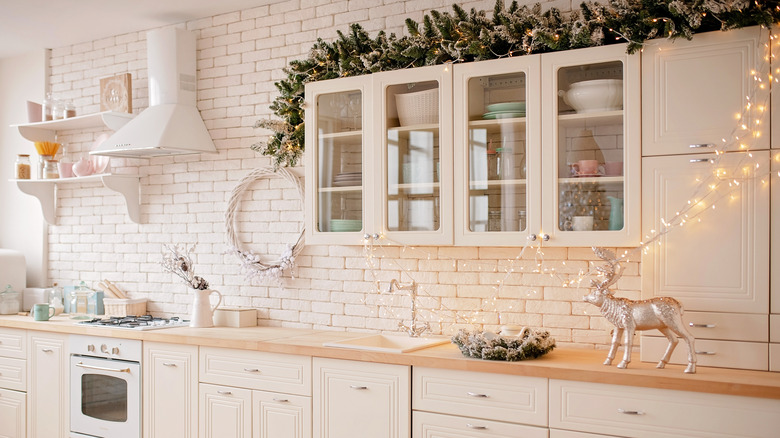 Olha Yefimova/Shutterstock
Because your apartment is small, you may need to get creative with placing different items. For instance, if your living area doesn't have a mantel, place a garland above your kitchen cabinets.
5. Embellish your table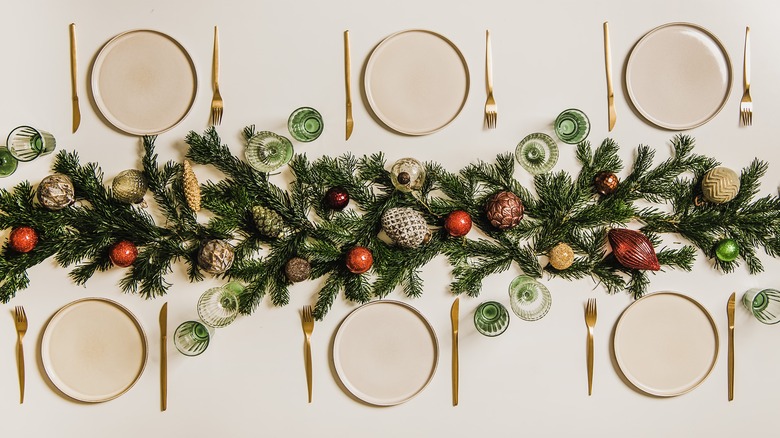 Foxys Forest Manufacture/Shutterstock
If you have the luxury of a table in your apartment, adorn it with decorations, such as a garland, candles, or pine cones.
6. Utilize a blanket ladder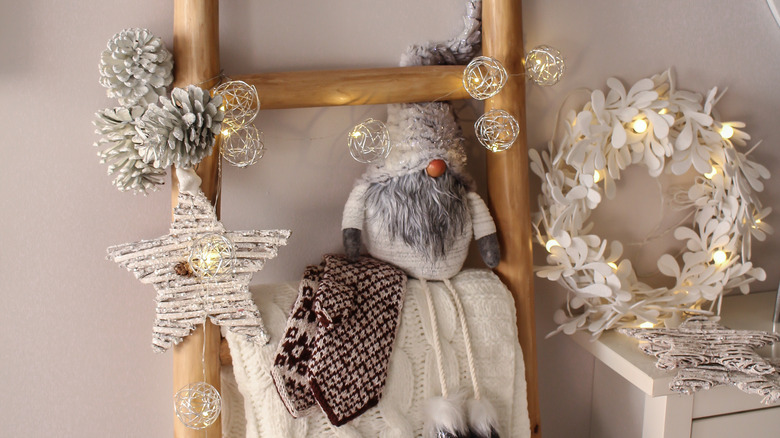 vlasna/Shutterstock
A blanket ladder could be the perfect spot to hang some ornaments you would have otherwise hung on your tree.
7. Place stockings around the space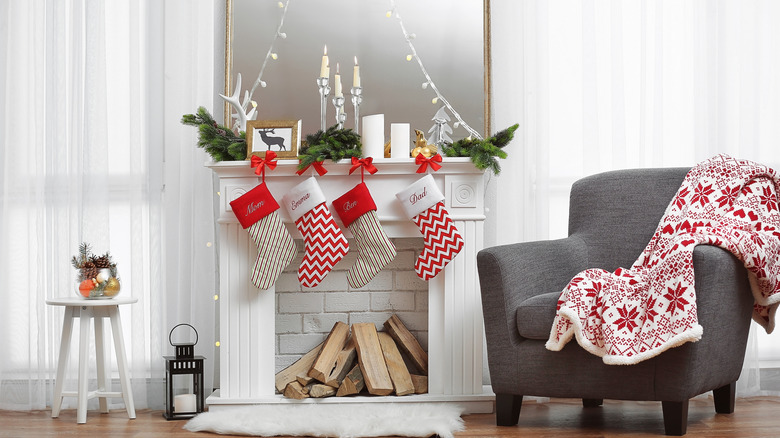 Africa Studio/Shutterstock
Make sure you include other classic decorations, like stockings. These could be hung on the fireplace. Or, if you don't have one, think about adding them to the entertainment center, a cabinet, or the wall.
8. Build a winter bouquet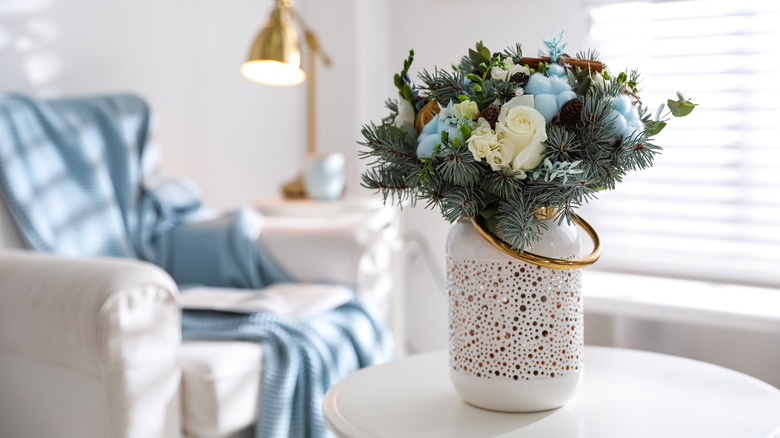 New Africa/Shutterstock
To include a natural element in your space, create a winter floral arrangement with pine needle branches and white flowers.
9. Consider a sleigh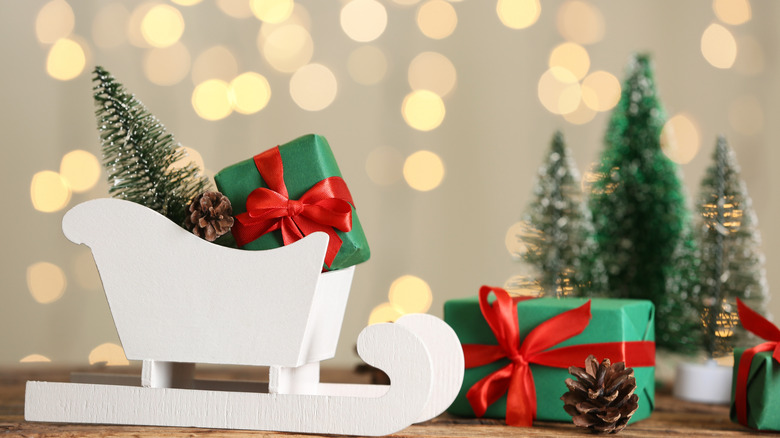 New Africa/Shutterstock
Instead of a tree, use a decorative sled as the main attraction in your apartment. This décor piece could hold presents or be propped up against the wall.
10. Focus on the mantel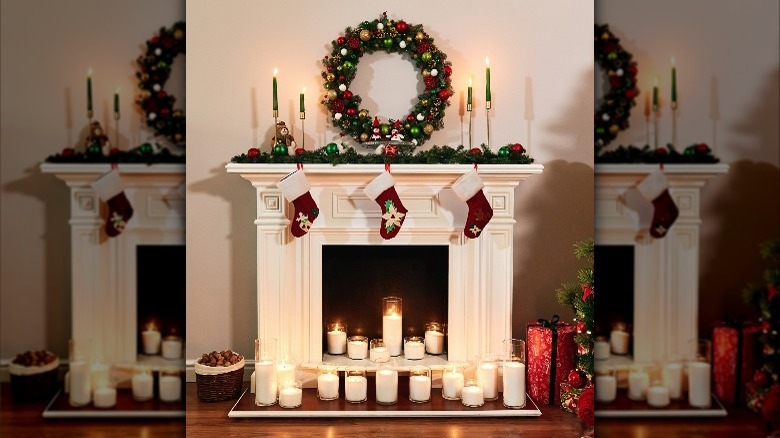 MestoSveta/Shutterstock
If you have a fireplace in your apartment, focusing most of your decorations in this area would be wise, as a mantel is almost always the focal point.
11. Include an electric fireplace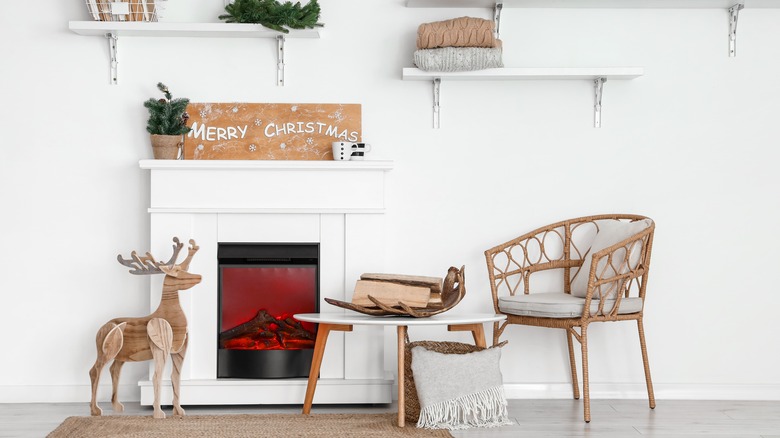 Pixel-Shot/Shutterstock
Or, if your apartment doesn't have a fireplace, include an electric one and center your decorations around it.
12. Accessorize a garland with ornaments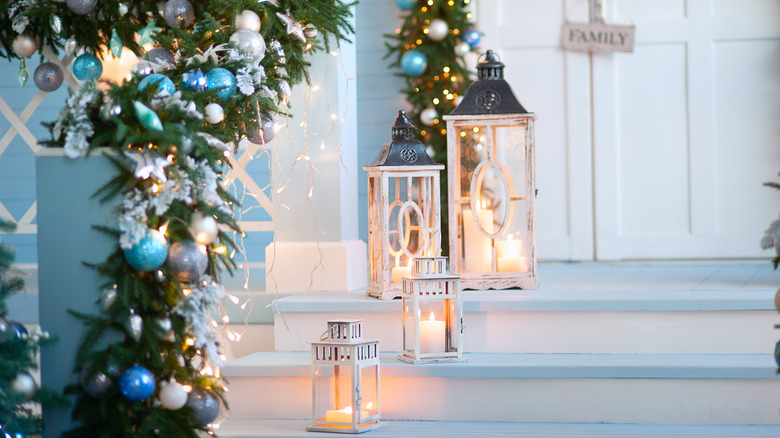 Studioschastie/Shutterstock
Because your ornaments won't be placed on the tree, you could instead repurpose them on a garland.
13. Place ornaments on a wreath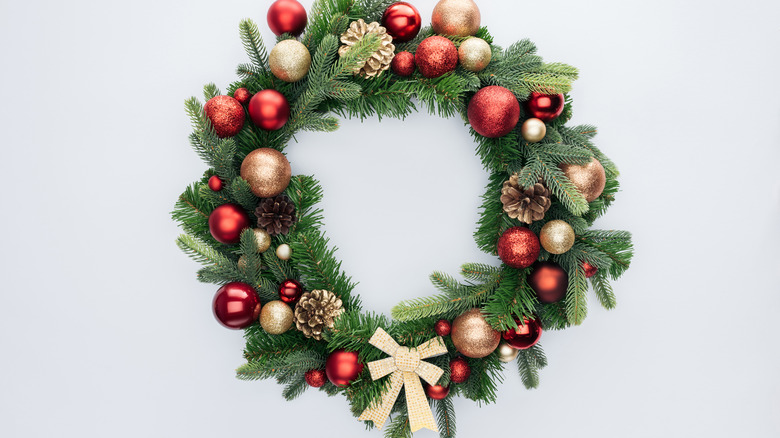 LightField Studios/Shutterstock
Or, you could place them on a wreath, which could be hung on your wall or door.
14. Hang ornaments from a branch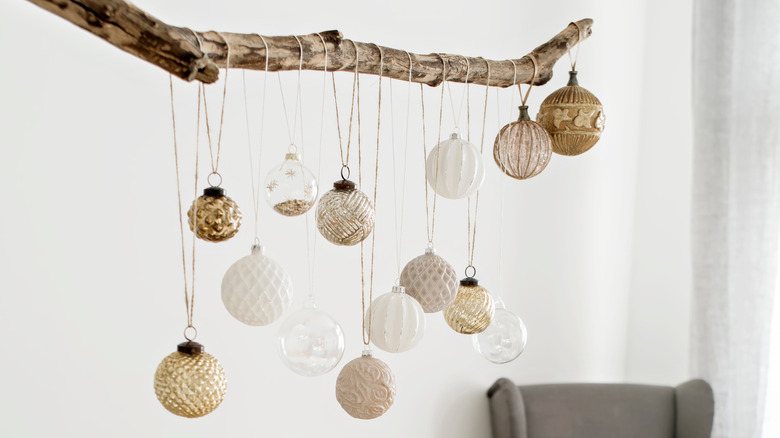 Shyrokova/Shutterstock
Another way to use your tree ornaments is by hanging them on a branch at varying heights, which would create a makeshift art piece.
15. Emphasize festive lighting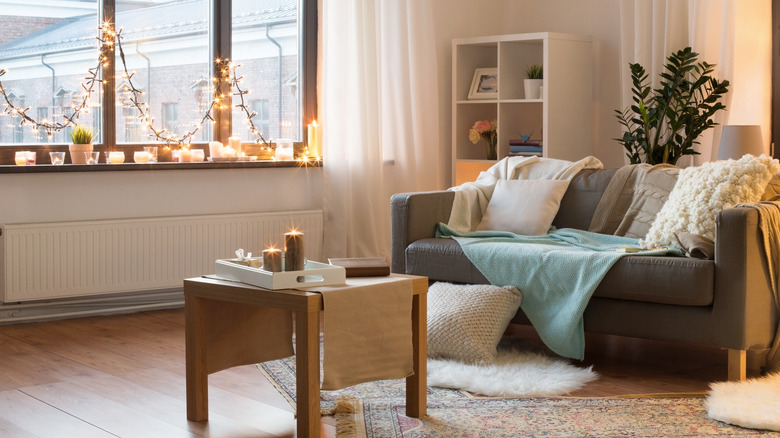 Ground Picture/Shutterstock
String lights, while typically wrapped around the Christmas tree, could be added to any area of your apartment. Suspend them from the ceiling or drape them along the windows.
16. Don't forget about the kitchen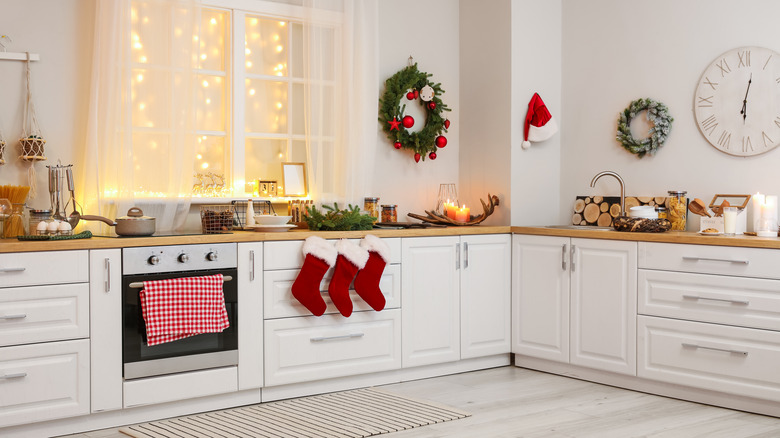 Pixel-Shot/Shutterstock
If you live in a cramped apartment, chances are you can see your kitchen from the living room (and maybe even your bedroom). Because of this, make sure you add decorative pieces to the kitchen.
17. Remember to include the bathroom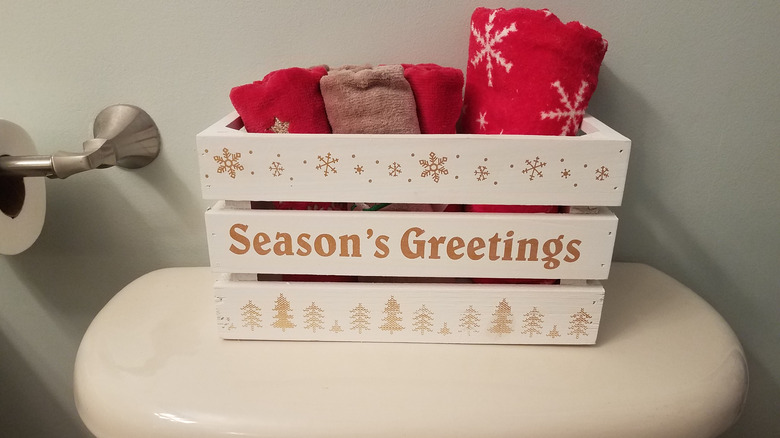 Justin Smith/Getty Images
Further, you could even decorate the bathroom. An easy way to do this is by displaying decorative baskets or hand towels.
18. Make sure you adorn the door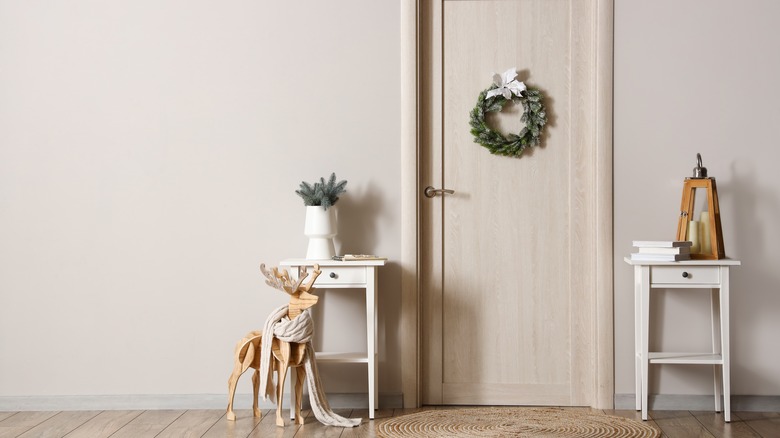 Pixel-Shot/Shutterstock
Adorn your front door either with a sign or a wreath to help welcome your guests into your winter wonderland.
19. Lay down a door mat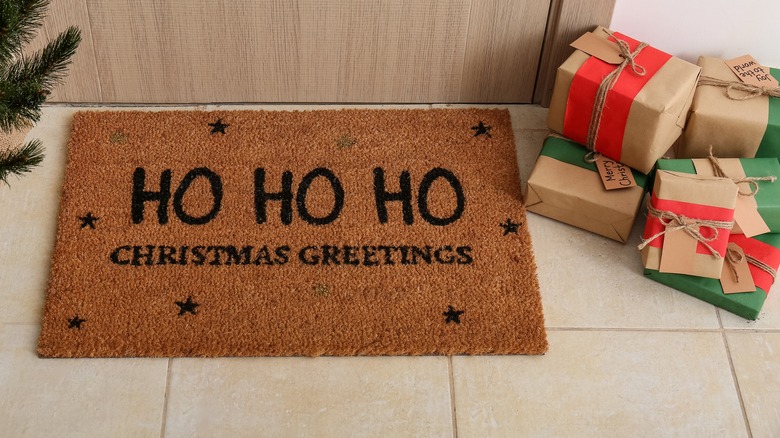 Pixel-Shot/Shutterstock
Another way to welcome your guests is with a door mat, which could display a fun message, such as the one above.
20. Get crafty with paper snowflakes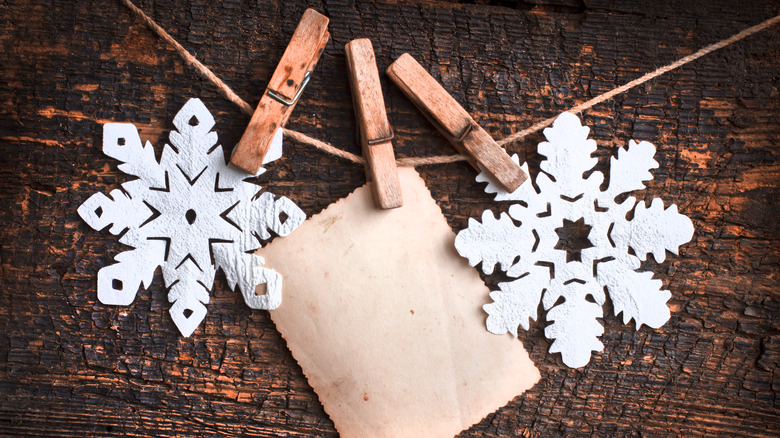 iravgustin/Shutterstock
Paper snowflakes added to the windows or walls will completely transform your space. If desired, focus on a general winter theme instead of an overtly Christmas motif.
21. Layer with pillows and blankets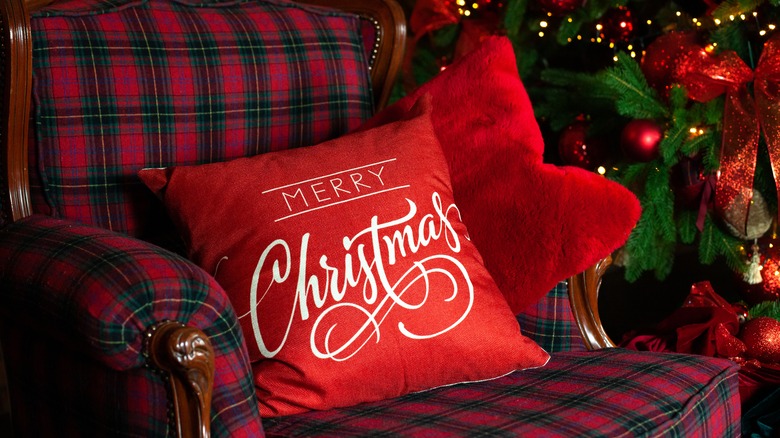 stock_studio/Shutterstock
Pillows and blankets layered on your couch and armchairs not only will bring in some cheerful holiday spirit, but will also make your apartment feel cozier.
22. Set fire to your candles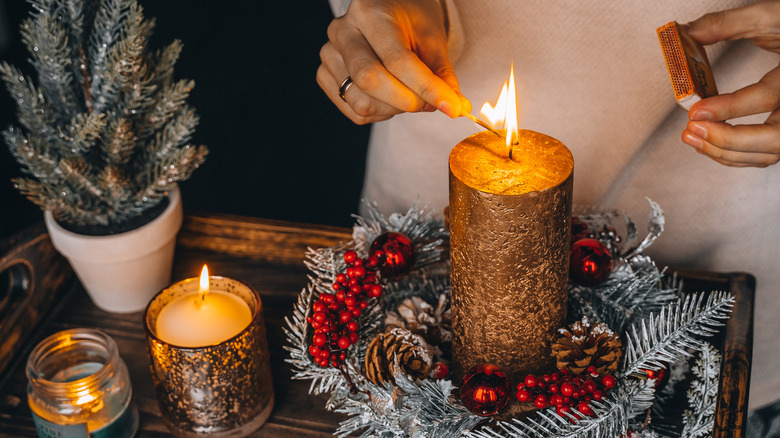 RapunzielStock/Shutterstock
Further, lighting candles will have the same cozy effect. These could be placed on your coffee table, dining table, or kitchen countertop.
23. Create a branch decoration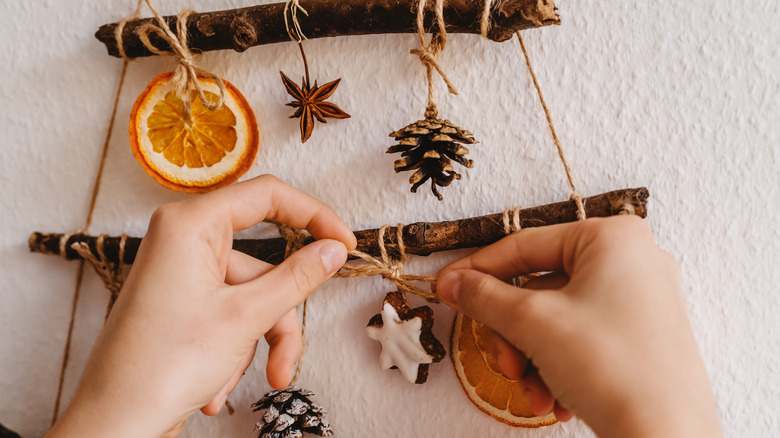 Tatyana Soares/Shutterstock
Instead of using an actual tree, hang multiple branches of various sizes on the wall so that they look like the real thing, then attach ornaments to them.
24. Include other natural elements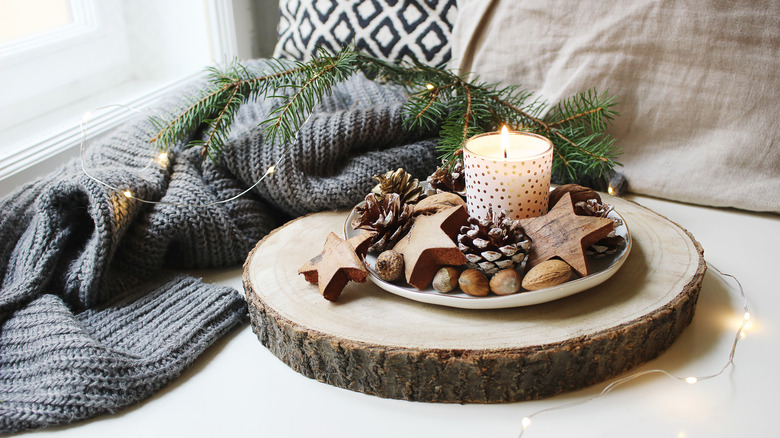 Tabitazn/Getty Images
To create the same feeling of a Christmas tree, include some natural elements, such as wooden pieces and pine cones.
25. Bake a gingerbread house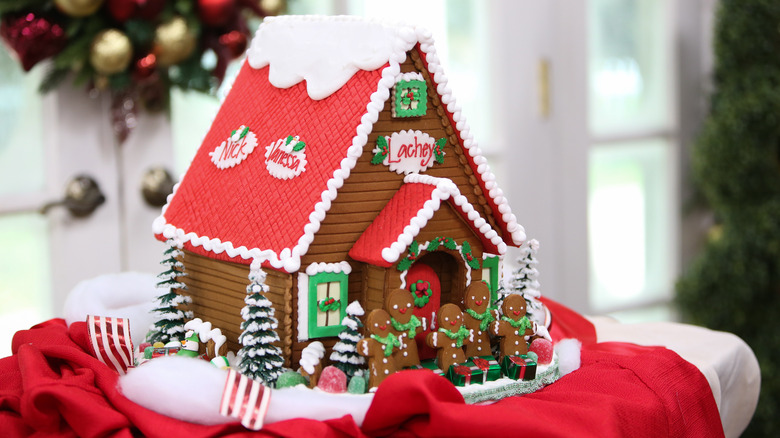 Paul Archuleta/Getty Images
Baking a gingerbread house and displaying it on your counter or table is a great way to not only add a decorative piece to your space but also a delicious scent.
26. Position pieces on a tray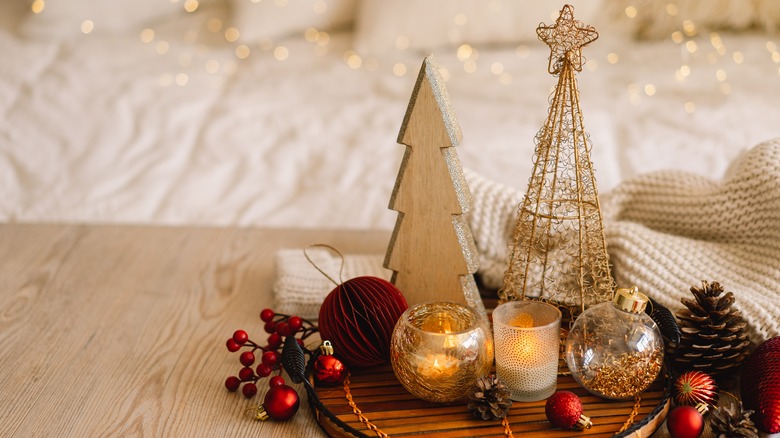 Nastyaofly/Shutterstock
To create a holiday vignette, layer items of all different sizes on a tray. For instance, place decorative trees in the back and smaller ornaments and candles in the front. This could be displayed on any surface in your apartment.
27. Replace the tree with a poinsettia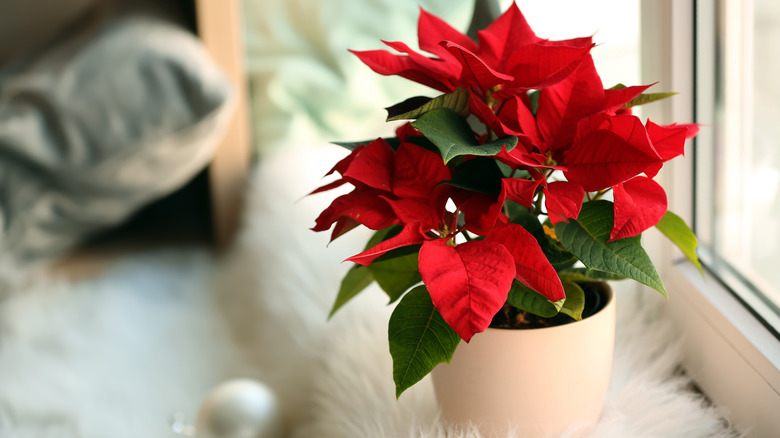 Pixel-Shot/Shutterstock
Instead of a tree, center your space around a poinsettia. To do this, place it in an area where it can be seen, like on your coffee table or the edge of your kitchen counter.
28. Exhibit nutcrackers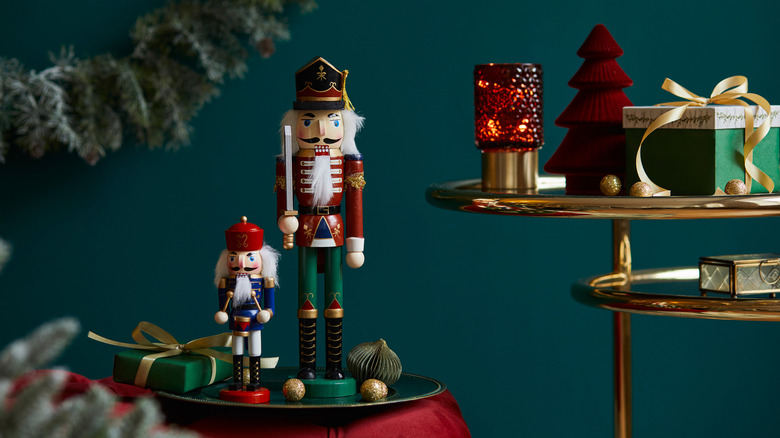 Followtheflow/Shutterstock
Display some nutcrackers all throughout your apartment to give it a more playful feel. If desired, a large nutcracker could take the place of a tree.
29. Get excited with a countdown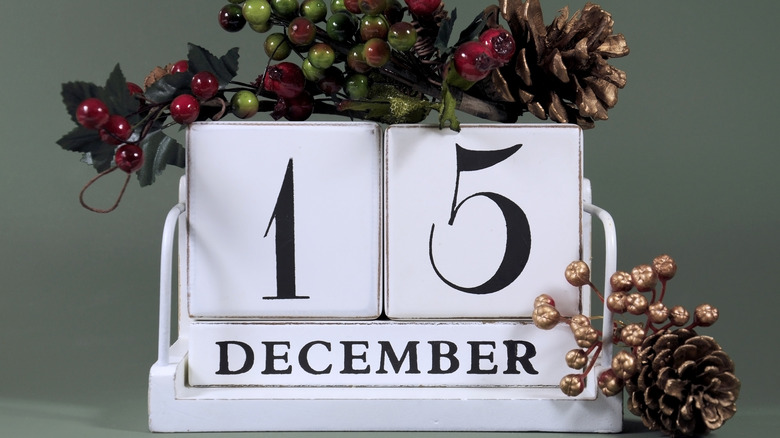 Milleflore Images/Shutterstock
To get you and your loved ones into the holiday spirit, display a Christmas countdown clock. This small piece could be added to your desk or a side table.
30. Include woodland creatures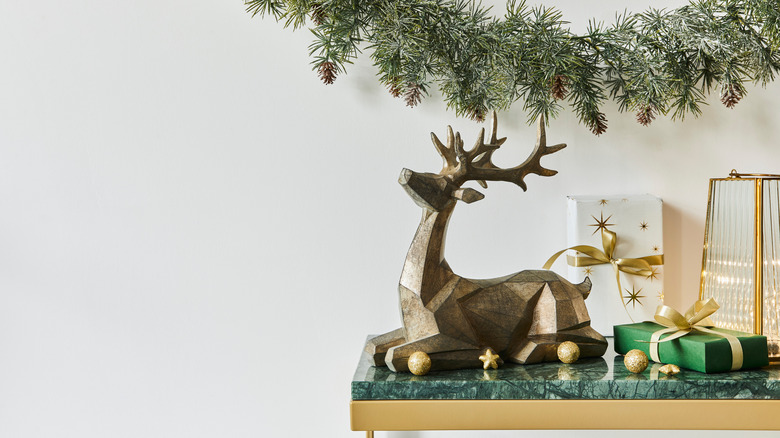 Followtheflow/Shutterstock
Reindeer and moose are typically used in Christmas displays, so utilizing them will give your apartment a classic appearance.
31. Center your space around a nativity scene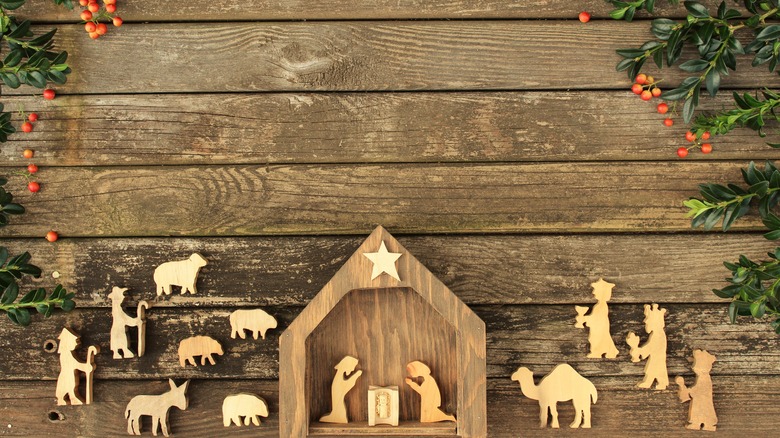 sjarrell/Shutterstock
If you're religious, make a small nativity scene the focal point of your space by placing it on a mantel or hanging it on the wall.
32. Wrap ornaments and lights around a succulent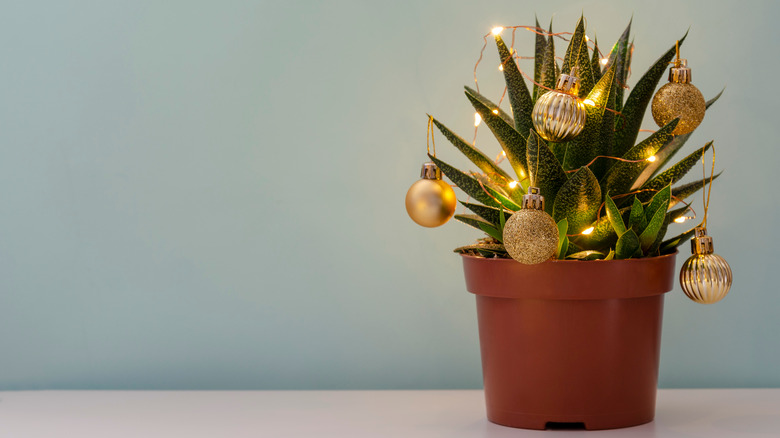 Tenzen/Shutterstock
Instead of buying a Christmas tree, decorate a succulent you already own with lights and ornaments and place it in the center of your apartment to draw attention.
33. Suspend a makeshift garland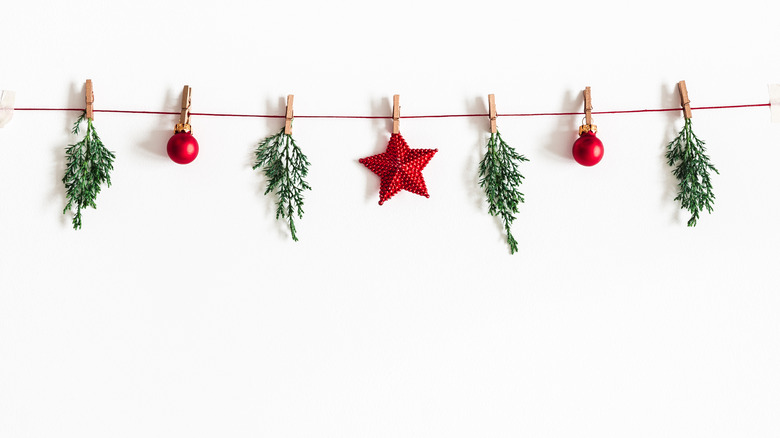 Flaffy/Shutterstock
To bring in more natural elements, create your own garland by attaching small branches and ornaments to string with clothes pins.
34. Light up your space with festive signs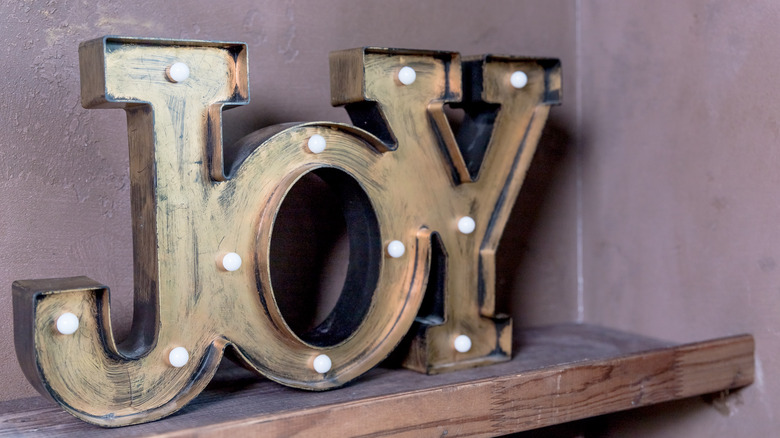 Yulia YasPe/Shutterstock
Since your space doesn't have a lit Christmas tree, you may want to add festive lighting in other ways. One idea is by including light-up signs, such as the one above.
35. Cover a surface in gnomes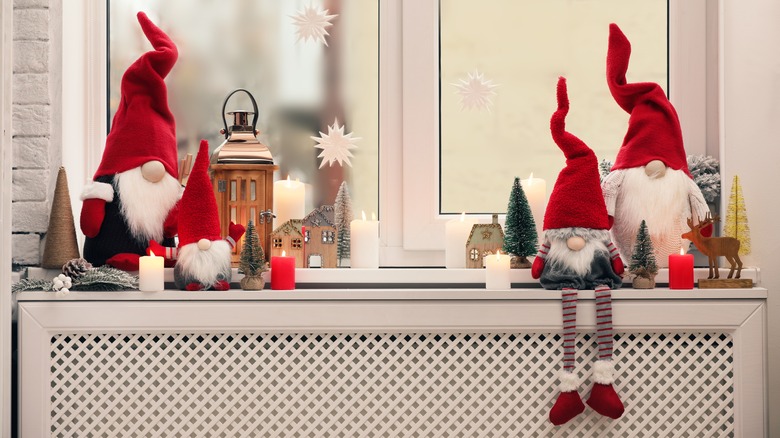 New Africa/Shutterstock
Gnomes are becoming increasingly popular Christmas decorations. Place them around your apartment to give it a more childish and fun atmosphere.
36. Dangle stars above the couch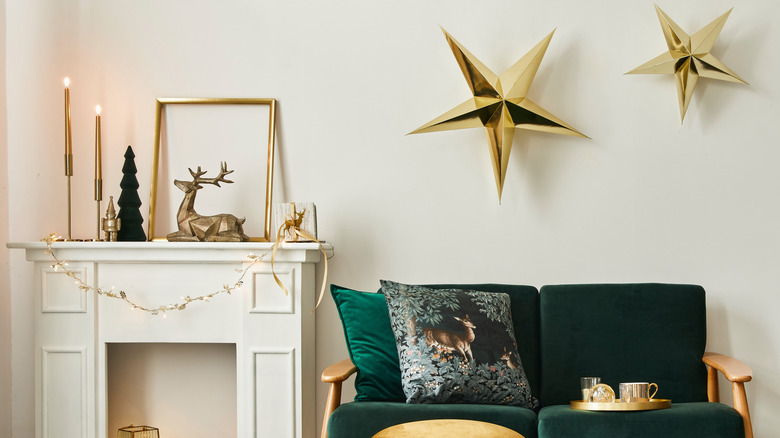 Followtheflow/Shutterstock
While a star is usually placed on the top of the tree, it could be hung on the wall above your couch instead.