20 Christmas Mantel Decor Ideas For A Beautifully Festive Fireplace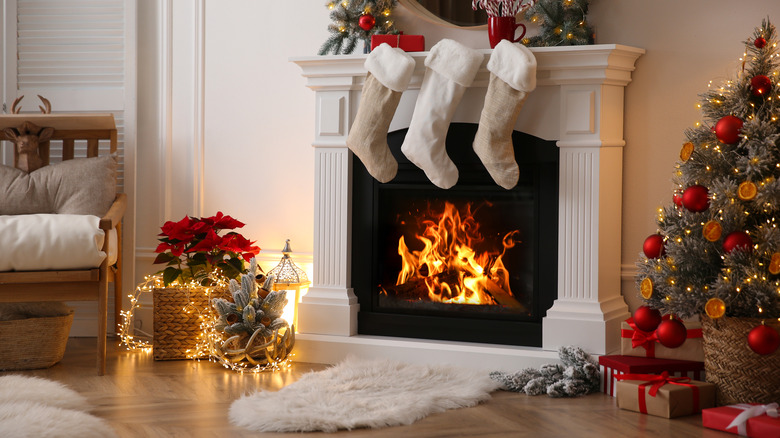 New Africa/Shutterstock
Decorating your mantel for the holiday season may seem straightforward, as most homeowners just string up a garland and add a few stockings. If this is your method, things should be quite easy. However, perhaps you're tired of this basic look and want to spice up your design this go around.
According to Pottery Barn, following a few tips will ensure your fireplace looks amazing. The first? Vary the heights of any displayed objects, and use taller items at the edges and shorter ones in the middle. Additionally, choose a simple color palette — one to three hues will do — so your overall aesthetic doesn't appear overwhelming. And, make sure you add pieces with contrasting textures and shapes to create interest.
However, even if you follow these three pieces of advice, there are still countless ways to decorate your mantel. In need of some inspiration? Here are 20 ideas to help you get started with your Christmas decorations this year.
1. Place garland on top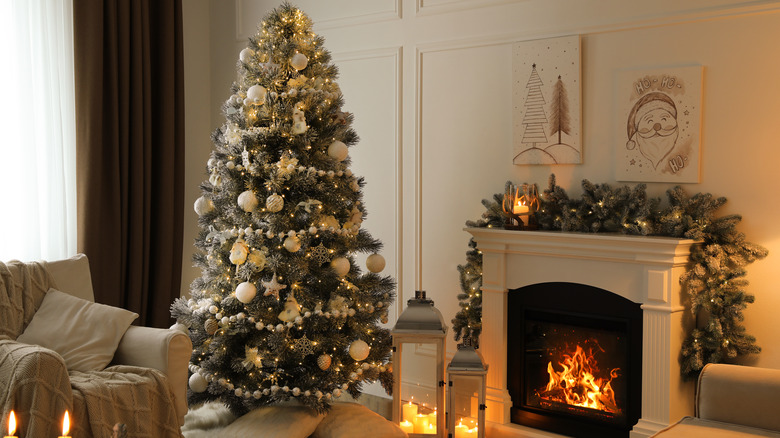 New Africa/Shutterstock
If you're set on a simplistic look this year, place a strand of garland along your mantel. Just make sure you choose one that's full and long for a timeless look.
2. Drape garland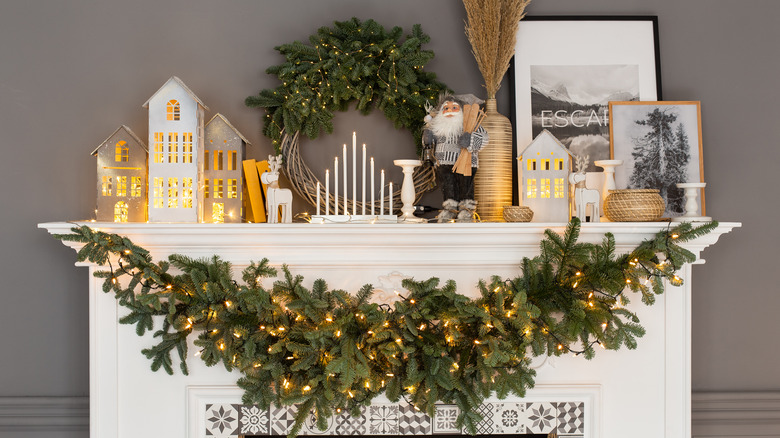 Sergey Mikheev/Shutterstock
To create more space for decorations, you could drape the garland across your mantel. Indeed, this is also a great solution for those with limited space above their fireplace.
3. Suspend garland around the mirror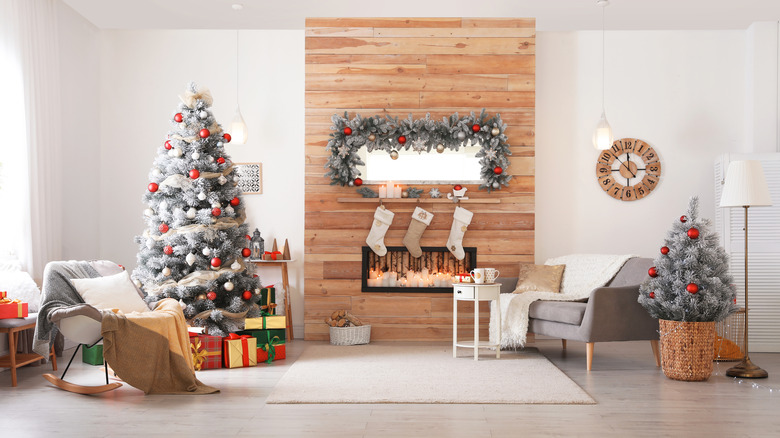 New Africa/Shutterstock
To help make the space feel larger, you could also surround a hanging mirror or piece of art above your mantel with some garland.
4. Opt for miniature trees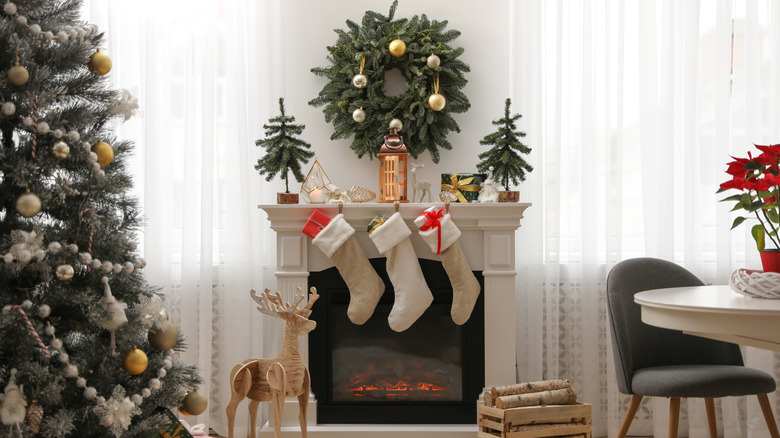 New Africa/Shutterstock
However, you don't have to use a strand of garland. Another option is to incorporate small trees, which could be placed on either side of the mantel.
5. Choose a wreath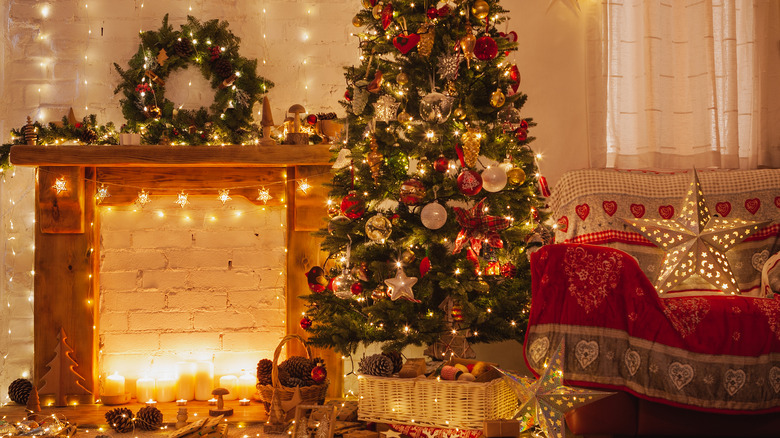 Lilly Trott/Shutterstock
Or, you could decide on a wreath, which could either be hung above the fireplace or leaned up against the wall.
6. Incorporate holly branches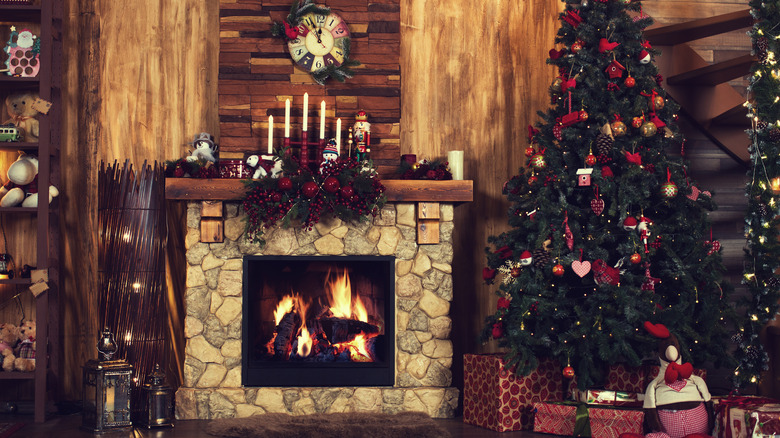 Petinov Sergey Mihilovich/Shutterstock
To add a pop of red to your garland or other greenery, make sure to feature some traditional holly branches.
7. String twinkle lights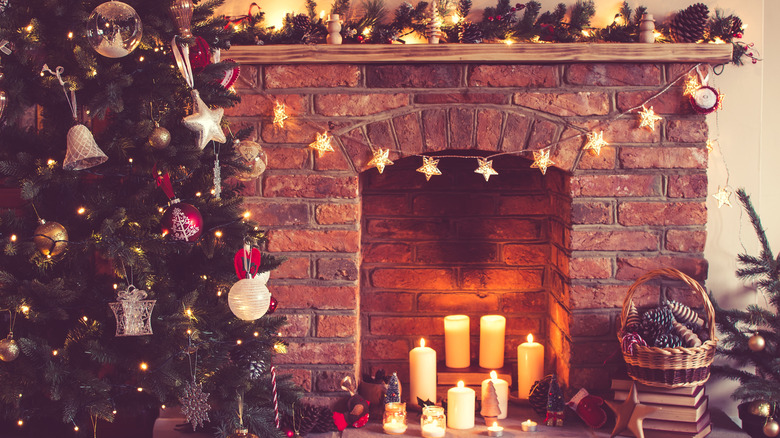 Lilly Trott/Shutterstock
Twinkle lights are an easy way to add warmth and comfort to your design. The choice is yours: String some along the mantel or place them at the base of the fireplace.
8. Hang the stockings with care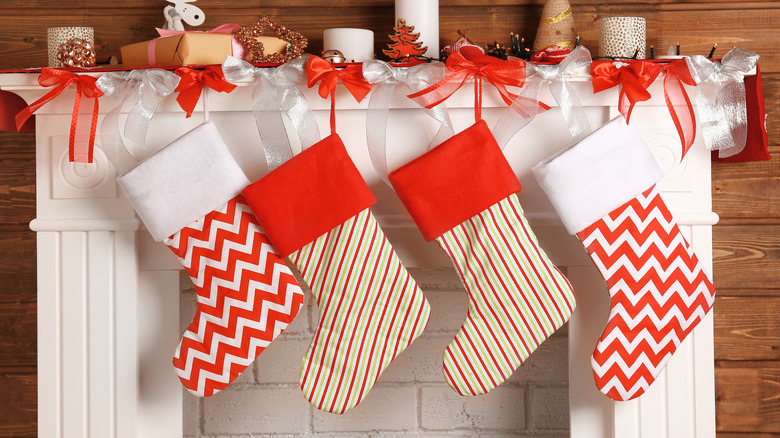 Africa Studio/Shutterstock
Stockings are a classic Christmas decoration used on almost every mantel. To hang them, you could use decorative ribbons or ties. 
9. Add a warm glow with candles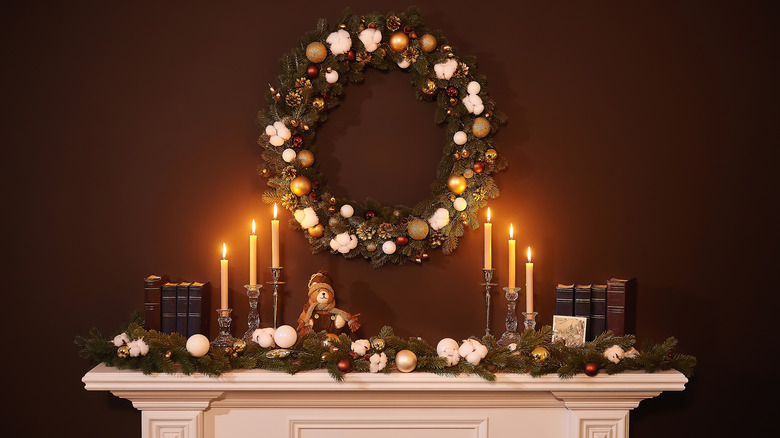 MestoSveta/Shutterstock
Candles will add extra warmth to your fireplace setup. The best way to decorate with candles is by staggering their heights.
10. Keep it neutral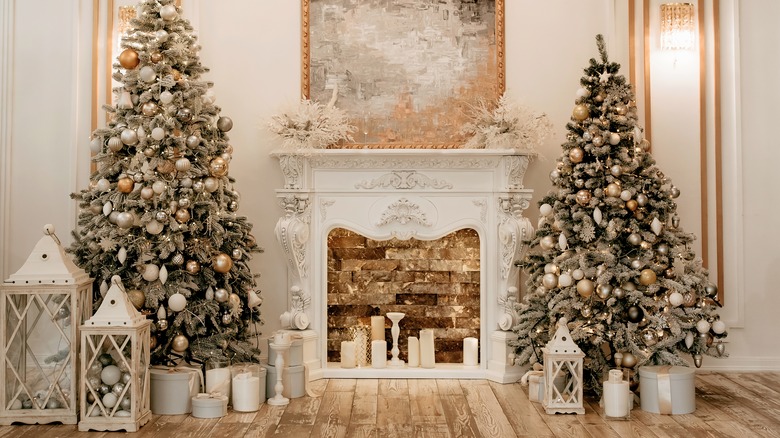 Artem Sokolov/Shutterstock
If you're not a huge fan of color, opt for more neutral or monochromatic pieces. The above space has lots of white candles and textured floral pieces.
11. Include a non-traditional accent color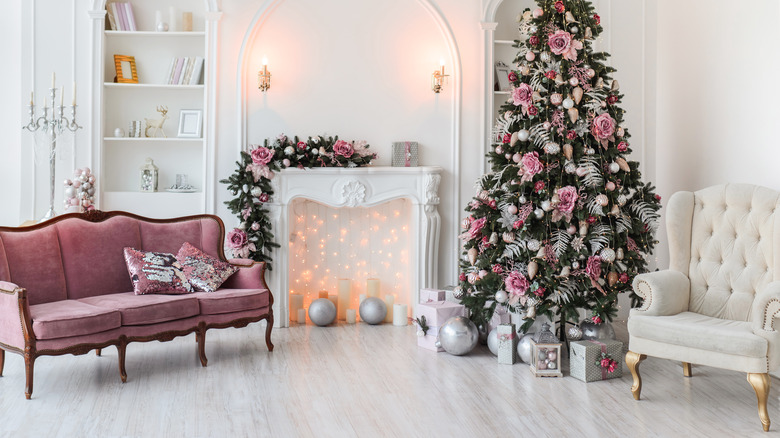 Dmitry Kovalchuk/Shutterstock
Or, maybe you love color, but not red and green. If so, use a non-traditional color like pink. Create cohesion by using this hue throughout multiple areas of your room, such as on the mantel and tree.
12. Embrace a theme
You could also decorate according to a theme — and it doesn't have to be super obvious. For example, the theme above is fresh Christmas trees, as demonstrated through the sign and small decorative pieces.
13. Make it playful
If you have young children or just a playful spirit, place animals or fun Christmas creatures on your mantel, such as the festive gnomes above.
14. Display an advent calendar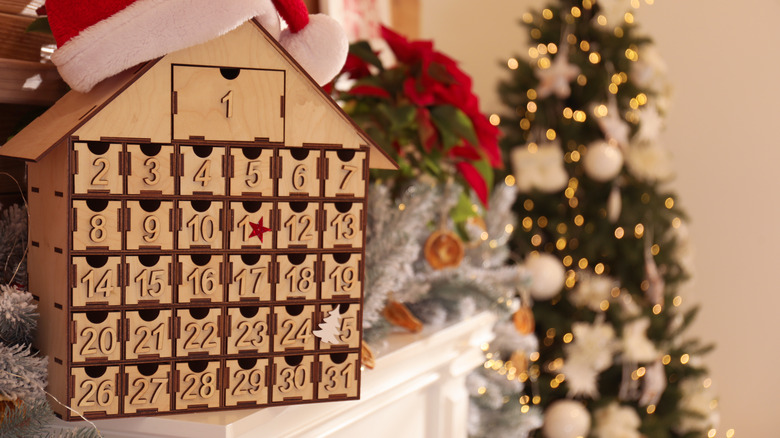 New Africa/Shutterstock
An advent calendar is an easy way to get the whole family excited about Christmas. Display it on your mantel so you never forget to open it.
15. Arrange a Christmas bouquet
A Christmas bouquet made out of poinsettias, holly, and other greenery would enliven your space and give it a fresh look.
16. Decorate with presents
Of course, you could always use presents to decorate your mantel. They could either be decorative, empty boxes wrapped in pretty ribbon, or something real to open on Christmas Day.
17. Hang three stars
When decorating, the best vignettes make use of odd numbers (typically groups of three). Therefore, to create an orderly and pleasing mantel, you could utilize three white stars. 
18. Create a Christmas village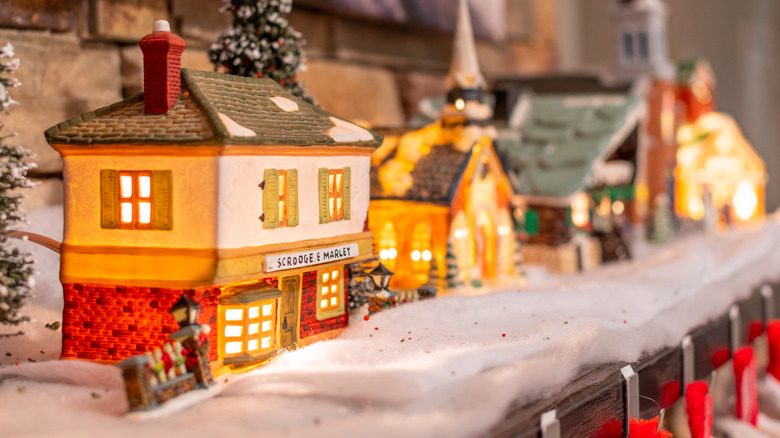 Kirk Fisher/Shutterstock
To give your fireplace a cozier and more homey appearance, make sure to display a Christmas village, complete with fake snow.
19. Style earthy elements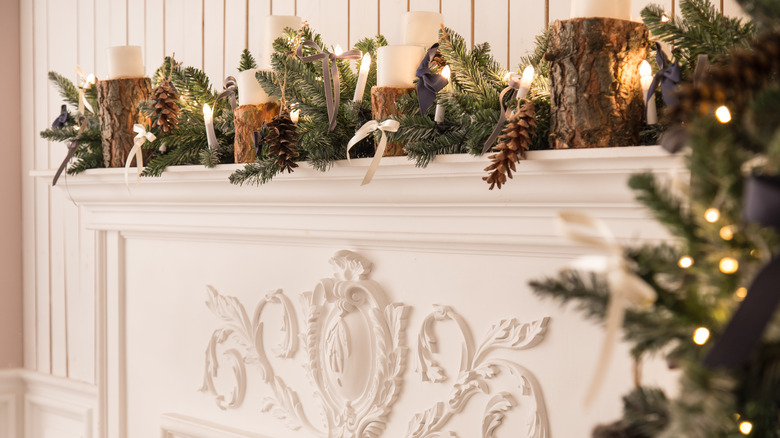 Sergey Mikheev/Shutterstock
To bring nature into your home, include pine cones and wooden elements. As demonstrated above, small logs could be used as candle holders.
20. Use ornaments in unconventional places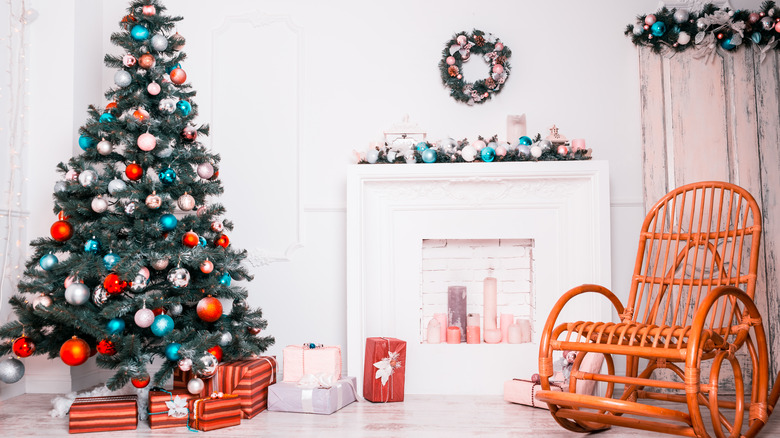 Ievgenii Meyer/Shutterstock
Finally, ornaments don't only have to be used on your Christmas tree; you could also include them in your fireplace garland or wreath.