What Constitutes A Full Bathroom?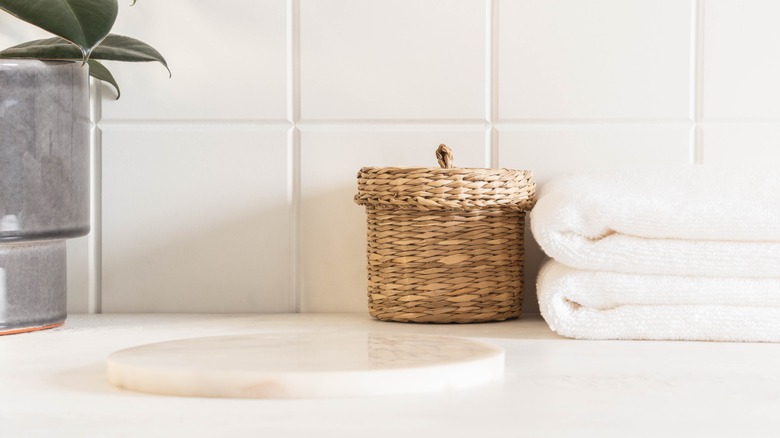 Sentelia/Shutterstock
Prospective homeowners often compare properties based on the amenities featured in a listing. Kitchen features, a home's number of bedrooms, and square footage all play a major role when buyers decide whether to make an offer on a home or pass in favor of a more attractive property. However, one amenity that remains somewhat misunderstood is the bathroom. This is likely because bathrooms come in a variety of layouts and are often seen as fractional numbers when one's scrolling through online home listings.
Understanding what a full bathroom is, especially in relation to a half or three-quarter bathroom, will make your search for a new home more productive. Simply put, a full bathroom is a room that includes all four primary features of a bathroom, according to Badeloft. Thus, full bathrooms have a toilet, sink, shower, and bathtub. Anything less, and the room is considered a three-quarter or half bath rather than a full bathroom.
The four components to a full bathroom
Followtheflow/Shutterstock
Now that you know the definition of a full bathroom, you might be surprised by how many half-baths or three-quarter-baths you've used over the years. In fact, a home's owner's suite is often where the only full bathroom resides because this space is usually given enough room to include all four components that make up a full bathroom.
Typically, most other bathrooms in a home won't have both a shower and bathtub due to limited space. However, Modernize notes that a tub and shower combination gives you the ability to list a bathroom as a full bath rather than a three-quarter amenity. 
For buyers, this distinction might not be very important. However, it's vital to understand what you are looking at in order to price your offer appropriately. A home that has been considered to have two full baths but actually incorporates one and three-quarters when added up correctly will likely be listed based on faulty bathroom mathematics. Knowing this, you can prevent overpaying for a property you love.
The utility of half bathrooms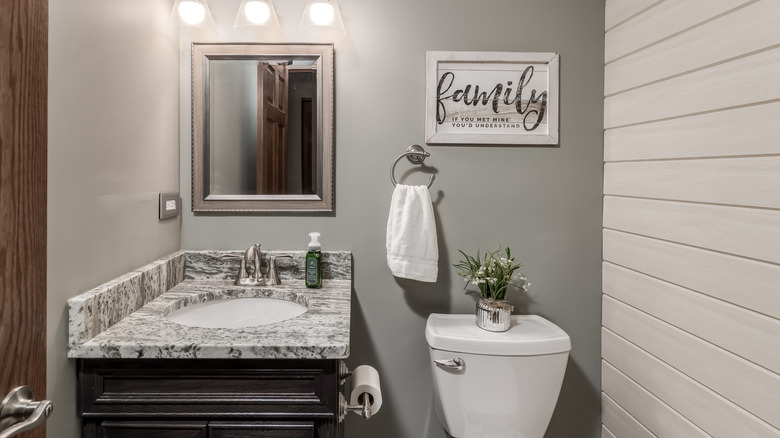 Hendrickson Photography/Shutterstock
It's important to know the difference between a three-quarter bath and a full bathroom, but the distinction becomes absolutely vital when considering the difference between a half bathroom and anything larger. A half bath only includes a sink and a toilet (via Veneto Bath), making it a solid addition in homes that have sizable living rooms or family rooms, as this amenity can accommodate guests or bathroom requirements during gatherings with family. 
However, the half bath becomes problematic if it appears in spaces geared toward the residents of the home. Everyone needs to use the toilet from time to time, but those living on your property also need to shower or bathe themselves on a regular basis.
If a wing of your home that sports one or more bedrooms doesn't have an easy-to-access shower or bathtub, the people who call this part of the home their own will have to traverse through the house in order to get themselves ready for the day ahead or to wind down the evening. This type of layout is apt to make a meal out of your routine lifestyle tasks and places undue stress on the cleanliness and quality of life of those who live there.