15 Christmas Tree Alternatives For Your Small Living Room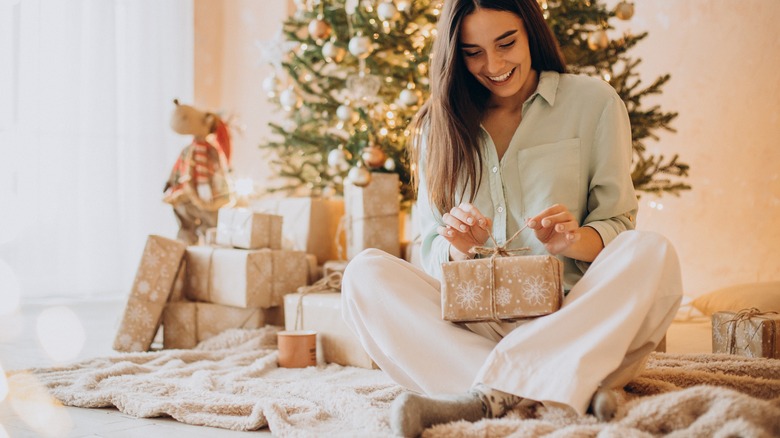 PH888/Shutterstock
You don't always need a Christmas tree to get into the holiday spirit! Especially if you don't want to cramp up a small living room. According to Wayfair, the average size of a Christmas tree is usually around 7 to 7.5-feet tall, which can impose a size issue for families living in small apartments or homes with low ceiling heights. The price of a Christmas tree can also be stressful for some families, as the average price of a real tree is $85, and $112 for artificial trees, per Finder. It is estimated that Americans will spend a total of $6.6 billion on Christmas trees this holiday season. 
We've rounded up 15 Christmas tree alternatives for those who want to try something new. Instead of wasting money on a tree that barely fits in your home, why not choose something that will actually elevate the design of your residence, while simultaneously filling it with holiday cheer?
Sticks and string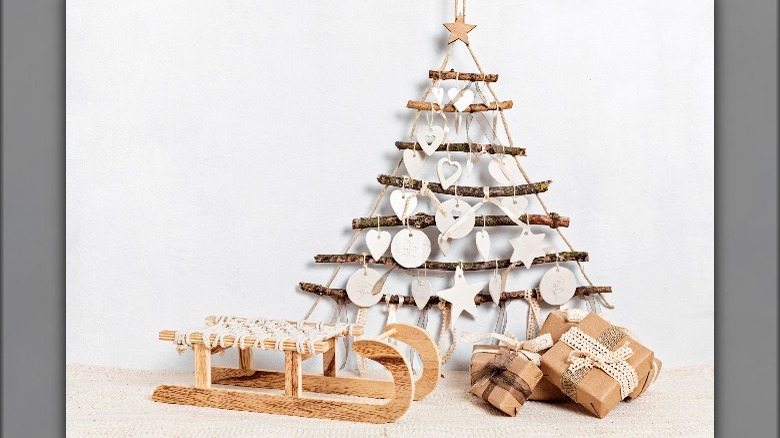 Netrun78/Shutterstock
Why not get creative and make your own Christmas tree? This tree depicted with sticks and strings proves you don't have to use anything fancy to create a sense of holiday cheer.
Level up
Maren Winter/Shutterstock
If you want to create something more three-dimensional, then you can gather a pile of sticks and tie them together to form a unique handmade tree.
Wooden blocks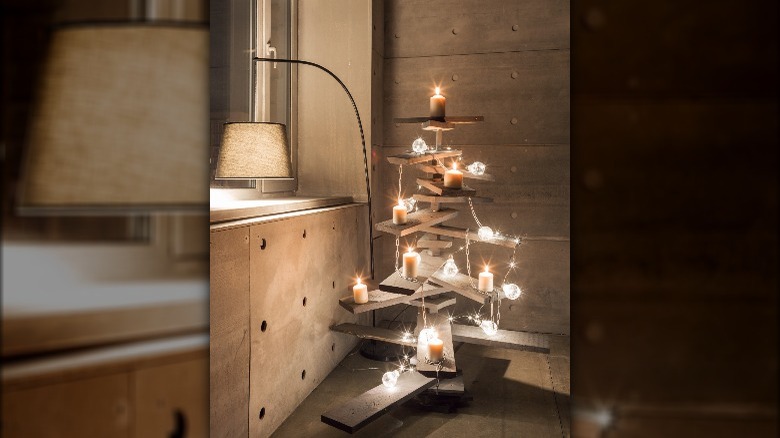 Fusionstudio/Shutterstock
For something sturdier, you can also use wood blocks to build up a tree-like structure. Instead of string lights, they've created a more interesting design by adorning it with lit candles.
Wooden frame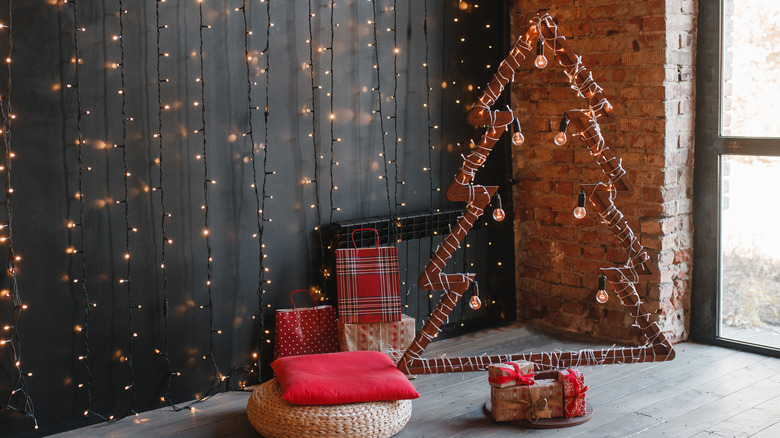 surflover/Shutterstock
Thin wood pieces can be used to create the frame of a Christmas tree for a lightweight version that is probably easier to move around.
Cactus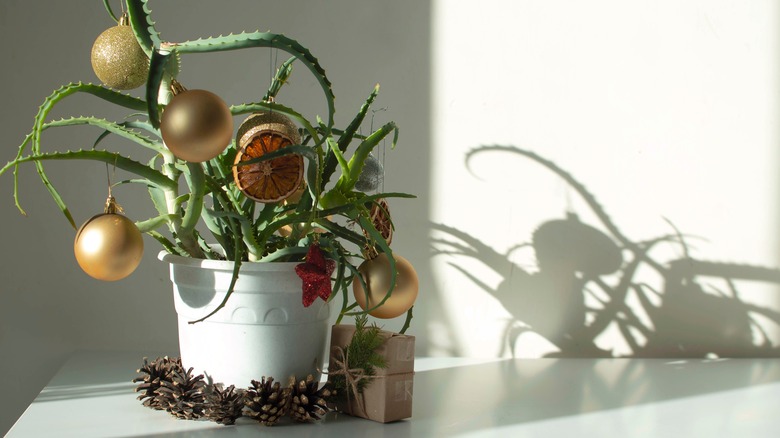 Inna_Kandybka/Shutterstock
If your home is designed with an eclectic aesthetic, the wild shape of a cactus Christmas tree will surely be able to complement your current decor.
Chalkboard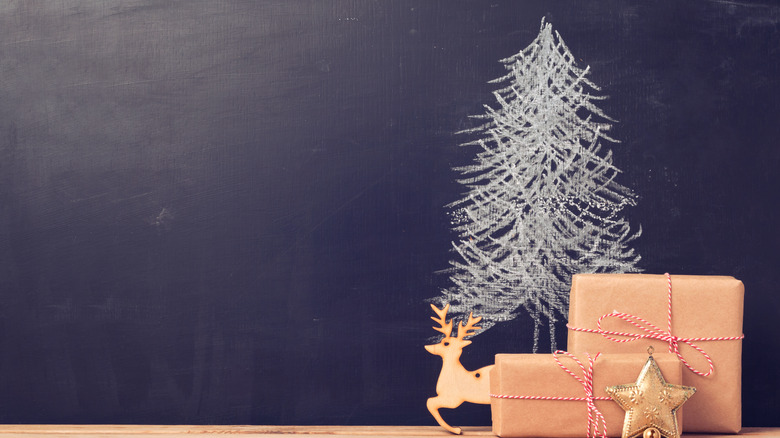 Maglara/Shutterstock
Show off your artistic side by drawing your own Christmas tree on a chalkboard — this way you can also have as many decorations as you want.
Tabletop tree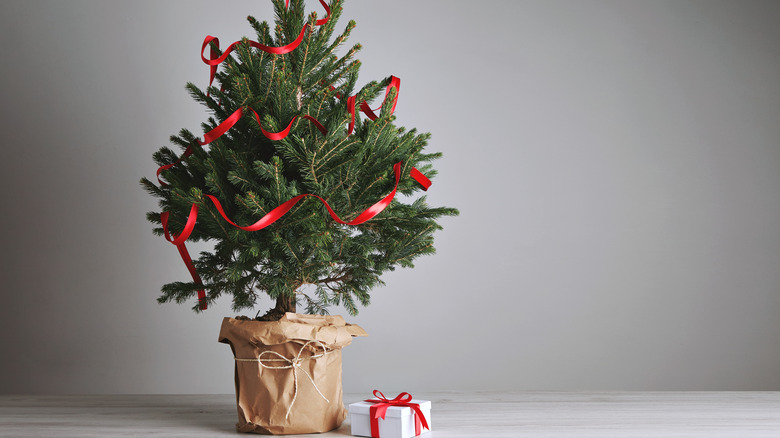 BublikHaus/Shutterstock
For something simple and quick, you can use a small tabletop Christmas tree. We suggest collecting a few of these to create a luscious and full display.
Twine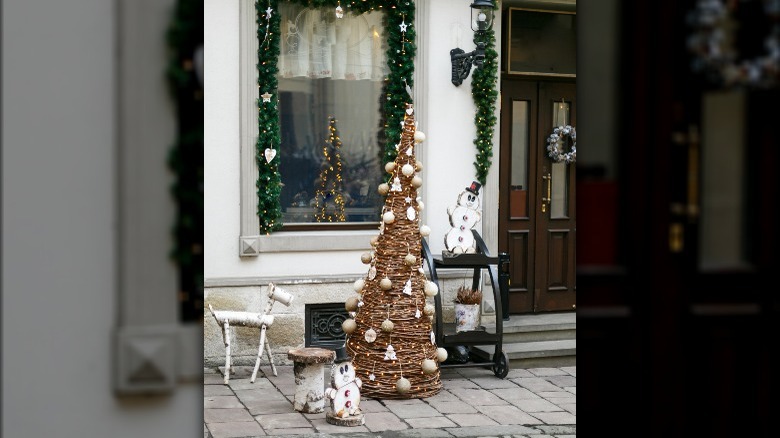 Bogdan Sonjachnyj/Shutterstock
If you're into arts and crafts, we suggest grabbing a cone-like structure of any size and wrapping twine or rattan around it to create the appearance of a Christmas tree. This type of design is sure to look great in a rustic home or any aesthetic that uses textured, wood materials.
Succulents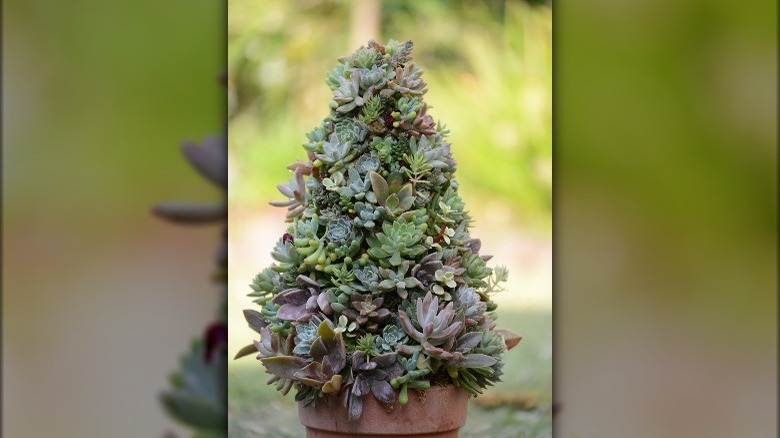 rblair812000/Shutterstock
Love the look of succulents? Then use them to create a Christmas tree shape! Not only will this look more interesting than the traditional version, but the variety in shades of green and red will surely complement your holiday decor.
Plush
You can create an adorable Christmas tree alternative with some filling and holiday-themed fabric. We love the added touch of bells at each tip of the Christmas tree because it adds a bit more joy to its appearance. 
Ornaments
If you've got a bunch of ornaments laying around, use them in a fun project to create a unique Christmas tree design! You can either create a uniform look as seen in this example, or gather different complementary colors for a more eclectic design. 
Seashells
If you live by the beach or are an avid seashell collector, we suggest using them to create a stunning Christmas tree this year. The combination of different shapes, textures, and patterns will make this a beautiful introduction into any home.
Yarn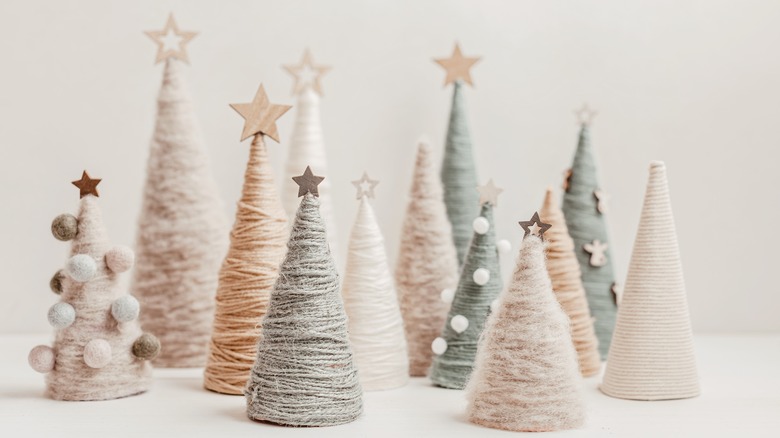 Netrun78/Shutterstock
Yarn comes in different textures and colors, which makes it easy to create the design you're picturing for your home. We love the grouping of yarn Christmas trees here because it creates an interesting yet beautiful holiday visual. 
Books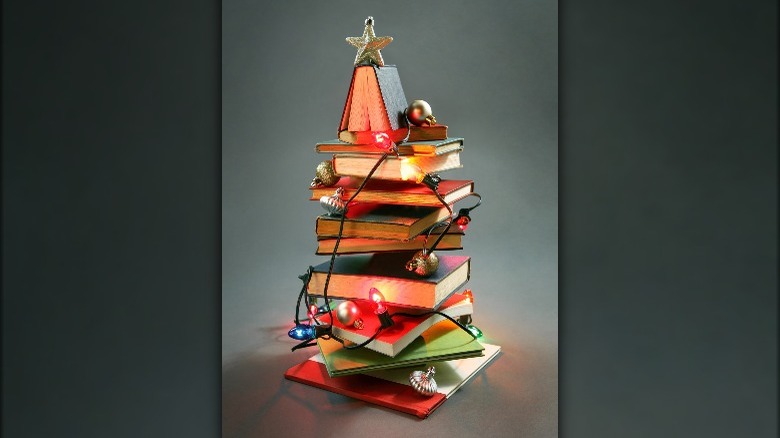 Suzanne Tucker/Shutterstock
This Christmas tree made of stacked books is a great idea for bookworms. You can use random genres, or holiday books to stick with the Christmas theme. We enjoy how they've tied these books together with colorful string lights to brighten its appearance!
Coffee filter
Who knew something so mundane could create something so beautiful? Using coffee filters is an affordable and easy option to create several Christmas trees to display throughout your home.