A Design Expert Tells Us The Mistakes To Avoid When Designing Your Laundry Room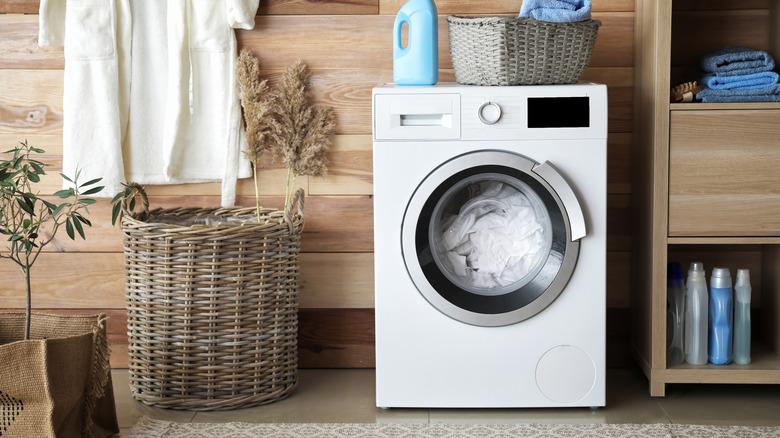 Pixel-Shot/Shutterstock
While you want your laundry room to fit with your home's aesthetic, you also need it to be functional — the last thing you want is for it to be a space you dread entering every time you're popping in a fresh load of laundry.
Given that laundry rooms are relatively small, they typically don't require such hefty a budget to refresh them. Ris Media flags some key laundry room considerations when looking for a new home, such as location and size. However, there are plenty of things you can do to make the best use of the space you have. According to Coastal Closets and Showers, there are ways to make the space both more organized and appealing as well as more functional.
If you do have the opportunity to design your laundry room from scratch — either because you're undertaking a big renovation or constructing a home where you get to plan out all the spaces — there are some important things to keep in mind. In an exclusive interview with House Digest, interior designer Mohammad Ahmed, founder and editor of The Home Guidance, walks us through the main mistakes to avoid when designing a laundry room.
Don't forget about ventilation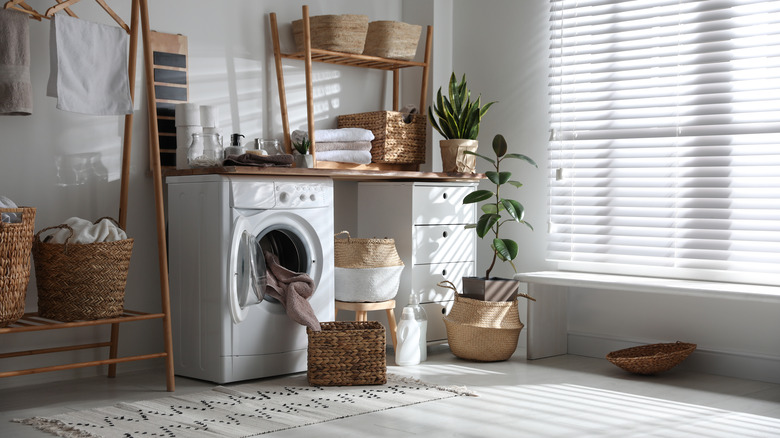 New Africa/Shutterstock
Apart from the washing machine and dryer themselves, you also may be using your laundry room as a hanging space to air dry clothes, or even use a small handheld steamer to get out wrinkles on delicate garments. That's why adequate ventilation is something you should never overlook in this particular space.
"One mistake to avoid when planning a laundry room is not including enough space for ventilation," Ahmed explains. "A laundry room needs windows or other means of connecting with the outdoors because if you don't plan for ventilation, you'll end up with a musty-smelling laundry room."
If you don't happen to have a window in your laundry room, which is often the case with smaller laundry rooms, this might pose a challenge. There are a few options though, as Total Environmental Kooling Ltd. outlines. You could install a portable air conditioner with a wall vent or a ventilation fan if the laundry room has an exterior wall. Alternatively, for particularly tiny laundry rooms, a solid solution may be to change the doors so you have a door that remains open at all times without disturbing the walking flow of your home, allowing more air to circulate.
Forgetting to make the layout functional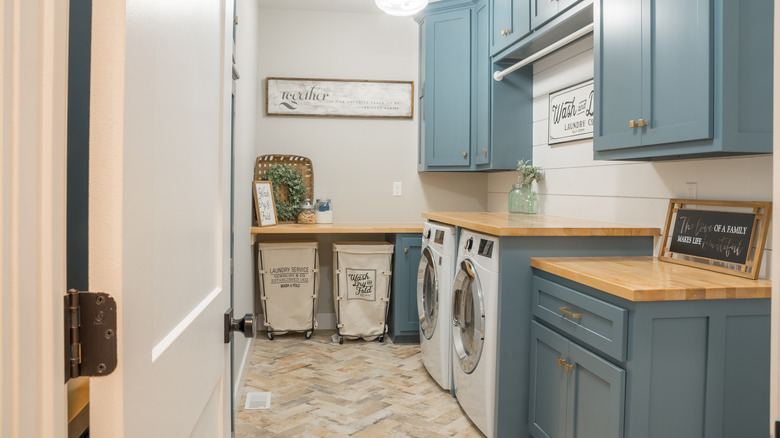 Carla Bullock/Shutterstock
You want your laundry room to be aesthetically pleasing, and a lot of choices contribute to this, from selecting the finishes on your appliances to choosing the cabinets and hardware. However, keep in mind that ultimately you need the space to be organized and to serve your needs — if your dream layout is beautiful but makes it incredibly challenging to actually do what you need to do, that's not an ideal choice.
As Ahmed warns, "another mistake people make when planning their laundry rooms is having a layout that isn't functional. Your laundry room shouldn't just be a place where you sort dirty clothes and store cleaning supplies — it should also be an area where you can actually launder your clothes."
For most, the layout will depend on exactly how much space you're working with. If you have a tiny laundry room, you may not be able to squeeze in more than the necessary appliances and maybe a shelf or two. However, if you're working with a decent amount of square footage and have room to add a sink, counters, cabinets, and more, take time to really envision how you'll use the space to launder your clothing. This will help you figure out the perfect layout.
Skimping on the lighting
perfectlab/Shutterstock
Many smaller laundry rooms have just one overhead light and not much else. While this can get the job done, if you're making changes in the space, lighting is an area you shouldn't overlook. "The third mistake people make when building or remodeling their laundry rooms is not including enough lighting — which is especially important when sorting lights and darks," explains Ahmed. 
If you're trying to do spot treatments or stain removal prior to putting certain garments in the washing machine, you likewise need enough lighting to tell whether you've actually managed to remove that stain.
Now, there's nothing wrong with having an overhead light to illuminate the majority of the space. However, you may want to consider adding in another light or two in the areas where you'll be doing some of the more detailed laundering, such as near a sink if you have one in the space, or above the countertop where you do your folding and stain removal. There are plenty of lighting options that could work, from wall-mounted fixtures to simple lamps. "When it comes to lighting this space, use smaller light fixtures that pack a punch," Ahmed recommends.
Positioning appliances incorrectly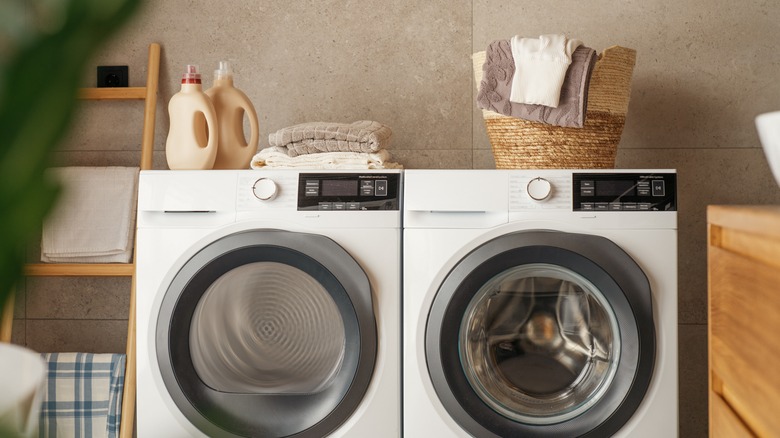 Yuganov Konstantin/Shutterstock
In any room with larger fixtures, such as bathrooms or kitchens, the positioning of those appliances is one of the most important considerations for the space. "Don't make the mistake of positioning the washing machine or dryer incorrectly," warns Ahmed. That's because they really dictate the layout and flow of the room — if you put them in the wrong area, they will look off, no matter how carefully you style the room.
Before you consider anything else in the space, sketch out where these two key appliances will be placed, as they'll dictate where everything else should go. Ahmed says "put the most-used appliances in first and make sure to position them at a height that doesn't require you to bend over too far."
There's a reason that risers — platforms that elevate your washing machine and dryer a few inches to make them more easily accessible — are such a popular add-on in laundry rooms. They just make things a whole lot easier. Many stores offer the option to get a riser that matches the finish of your appliances, but you can also go with a DIY solution, as Reviewed suggests. As a bonus, risers can help add a little extra storage space, which can be invaluable in more compact laundry rooms.
Not adding style and color to your space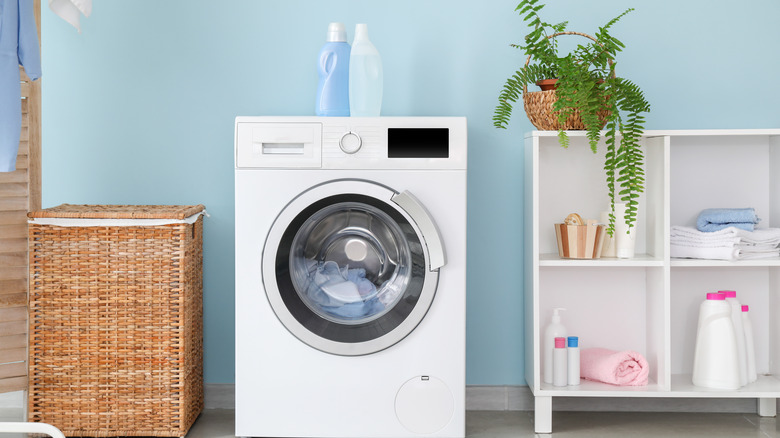 Pixel-Shot/Shutterstock
While you should be able to comfortably reach your washing machine and dryer, and you should have space to hang or fold clothes, don't focus so single-mindedly on functionality that you forget your laundry room should fit your desired aesthetic. Laundry rooms can also express how you want your home to look and feel. "Never forget to add style when designing your laundry room," emphasizes Ahmed. "Color, pattern, and texture can make a big difference in how much you like using your new space."
The best part is, it's relatively easy to incorporate a few design touches, and it doesn't need to cost a lot of money. Something as simple as an eye-catching wallpaper on a feature wall behind your appliances can make a huge visual impact. Or, if you like to switch up your decor a lot, you might consider pieces like a textured rug and some baskets on open shelving — decorative elements like this can be more easily swapped out than wall color or tilework on the floor below. Ultimately, just like with the rest of your home, you want to make design choices that transform the space into a room you truly love.