Which Furniture Store Has The Cheapest Wallpaper?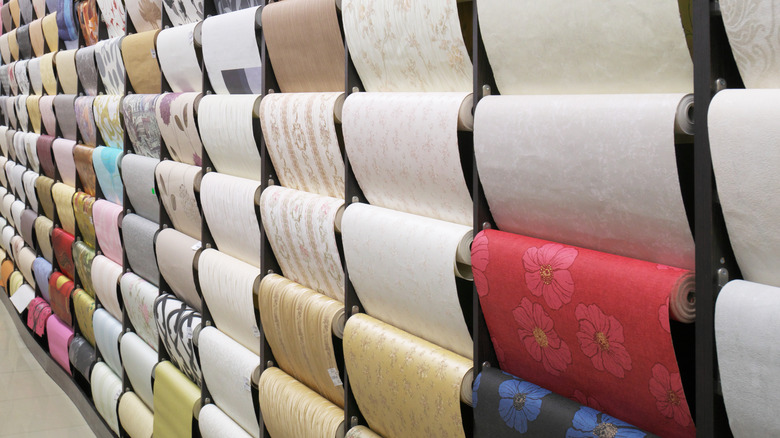 djgis/Shutterstock
It seems like just about everyone who cares about interior design is welcoming wallpaper back into their homes with open arms. For some homeowners, wallpaper is purely about aesthetics — it's no secret that a print will provide more character than wall paint. For others, choosing wallpaper comes down to wanting a long-lasting look. 
As Home Inspection Insider points out, paper is durable, meaning you'll need to put less effort into maintaining your walls. In other words, it won't scuff, and you'll never have to touch it up like you would with paint. However, just because wallpaper is worth the investment doesn't mean you should spend a fortune on it. Maybe you're wanting to create a bold look without breaking the bank. If so, you'll need to shop at the right store.
To determine which furniture store has the cheapest wallpaper, we compared three affordable retailers: Target, Walmart, and Wayfair. Below, you'll discover some options found at these three shops, as well as which store won.
Comparing the options
Most of Target's wallpapers are sold for $34 (online only) and cover about 27.5 square feet, so each square foot costs $1.23. They have some beautiful options, including their Peel & Stick Opalhouse yellow medallion print, which is made out of vinyl and is washable. This product received 4.4 stars out of 100 reviews. While some said that it was easy to install, others complained about it not staying up well, and some weren't happy that the color didn't perfectly match the photos online. Other options at the same price include their Threshold faux marble herringbone tile and Project 62 metallic striped pattern. 
Moving on to Walmart's options, their cheapest is $5.99 for under 13 square feet, or about $0.46 per square foot. It's made by Abyssaly and showcases a black and silver textured design that can easily be cleaned. Out of 7 reviews, this peel-and-stick wallpaper has 4 stars. Those that loved it said that it was easy to work with and looked beautiful. However, one person complained about the small size of the rolls, and another reviewer said that they wished the material was thicker. Other inexpensive options include a faux gray brick that's sold for about $0.55 per square foot, and their silky silver gray print, which costs about $0.62 per square foot, both by Abyssaly. 
Which wallpaper wins?
However, while Target and Walmart have some great options, once you see Wayfair's prices, it's clear that they are the most budget-friendly, as their cheapest option is currently on sale for $0.04 per square foot! Manufactured by Milwood Pines, this peel-and-stick 3D print showcases faux bricks with a pink tinge, and it's also waterproof. With 14 reviews, this product has 4.3 stars, and some said it looked even better than the image. The only complaint was that it looks a bit darker in person than it does online. Other cheap options include a pink floral wall mural ($0.09 per square foot) and a replica of the famous Blue Branch painting by Van Gogh ($0.13 per square foot), both made by IDEA4WALL. 
Wayfair also offers some unique features that could prove helpful for buyers. For instance, they have a service that calculates the number of rolls you'll need based on how large your wall is, so you don't have to do the math yourself. They also have a huge selection, and many of their prints are under $1 per square foot.