Online Shopping Tricks To Get You The Best Deals At Wayfair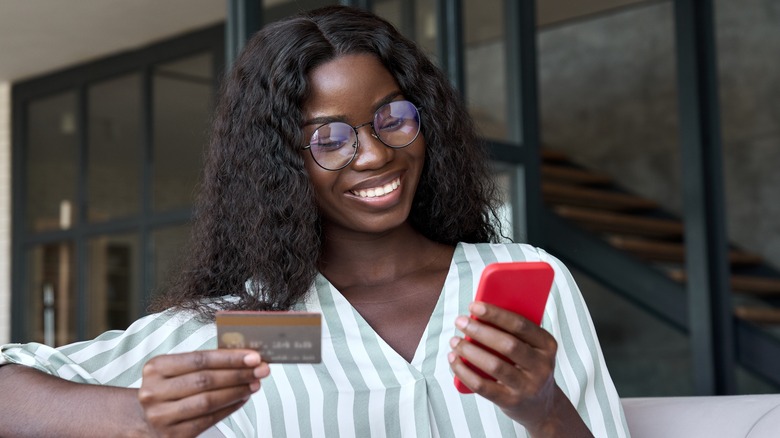 Ground Picture/Shutterstock
According to their website, Wayfair started operations in the early 2000s when two friends wanted to give consumers more options to choose from. However, you could only shop there online — that is, until 2022 when they opened up two in-person stores in Massachusetts (via Chain Store Age).
While Wayfair plans to open more brick-and-mortar locations, shopping online has served consumers well. In fact, according to Business of Apps, the retail chain brought in almost $14 billion worth of revenue in 2021 alone. This is most likely due to the fact that they have large variety of goods that appeals to a broad swath of customers. Whether you need a small end table or a complete bedroom set, you're almost guaranteed to find it at this retail. However, some of these items can come with a hefty price tag that may not fit into everyone's budget. To that end, if you're looking to save a buck or two, here are some online shopping tricks to help you get the best deals.
Savvy ways to save a few dollars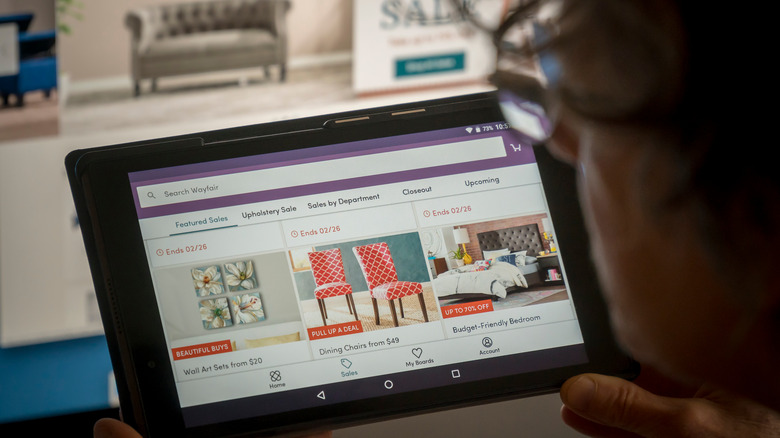 rblfmr/Shutterstock
One way you can save a little bit of money at Wayfair is simply putting the product you desire in your cart — but don't check out yet! As per The Krazy Coupon Lady, if you leave these items sitting there for a while, the retail store will eventually start spamming your email with promo codes and discounts. In addition, they will let you know when the product is low in stock; that way you can grab it before they sell out. You'll also get a notification if there's been an increase or decrease it in the item's price. 
Don't be afraid to call customer service, either. While many retailers want you to buy and be done, Wayfair is the complete opposite; they thrive from hearing customers on the other end anticipating their next purchase. All you have to do is talk to the representative about the item you are interested in. Tell them why you want the product and ask any questions you may have. Usually, if you express enough interest, they'll give you a discount. Who knows, you may end with free shipping as well. 
Look into partner sites and Wayfair Professional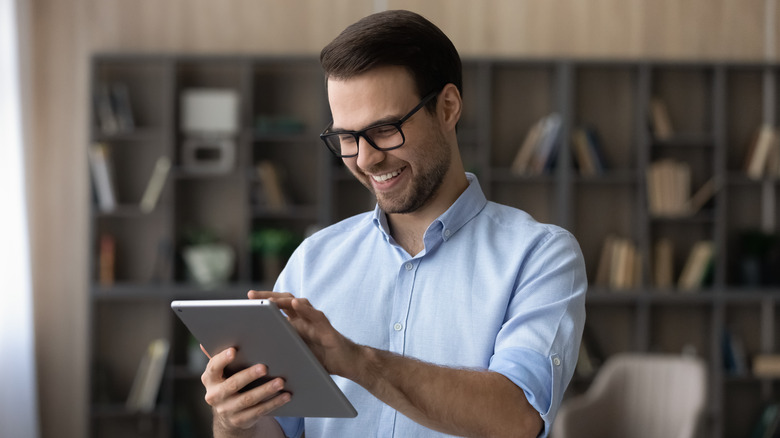 fizkes/Shutterstock
It's also important to be aware of Wayfair's partner sites, as there are many other Wayfair brands that all fall under the same umbrella as the large corporation, as noted by The Krazy Coupon Lady. Some of them include Breakwater Bay, Zipcode Design, Brayden Studio, Grace Oaks, Hashtag Home, and many more. With so many affiliated brands, it's likely that you'll see one product posted several times across their platforms. So once you find the item you are looking for, you can compare different costs on each site to find the lowest price. Wayfair has software that automatically marks prices down; therefore, by comparing, you'll likely save a few dollars. 
Lastly, you may want to consider looking into Wayfair Professional. This is a free program that gives customers access to products not available on the regular site. All you have to do is call them, tell them you'd like to register, and give them your personal information. After registration, you'll be taken to a site just like their regular website, but with more inventory. Be sure to check items that are labeled "commercial use" as you'll save a small percentage.