The Amenity Experts Agree Every Kitchen Island Should Have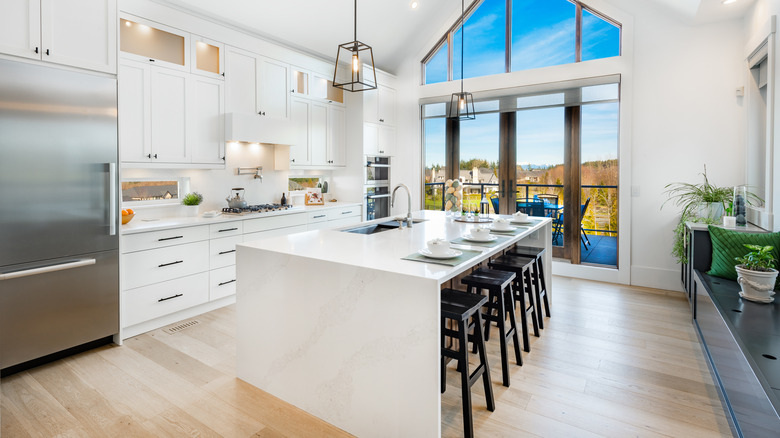 Sheila Say/Shutterstock
Homeowners imagining the perfect kitchen often have visions of multi-use islands dancing in their heads. They can add several functional elements to the room and serve as gathering spots for families and groups of friends. Builders include these workhorse features in newly constructed houses frequently these days. Still, it usually takes a remodel to achieve the versatility a kitchen island can impart in an existing home. If you're considering this big step, is adding a sink something you should consider? 
Kitchen designer and project manager Michael Reeve frequently has conversations with his clients about whether or not adding a sink to an island is a smart move. There are several ins and outs to consider before placing one in a design plan, but Reeve states on Kitchinsider that a sink can be just the right add-on when creating an uber-functional kitchen zone. Giuseppe Castrucci, an executive with Laurysen Kitchens Ltd., adds that sinks in islands can make design plans more involved and expensive but offer a huge bonus that is well worth it.
The case for a sink in a kitchen island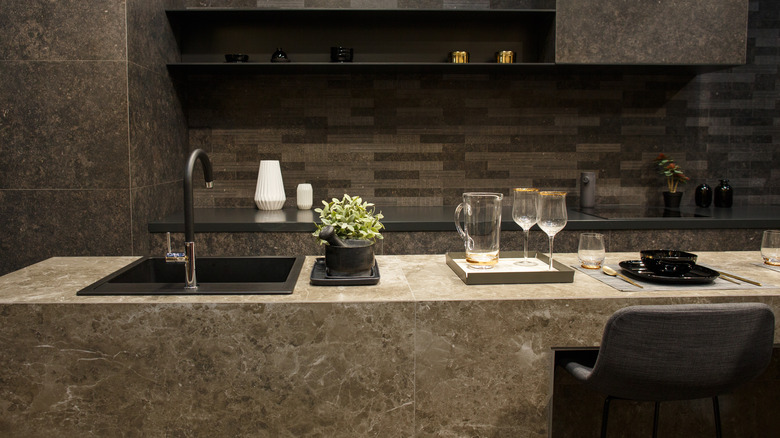 limipix/Shutterstock
One of the main reasons for adding a sink to a kitchen island is maximizing what designers and contractors call the kitchen work triangle, as noted by Deslaurier Custom Cabinets, a company specializing in custom cabinetry. This time-tested design principle places the sink, stovetop, and fridge in a triangle for maximum efficiency. The first thing homeowners and their remodelers usually consider how an island sink fits into this planning tool given the parameters of a kitchen. 
Having clean-up access right next to your prep area is one of the biggest advantages of adding a sink to an island, whether a primary or secondary basin. Food waste and leftover morsels can be easily swiped into a sink adjacent to your chopping board. The amount of ground you have to cover to stow prep bowls and utensils until you're ready to wash them is minimized. Drippy messes don't end up on the floor, either. And as a side benefit, a secondary island sink can also be filled with ice and used to hold beverages during a party.
Drawbacks of adding a sink to a kitchen island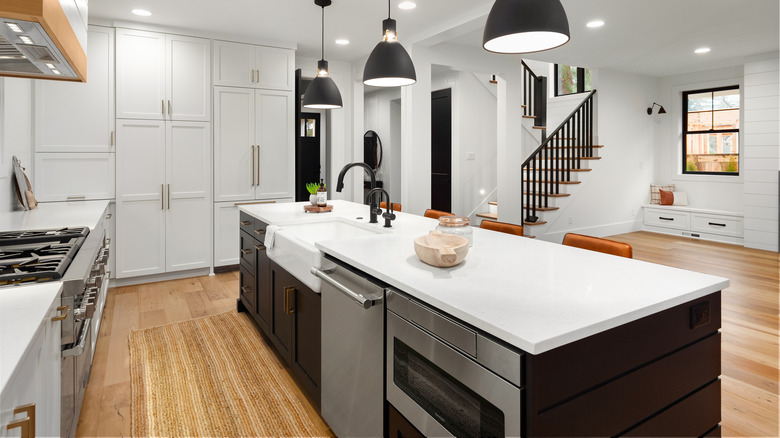 Justin_Krug/Shutterstock
An obvious drawback of adding a sink to an island is the space it takes. If you're a baker, for instance, a sink may eat into space needed for rolling out dough or decorating dozens of cookies. Many large families seek multi-use islands because they often have chair nooks that offer an additional area for casual dining, homework, or creative projects; therefore, a sink may not be as valuable as more seating space.
If you're the entertainer who likes to lay out a spread in the kitchen rather than on the dining table, having an island sink not only takes up space but can be a messy proposition. As mentioned by Prudent Reviews, having a stack of dirty dishes piled in the sink near a gathering space can wreck the ambiance you worked so hard to create. Plus, no one wants sink water splashing on their appetizers. Designers also remind their clients that rerouting plumbing to an island can be costly and might impact your dishwasher placement, too. So while kitchen design experts may love them, adding a sink to a kitchen island ultimately depends on your budget, personal preferences, and lifestyle.