Why You Should Have A Utility Sink In Your Laundry Room
mariakray/Shutterstock
A well-equipped laundry room will usually include a washing machine, clothes dryer, hamper, and a work table. However, according to Blue Bath, it should also have a utility sink, also known as a laundry sink. the ideal place for a laundry sink is near or next to the washing machine. Items soaked or cleaned in one can be seamlessly moved to the washer. According to Blanco, the extra depth and efficient drainage of a utility sink are ideal for laundry room purposes. A utility sink also allows all laundry-related tasks to be completed in one room.  A laundry room is the perfect place to segregate the splashing, spraying, and staining that accompany a utility sink in action.
A utility sink implies just that — unlimited uses. The all-purpose laundry basin will help keep the rest of the house clean and sanitary while protecting your kitchen and bathroom sinks. The long list of its recommended uses is proof of the value of the special utility sink. Nowadays, though, there is an increased emphasis on the sinks' appearance. A new utility sink can actually improve the look of the laundry room.
Many uses for laundry room sink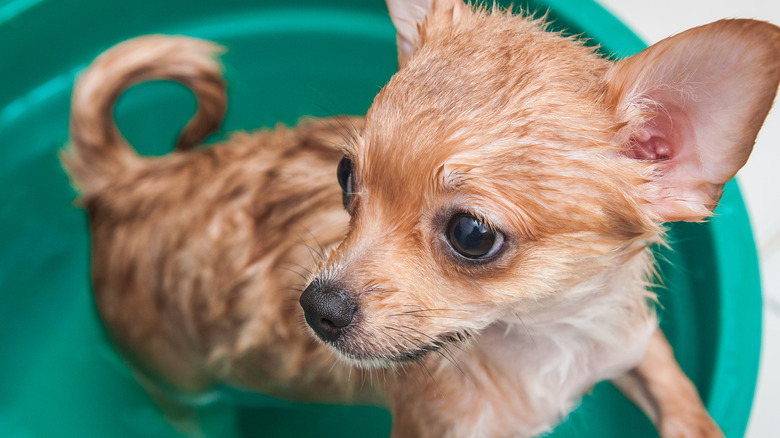 emodpk/Shutterstock
C & W Appliance Service suggests using your utility sink instead of a standpipe to collect water discharged from the washing machine. Delicates can be hand-washed, soiled clothes will benefit from a soaking, and stains can be pre-treated before going into the washer. A laundry sink is useful for large or bulky items too. Rinse a chlorine-soaked swimsuit in it before using the automatic washer. A lidded sink can be used for folding clothes, while Sinkology also recommends maintaining your washing machine by cleaning its detergent and softener dispensers in the utility basin.
A sturdy and durable laundry sink is useful for mopping, and you'll be keeping the chemicals and dirt from soiling your kitchen or bathroom sink. Likewise, grill or oven racks, car mats, air filters, and ceiling vents can all be cleaned in a utility sink. During the holiday season, you can use a laundry sink to soak oversized pots and pans, reducing kitchen clutter in the process. Potted plants can be washed in the sink without soiling the rest of the house, as can garden tools. Your dog may object, but a laundry sink also makes an excellent canine bathtub. It's clear from the myriad of uses that a laundry sink is a versatile appliance that no home should be without.
Utility sink types and materials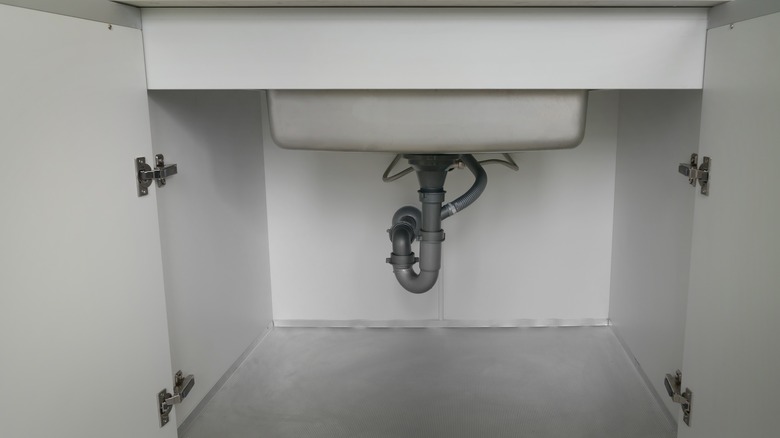 PK-Donovan/Shutterstock
While some laundry sinks can be free-standing or even portable, drop-in ones that fit into a countertop are the ones most frequently used in laundry rooms, however, there are also under-mounted sinks that sit completely under the counter. Wall-mounted utility sinks, some with racks and legs for support, are another popular style. If the sink has a cabinet this can also create extra storage room for detergents and cleaning supplies.
Kitchen & Bath Classics outlines several materials used for utility sinks. Cast iron coated in enamel is traditional, and there are acrylic and ceramic ones. Stainless steel and porcelain are commonly used for laundry room sinks. Visualhunt recommends the former for the economy-minded, with the caveat it is also the most industrial looking. Clay, vitreous china, and plastic composites are popular choices for laundry sinks.
Per Sweeten, the sinks' depth permits aggressive cleaning while confining the spray and dirt in the basin. Laundry sinks typically range from 10 to 25 inches deep, as compared to the mere 6 to 8 inches of the average bathroom one. All in all, a utility sink is a valuable appliance, and a laundry room is the appropriate place for one.