How To Turn Your Dining Room Lighting Into The Perfect Festive Holiday Decoration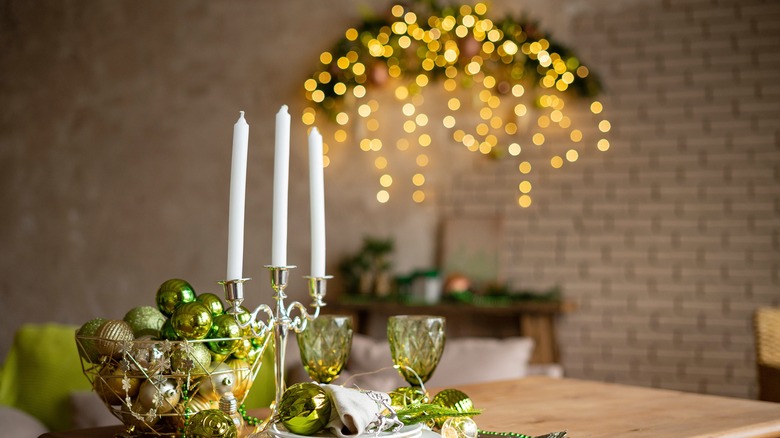 July Ko/Shutterstock
Are you looking for a unique way to decorate for the holiday season? If you have a light fixture above your dining room table, you can upgrade it by using festive foliage to create a one-of-a-kind holiday centerpiece. Doing this allows you to upgrade the look of your holiday dinner by having another centerpiece intertwined with your light fixture above the table. No matter what type of light fixture is in your dining room, you can decorate it for the holiday season. 
However, when putting decorations near light bulbs, you must take extra precautions because it puts you at an increased risk of that item melting or possibly catching fire, according to Adjusters International. To prevent any ambient heat from causing damage to your holiday decorations and home, consider switching to LED bulbs. LED Lighting Info explains that this bulb does not generate heat, making it cool to the touch. For this reason, they won't be able to melt or cause your décor to catch on fire. Using these bulbs in your light fixtures, at least for the holiday season, allows you to create beautiful statement pieces with foliage around your chandelier or pendant light. 
Chandelier wreath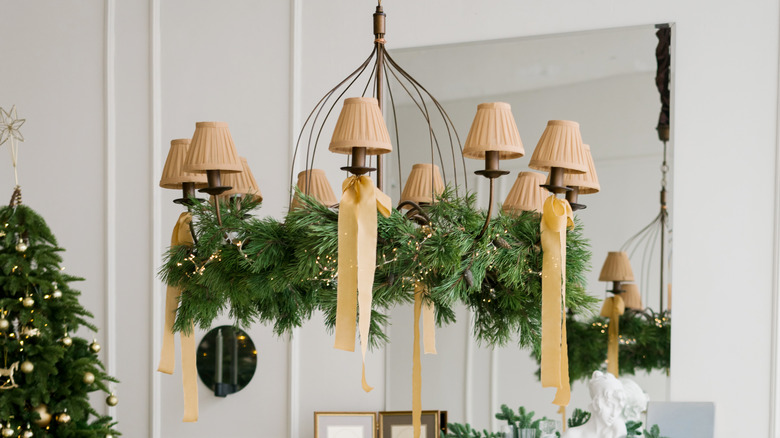 Chamomile_Olya/Shutterstock
The simplest way to decorate your dining room chandelier is by hanging fresh cedar garland around the arms of your chandelier, Sarah Joy. She measured her garland to be about 15 feet long, but yours should be long enough to circle your specific light fixture with enough room for the ends to overlap. If you want a waterfall effect between the arms of the fixture, add even more length.
Once you lay the base of cedar evergreen, secure the ends with floral wire. If you want to reuse this holiday decoration every year, use fake foliage instead. Now you can add extra decorative items. To stay in the holiday theme of red and green, use red berry garland for that pop of color. Ribbons, pine cones, and fairy lights will also look nice. The final look should be reminiscent of a wreath that is lying around your chandelier. 
Pendant light decorations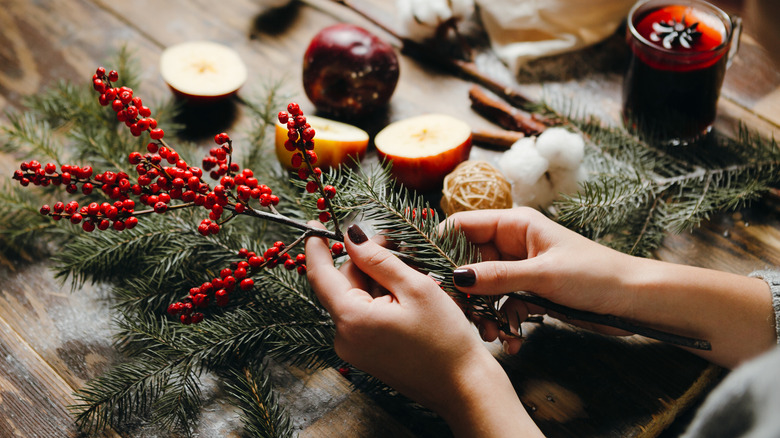 Chester-Alive/Shutterstock
If you have one or several pendant lights instead of a chandelier in your dining room, you have multiple options for installing your winter greenery. One way is to bundle eucalyptus, olive branches, and pine with decorative twine. Then tie it to hang from the base of your light fixture. This method will make it appear like a centerpiece is hanging above your holiday feast.
Another option to enhance your pendant light is to create a holiday-themed bouquet that sits above the light. Living Etc. recommends using flowers and dried foliage to do this. Use floral tape or wire to keep everything in place, and then attach your one-of-a-kind décor to the chain of your light fixture right above the light. If you want to add a pop of color, include holiday flowers such as poinsettias, holly, and calla lilies. You can also use festive bows or glittery baubles.