The Pros And Cons Of Buying A Historic House, According To An Expert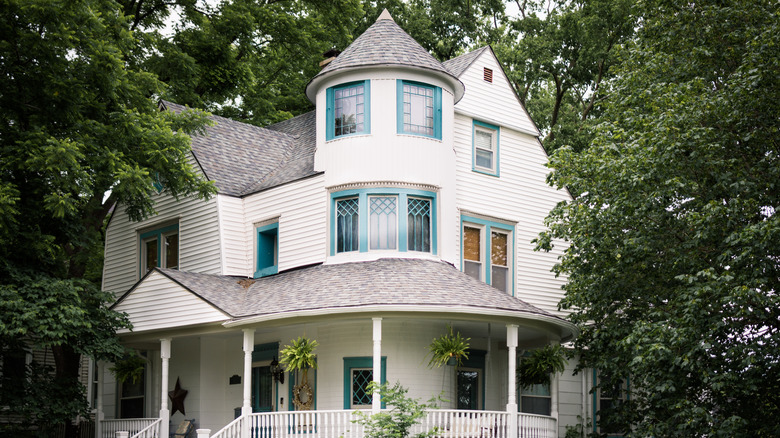 Brett Taylor Photography/Shutterstock
If you're in the market for a home but grow tired of the cookie-cutter look of new builds and want something with a little more personality, then you may be tempted to purchase a historic house for your next residence. In the United States, there's a rich history of residential architecture from the balanced stylings of British Colonial homes, rustic French Country houses, and of course, the steeped asymmetrical designs of Victorian dwellings. To be considered a historic home, the residence needs to be at least 50 years old and generally still retain the appearance of when it was first built, according to the National Register of Historic Places. Across the United States, the most common age of a home is between 21 and 30 years old, with around 10.5 million homes sharing that distinction, as per data from Statista. However, several thousand old homes in America have stood strong for almost 320 years, predating the country itself.
With such a past, it's no wonder some home buyers may want to own a piece of this history and maintain their residence in the same way people have done for centuries before. But what are some of the things you should consider before making a decision? In an exclusive interview with House Digest, realtor and founder of Homes of Yesterday, Barry Richards, filled us in on the pros and cons of purchasing a historic home.
Pro: You become a part of history
BearFotos/Shutterstock
Obviously, one of the initial draws of wanting to buy a historic home is the history itself. Unlike new builds, where oftentimes you could be the very first owner, purchasing a historic home is a way to add your chapter to a story that could be decades, even centuries long. "A home with historical significance carries that legacy through generations," says realtor Barry Richards, "Future references to the history of your home will include your contribution of preserving and improving it during your tenure." By moving into a historic home, you take on a sort of responsibility to not only keep up the structural traditions of the house but also to retell the stories of its past in order to keep the memory alive.
Moving into a piece of residential history can be the perfect icebreaker for meeting the people in your neighborhood and hearing their side of the home's legacy. "Once you move in you will immediately begin hearing from neighbors and former residents with their insight into the history," Richards tells us, "You will have to become an amateur historian to weed out fact from fiction." From the day you move in, you get the opportunity to do your own digging and research into the record of the home. Especially if you consider making home improvements, there could be evidence of another layer of unknown history ready to rediscover, hidden in every little nook and cranny.
Con: Space limitations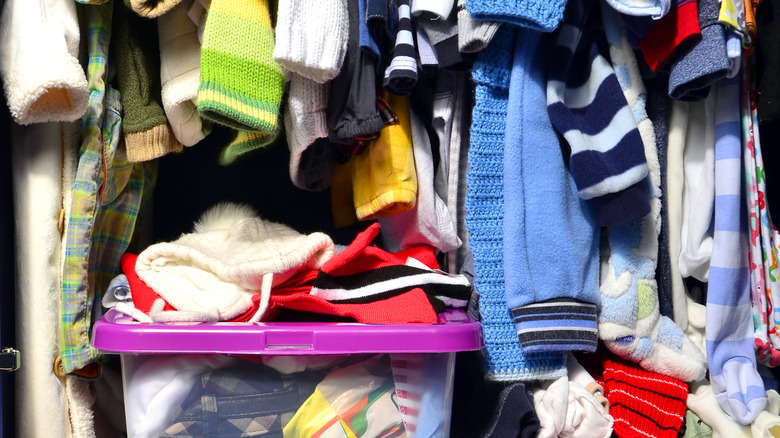 Iulian Valentin/Shutterstock
Older historic homes may not have considered certain luxuries that we see in modern residences today. Central air and vacuum, certain heating capabilities, and of course, abundant walk-in closets may not be in your future when moving into a century home. "While historic homes often have spacious living rooms and bedrooms, it is astonishing how little closet space was included," Barry Richards notes, "Often clothes were stored in armoires or chests so dedicated storage was limited to coat closets." Because of this, you may need to get creative with your storage space and work with a minimalist style. Better yet, this gives you the opportunity to find a period piece of furniture or antique dressers to make the most of your historic aesthetic.
Popping in modern conveniences might also be a redesign challenge because of the home's layout. Richards notes that "the need to add indoor plumbing through tasteful additions along the way" caused many historic homes to end up with "strange configurations." Richards says, "Historic homes may require further remodeling to fit the owner's lifestyle." Depending on the age of your home and the needs that you have to have met, it might require you to think outside of the box to make it all work in the space you are given. All this while trying your best to stay true to the feel and look of the home you so lovingly purchased.
Pro: Ample outdoor space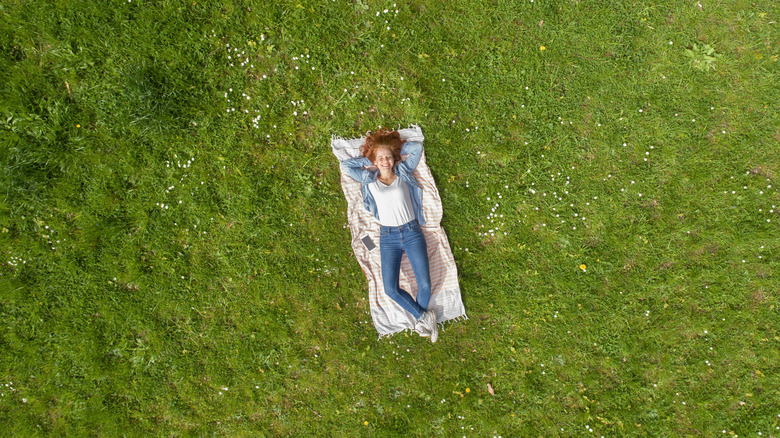 stockfour/Shutterstock
For all of the possibly frustrating lack of space inside of a historic home with regards to storage and room for your own personal effects, in some cases, there can be a huge advantage in how much outdoor space may be available to you. With older houses, there was more focus on activities that were to be done outside of the home. "Historic homes often include the best lot in the neighborhood," Barry Richards says, "Back before air conditioning and iPhones, family time was outside. Large, tree-filled lots kept the kids busy in the yard while adults enjoyed breezes on covered porches."
This could also mean that there was more outside space dedicated to hanging laundry, specific outdoor work areas, and other outbuildings for things that couldn't and shouldn't be done inside of the main residence. "Depending on the age of the home, the kitchen might be in a separate building, meaning even more activity outdoors," Richards mentions. This added area could be the ideal way of building other spaces if you need a guest cottage, detached office, or studio. Because there are often limitations to putting on additions to historical or heritage homes, this would allow you to add some much-needed square footage without ruining the integrity of the design of the original home. Also, as Richards points out, "Often the acreage accompanying historic homes survives to this day, providing a buffer from neighbors and room for gardens and modern garages."
Con: Hazardous improvements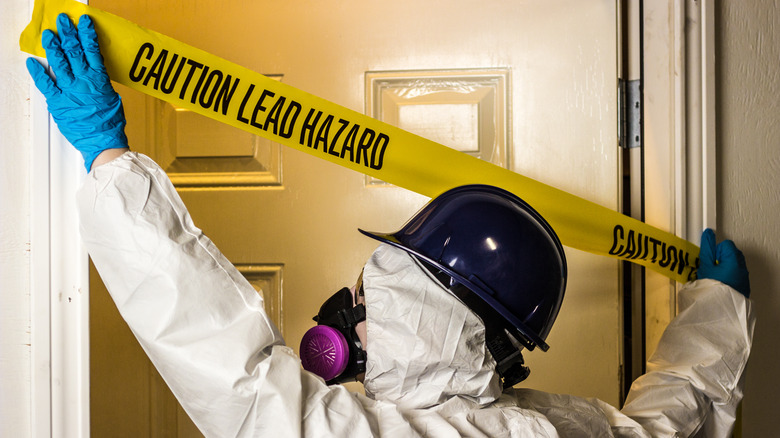 D_Townsend/Shutterstock
There is no lack of charm when it comes to historic homes. Whether it's delicately carved polished banisters, detailed sconces, expertly done window frames, or original cast-iron appliances — these could be just some of the incredible benefits that may come along with an older home. However, there's a reason that new homes have to stick to a strict building code regarding the health and safety of the new occupants, where there may not have been the know-how back when the historic home was built. "Lead was an ingredient in paint before 1978 and in pipes and plumbing solder before 1986," Barry Richards explains, "Asbestos was a wonderful insulator for early home ductwork and was used in shingles and siding." Although all of these products were thought to be inventive at the time, we now have the knowledge that they can be incredibly harmful to your health and have caused many complications over time.
Lead and asbestos, in particular, are toxic and could lead to life-threatening illnesses, according to California State University, San Bernardino. If you are moving into your dream historical home, the last thing you want is to find out that the residence you are living in could make you and your family sick. "All these elements can present hazards for owners of historic homes," Richards warns, "However, the expense of replacing plumbing, removing or encapsulating asbestos, and upgrading electrical systems will be worth it both for your family's safety and resale value."
Pro: Spacious rooms with original details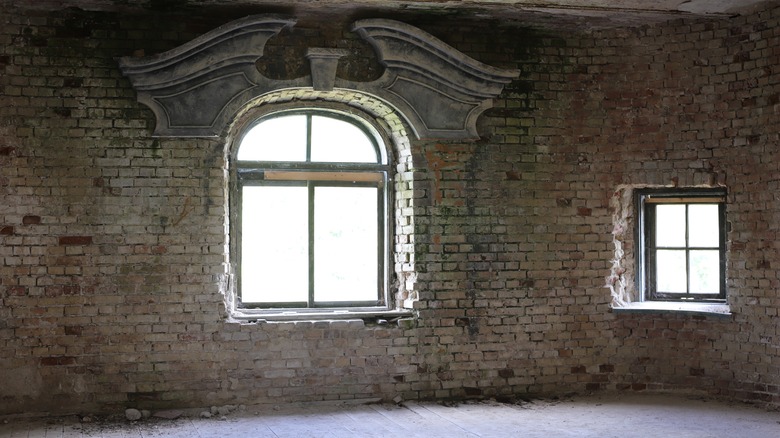 Liudmila Kazak/Shutterstock
Even though older historic homes may lack closet space, that is only because the people of the time utilized sturdy wardrobes, dressers, or trunks. However, other areas of some older homes make up for this with large airy living rooms and bedrooms. Often a way of promoting more airflow throughout a living space that did not have modern air conditioning, these homes were built with large areas and windows so that air circulation was more abundant. "Homes that have survived a century or more are typically the best-built with the upscale features of the day," Barry Richards explains, "High ceilings, spacious rooms, grand staircases, and multiple fireplaces are often the highlights of historic homes."
You might even be lucky enough to have multiple entertaining spaces depending on the type of home you acquire. Since there was such a focus on having guests stay over in certain periods of history, there were rooms dedicated not only to dining and mingling but also to be used for libraries or studies, as well as game areas. This allowed additional space for guests to gather, converse, and socialize. Other hidden gems could lie just beneath your feet. Richards says, "Frequently, remodeling reveals features that waned in popularity but are now prized. A common example is exceptional hardwood floors that have long been covered in carpet. The carpet actually preserved the condition of the wood just waiting for a 21st-century buyer to appreciate it."
Con: Continuous maintenance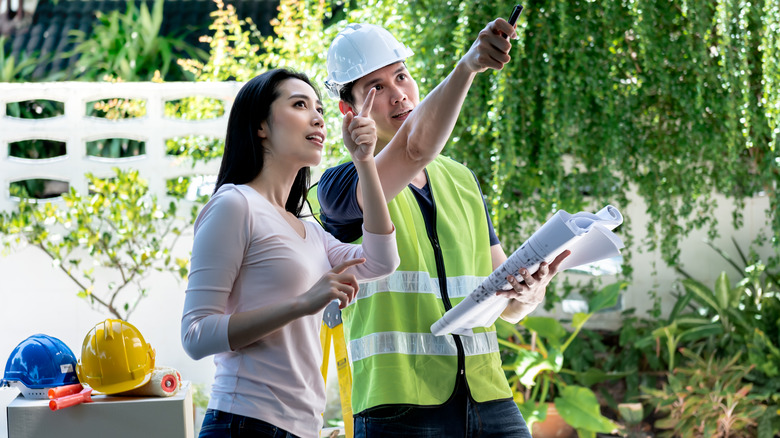 Anatta_Tan/Shutterstock
When you're a homeowner, performing your own maintenance or calling in a professional for bigger projects is just a fact of life. However, when you take on a historic property, it could be a lot more work than you bargained for. Big problems or small issues, an older home will probably have them all. "People who have never lived in an old home should do their research before taking the plunge," expert Barry Richards advises, "It can seem like a full-time job to maintain a historic home. There are always projects that, if neglected too long, can mean greater problems down the road."
This can run anywhere from structural maintenance to old foundations and beams to repairing a crumbling brick chimney to interior plumbing or dealing with older wiring for your electrical. Richards explains that "homeowners will never run out of important tasks." But there can be a light at the end of the tunnel, as purchasing and taking care of a historic home could prove to be a worthwhile investment. According to Heather Murphy Real Estate Group, your historic property could be upwards of 26% more valuable than other properties in the neighboring vicinity. Also, as Richards explains, "The pride of having a well-maintained home that has survived several generations will make the extra effort seem worthwhile." So if you have the available time and the financial means, then having a historic home could be just the thing for you.