Why A Bench Is The Perfect Multifunctional Piece To Add To Your Small Space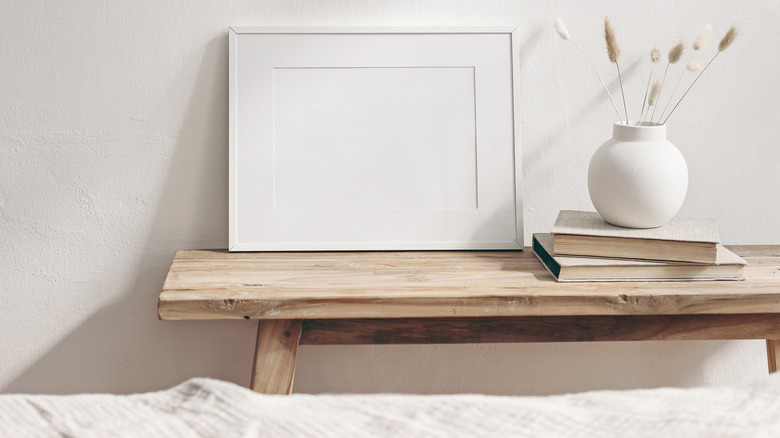 TabitaZn/Shutterstock
If you have a small space, utilizing every item to its utmost potential is key. Trying to fit too many pieces of furniture or larger units into a limited area can be stressful, but you also want to be able to offer friends and family places to sit, eat, and hang out. Balancing your design ideas with the reality of the space is definitely a challenge, but that doesn't mean it's impossible. Some items can actually serve multiple purposes and create an equilibrium between seating and surface areas.
Having furniture that can act as a double agent isn't only savvy, but it will change the entire layout of your home. While numerous furnishing options can double as two or even three things, there is one item that everyone with a small area should have. Not only does it provide much-needed space on several levels, but it looks aesthetically pleasing and can easily fit into limited capacities. According to Rethinking The Future, one way to enjoy a smaller home is to declutter, but once you've sorted through unneeded items, the next step is investing in a bench.
A multi-purpose piece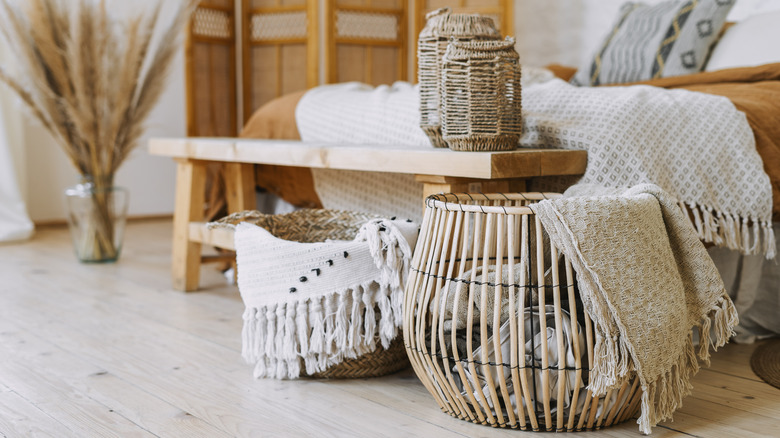 brizmaker/Shutterstock
Benches can be used in a variety of ways, which is what makes them so versatile. Long ago, they may have been made only as a seat, but interior design has expanded the tasks this furniture item can accomplish, allowing it to be whatever the homeowner needs and wants it to be. These pieces are usually long and rectangular, with gaps underneath and no arms or back to enclose them. The legs can be slim or thick, depending on the materials used to make them, but they are open and offer access from almost every angle. This is what allows them to be used in so many capacities — the absence of blockages or single-use purposing. According to Fox31, benches are both portable and flexible, allowing you to choose where to place them and what they are compatible with.
If you already own one or have considered investing in one, it can provide you with several options. Seating is the most obvious; they are great for offering multiple people a place to perch. It can be pushed against a wall or even under a table that sits higher than the top until it is needed, creating more floor space and opening up any room it is kept in. A bench can also be used as surface storage, holding everything from plants and ornaments to books or blankets. How you decorate or utilize the top is your choice, but it ensures you have extra expanse to place items.
How to use your bench addition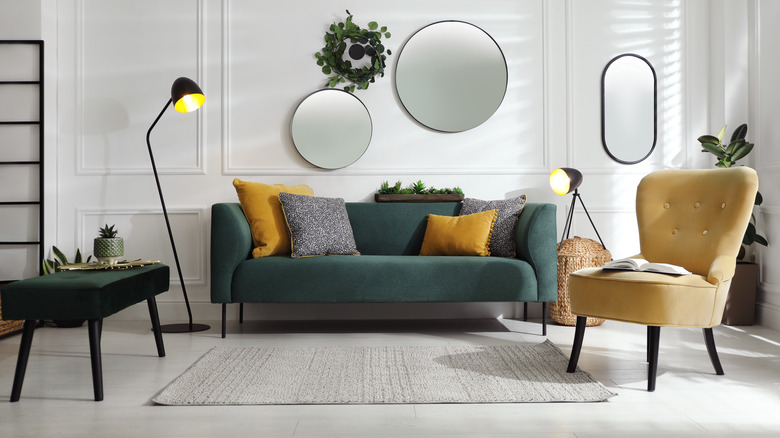 New Africa/Shutterstock
You can also make it so your bench serves as two things, depending on what you need it to be. It can be a coffee table or storage space by day, then turn into seating when people come over. If the bench boasts built-in storage at the top, you can place anything you keep on it inside when friends or family need somewhere to sit. Keeping it in your living room, bedroom, entryway, or even in a bathroom is great for the multi-use concept behind this piece.
Another way to use your bench is by placing it between rooms or open spaces to create a divide. Centsational Style notes that they can sit flush against a partial wall to add more volume, solidifying the split that separates one room and another. Using a bench to change the layout of an open concept or larger area will allow you to dictate traffic and design without installing curtains, partitions, or temporary walls.