Why You Should Be Using A Decorative Storage Bench In Your Entryway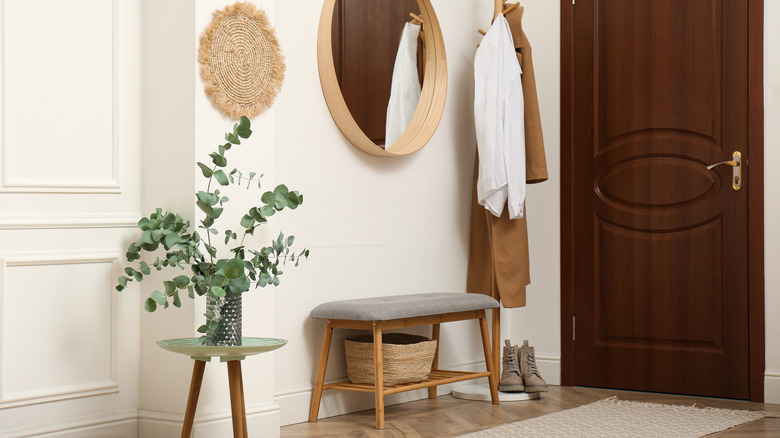 New Africa/Shutterstock
Storage benches are extremely useful in many areas of the home. At the foot of the bed, these benches typically store extra blankets or pillows. In the living room, this small furniture piece could provide extra seating while also containing books, blankets, or other items. On the front porch or deck, it could hold outdoor cushions, garden tools, or pool accessories.
Another place you could use a storage bench is in your entryway. Designrulz says that first impressions in the home are important. Because your entryway is the first place your guests see, you should put great care into designing this often overlooked area. A storage bench can be added to just about any entryway since it comes in so many different sizes. Additionally, no matter your style preferences, you're sure to find a design you love. Below are the many functional and aesthetic benefits of adding a storage bench near your front door.
Functional benefits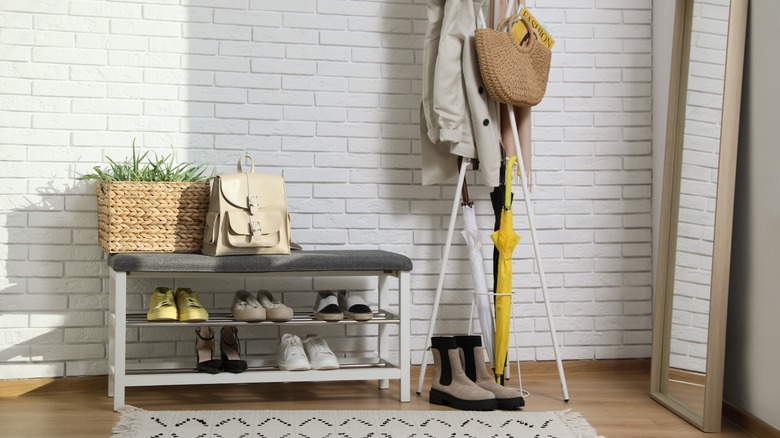 New Africa/Shutterstock
According to Hayneedle, storage benches are extremely useful in the entryway. In this area of the home, they are typically used to store things like hats, scarves, mittens, sunglasses, and shoes. They can also hold other items like keys, purses, wallets, and mail. These storage containers easily keep all your possessions organized, which makes leaving your home in the morning extra easy; you won't have to scramble to find everything you need. And they provide a place for you and your guests to sit when taking off or putting on shoes.
Because they come in a number of types, you can choose one that's right for your needs. Insteading gives an overview of the models. Some open from the top, which might be useful for those who need storage for smaller items. Other types contain shoe racks, which could be great for anyone who keeps their shoes by the front door. Additionally, you could choose one with multiple cubbies, baskets, or drawers, which would be ideal for larger families, as every member could get their own designated storage space. The largest designs also have hooks to hang coats and are sometimes called mudroom benches.
Aesthetic benefits
New Africa/Shutterstock
Storage benches aren't only great because of their functional benefits; they can also look extremely stylish. Designrulz says that this simple addition to your entryway can completely transform the space. Insteading displays benches of all different styles, from ones with a cozy upholstered look to others with a chic and modern appearance. White wooden ones look clean and farmhouse-esque. To bring in some rustic or industrial vibes, you could choose one with metal accents.
Additionally, entryway benches can be decorated in a number of ways. Room for Tuesday recommends hanging a mirror, a large piece of art, multiple paintings, or a gallery wall above the bench. Doing so will give this small space a more complete appearance. To add lighting, you could place a floor lamp or install wall sconces next to the bench. Other decorative accents like blankets, pillows, plants, flowers, and small side tables could be added to the space as well to make your home appear warmer and cozier.