How To Select The Right Size Of Christmas Tree For Your Space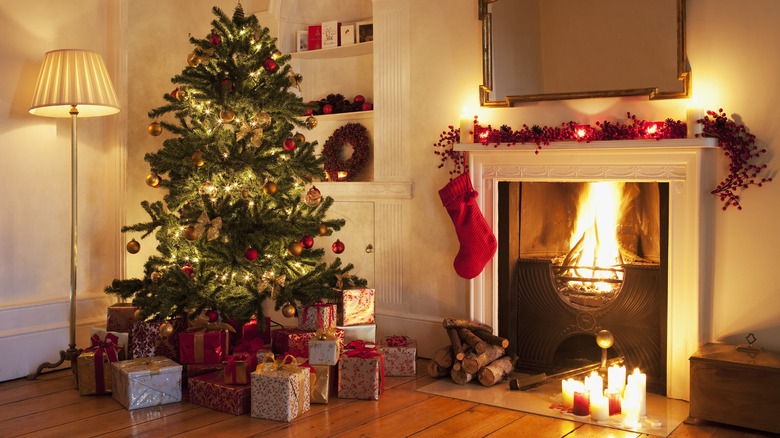 Tom Merton/Getty Images
We may receive a commission on purchases made from links.
Christmas trees are one of the most recognizable symbols of the holiday season. Although most people use artificial ones to adorn their homes (per Rocket Homes), many Christmas traditions — including the use of Christmas trees — took quite a while to catch on in the  United States. 
Britannica states the influence of "Godey's Lady's Book," a popular women's magazine in the 1850s, increased the popularity of Christmas trees in North America. While those early trees were natural, we now have artificial varieties in nearly any size or color you want, with or without lights.
Whether you select a real or artificial tree, you want to ensure it's the right size. No one wants to experience a real-life version of the moment the Griswolds untied theirs in "National Lampoon's Christmas Vacation." You also don't want to bring it home only to discover it's closer to Charlie Brown's withering tree than the one you had envisioned. Here are a few tips to ensure your Christmas tree is sized to perfectly complement your space.
Selecting a tree by height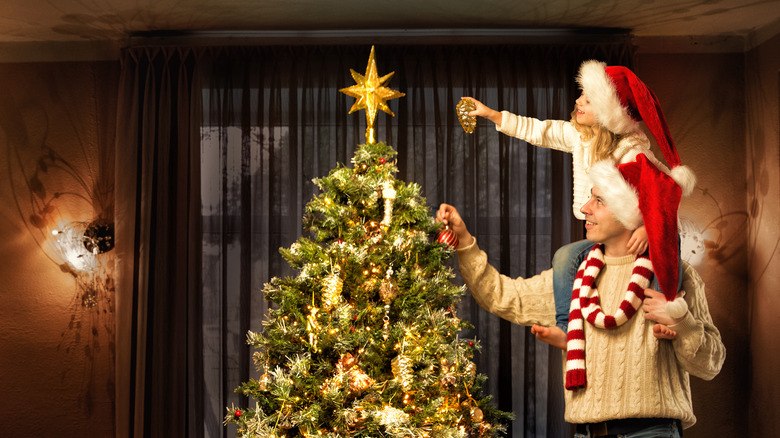 Inara Prusakova/Shutterstock
To find the ideal height for your Christmas tree, decide where you want it to go and rearrange your furniture as needed. Once you've selected the perfect spot, measure your ceiling. If you'll be using a topper, Balsam Hill suggests subtracting one foot from your ceiling height to find out the maximum size of a tree for that space. 
For example, if you have an 8-foot ceiling, the tallest tree you should consider is 7 feet. If you are not using a topper, you can get a slightly taller one by subtracting only 6 inches from your ceiling height. The maximum ideal height should also include the stand, so if you are planning to use a decorative stand that makes the tree taller, remember to factor that into the equation.
Massive evergreens can make a small room feel even smaller, so for homes with low or slanted ceilings, select a 6-foot tree. Even smaller ones work well in kid's rooms, on tabletops, or in very small rooms.
Selecting a tree by width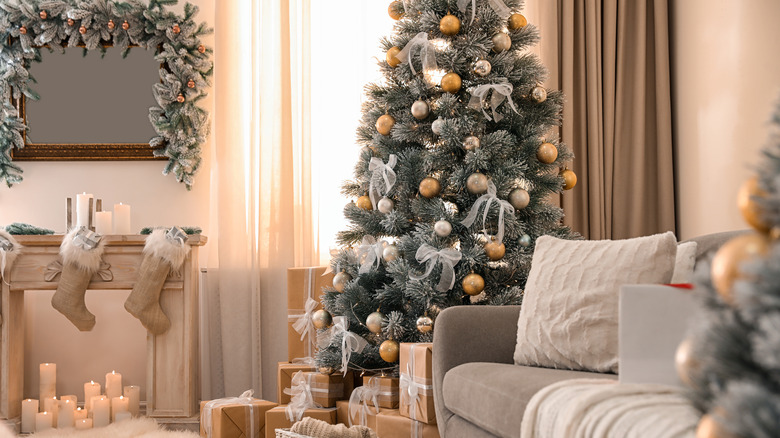 New Africa/Shutterstock
Many people only think about height when shopping for a new Christmas tree, but its width is just as important. You don't want to squish all your furniture together to make room for one that's far too wide. 
According to Ballad Designs, you should place the tree about 3 inches from adjacent walls. It should also be about 2 feet away from furniture, especially if you have cats, per Christmas Tree Brooklyn. Your little furry friend might be even more tempted to climb a tree if there's easy access. These spacing guidelines will also keep the room from feeling too crowded, which is important during holiday gatherings.
If you have tall ceilings but limited square footage, consider a pencil tree like this one from Amazon, which is 7.5 feet tall but only 30 inches wide – perfect for a cozy corner. These slim models are available in many colors and varieties, with or without lights. However, remember that they can be a fire hazard, so Anchor Heating & Air Conditioning recommends placing yours at least 3 feet from heat sources.