Home Depot Or Lowe's: Which Has Better Deals On Christmas Lights?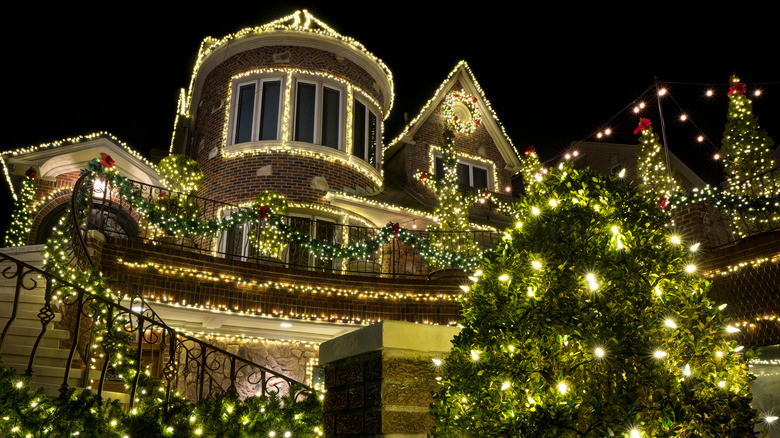 Serge Yatunin/Shutterstock
As the holiday season rapidly approaches, many people are going to be breaking out their ladders and toolkits to decorate their eaves with sparkling Christmas lights. Christmas lights in general were created in the late 19th century to prevent the fires commonly caused by putting real candles on trees, per Christmas Light Source. Outdoor-safe Christmas lights were invented a few decades later in 1927, which have long since solidified themselves as a holiday season décor staple.
Choosing Christmas lights is half of the battle, though. Between trying to decide how many lights you'll need and what shape, size, and color to choose, the whole process can very quickly become overwhelming. Then comes the price — it can cost anywhere from an extra $20 to as much as $500 a month per every 100 light bulbs, according to PG&E. Still, the cost and hassle is worth it for many people, especially if you know where to get the best deals on the lights. To that end, two popular retailers that sell Christmas lights are Home Depot and Lowe's, but between the two home improvement stores, which one offers the best deals?
Home Depot Christmas lights
Before blindly wandering through either stores' Christmas aisles or online catalog, you should know what to look for. The two most important factors for Christmas lights in general, but especially outdoor ones, are safety and cost. LED lights have a leg up for both of these factors, with Electricity Plans saying LED Christmas lights use as much as 90% less power than incandescent, only costing $2 a month to operate compared to up to $15. They're also the safer option, per TCP.
Home Depot offers a wide variety of LED Christmas lights, with varying colors, lengths, bulb shapes and designs, and more. Starting simple and classic, they sell a 300-light, nearly 87-foot long set from Home Accents for $50. The mini-LED lights are offered in both white or multicolored and are safe for both indoor and outdoor use. They have a 4.3 star rating with 66% of customers recommending them.
For larger lights, Home Accents also offers a 100-light set of C9 LED string lights for $33. They also come in both white and multicolored options and are indoor outdoor compatible, and one set measures round 66 feet long. They're a little low on the rating side, though, with a 3.9 star rating and only 44% of customers recommending the lights. Many customers complain about the bulbs burning out quickly after installation.
Lowe's Christmas lights
Lowe's also has a large variety of Christmas lights, especially in terms of LED and indoor/outdoor compatible options. Starting with mini LEDs, they sell a 300-light, over 74-foot long set for just $45 from GE. They have a somewhat low rating score at just 3.5 stars; however, 61% of customers recommend the product. This set only comes in white. GE also sells a 100-light, almost 25-foot long set of multicolored mini LEDs for $13, which has a 3.8 star rating and 68% recommendation rate.
Lowe's best deal on larger lights are also from GE: the 100-light, 66-foot long set of C9 warm white LED costing $50. The Christmas Light Emporium says C9 lights are so popular for outdoor use because they're very bright and distinguishable from a distance, unlike mini LEDs, which create more of a twinkling, glittering look in the distance. This set from Lowe's may not be the best option, though, with a measly 3.3 star rating and only 52% of customers recommending the lights.
When comparing the Christmas lights at Home Depot and Lowe's, Lowe's comes out on top in terms of better pricing. However, they lose quite significantly when comparing customer feedback, with Home Depot's lights winning each time in terms of customer satisfaction and approval. Home Depot's lights are also a little bit longer, meaning you get more bang for your buck. So we conclude that while Lowe's may be cheaper, Home Depot offers better long-term deals.