Why You Should Never Buy A Spring Mattress At Ikea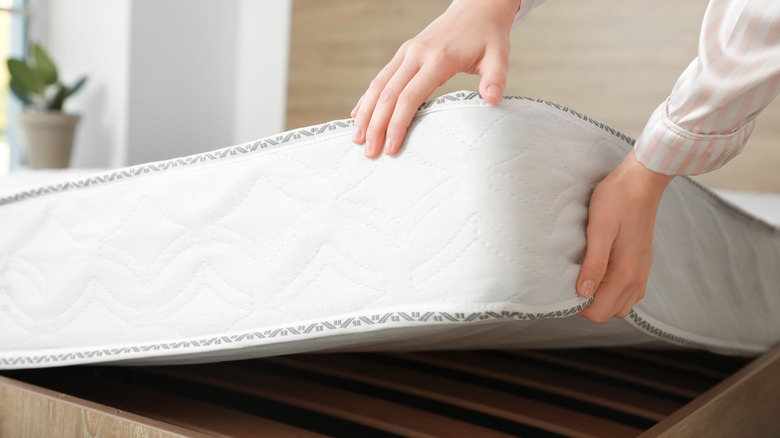 Pixel-Shot/Shutterstock
We all know it's better to sleep on a comfortable, cozy mattress versus a box spring that's hard and stiff. However, with countless options out there, finding something ideal can prove difficult. Think about the best sleep you've ever had; most folks think of vacations and wish they could transport their hotel bed into their bedroom. While there are ways to make your bed feel like a five-star hotel, it usually comes down to where you shop.
While browsing different options, you've probably wondered why mattresses are so expensive. This is because the quality of materials determines their price range. According to Bedroom Style Reviews, one of the primary reasons they are expensive is that retailers mark them up by 50% or more to cover costs and make a profit. In reality, stores import them from other countries, such as China, at a low expense, then increase the price and discount it to make it look affordable. Special features, such as edge support, added cooling capabilities, and whether it's hypoallergenic, can increase the cost for consumers.
Instead of shopping at mattress stores, turn to retailers like Ikea that sell household items. Unfortunately, their spring mattress has the lowest consumer rating, and blogger Cheapism recommends steering clear of it. Read our breakdown on why it isn't beneficial to your body and sleep.
Spring mattresses offer low satisfaction and discomfort
Ikea's spring mattress is meant to distribute body weight evenly as well as regulate body temperature, per the company's website. Each model is either firm or medium-firm, but both tend to be stiff, which is why the big-box retailer recommends a topper to provide extra comfort and support. Ikea has about 38 different spring mattresses on its website that range from $129 to $1,000. Its best-seller is the HAUGESUND medium-firm spring mattress, which costs $249.99 and is made primarily of cotton and polyester. It also features stretch fabric and response coils to maximize comfort and not disturb your partner while sleeping.
However, consumers claim it lacks comfort and doesn't satisfy their needs (via Sleep Like the Dead). In fact, Ikea's spring mattresses had the lowest rating compared to its foam and latex options. Sleep Like the Dead surveyed more than 500 buyers to ask how they felt about the durability, various support features, and overall satisfaction from this and other box springs. Many said the spring mattresses were prone to sagging, causing increased back pain and discomfort. Additionally, their overall satisfaction was lower compared to the foam and latex models. And, because the spring beds are supposed to move with you without waking your partner, consumers claim the response coils creak and the stretch fabric doesn't conform to their bodies.
Latex mattress takes first place
Finding the right affordable mattress that offers comfort, durability, and longevity can be difficult. However, it's better to pay a little more now for something that will last a decade or longer and benefits you in countless ways. Of course, there are factors to keep in mind when mattress shopping, but consumers have spoken: Ikea's spring mattress isn't worthwhile.  However, it has other mattresses that offer better support at an affordable price compared to other retailers.
For example, the latex mattresses had a higher ranking than the foam and spring mattresses with regard to longevity, durability, comfort, and overall satisfaction, according to Sleep like the Dead. They cost between $300 and $1,200, only a couple of hundred dollars more than spring beds. All latex or hybrid-latex mattresses are available, depending on your preference. 
When consumers rated each mattress, 76% said the latex mattresses met their overall satisfaction. Whereas the spring mattress received complaints regarding noise, increased back pain, poor support, and raised pressure points, the latex model ranked higher for being supportive and the most comfortable. Of course, different retailers offer many mattress options. Ultimately, it comes down to taking your time to browse multiple options before settling on the first one you see.