10 Tips For Making Your Cheap Furniture Last Longer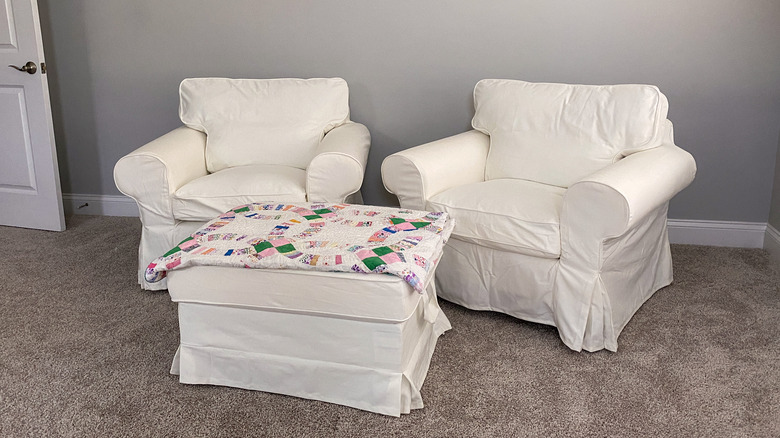 Joni Hanebutt/Shutterstock
Finding furniture at a low price can feel like being on a quest for a legendary lost treasure, especially if you're on a tight budget and just starting out with your first apartment or house. Regardless of the price tag and materials, though, there are ways to maintain the longevity of any bargain-priced furniture. All it takes is some creativity and a few items, such as hardware and paint, according to Refind Design.
Just the same, if you aren't looking to change the finish or any other major aspect of a piece of furniture, it will still last a long time after performing some minor maintenance tasks, like tightening screws or polishing the wood or metal. Plus, even something as simple as using throw pillows or swapping out the couch cushions periodically can add years to any family room set. Or, if you have end tables that don't quite match the rest of your den's motif, a coat of paint or textured wallpaper on the tabletop can transform its style. Keep reading for more ideas for extending the life of your furniture.
1. Replace knobs and handles
Missing some hardware on your cabinets or drawers? Before taking that dresser out to the curb for pickup, consider replacing broken or missing hardware. Changing the knobs or handles adds to the wow factor of any room's décor. Also, try some strategic mismatching of the knobs for a quirky touch.
2. Avoid overdoing the rehab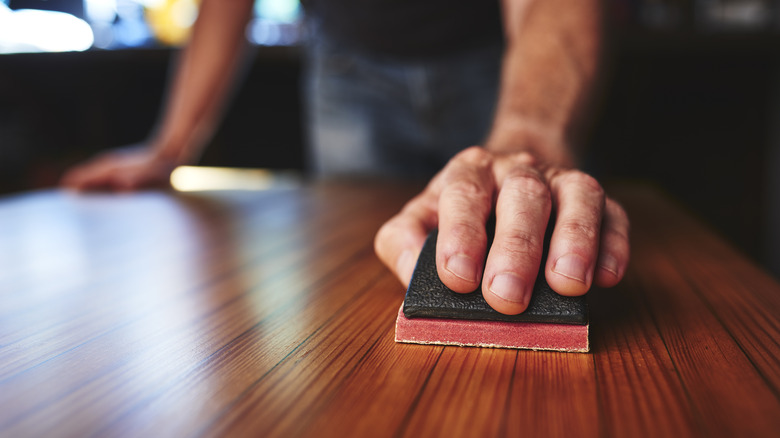 Brian Goodman/Shutterstock
There's a reason behind the bargain prices of certain furniture items. It might feel solid, but that doesn't mean it's solid pine. Thus, you might go gently with any sanding if you're refinishing. Likewise, if you're dealing with a prefabricated piece, refrain from taking it apart and rebuilding — even if you did save the instructions.
3. Keep minor repair materials on hand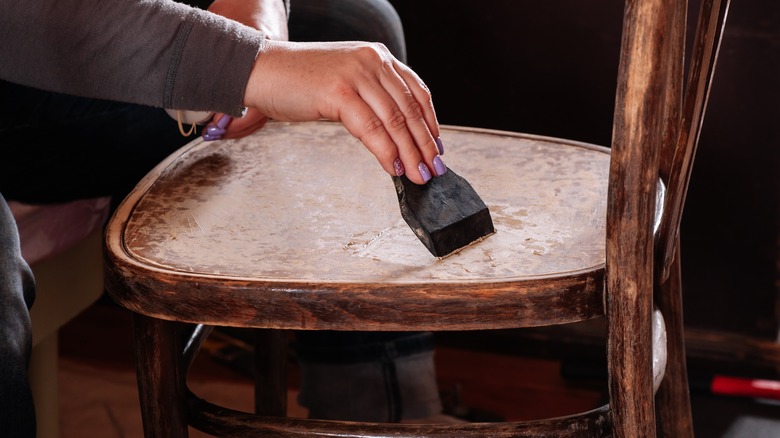 Lia_Russy/Shutterstock
Because dings, scratches, and dents happen, have a steady supply of wood filler or epoxy sticks at the ready. Better yet, try to find fillers that closely match the color of your furniture or keep a small container of paint or stain handy.
4. Refinish or reupholster
Kat Om/Shutterstock
If the bumps and scrapes on your coffee table call for more than patching, try refinishing the surface with either paint or stain. Likewise, if your favorite seat is worn out, or Fido has chewed it one too many times, you might try reupholstering it. Both fixes can add more years to your furnishings.
5. Polish and shine
Whether we're talking about a wood veneer, faux leather covering, or metallic finish, a little bit of polishing can breathe new life into dull and worn-looking pieces. For wood, brighten up the surface with polish or oil. With regard to metal, simply use white vinegar to remove the tarnish.
6. Add or take away parts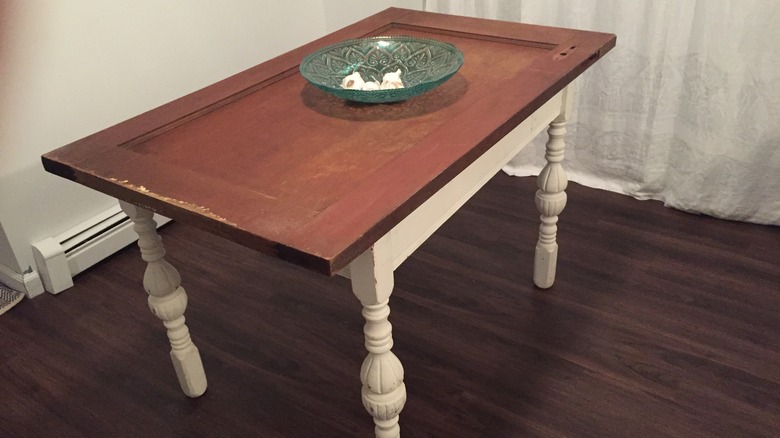 Helene Munson/Shutterstock
Not sure about keeping a shelved unit? Then perhaps removing a shelf or two makes sense. Likewise, if you have a TV stand with cabinet doors that are damaged, remove the doors but keep the storage space. You can also remove tabletops and add a repurposed door.
7. Keep up with repairs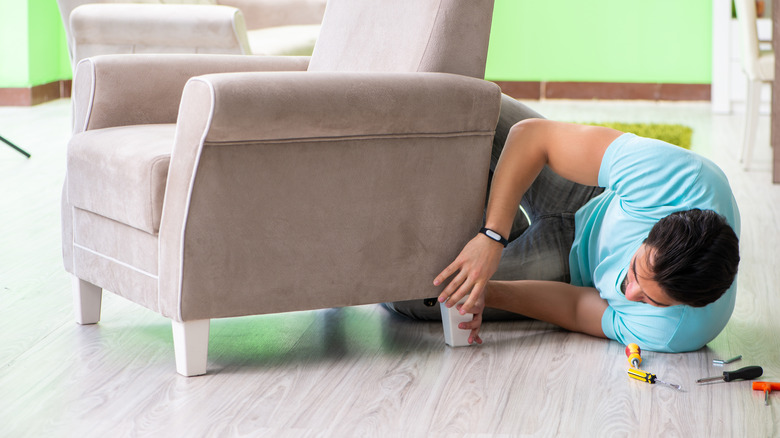 Elnur/Shutterstock
Just like any other furnishings you invest in, second-hand items require some TLC. Periodically you can tighten up the legs of chairs and tables to make sure the hinges aren't coming loose. For sofas and loveseats, you might need to add a quarter-inch piece of hardboard underneath sinking cushions.
8. Change up the style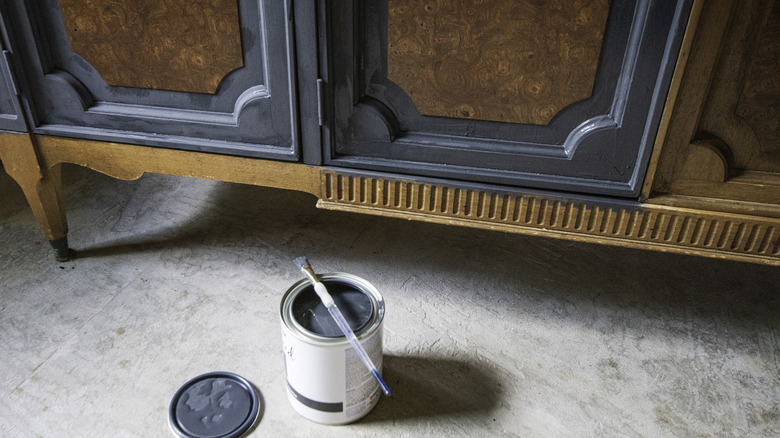 Jacqueline Nix/iStock
If you can't completely refinish a piece, there's always the option of distressing it. Or, for already-painted furnishings, use chalky paint to give them an antique look. By altering the style of your furniture, you're able to keep it around longer while enhancing the room's décor.
9. Incorporate seasonal accessories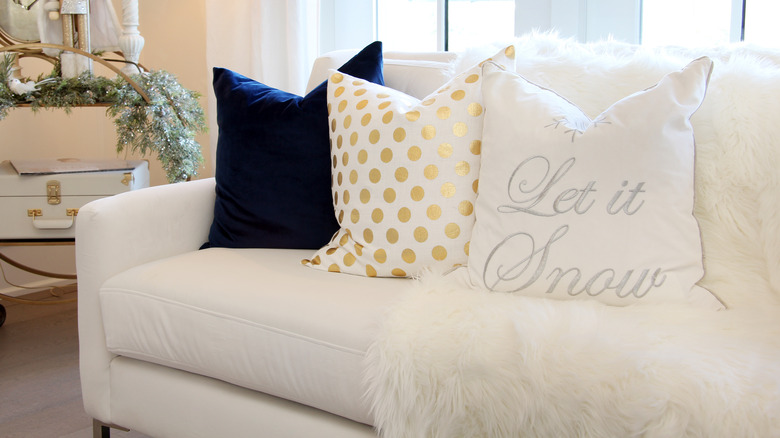 Hannamariah/Shutterstock
From a comfortable armchair to the entire living room set, add (literally) another layer of protection by using throw blankets or slipcovers that coordinate with the seasons and holidays. For dining chairs, you can always change coverings while protecting them from wear and tear.
10. Go for some whimsical touches
Finally, another idea is to take any of these tips and add a unique touch. For instance, include bright hues with slipcovers and pillows. As for any tables or shelving units, try using stencils to add eye-catching designs. Anything works when you incorporate different colors, designs, and accessories to extend the life and overall livelihood of various furniture pieces.