25 Must-Haves For Updating Your Living Room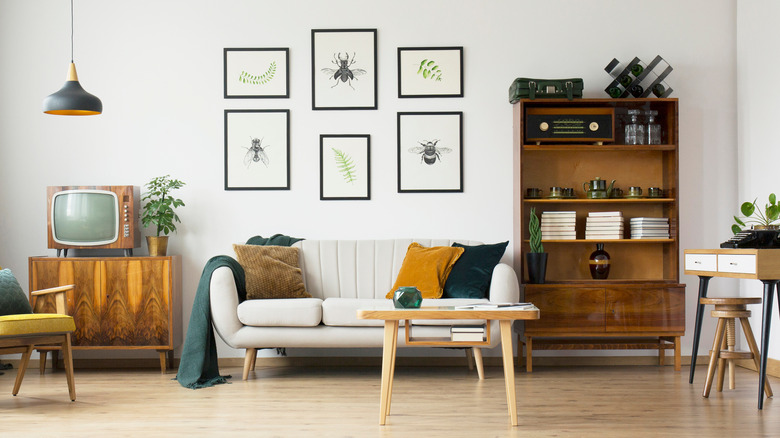 Ground Picture/Shutterstock
Living rooms are often one of the first rooms guests encounter in our homes and very often the center where we spend our time. As a multi-functional room, outfitting your living room space and keeping things fresh is important. According to Fairmarket, the living room is one of the easiest spaces to update since it doesn't require quite as much construction as a kitchen or bath. Since it's a larger room, sometimes the most spacious in any home, it's often a perfect canvas for expressing personal style and trying out new décor and aesthetics.
If you want to make your living space both functional and beautiful, there are some key elements and changes you can make that have a big impact, particularly when combined. From more time-intensive endeavors like painting and installing molding to easier, swifter fixes like adding new pillows or a new light fixture, there are a number of great ways to update this all-important room.
1. Throw pillows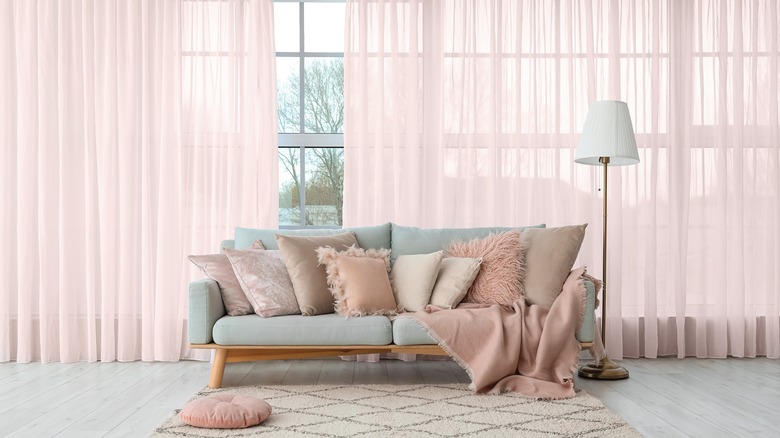 Pixel-Shot/Shutterstock
One of the least expensive and high-impact changes in your living room is to add or switch your throw pillows. A room can sometimes be shifted toward a different décor style by choosing the right throw pillows. For a touch of glam, add pillows in velvet and satin. Want boho style? Add woven fabrics and fringe. 
2. Slipcovers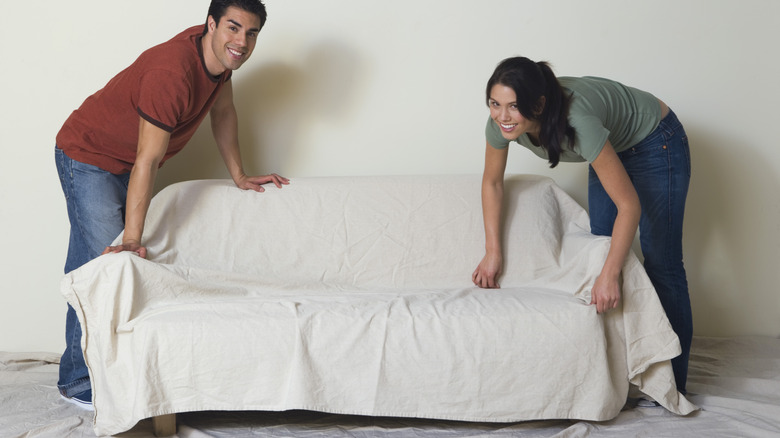 Jupiterimages/Getty Images
Looking for a quick way to fix worn-out or outdated upholstery but unable to buy new large pieces? Slipcovers come in several varieties, from more fitted to free form. They are also available in different fabrics, including cotton, micro suede, and velvet. Slipcovers are also usually washable, which is great for homes with kids or pets.
3. Window covers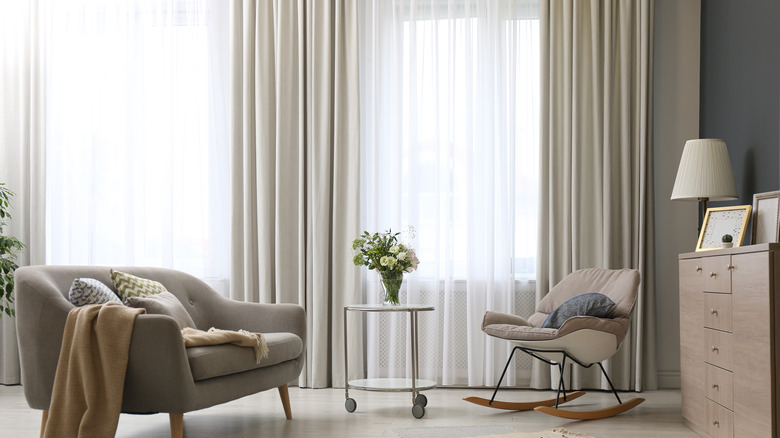 New Africa/Shutterstock
Another easy, high-impact way to change up your living room is to add new window coverings. Whether you prefer drapes or roman shades, a new shape, texture, or color can instantly transform your space. 
4. Gallery wall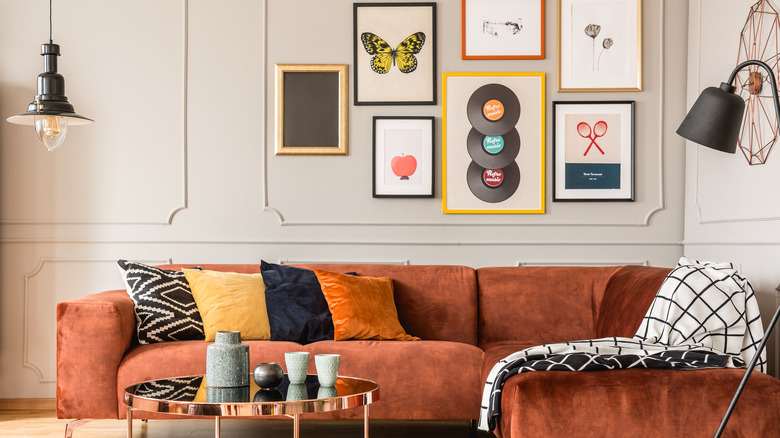 Ground Picture/Shutterstock
A great way to display art and photographs, particularly in larger spaces, is with a gallery wall. The gallery format allows you to display more pieces than hanging them separately and creates juxtapositions that make the wall itself a work of art. You can also change the feel of the room just by switching out the pieces.
5. Faux fireplace
Ground Picture/Shutterstock
If your room lacks coziness or a strong focal point, a faux mantle might be the perfect solution. A number of retailers sell freestanding mantlepieces, or you can assemble one with molding. They not only create a mantle for displaying objects and décor but can also house plants, books, or candles. 
6. Large mirror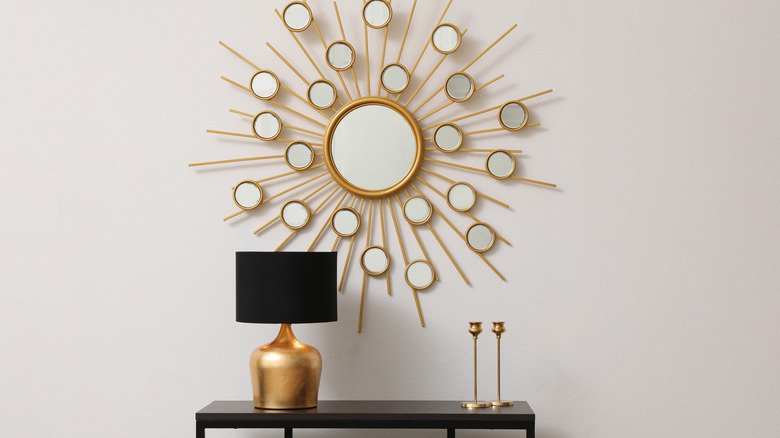 New Africa/Shutterstock
Add a large mirror to incorporate more light and dimension into any living room. Whether it's a traditional rectangle, a rounded frame, or a fun starburst, large mirrors add a focal point and fill empty walls. If you don't have the budget for a larger mirror, create a gallery wall of smaller mirrors with similar but distinctive frames.
7. Media console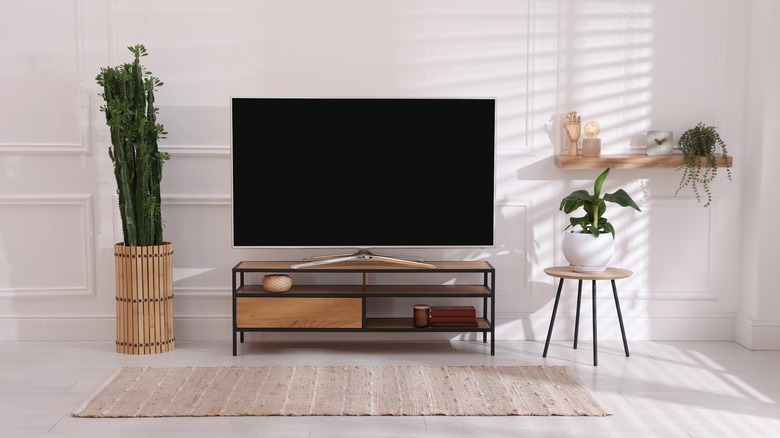 New Africa/Shutterstock
Without a family room or entertainment room, many of us are stuck seeking stylish ways to house our televisions in our main living spaces. An attractive entertainment console is a beautiful berth for TVs and related technological gadgets. The best ones feature both closed and open storage. 
8. Desk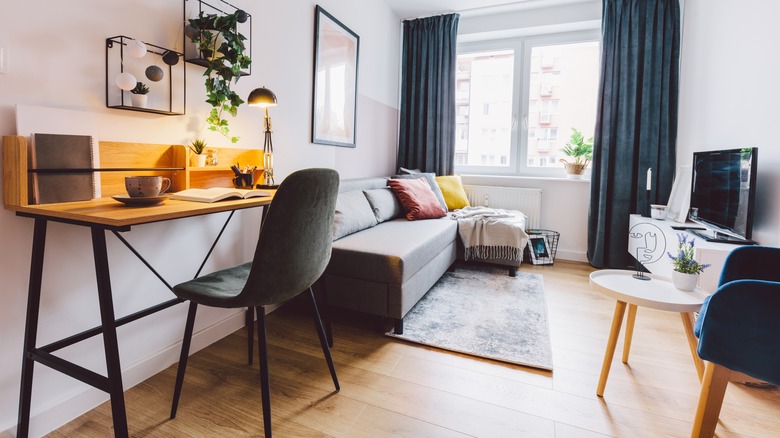 PHOTOCREO Michal Bednarek/Shutterstock
Another piece to consider adding to your living room is a small to midsize desk. Whether you intend to work there regularly or just need a space for occasional work or reading, a desk adds a useful surface for any number of activities and additional seating.
9. Texture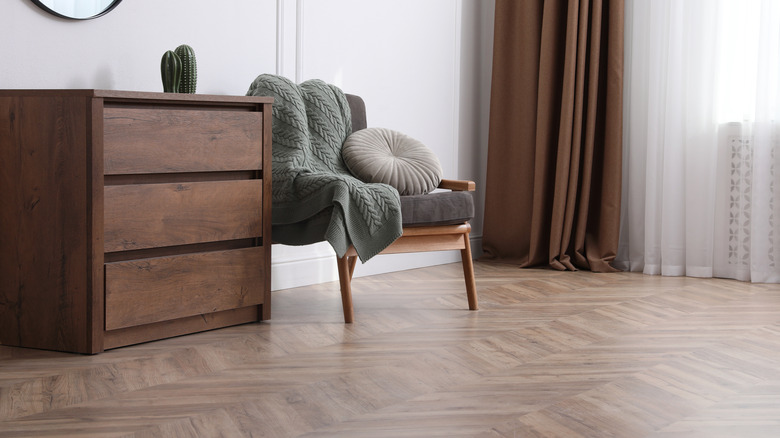 New Africa/Shutterstock
A great way to add new interest to your living room is to layer various textures. Here, a modern velvet chair is paired with a knit throw. The brown drapery is placed against sheer curtains, which add another softer element, while the woods of the chair, bureau, and floor vary in shade but complement each other. 
10. Television frame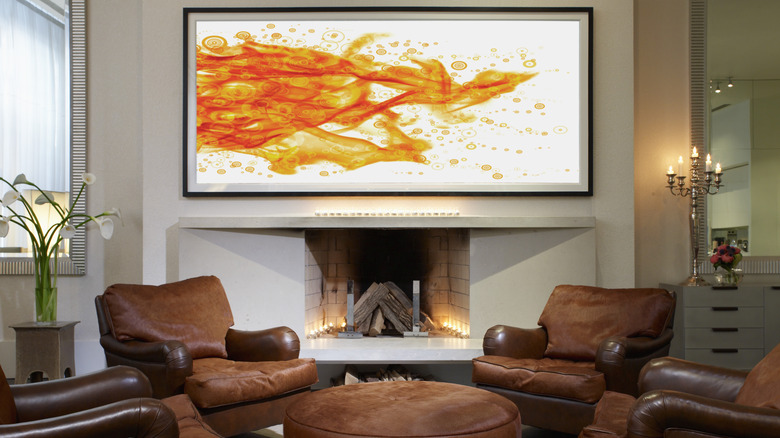 Frank Schwere/Getty Images
Another excellent tactic for the modern living room is a television hidden in plain sight. Many frames and covers are available that make your television look like a painting when not in use. 
11. Shelving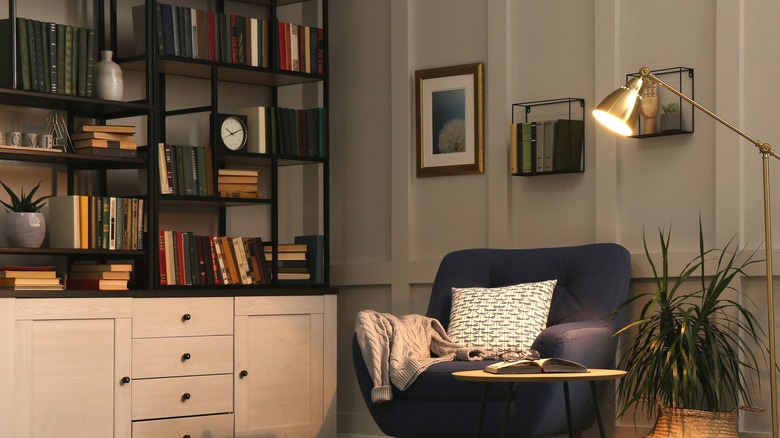 New Africa/Shutterstock
Whether you want to display a collection of books or just assorted décor items, shelving in any living room is a must. Here, a bank of shelves offers closed storage underneath and ample display room for books and décor above. 
12. Lighting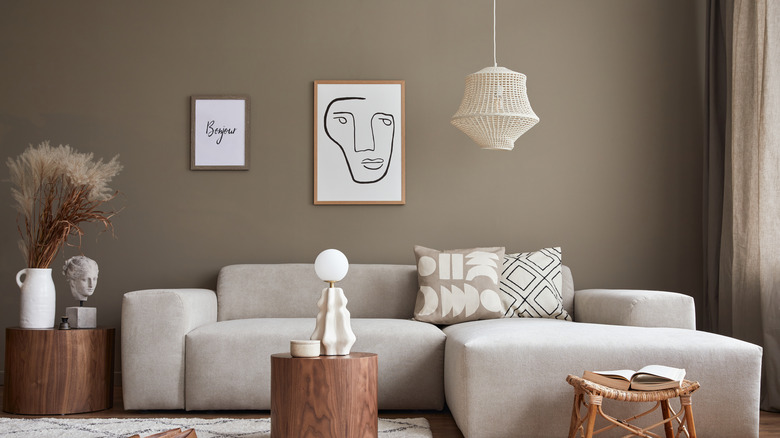 Followtheflow/Shutterstock
Lighting choices can dictate the style of any room. This includes ceiling fixtures, sconces, and lamps, as well as other types of accent lighting like string lights and candles. Here, a woven lampshade adds a sculptural element to a modern neutral room. 
13. Storage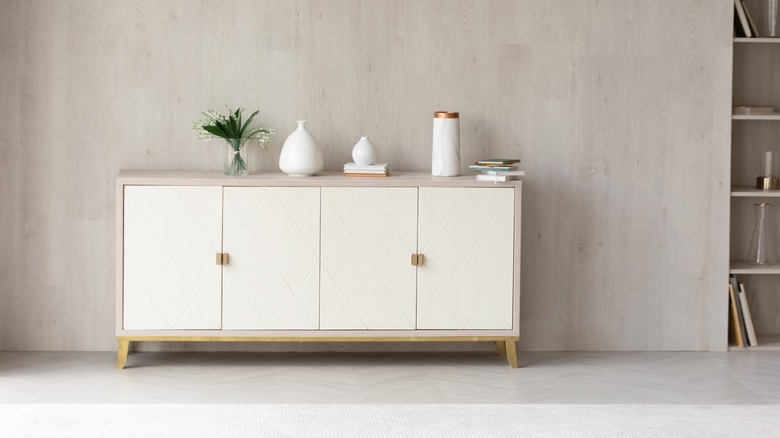 fizkes/Shutterstock
Since living rooms are often the largest rooms in the home, they are a perfect spot for extra storage. Consider adding a low cabinet or console, which can double as a side table or place for décor. 
14. Seating options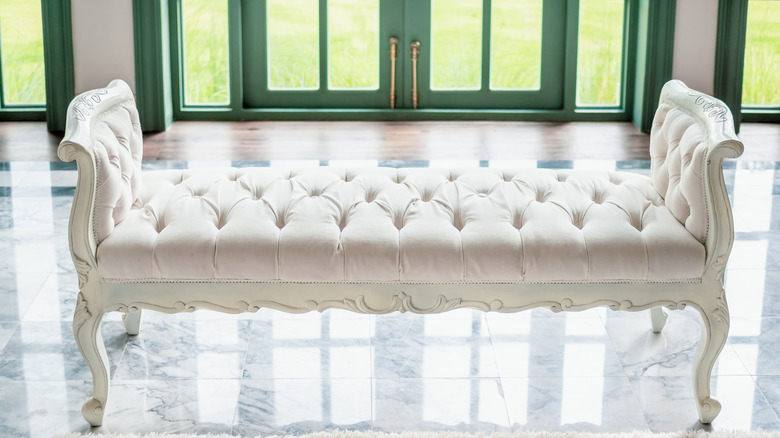 Techa Tungateja/Getty Images
If you feel like you don't necessarily have room for more upholstered furniture in your living room but would like to add more seating for guests, consider adding a tufted bench or ottoman. This will add more seats but take up less space and can be easily moved around. 
15. Plants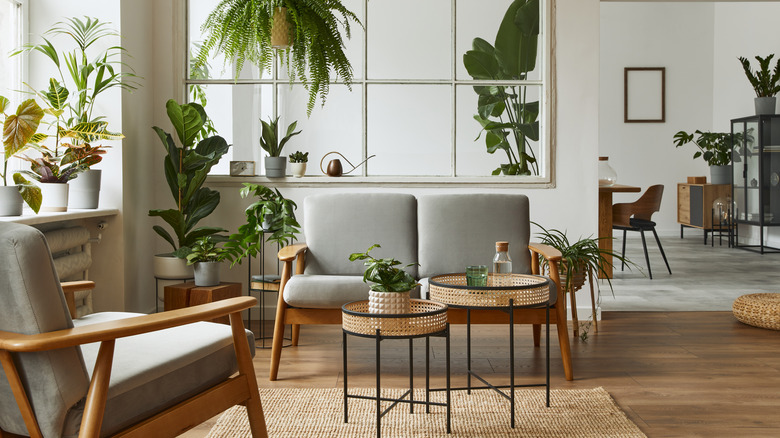 Followtheflow/Shutterstock
Plants add a touch of the outdoors to a living room, increasing the air quality and the sense of style. They also fill dead spaces in a room and add visual interest to corners. If you want the look but lack the light or a green thumb, there are many artificial plants and trees available from retailers.
16. Natural materials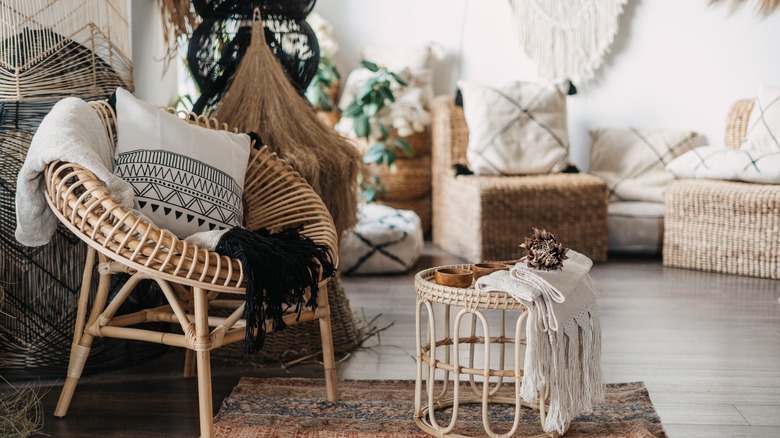 brizmaker/Shutterstock
Another way to bring the outdoors in is to choose furniture pieces made from natural materials. Here, rattan and woven chairs add a dynamic sense of texture and lightness to the room that pairs well with macrame wall hangings and woven cushions.
17. Frame molding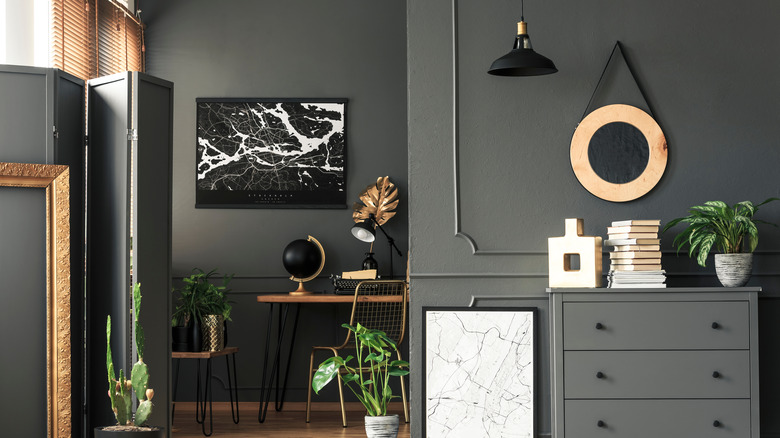 Ground Picture/Shutterstock
One of the hottest trends is using molding to add interest to bare walls. Long the stuff of gorgeous pre-war apartments, frame molding can easily be applied and painted the same color as the wall to look like it's always been there. 
18. Getting personal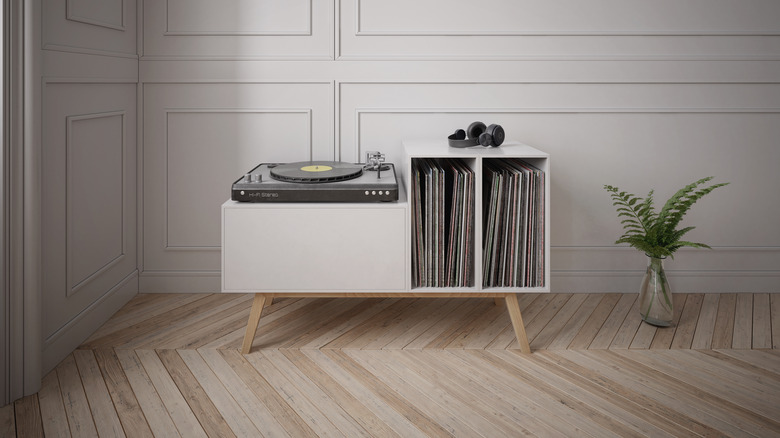 Jovy86/Getty Images
The best rooms reflect their owner's interests and hobbies, whether books, music, crafts, or something else. Since living rooms are often the first thing visitors encounter, they are perfect for showing off your passions. 
19. Old meets new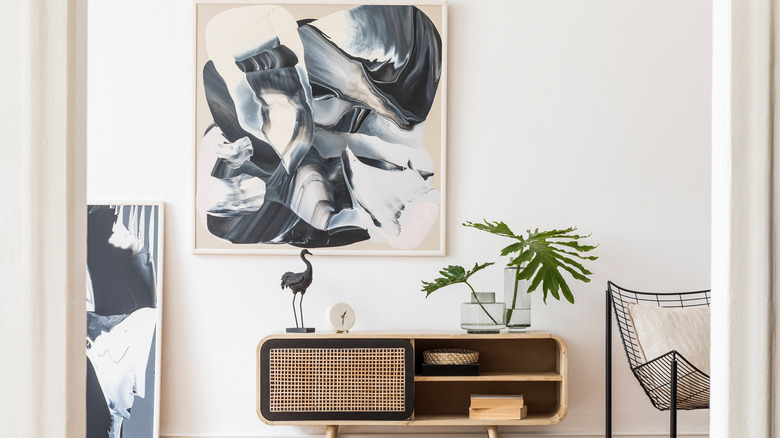 Followtheflow/Shutterstock
You can create a dynamic room by juxtaposing the old with the new, the classic with the traditional. Here, modern abstract artwork is stunning paired with a sleek midcentury cabinet.
20. Rugs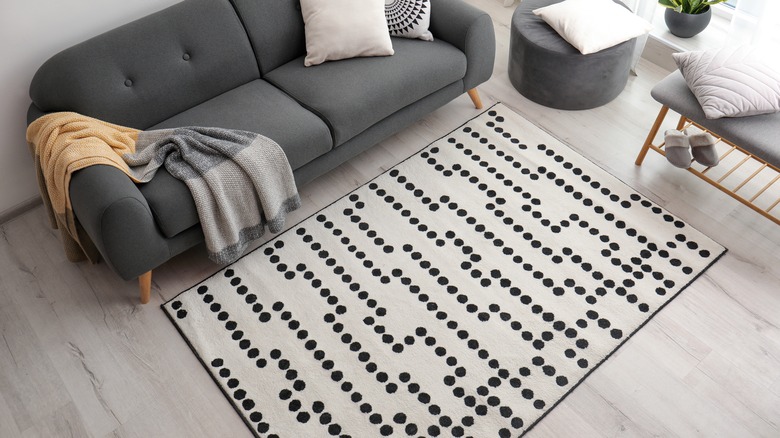 New Africa/Shutterstock
Whether you have hard floors or carpet, never underestimate the impact of an area rug, which can add new texture and layers to any space. Here a staid neutral room gains a sense of whimsey and fun with an unexpected polka dot rug.
21. Accent wall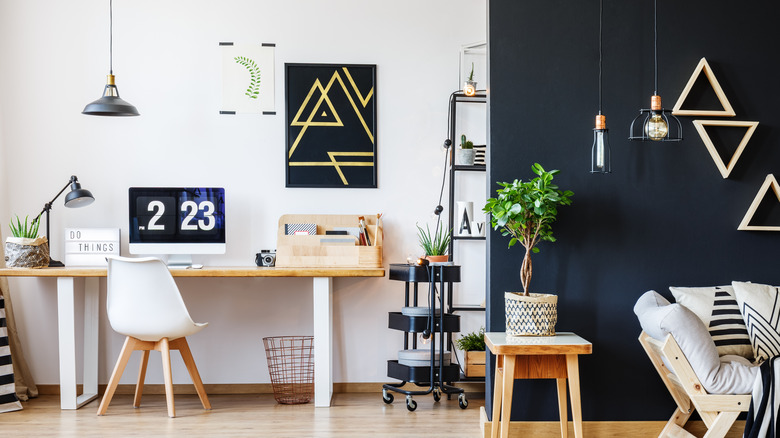 Ground Picture/Shutterstock
Even in small doses, paint can instantly transform any room. Painted accent walls in larger spaces like living rooms are a great way to delineate areas and zones in the room, as well as create a backdrop for furniture. Here, a neutral sofa pops against the navy wall, separating the desk area from the seating area.
22. Bar cart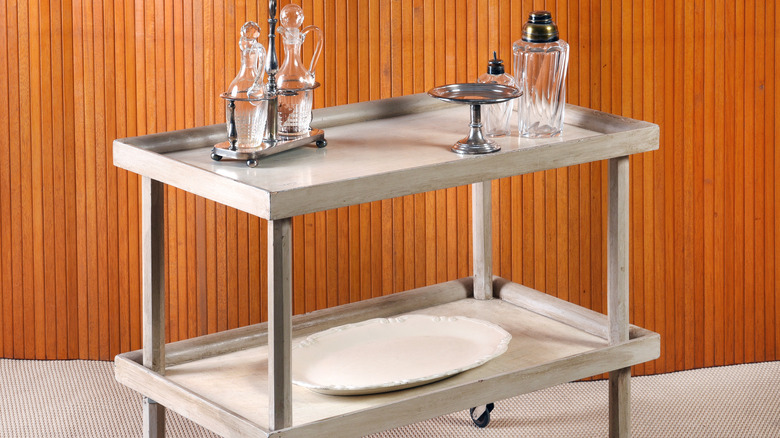 Photology1971/Shutterstock
Whether you are an avid entertainer or solo cocktail aficionado, a bar cart may be a great addition to the living room, which is usually one of the most used spaces for guests and relaxing. A cute vintage bar cart can house décor items and barware or bottles and can be moved around where needed. 
23. Color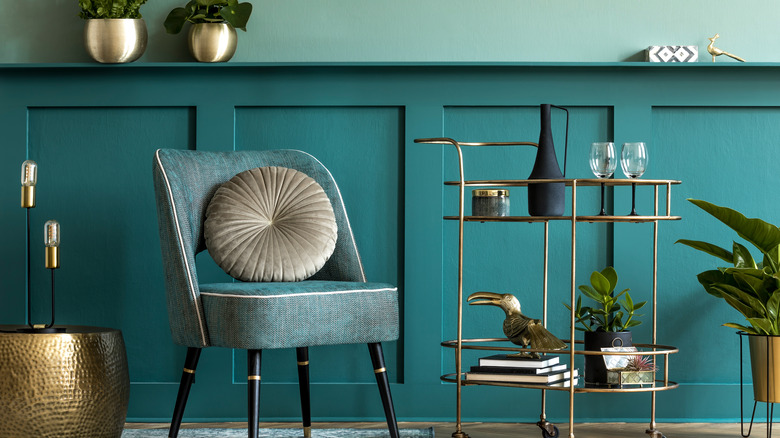 Followtheflow/Shutterstock
If you are looking for a dramatic change on a budget, painting your living room may be the best strategy. A coat of new color (or two) can make any space unrecognizable and offer a completely new canvas for you to decorate. Here, two complimentary shades of teal pop with metallic accents and mid-century furniture. 
24. Paint it black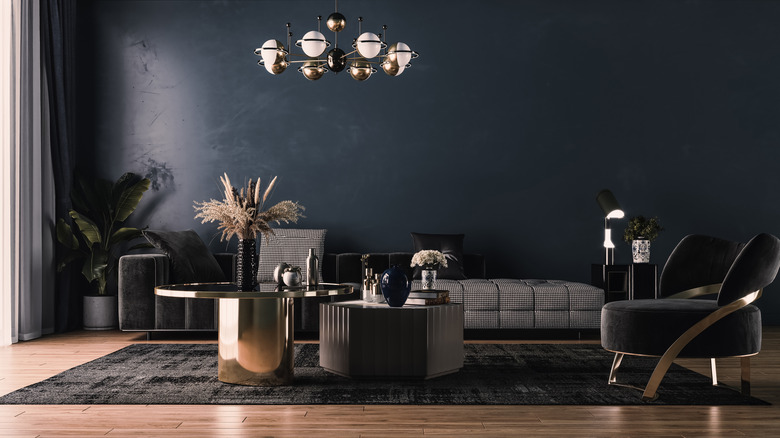 mixphotos/Shutterstock
Another new trend in living room décor is choosing dark colors like black, brown, and navy for walls, which allow lighter décor and furniture elements in the room to shine. Since living rooms tend to be larger, they are a perfect place to try darker, richer colors without fear of making the room feel smaller.
25. Unexpected juxtapositions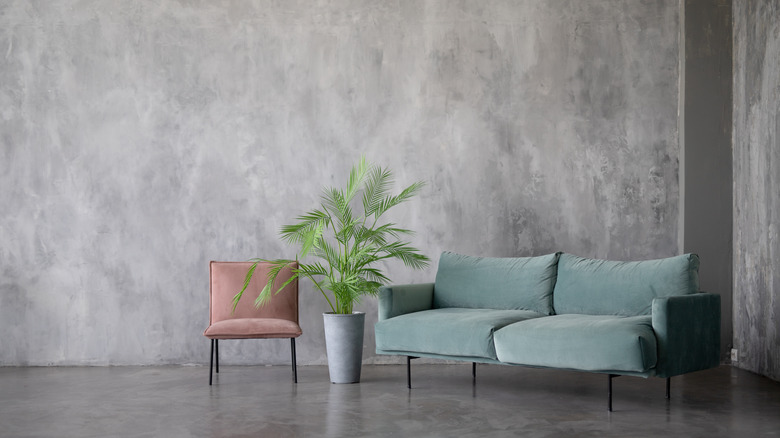 Molodid Studio/Shutterstock
A great way to add an element of surprise to any room is to mix different styles and elements that might not seem to go together on first thought but look stunning when paired. Here a rustic, more industrial-inspired textured wall provides a backdrop for soft, feminine pastel velvet pieces of furniture.