The Best Place To Live In New Mexico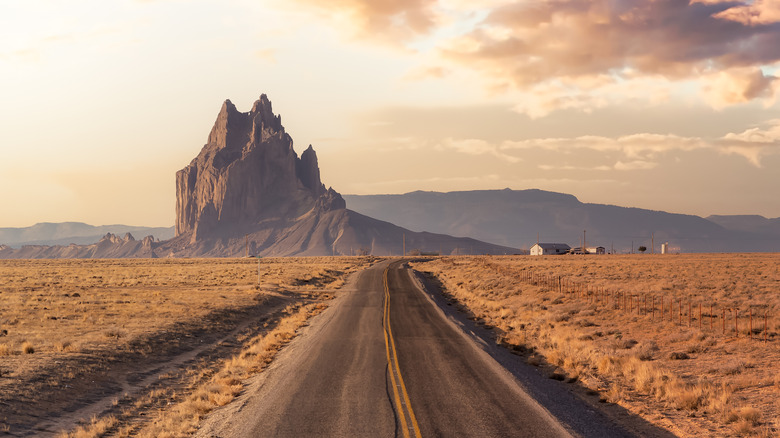 EB Adventure Photography/Shutterstock
New Mexico isn't called the Land of Enchantment for nothing, and if you've been considering a move, this state might just be the place for you. With over 2 million residents, there's a reason this stunning spot attracts so many people and continues to draw them in year after year. While there's no question as to how good the food is, it might come as a surprise to some how many outdoor gems New Mexico offers. While it doesn't always garner the accolade that places like Colorado or California do, it's stocked full of dazzling destinations and jaw-dropping areas that have to be seen to be believed.
Living in New Mexico offers a variety of benefits and perks, and there are a number of cities that provide views, good neighborhoods, plentiful employment, and astounding adventure opportunities. While it always comes down to personal preference, the number one spot currently belongs to Los Alamos. Homeowners cover this warm and welcoming community for a number of reasons, and according to Livability, it provides a high quality of life for those who settle there.
Why Los Alamos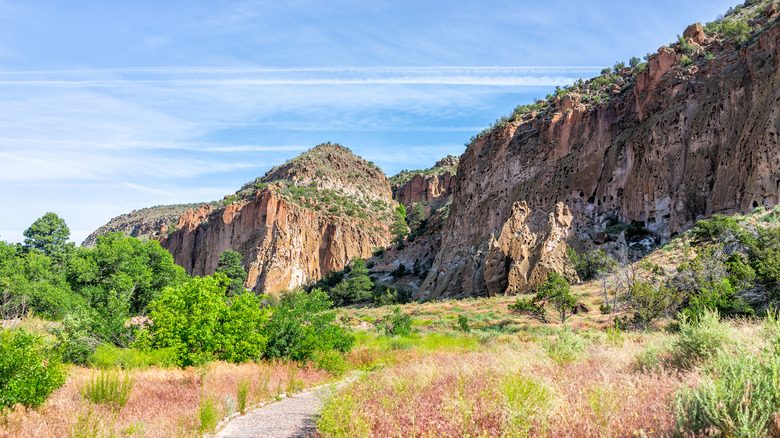 Kristi Blokhin/Shutterstock
There are many "whys" behind Los Alamos being the top place to live in New Mexico. There are a variety of amazing outdoor areas that people can explore and indulge in, including Bandelier National Monument, the Manhattan Project National Historical Park, and the Valles Caldera National Preserve. If you love nature, this city gives residents the chance to see as much of it as possible, and you'll never get bored with all of the options. Travel Lens notes that the smaller community nestled in the mountains is a gateway to three different national parks, allowing visitors and locals to bask in the awesomeness of the surrounding scenery.
Bandelier National Monument is one of the biggest draws for the town, with ancient dwellings that belonged to Pueblo natives. Visitors can wander through this piece of history and choose from 70 miles of trails for a variety of hikes at easy, moderate, or more challenging levels. While the outdoors are a definite perk, there are many other benefits to living in Los Alamos.
The many perks of living in Los Alamos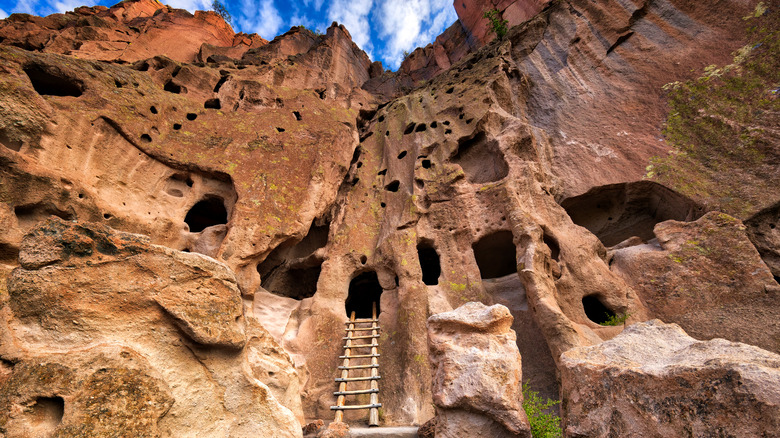 LHBLLC/Shutterstock
If you're serious about finding a good quality of life, this New Mexico mountain town is known for having good school systems, and exudes a friendly, safe suburban vibe. According to Niche, it's rated number one out of 104 places to live in the state, and has been noted as an ideal spot for both young professionals and families. Employment is good in Los Alamos as well, with the National Laboratory offering a large number of jobs to locals. Myers & Myers Real Estate Inc. also notes that 43% of the population holds an advanced degree (master's or above).
The temperature is known to be mild throughout the year, too, with summers hanging around 70 degrees Fahrenheit — an ideal climate that doesn't leave residents feeling too hot or uncomfortable. Even the winters aren't too harsh, with the average being 40 F from December to February. The town is also known for a strong sense of community, immersing new members and old into the fold that is Los Alamos, New Mexico.