The Best Place To Live In Maine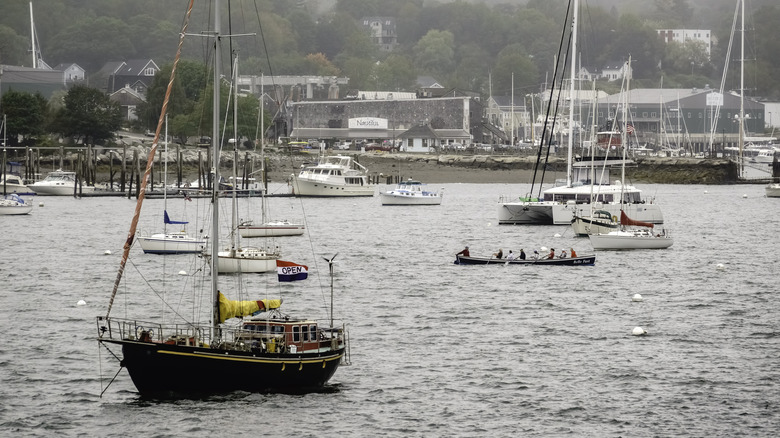 Ken Schulze/Shutterstock
"Where's Waldo?" you ask. Waldo is Waldo County, in Maine's scenic midcoast. And Waldo is where you'll find Belfast, perhaps the state's best place to live. The town is a unique mixture. Maine's Belfast, like its Irish namesake, has roots in shipbuilding. Its early prosperity was replaced by a blue-collar period of decline, followed by an economic and artistic renaissance. Niche rates Belfast as the top Maine city for retirement, yet it is known for its youthful ambiance despite its relatively aged demographic. It is a small town, but it offers the amenities, culture, and social life of a much larger city. Belfast has retained a rural feeling in the face of an active tourist presence. It also has extensive historic districts featuring classic 19th-century architecture. The cost of living is favorable, and the town's crime categories get high marks. With all of this situated on scenic Penobscot Bay, it is no surprise that Belfast is a top Maine city.
Maine Terrain calls Belfast the best unsung coastal town in the Pine Tree State. According to local lore, the town avoided being called Londonderry in a coin toss. Settled in 1770, it sits on what was once a nearly 100,000-acre parcel of land owned by Brigadier General Samuel Waldo, per The Belfast Historical Society & Museum. 
Good lifestyle metrics in a unique historical setting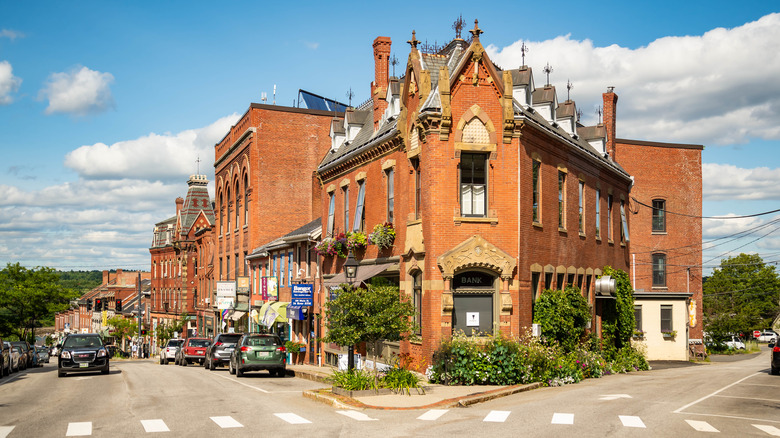 Enrico Della Pietra/Shutterstock
Belfast's cost of living elements score well according to Best Places. It is 11 increments less than the national average and eight below Maine's. Grocery and healthcare costs are a tad high, but the town's median housing costs are almost 25% below and nearly $70,000 less than the rest of the state. Crime statistics paint another good picture. Belfast receives an A+ rating in Area Vibes because violent crime is nonexistent there, and incidents of burglary and theft are far below state and national totals. It is a very safe city in one of the safest states.
Higher education is close at hand in Belfast. The University of Maine and several of its branches are nearby. The University of Southern Maine is also there, as is The Hutchinson Center, an outreach oasis for continuing education (via The University of Maine). Per Solo Trips and Tips, the town is among the fewest to have bilingual English and French signs. The state university even has some signage in the Penobscot language, according to The University of Maine.
Downtown Belfast is nationally recognized as a Main Street Community and Working Waterfront. Its historic residential and commercial districts include 47 ornate brick structures, among the most notable examples of 19th-century architecture in Maine, according to Maine An Encyclopedia. These sections are worthy of mention on the National Register of Historic Places and are reminders of Belfast's prosperity during shipbuilding's better days.
All manner of activities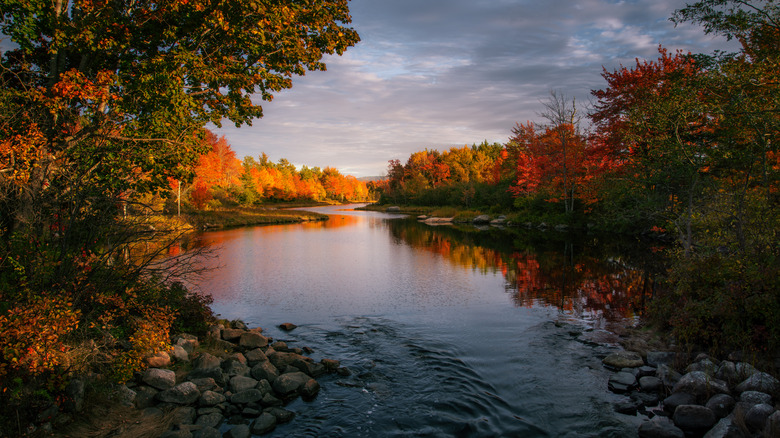 Skyler Ewing/Shutterstock
Belfast's small stature is belied by the copious amount and variety of available activities. Visiting New England notes that it has more galleries than any comparable Maine town. There is a venerable community theater group as well. The town has a long-standing farmers' market, and fairs and festivals dot the calendar. A fan favorite is the Wienerfest (held for dachshunds, not frankfurters), per The Maine Wienerfest. The town has a reputation for great food (with a home-grown and seafood emphasis), several lobster pounds, and many Mom and Pop stores. It is known to be pedestrian and animal-friendly too.
Belfast's scenery is top-flight. It is near Acadia, New England's sole national park. Residents and tourists can follow the scenic route along the 47-mile-long Hills to Sea Trail (per Maine By Foot). Life Lived Curiously also cites the town's Moose Point State Park as an incomparable picnic spot. Belfast's bay and river are boating paradises where canoeing, kayaking, and paddle boarding are popular pastimes. Tourist lobster boats and water taxis ply the bay, and mackerel, bluefish, flounder, and bass wait to be caught. A visit to the restored "Floating White House" presidential yacht Sequoia is another water-related activity (via Main Street Maine). Only In Your State describes Belfast as "The Coolest Place in New England," and it is easy to see why.