HGTV Star Breegan Jane's Tips For Adding Coastal Colors To Your Home Decor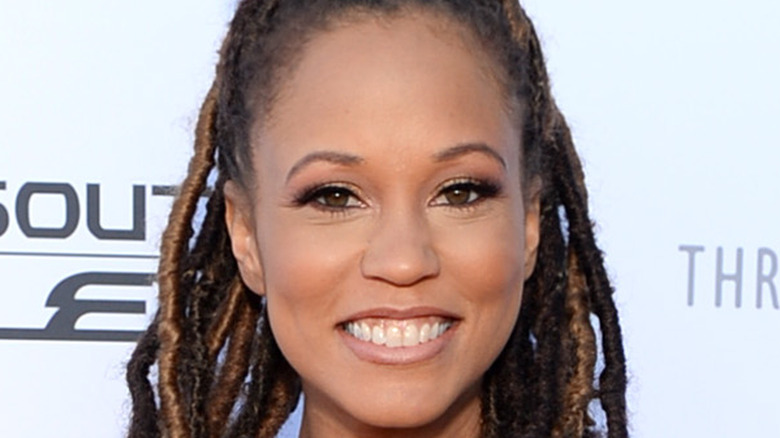 Andrew Toth/Getty Images
Spending a relaxing week on the beach is a summer tradition for many. But you don't have to wait to head to the coast the enjoy the relaxing atmosphere it provides. You can bring the colors of the coast into your home and enjoy the feeling year-round. "Southern California has such a vibrant, sunny atmosphere that brings out so much in my interior design," HGTV's Breegan Jane says. "Growing up and living near the shores of Hermosa and Venice Beach helped me hone elements of my overall design aesthetic. What's more, it sparked my affinity for coastal interior design."
In general, coastal design uses light and bright colors to recreate the open-air feeling of being on the beach. But there isn't only one way to bring the feeling of the beach into your home, according to Master Class. Beachy minimalism, Mediterranean, and island inspiration are three of the most popular style for bringing coastal design into your space. A minimalist beachy aesthetic uses lots of neutrals paired with natural light and materials. Mediterranean coastal style uses warmer colors like terracotta, rust, and light blue. Island living has bohemian-inspired materials and a light and bright color palette.
No matter how you choose to bring the feeling of the beach into your space, one of the best ways to capture the feeling is with color. Breegan Jane says, "There are a few colors that are integral to coastal interior design styling."
Start with neutrals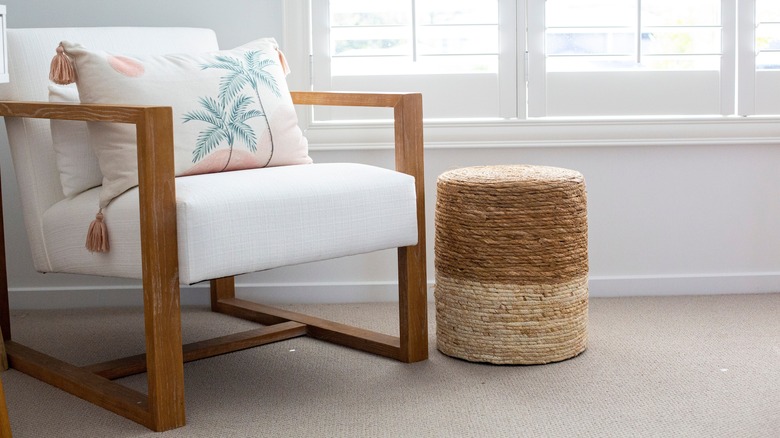 Amy Richmond/Shutterstock
A good place to start with a coastal interior is with light neutral colors. These often help recreate the airy effect of spending time on the coast. "The basics include a mesh of the colors you might see in a beach setting," Breegan Jane explains. "You'll definitely want to use neutrals such as white or grey in your coastal design palette. These work well to balance any colors you might use throughout your space." Neutrals help ground the space, so you'll want to incorporate them even if you love lots of color.
Choosing the right neutral makes a big difference in your home's design. Paying attention to the undertones will help you choose the best neutral for your color palette. Warmer whites can have a pink or yellow undertone, according to Kylie M. Interiors, which can give a creamy and comforting appearance that pairs well with a coastal style. Cool whites can have blue, violet, or green undertones and can create a crisper aesthetic in a coastal design.
Choose shades of green, blue, and other colors
ben bryant/Shutterstock
Some may choose to only decorate with neutrals in their coastal decor. Though this may be a popular look, adding pops of color can be a great way to bring in more beachy aesthetics. "I personally feel, though, that no coastal design is complete without various shades of green or blue." Breegan Jane says. "These colors all play into the tones of the ocean's waters and provide a visually calming and relaxing appeal." Consider shades of teal, turquoise, sage, or azure for this classic beach aesthetic.
Though blues and greens are calming shades often associated with the coast, they aren't your only option for adding color to a coastal design. "Pops of color in the red and yellow families also work well in beach-influenced spaces." Breegan Jane suggests, "When possible, I work to incorporate tinges of gold and silver in my coastal interior design. Hints of these colors epitomize the shimmering of the sun's rays meeting the ocean, and I adore that visual presentation." You also can get inspired by beach items that aren't directly tied to nature, according to Completely Coastal. Bring in the culture of a certain beach if there's one that you love spending warm days at. Think of the vibrant colors of lifeguard stations, amusement parks at the pier, the boardwalk, or even the various towels and umbrellas you find on the beach.