Why A Rug Can Go In Almost Any Room, According To Design Expert Shea McGee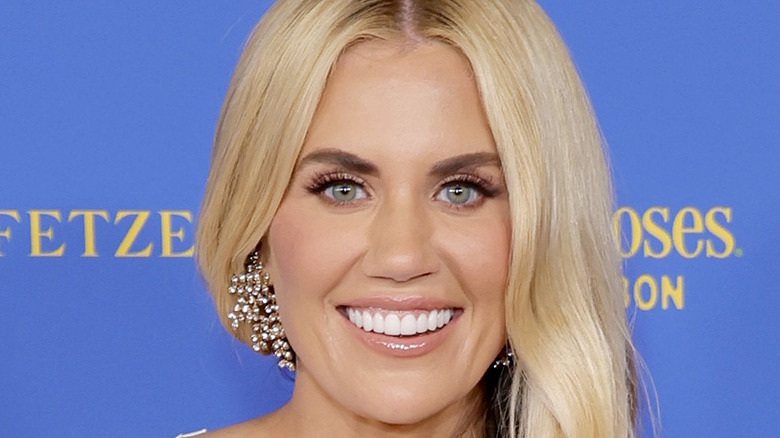 Frazer Harrison/Getty Images
Many people love Shea McGee's style, particularly the elegant and casual feel she contributes to interior design projects, as well as her home décor collection. The portfolio at Studio McGee and the homes in her Netflix series "Dream Home Makeover" showcase comfortable, elegant spaces with classic appeal. Rustic finishes, clean lines, plentiful texture, and warm neutrals form the foundation of her recognizable aesthetic. McGee describes herself as the creative director of her company, yet like any other entrepreneur, she has her hand in several other aspects of the business. "I work on photoshoot concepts, new product development, marketing campaigns ... anything that has a visual aspect," McGee told Domino.
McGee and her husband, Syd, are also authors of The New York Times best-seller "Make Life Beautiful," the title of which defines her career and lifestyle brand (via The New York Times). Neutral and cozy upholstery, understated mixed patterns, and an eclectic blend of furnishings are prevalent themes, creating fresh and inviting living spaces. McGee's top decorating advice, as shared by Feels Warm, includes choosing timeless designs for investment pieces, bringing nature inside with greenery, and avoiding being too matchy in favor of a more collected and interesting impression. Additionally, she revealed a favorite fool-proof paint color, White Dove by Benjamin Moore, in People. Let's take a look at another tip the design expert believes makes a huge impact.
Layering rugs over rugs
McGee relies on tried-and-true methods to create a homey and usable space. For example, the designer often combines an oversized lamp and a round mirror with an entry table for a casual, bright, and statement-making welcome, according to Feels Warm. Similarly, she likes to use area rugs as a way to ground the space and introduce coziness, pattern, and color. "Adding a rug to your living space or bedroom gives your furniture a place to 'live' and easily adds dimension and texture," McGee told People. "You don't even need wood floors; if you have a low-pile carpet, you can layer a rug for an extra cozy lived-in look."
Read that again — gorgeous area rugs aren't limited solely to homes or rooms with hardwood flooring; they can be layered directly over wall-to-wall carpeting, too. Interior design influencer Orlando Soria agrees. "I like to have as many rugs as possible," Soria said in Architectural Digest. "This gives a space a rustic, artsy look." In addition to the aesthetic quality they add, area rugs are great for covering unsightly stains or distracting from the potentially old and tired carpeting underneath, notes lifestyle blogger Julie Blanner. Indeed, it's a perfect solution for renters who can't alter flooring or an appealing placeholder for homeowners until their budget allows for a permanent material change.
Choosing the right rug
Studio McGee lists some guidelines for successful rug shopping. For example, their experts recommend not using undersized dimensions, as you run the risk of making your space appear smaller. The front legs of the furniture should be anchored on top of the rug, with an excess on each side of at least 6 inches. Further, select appropriately hard-wearing materials for high-traffic areas. Case in point: Even the mudroom and kitchen can be the beneficiaries of softness and print provided by a durable indoor/outdoor option.
Finally, they suggest making sure visible rugs complement each other from room to room. McGee's floor plans are frequently open-concept, making this an important consideration. "When I have two rugs in a space, I like to think in terms of pattern and texture," McGee explained via the Studio McGee YouTube channel. "And so, on one side of the room, I like to do something really natural — seagrass, jute, sisal — anything that adds in a really nice organic hand feel. On the other side, we have the pattern." She will balance the busyness — or lack thereof — in the rugs with throw pillows, upholstery fabrics, wallpaper, art, and decorative accessories, all elements that help create a custom and personalized home.