This Chic Alternative To Tree Skirts Is The Best Way To Spice Up Your Decor This Holiday Season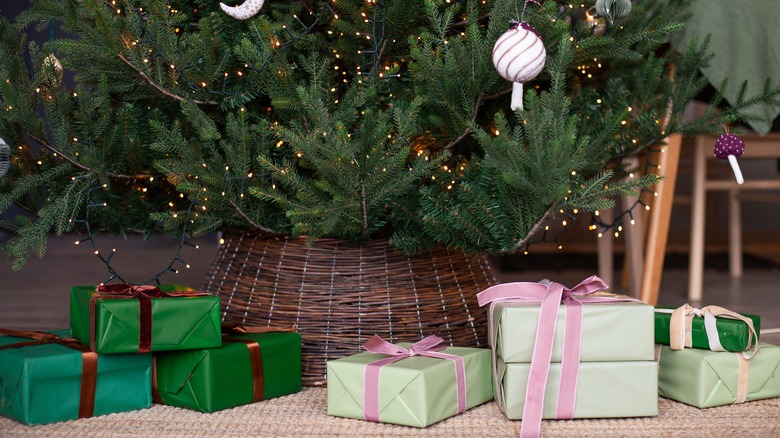 Nataliabiruk/Shutterstock
Even after decorating your Christmas tree with all the ornaments and garland, it's not officially ready for the Holiday season without something to cover its unsightly base and stand. While tree skirts have been used for decades to help conceal the undecorated bottom portion of Christmas trees,e while adding an additional decorative feature, this year, experts suggest opting for something a little more chic.
Tree collars have been gaining popularity in recent years due to the aesthetic elements they provide that traditional skirts simply cannot. One style of Christmas tree collar is what The Turquoise Home calls an upside-down basket that is meant to replace a traditional tree skirt for a more streamlined and sophisticated look.
Not only do tree collars add to your holiday decor from an aesthetic standpoint, but they also take away the reality of having to constantly smooth a wrinkled skirt and can even deter pets from messing with the tree's base or trying to climb it. Here's everything you need to know about Christmas tree collars before making the switch this holiday season.
A sophisticated way to deck the halls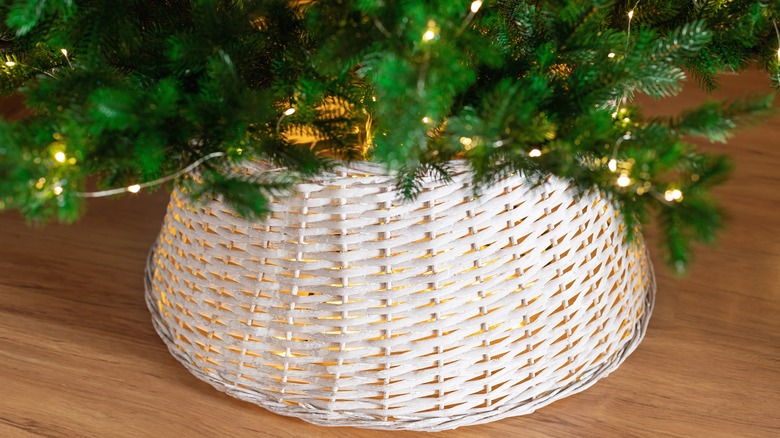 Mila Naumova/Shutterstock
Just like Christmas tree skirts, collars come in all different colors, materials, and shapes to suit your preferred holiday design aesthetic. The Turquoise Home notes that tree collars can be square or round, and are usually woven or made of metal or wood, though Good Housekeeping adds that there are some more expensive ones on the market made of faux fur or even silk if you prefer to invest in something a little more luxurious.
When determining the right size tree collar to buy, The Turquoise Home suggests first measuring the diameter of your tree's base, keeping in mind that most collars range in size from 21" to 27" inches across and between 9" and 11" in height and are usually intended to fit Christmas trees up to 7.5 feet tall. The size of your collar should be proportional to the middle of your tree for the most aesthetically pleasing finish. While some collars are sold as a single, solid piece that needs to be set up prior to placing the tree inside, others are sold with hinges that can be opened and added after your tree is already up.
And while tree skirts remain a popular option for those lacking storage space, opting for a collar with hinges allows you to store it flat just like you would a skirt, saving storage space — and allowing you to fill that extra storage space with even more decorations, obviously.