10 Ways To Elevate Your Living Space With Cushions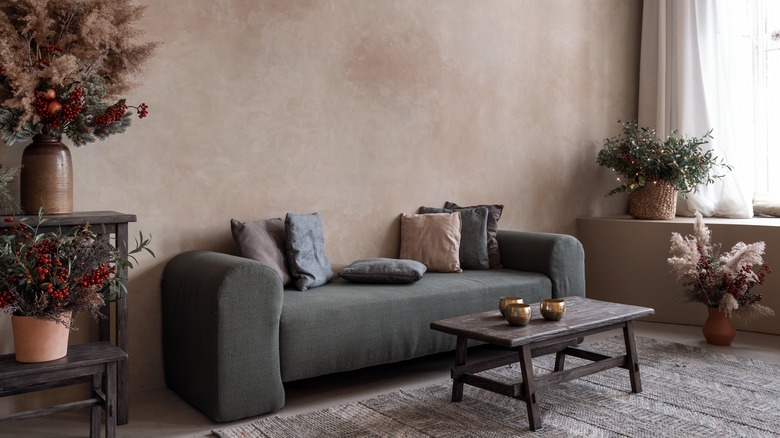 brizmaker/Shutterstock
The last finishing touches in a room can pull the whole look together. When there are a few empty walls that need a couple of artwork pieces or an open shelf requiring books, they can look awkward without them. It'll always feel like something is missing when you step inside, which is why home décor is so significant. While it shows others who we are, it's a space we've curated to enjoy daily, claims Fresh Scents. Having a home where we feel comfortable and happy will make us more successful. The time that's taken to find the perfect pieces in our living room, kitchen, dining room, or bedroom all affects us mentally and physically, per Fresh Scents. You might like playing a record while you're cleaning or lighting a candle while you're taking a bath. We pick out décors that will make us feel better.
Decorating different rooms can elevate your home's look and feel. You don't have to make drastic changes; small details can make a difference. Cushions can make any spot in the house look cozy but elegant, depending on how they're styled, and they're helpful in multiple rooms. If you want to decorate areas around your home with cushions, we've devised a few ways to make it easier.
1. Light-colored cushions for bold furniture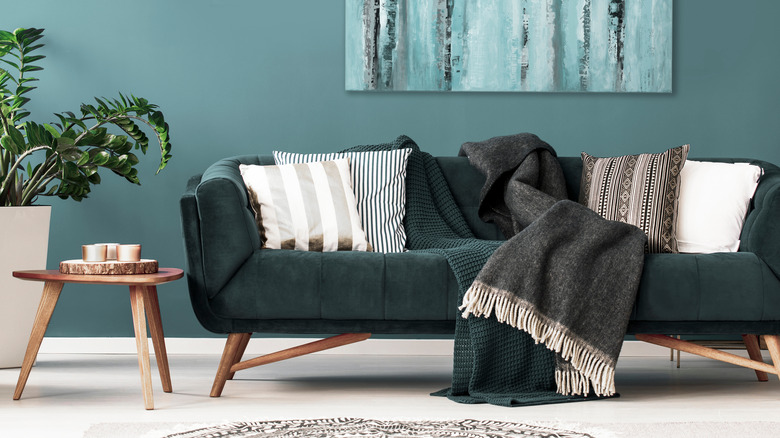 Ground Picture/Shutterstock
Decorating a living room with bold colors, like maroon, teal, forest green, etc., using light-colored embellishments make great accent pieces. For example, this living room with teal walls and a beautiful dark green couch is styled with a mix of cushions. The white pillows stand out against the green, while the gray print pillow blends in and adds warmth to the couch. If there were darker-colored cushions, they would blend in with the background instead of adding texture and contrast.
2. Mix patterned cushions with a print backdrop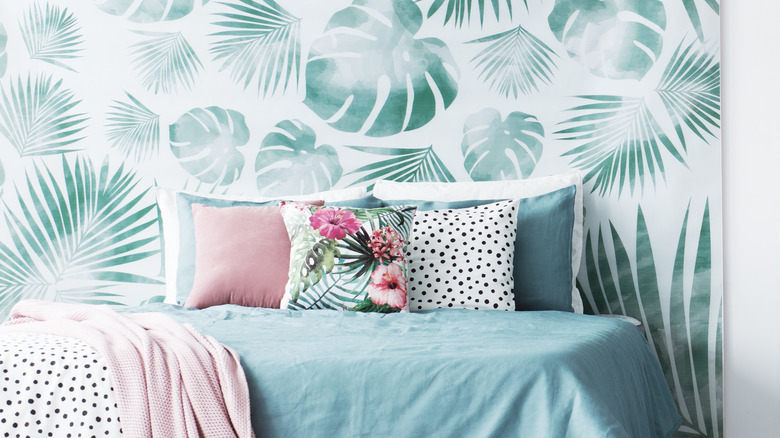 Ground Picture/Shutterstock
There aren't many restrictions for a maximalist interior as long as you have various funky, bright, and bold colors. You can mix patterns and colors easily, as this bedroom does. The main focal point of the bedroom is the leaf-style background, but the use of light blue bedding and multiple cushions adds color to various spots. The pink, polka dot, and floral print pillows match the throws at the end of the bed, creating a cohesive look instead of looking awkward against the backdrop if they were alone.
3. Incorporate textured cushions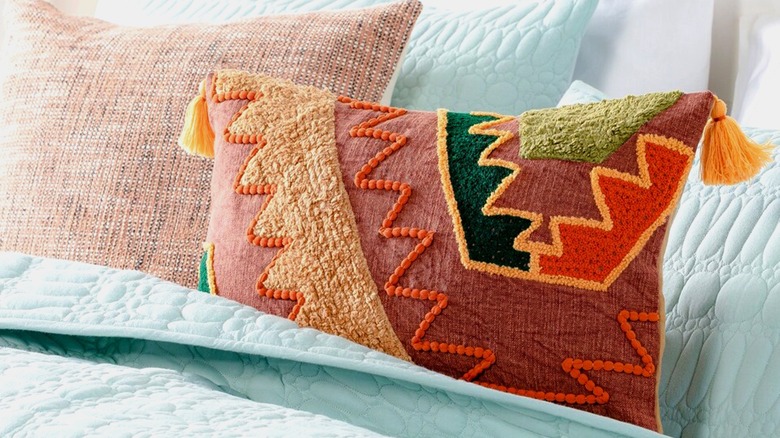 Design gallery01/Shutterstock
There are numerous styles of cushions you could include in your rooms to match the interior. A popular type of cushion is a textured one made of different fabrics woven together. It comes in many colors and patterns, like this amber pillow with woven details on the front in various colors. It stands out from the bed's solid pink and blue cushions, making it look extra cozy. In addition, the small yellow tassels in each corner give the pillow detail and personality.
4. Layer textured cushions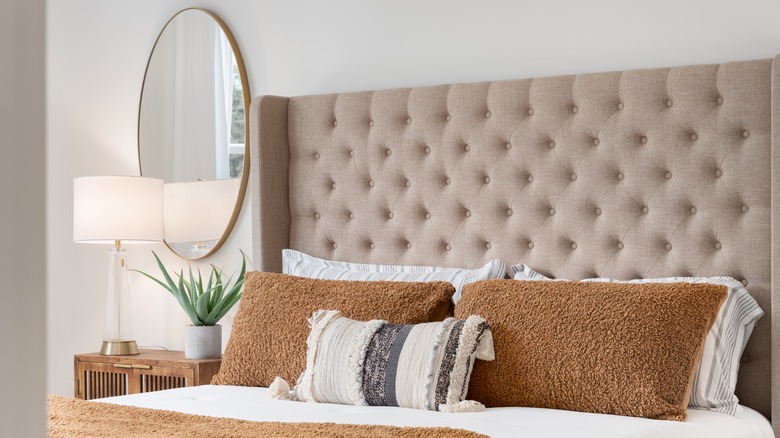 Hendrickson Photography/Shutterstock
If you have multiple cushions you want to display in a room, use the best ones that match together, even if they have different textures or colors. Layering textured cushions can make a space look more comfortable while adding contrast to everything else. For example, this bed has white and gray striped pillows resting against the headboard and soft brown pillows in front of them. The brown matches the same color's blanket and creates a smooth look. The smaller pillow in the front has cotton embroidery that adds the perfect finishing touch.
5. Use quaint corners to display cushions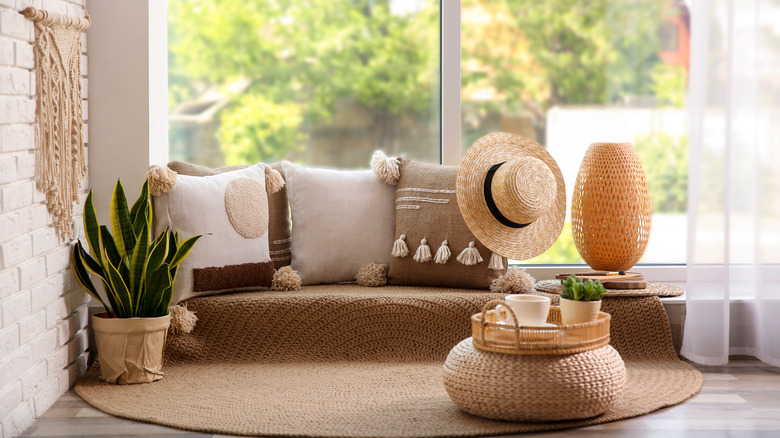 New Africa/Shutterstock
You've probably never thought of placing cushions by the foot of your window, but it's a unique place to dress up if it's a small area. This corner is decorated amazingly with a round woven jute rug holding a small plant, ceramic vase, and multiple pillows creating the perfect boho area. The cushions along the window follow the same neutral color scheme but have differing details.
6. Use cushions that are of different shapes and sizes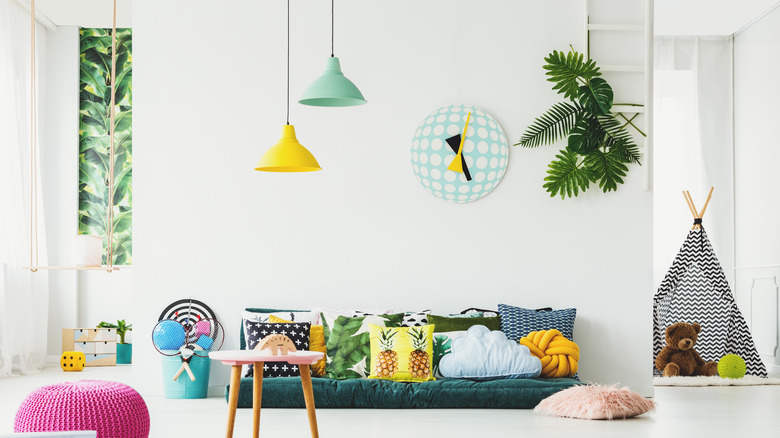 Ground Picture/Shutterstock
Buying pillows that are the same size is great if you want them to align with each other, but using a few different shapes and sizes can make a room look homey and welcoming. For example, this kid's playroom has heaps of cushions on the green mattress, but they're an array of colors, patterns, sizes, and shapes that still match the room's other tones. Having one in another form, like a star, cloud, heart, or oval, can transform the appearance of a room.
7. Take cushions to the outdoors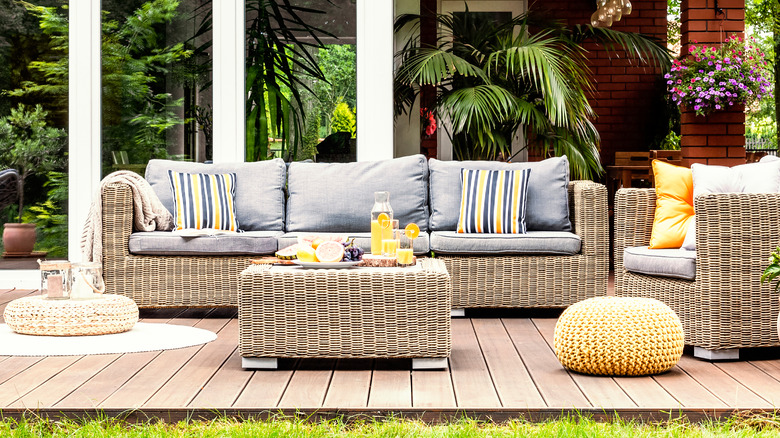 Ground Picture/Shutterstock
Placing fun patterned cushions is an easy way to style any couch or chair if you have patio furniture that needs sprucing up. Even though we're halfway through autumn, now is an excellent time to figure out how to style your patio furniture in the spring and summer. This wicker-style furniture keeps it simple with gray cushion seating but elevates the look with a pop of yellow and blue striped pillows. Of course, you can get away with bright-colored cushions if you have neutral furniture or coordinate with existing pieces.
8. Add a warm feeling to your breakfast nook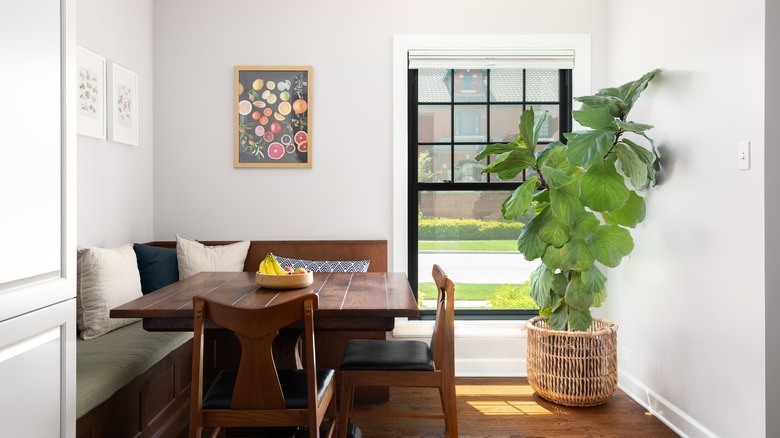 Hendrickson Photography/Shutterstock
It's hard to get out of bed in the morning, but knowing you'll be having breakfast wrapped by a few pillows in the nook might be enough to get out of bed. Decorate your breakfast nook with soft cushions to support your back while eating or doing work. Keep it simple, like this breakfast nook, with a couple of different cushions on either side. Four pillows are arranged along the nook's corner, adding color to the wooden table.
9. Spruce up a simple entryway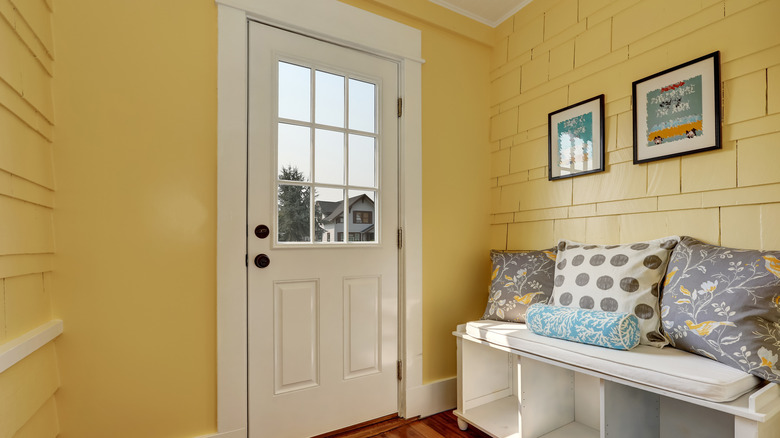 Artazum/Shutterstock
Make your entryway welcoming with a seating bench decorated with cozy cushions. Dress up your storage bench with pillows while waiting for your family to run errands or take the kids to school. You can match the cushions to the interior, like this entryway with yellow-colored walls and gray patterned pillows with yellow flowers. Neutral-toned cushions work best with bright-colored walls.
10. Go bold with cushions
Ground Picture/Shutterstock
Styling a neutral interior with bold-colored cushions is a great way to elevate the space. For example, the multi-colored pillows on the gray couch add depth and personality to the living room. If the sofa is on the smaller side, three pillows are enough to cover the area, but more can make it look too crowded. In addition, you might need help to sit comfortably on the couch and have to move a few cushions to the floor. So stick with at least three fun patterned, bold-colored pillows.