Easiest Way To Clean Your Leather Couch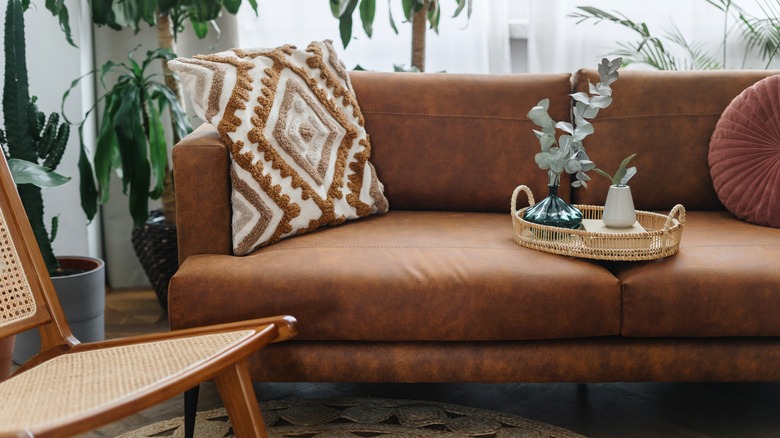 brizmaker/Shutterstock
Leather couches remain perennially popular with home decorators. They're widely known for both comfort and durability, as well as having a timeless look that can stay on trend for years when you choose a classic style. One of the only drawbacks, as noted by Victoria Advocate, is the steep cost when you consider purchasing high quality leather. Fine leather outlasts fabric upholstery by a mile and is easier to clean, though. So, in the long run, you may end up being more satisfied with your selection when investing in leather.
Another top reason furniture shoppers opt for leather is that the upholstery is simpler to keep dirt-free in the first place. Allergens like pollen and dust are less likely to accumulate on leather couches, and they don't shelter dust mites, so they're naturally ahead in the cleaning game. There are, however, several different types of leather to consider when determining the easiest cleaning method to keep couches in top shape.
Cleaning aniline leather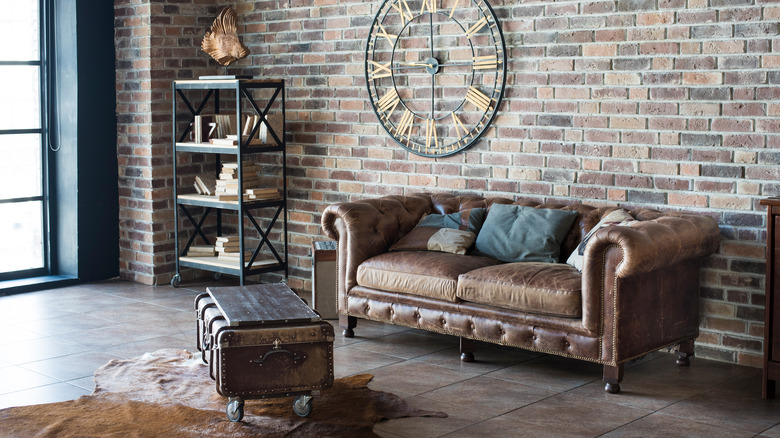 RUZvOLD/Shutterstock
There are generally three types of leather used in furniture manufacture: aniline, pigmented, and semi-aniline. Knowing which type of leather furniture you have is the first step in figuring out the easiest method to clean a couch, as noted by The Maids. This may require looking at the printed material that came with your furniture or contacting the manufacturer to find out the best cleaning method if you're not sure.
Aniline leather is sometimes called pure aniline or unfinished leather. It has an upscale look, feels soft, and is made to show the inherent features of hides. Many aniline couches do not have coatings to protect against dirt. This type of leather must be approached more delicately when cleaning. The Maids note that both regular vacuuming and dusting with a dry cloth are recommended. If you feel like you need to clean your aniline leather couch a bit more extensively, it's easy to use a clean cloth barely dampened with distilled water to gently wipe it down. 
Cleaning pigmented and semi-aniline leather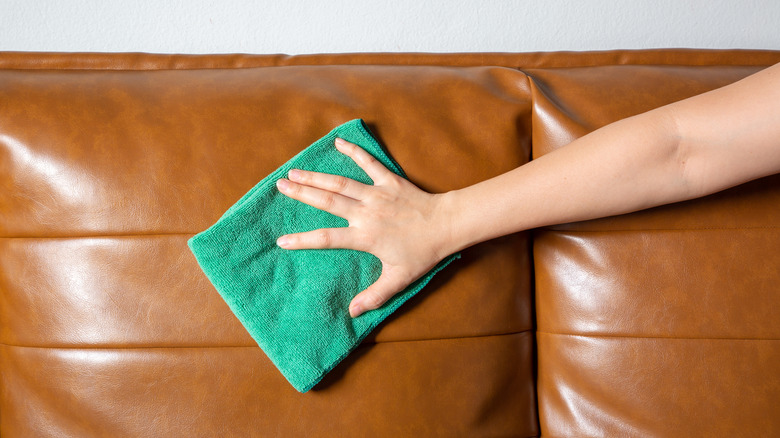 Worrawoot.s/Shutterstock
Pigmented leather is the type used most often on recently made couches. It has a surface coating that makes it easier to clean. Semi-aniline leather is a hybrid consisting of aniline leather that has a layer of pigmented coating. Furniture made with these types of leather can withstand more dampness and can be cleaned a bit more aggressively in comparison to aniline couches. Just remember to avoid anything abrasive when cleaning leather, and stay away from harsh products that contain ammonia or cleaners like saddle soap, furniture oils, and polishes, advises The Maids.
The first step in cleaning a pigmented or semi-aniline leather couch is dusting it thoroughly with a vacuum brush attachment. Next, make a simple homemade cleaner by mixing equal amounts of white vinegar and distilled water in a large bowl. Wet a microfiber cloth and squeeze out the excess solution. Wipe down the entire couch using a circular motion, rewetting your cloth as needed. If the solution becomes murky, mix up another batch and continue cleaning. When finished, wipe down the couch with another clean, dry microfiber rag. It's that easy!