15 Ways To Incorporate Plazacore Into Your Fall Home Decor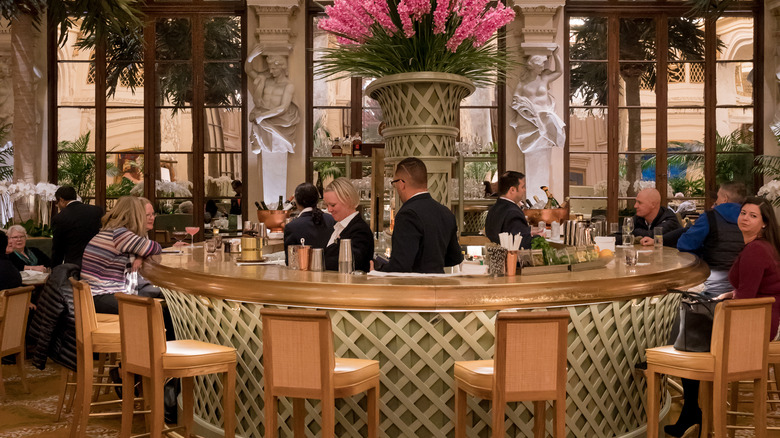 Boris-B/Shutterstock
If you're new to Plazacore but want to integrate it this season, look no further than right here. This trend is all over TikTok and encompasses all that is luxurious, decadent, and elegant. You might be racking your brain to try and figure out why this style sounds familiar, and there are a few reasons it is right on the tip of your tongue. Think Home Alone 2 and Eloise, both of which exude the opulent aesthetic this craze is known for.
Based on the design and décor within the New York Plaza Hotel, everything to do with Plazacore should scream Upper East Side, according to Blogilates. It should be reminiscent of the character Eloise, the children's book heroine who eternalized the lavish lifestyle within the iconic hotel. Gilded frames and mirrors, Herringbone and plaid fabrics (with touches of velvet), and crisp linens are all a big part of this idea, so don't shy away from the posh ornaments and additions. Fall is the time to indulge in the Plazacore trend, so get ready to channel your inner New Yorker and transform your place from plain to plaza.
1. Fancy footrest
When it comes to Plazacore, opting for opulence is key. Ottomans are a great addition to any living area, offering surface space or extra seating in one. Try to find a footstool or ottoman that boasts a velvet cushion, adding texture and decadence. This $58 piece from Overstock is ideal as it includes gold and velvet.
2. Plaza prints, please
What is Plazacore without a well-planned print that displays where your inspiration came from? This Bergdorf Goodman option for $200 not only adds to the posh and lavish ambiance you'll be using in your design, but it also creates a focal point for any room that ties the theme in.
3. Herringbone haven
The trend leans into those patterns that have withstood the test of time and still remain classic symbols of fashion, such as plaid and houndstooth. Incorporating these with throws that add texture without feeling too overpowering is a great way to stick with the Plaza Hotel vibe you're aiming to achieve. Try Macy's tweed throw for $217.
4. Gilded gravitas
Gilded ornaments and accents are everything in this aesthetic, and adding a statement mirror with gold trim is imperative. You don't want something too ornate or ostentatious, as these can exude a gaudy feel, but something simple and timeless will effortlessly correlate with your Plazacore setup. Check out the Neutypehic Benson Traditional wall mirror for $999.99.
5. Peony paradise
In keeping with the Eloise ideas, these Shein $6 5-piece peonies not only invite a splash of color into the normally white, taupe, and otherwise neutral space but also inserts a softer ambiance. While Plazacore is all about clean lines and classic designs, a little delicacy will make the space feel more approachable, playful, and passionate.
6. Pearl place holders
In the Plazacore trend, one of the biggest influences is the preppy aesthetic. Think timeless pearls that not only embody elegance but chic designs paired with gold to match the other gilded additions throughout your space. These $7 Shein napkin holders are both subtle and sophisticated, making them the ideal combination for your dining area.
7. Helpful hounds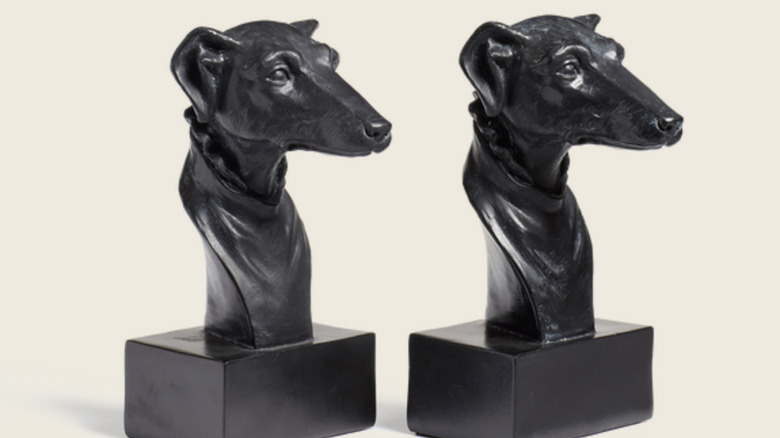 Oka
Stylish bookends are always well-received, and Plazacore can benefit from classic elements like these hound holders from Oka for $95. They play into the traditional theme and will offer follow-through with the patterns mentioned above. Place them on a bookshelf to keep your favorite reads displayed, or use them as ornamental statues on other surfaces.
8. Gold accented goods
Dining in the Plaza Hotel is a renowned experience, and everything from the service to the dishware is immaculate. Opt for iconic china that incorporates gold borders, keeping with the opulent intentions Plazacore upholds. Macy's Crestwood Gold 5-piece for $59.99 is simple yet elegant and great for guests.
9. Fabulous flutes
Don't forget to keep champagne flutes on hand since the Plaza Hotel is known for having generous amounts of bubbly delight available for their guests to sip. Simple, understated glasses like the CB2 Muse flutes for $59.70 are ideal for any occasion, whether you're hosting a party or just craving a light happy hour.
10. Lined linens
When you think of hotels, especially spots like The Plaza, high-end sheets made of Egyptian cotton probably come to mind. Adorning your mattresses with sleek, sophisticated linens will make your bedroom look just like a suite at the coveted hotel. The Triple Luxe Sateen set comes in at $375 and boasts minimal trim that provides an elevated motif.
11. Boozy buckets
If you have flutes and the bubbly itself, the only thing missing is a champagne bucket to hold and display the goods. Choose a monogrammed vessel (preferably in gold) to keep your bubbles cold and your guests happy. This Mark and Graham is very Plazacore, costs only $175, and is absolutely necessary for such a delightful drink.
12. Well-to-do wallpaper
If you're considering options for your walls, the Plazacore trend usually sticks to neutrals and simple layouts rather than overdoing it. However, some hotel suites can create texture and dimension with a well-placed wallpaper, so incorporate an elegant design like this Graham & Brown $135 option for an engaging space.
13. Bountiful in brass
Don't ignore your fixtures and hardware, as these small pieces can be the difference between a full Plazacore ambiance and a glam theme. Pick brass or gold adornments like the Pearson Bathroom Hardware that will play into your other gilded items, making your entire space feel intentional and classic. The sets cost between $221 and $231.
14. Vivacious velvet
Velvet plays an important role in Plazacore, bringing texture to simple furnishings. Using this fabric for throw pillows and cushions will transform a room without making too loud of a statement. These Amazon throws for $12.99 are an easy way to channel the Eloise femininity of the theme, but any color that matches your upholstery works fine, too.
15. Winning wainscoting
This Etsy wainscoting not only invites depth and dimension into a room but offers a way to make your walls look opulent in an effortless way. For $454.02, you can create a break from the constant brought about by neutral color schemes, creating an engaging atmosphere without needing printed wallpaper or bright/bold accent walls.