The Property Brothers' Favorite Kitchen Trend From The Last 20 Years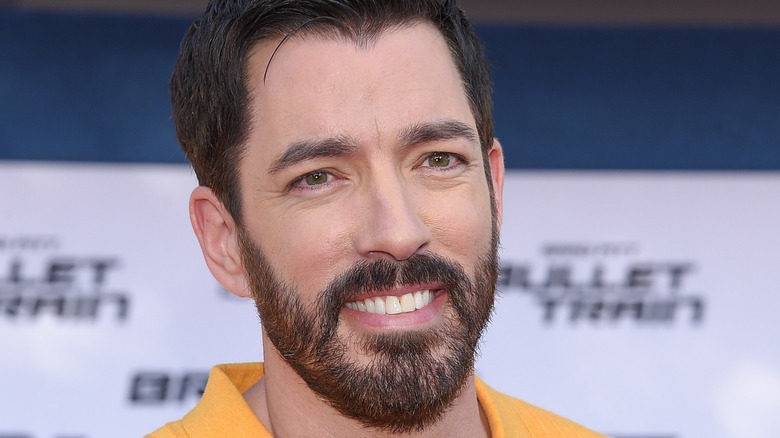 DFree/Shutterstock
Kitchens have become the hub of the home. These high-traffic rooms see traffic first thing in the morning, late in the evening, and sometimes throughout the day. Because of their important role in the home, many homeowners opt to remodel this room first and often spend the most money to create their dream kitchens.
There is one kitchen trend that has grown in popularity since it was invented and has quickly become a must-have favorite among designers and homeowners alike. Jonathan and Drew Scott from HGTV'S "Property Brothers" series consider the island one of their favorite features for modern kitchens, even opting to switch out peninsulas for islands in some of their client's homes, per Realtor.com.
For kitchens that don't already have an island, experts suggest leaving at least 42 inches of space between the island counters and the kitchen appliances and other cabinets, according to Synergy Builders. In some cases, your kitchen may need to opt for a smaller-than-average island to meet this criterion. Adding an island to a kitchen has plenty of benefits for both aesthetic and functional purposes, which is why it's one of the Scott Brother's favorite features.
Islands are the best kitchen upgrade
Justin_Krug/Shutterstock
With how popular kitchen islands are, it's hard to imagine a time when they weren't factored into the kitchen design. Though the concept of a kitchen island isn't new, their iterations in modern kitchens are relatively new. European homes in the 1800s had worktables that faced the hearth or stove, according to The Hall Design Group. Architect Frank Llyod Wright and chef Julia Child are often credited with the early kitchen island as a place where homeowners could prepare meals while still interacting with their guests.
This is still the main concept of modern islands, which create a central area to cook while keeping the chef open to other activities in the home. Drew Scott says on an episode of "Property Brothers: Forever Home," "At home, I live at the island. Whether it's sitting there eating breakfast, whether it's just hanging out, Linda's mom is visiting and loves cooking," according to Realtor.com. Central islands create a hub in the kitchen that often increases the room's functionality.
One of the main benefits is the extra prep space from the counters, according to Custom Home Group. It also allows you to house sinks, microwaves, and ranges that prevent counters from feeling too cramped. With the cabinets underneath, you can have extra space for deep storage, which can be great for large bowls, pots, pans, and baking sheets. Islands are also great for casual dining, entertaining, or for kids to do homework.