HGTV's Jasmine Roth Explains The One Thing You Should Never Do With Your Bathroom Floors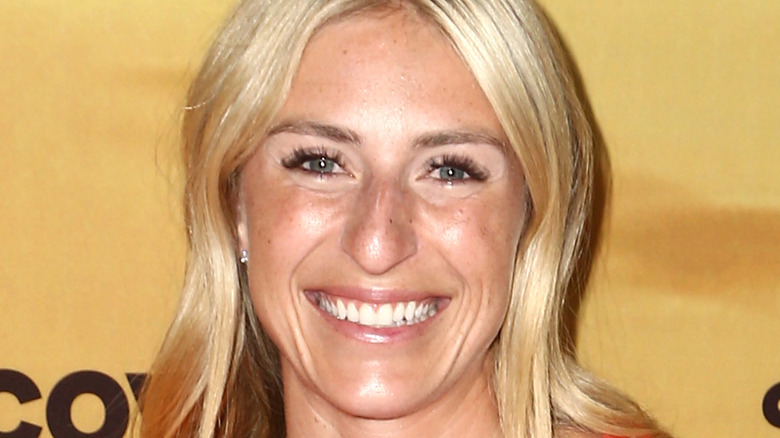 Tommaso Boddi/Getty Images
Jasmine Roth, home builder, designer, and host of HGTV's "Help! I Wrecked My House," is no stranger to seeing a diamond in the rough. In her original series for the network, "Hidden Potential," she remodeled residences from builder-grade blah to character-filled showpieces (via HGTV) with built-ins, custom cabinetry, and practical yet design-forward solutions. It was this sensibility as well as making strategic choices to increase the home's appraised value that clinched her win in the network's debut of the competition series "Rock the Block." 
The winning renovation includes the addition of a powder bath and ensuite bathroom for a den-turned-bedroom. "Adding bedrooms and bathrooms is the best way to add value to an appraisal," Roth told HGTV. The primary bath features a claw foot tub highlighted by mint green subway tile on the wall and floor, with the flooring transitioning to warm hardwoods. Guess what's not included in Roth's bathroom design? Carpeting. According to HGTV, Roth favors hard flooring over wall-to-wall carpeting without fail, invariably replacing it in favor of a durable surface during her renovations. Per Realtor, in an episode of her current show, Roth uncovers carpeting in a bathroom — a major foible. She removes it to reveal terra-cotta tiles for an almost immediate improvement. But for this design-conscious remodeler, it's not just an aesthetic preference.
Don't detract with this bathroom design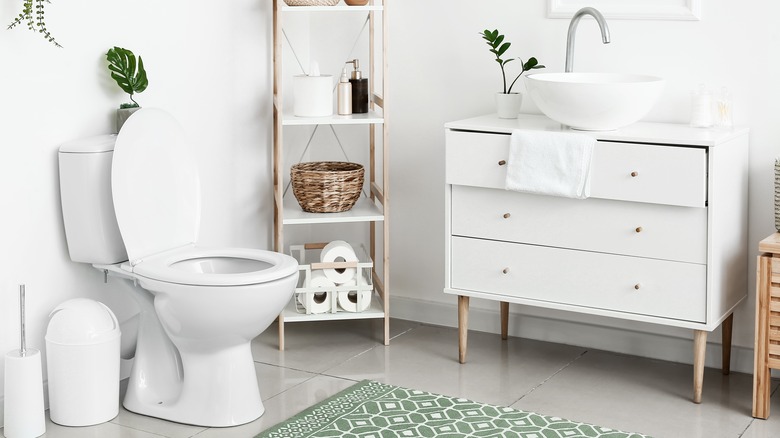 Pixel-Shot/Shutterstock
"A bathroom is a moist place, and carpet and moisture don't mix," Jasmine Roth explained to the homeowners in the "Empty Nester's Woes" episode of "Help! I Wrecked My House" (via Realtor). "The carpet looks like it's in great condition, but hopefully there aren't any surprises when we rip the carpet up," Roth added. EDC Professional Home Inspections lists shower steam, splashing water, and leaks as various ways moisture can enter a bathroom carpet. The pad can hold moisture near the subfloor, contributing to decay and weakening. This encourages mold growth, which can cause or irritate respiratory issues. 
A bathroom carpet's dense pile is an inviting environment for mold and bacteria, according to Home Stratosphere, and realtors and potential buyers shy away from it — a bad sign for resale. "Carpet in a bathroom is one that sticks out to me that goes into the outdated category," realtor and interior decor blogger Emily Schoen said in MLive. "When people see that it's like they're personally offended that it's there. Everyone is very grossed out." 
EDC Professional Home Inspections note that under commercial construction codes, bathroom carpeting isn't permitted. While home bathrooms don't experience the traffic of commercial restrooms, perhaps those guidelines offer a benchmark for their design regarding sanitary-friendly materials. Instead of wall-to-wall, consider an area rug, which can be placed farther from fixtures and removed for cleaning; and as Roth might agree, adds color, pattern, or softness without decreasing our home's value.