The Best Place To Live In Kansas
Mark Alexander/Getty Images
Kansas has much to offer those who live there. If you are considering buying a home in the state, it helps to get to know this beautiful, somewhat remote region of the country. Kansas is known for many things, according to Mover Junction, such as a low cost of living that's about 21% more affordable than the national average. Additionally, homes there tend to be reasonably priced as well. Kansas is known for its molasses-based barbeque sauce, local country clubs, and many recreational areas, including Botanica in the Wichita Park System, the Tallgrass Prairie National Preserve, and the Monument Rocks.
Which area of the state is the most desirable to live in, though? Do you want to live in a densely forested area, an agriculturally-rich smaller town, or decorate your city center apartment with tasteful urban decor? Across the board, one place in the state stands out from the rest as the best place to live in Kansas.
Overland Park ranks as the best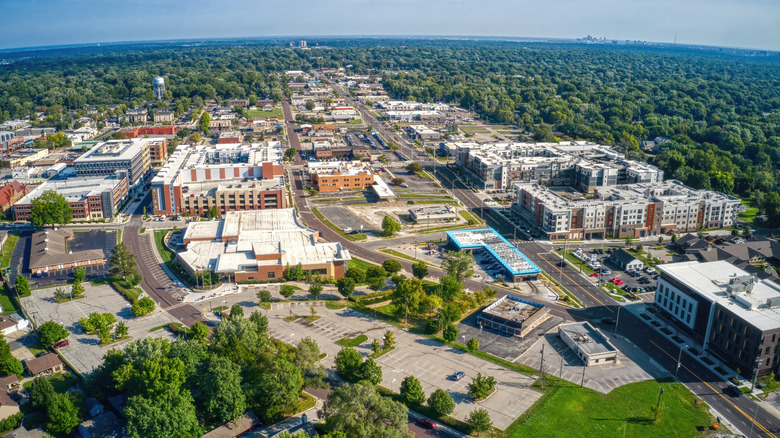 Jacob Boomsma/Shutterstock
Overland Park, the state's second-largest city, is Kansas's best place to live. With just over 199 thousand residents (per the Overland Park city website) and spanning 75.6 square miles, this city has much to offer to those living there. 
The median age in Overland Park is 37.9, with a median household income of $78,217, according to the state's data. Per Redfin, the median home sale price is $425,000, which is roughly on par with the national average (via Federal Reserve Bank of St. Louis).
Regarding the cost of living, Overland Park received a 107.9 rating from BestPlaces, which is over the U.S. average index rating of 100. While groceries, housing, and healthcare costs tend to be higher than the national average, transportation costs and utilities are lower. In addition, the average rent for a one-bedroom home is a thrifty $850, which is much lower than the U.S. average of $1048. However, while this city isn't the most affordable community in the state, it offers a higher quality of living and is desirable for other vital reasons.
The quality of life in Overland Park is exceptional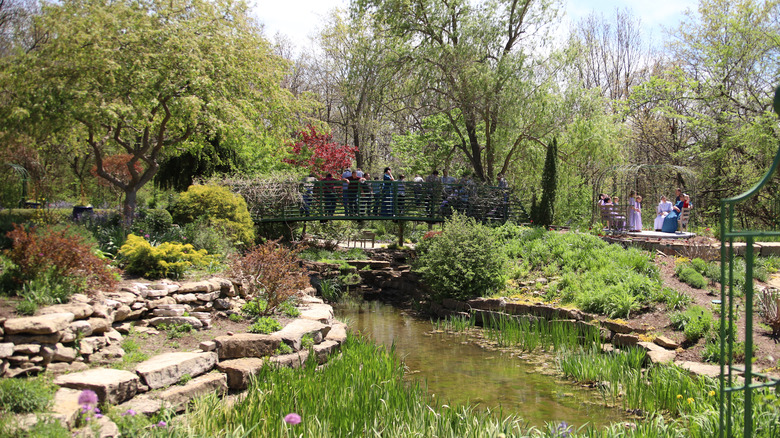 Wirestock Creators/Shutterstock
The city has lots to do, with numerous outdoor experiences, including the Overland Park Arboretum and Botanical Gardens with its 300 acres of hiking trails and native plants, and the Aubrey Vineyards, a perfect location for a sunset dinner with friends. In addition, the city has a variety of museums and educational establishments, including the Nerman Museum of Contemporary Art, The Museum at Prairiefire with its interactive dinosaur exhibits, and Deanna Rose Children's Farmstead. 
There's also plenty of shopping here (per Visit Overland Park), including the Overland Park Farmers' Market in the downtown area and Oak Park Mall, a two-level shopping center with luxury brands and kids' services.
For those who want to get outdoors and have fun, there's no better way to do that than with the 83 parks and open spaces in the city. There are playgrounds, areas for dogs, lakes for fishing, and lots of running, walking, and biking paths. The city also offers sports facilities such as baseball and softball fields, tennis and volleyball courts, and splash pads for hot days, according to the City of Overland Park. With a rich culture and exceptional amenities, buying a home in Overland Park could be an enriching experience.