The Best Place To Live In New Jersey
Resul Muslu/Shutterstock
New Jersey offers a lot of benefits to those who call it home, thanks to its location, amenities, and diverse economy. If you are considering moving to New Jersey, it may be because of the quality of life here. The state is noted for its high-quality education, with not just a top-rated public school system but also 63 private and public colleges calling it home. The state also has several well-respected hospitals. It has big and small businesses as well, including a large number of immigrant-owned companies, according to Choose NJ. A diverse state with numerous cultures represented, incredible access to the East Coast (from New York City to Florida), and beautiful natural areas, all help contribute to the value of living here.
Whether you currently live in New Jersey and considering a move to a new region or you are moving into the New England state, buying a home here can be a big decision. The key is getting to know the state and finding the ideal place to live. There's one city that's easily the best place to live in New Jersey.
Find a high quality of life in Princeton Junction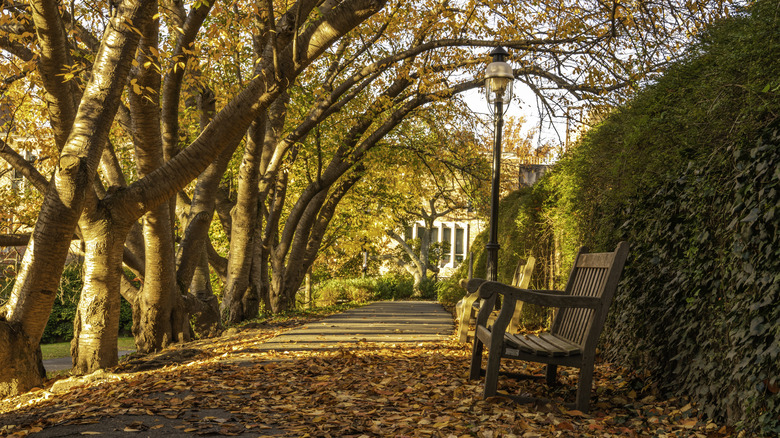 Leembe/Getty Images
Princeton Junction, NJ, is a small town with less than 2,000 people (via Niche). Located in Mercer County, it is consistently ranked as one of the best places to live in New Jersey. As noted by Long & Foster Real Estate, the city offers all the small-town feel you need while providing direct access to the larger cities nearby. It's possible to commute to New York City or Philadelphia, and getting away to the Jersey Shore for the weekend only takes a short trip.
The city offers a few special areas, including the Ronald Rogers Arboretum, a 25-acre park with ponds and several memorials, along with walking trails. It's also near the McCarter Theatre and the Princeton University Art Museum. Princeton Junction offers an excellent quality of life with many open green spaces and a quiet, more laid-back community. It also has numerous restaurants, including options for Asian fusion, Korean, Italian, and Indian. Small artisan and locally owned shops dot the landscape as well.
Cost of living in Pirnceton Junction
Luvemakphoto/Getty Images
New Jersey's cost of living is considerably higher than the national average, and Princeton Junction isn't exactly affordable. Yet, for the region, it's highly competitive. According to Niche, the median home value here is $543,500, and the median rent is $1,281, both of which are above the national average. About 78% of people own a home here. The median household income in the city is $228,357. Best Places offers additional insight into the overall cost of living here. On a scale where 100 is the national average, Princeton Junction ranks at 154.4, with the cost of groceries, housing, and transportation being significantly higher than the national average. Healthcare costs and utilities are closer to average. 
The city is also noted for its good school districts and beautiful parks. It has a dense suburban feel, with sidewalk-lined streets and separate residential and commercial districts. Buying a home in Princeton Junction could be a solid decision for those looking to stay close to NYC, with more of a suburban feel.