We Tried The Cheapest Sound Machine At Bed Bath & Beyond. Here's How It Went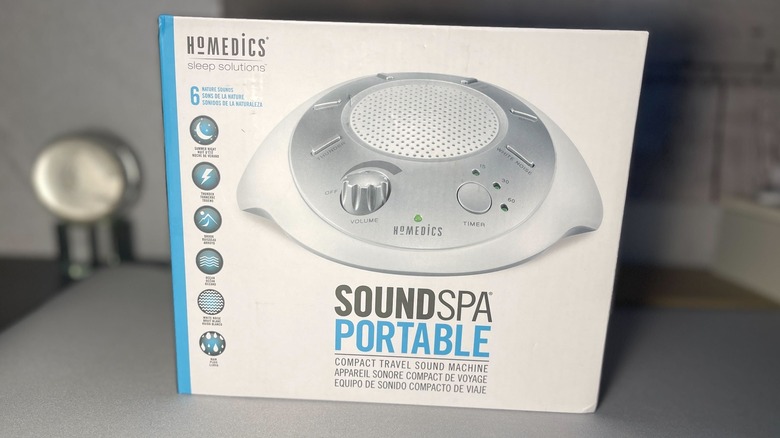 Diana Vilic/House Digest
Sleep is one of those things that virtually everyone has thought a lot about, and we'll do anything to help us get a better night's worth of it, whether that's buying new sheets, taking vitamins, or optimizing our bedroom for restful repose. Plus, if you live in a noisy area or travel often, you've probably looked into different ways to wake up feeling rested, regardless of your circumstances. One of the easiest ways is a sound machine. According to Poosh, these devices are sleep aids that emit various noises, and are often used to drown out disturbances like street noise, snoring, or sounds in nearby rooms.
When we heard this, we knew that it was worth testing; immediately we scoured Bed Bath & Beyond to look at their stock. Some sleep machines were small and compact but didn't have many options for the noises that they offer, while others were larger and more decorative with different audio, pitches, and volumes. We decided to settle on the cheapest model they had in stock: the HoMedics SoundSpa Sound Machine, $24.99 at the time of purchase.
Cost and machine details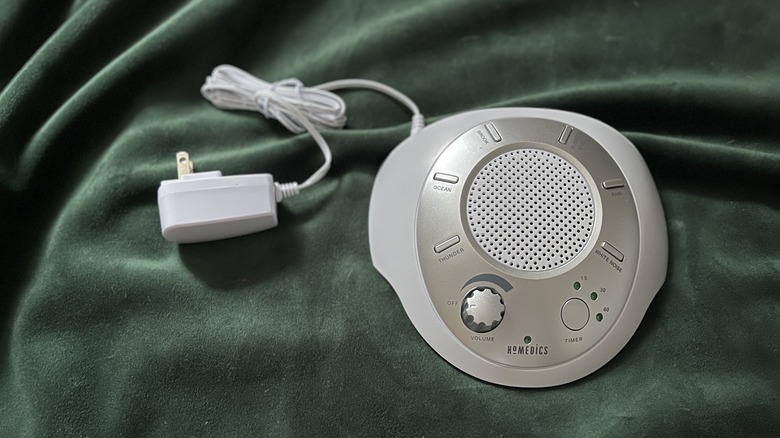 Diana Vilic/House Digest
Inside the box for the HoMedics SoundSpa Sound Machine was the machine, a wall plug, and a user manual. On the machine itself is a simple volume dial, timer buttons, and buttons that allow you to pick what you want to hear. The options range from white noise, thunder, ocean, rain, summer night, and a brook.
The HoMedics SoundSpa Sound Machine can be operated using four AA batteries or the provided power cable, making it suitable for travel. It also has an auto off timer that can be set to 15, 30, or 60 minutes.
Compared to other inexpensive models that Bed Bath & Beyond offers, this option has a nice blend of portability and customization. Unlike other compact machines that are under $30, it offers multiple sounds, volume control, and a sleep timer. While this model does lack the smart and Bluetooth components that others have, it is very light and can be placed into a bag for portability.
Testing it out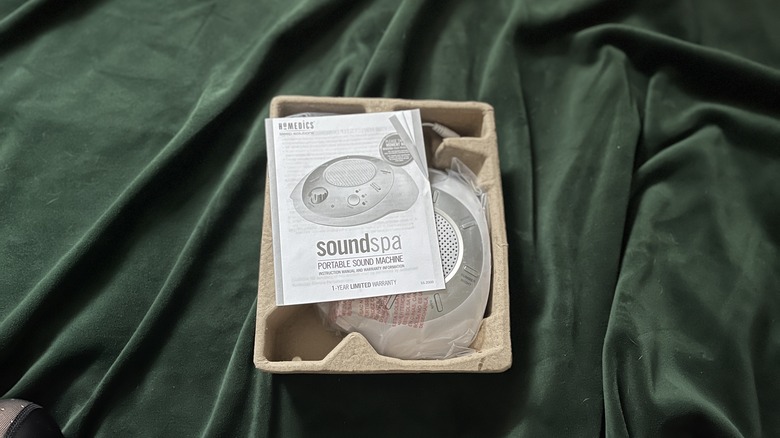 Diana Vilic/House Digest
To test the HoMedics SoundSpa Sound Machine, we gave it to three separate people who live in different environments with individual sleep needs and preferences. We asked them to rate the usability, the sound quality, and how the device compares to free audio from the internet.
One night the participants were asked to use the HoMedics SoundSpa Sound Machine, and another they were asked to select a YouTube video with sleep audio of their choosing. During this test, the participants were asked to pay careful attention to how well both options drowned out noise. One lives on a busy street, another slept during the afternoon and needed to drown out people downstairs, and the last wanted to cancel out the sound of snoring in the next room. 
Although they were not asked to check the durability of the machine, there were a few mishaps and accidents that occurred.
How it exceeded our expectations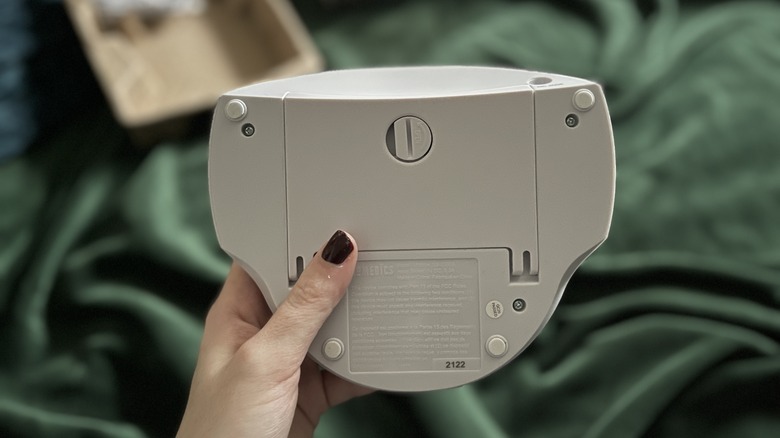 Diana Vilic/House Digest
The HoMedics SoundSpa Sound Machine is precisely what we expected. It blocks out snoring, traffic noise, and people in other rooms. Additionally, it is incredibly easy to transport and much more durable than we expected for a product under $30. While no machine is made to be constantly dropped off of a shelf or bedside table, a few of our participants accidentally bumped it off theirs or placed it inside of a bag under heavy items. Surprisingly, the device was able to hold up. Furthermore, everyone we gave the sound machine to said it was incredibly easy to set up and pack up, even with minimal instructions.
Our participants were pleased with how many audio options they had to choose from and liked that the volume was adjustable as well. They also appreciated that it was easy to use; unlike some high-tech machines, this one has the interface readily accessible to users. The battery or power cable option is also nice when traveling.
What we'd change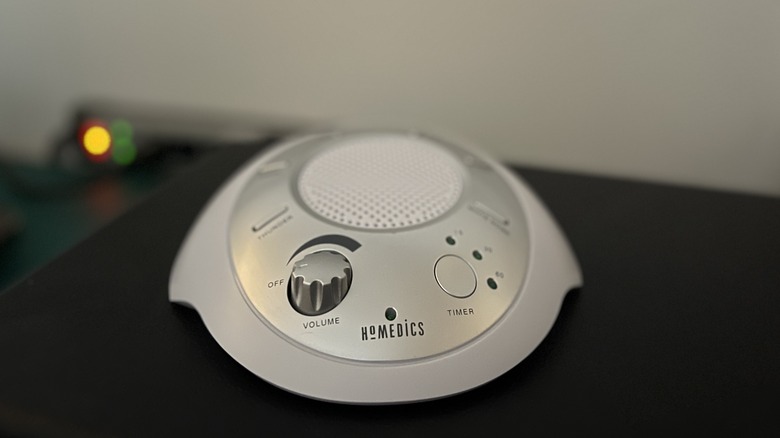 Diana Vilic/House Digest
The HoMedics SoundSpa Sound Machine is a basic model with no bells and whistles. It doesn't claim to have any and at its price point, it isn't reasonably expected that it will. That being said, there are things we want to change about this product.
First, all the audio loops every five to seven seconds continuously, while other models at higher price points seamlessly loop sounds over longer periods of time. That's why the loop for this device is incredibly noticeable. Additionally, while the battery function is a great feature to have for people who travel, the compartment uses a coin lock mechanism, which limits its usability. If you're someone who struggles with holding small objects, that feature will be very difficult for you to deal with. Instead, it would be much better to have a rechargeable option or a normal battery compartment without a complex lock mechanism.
Most importantly, the sound quality isn't that good. While the machine does the job, we'd argue that its quality is comparable to devices at this price point 10 years ago. We don't think that's justifiable — even at this low cost.
Would we buy this again?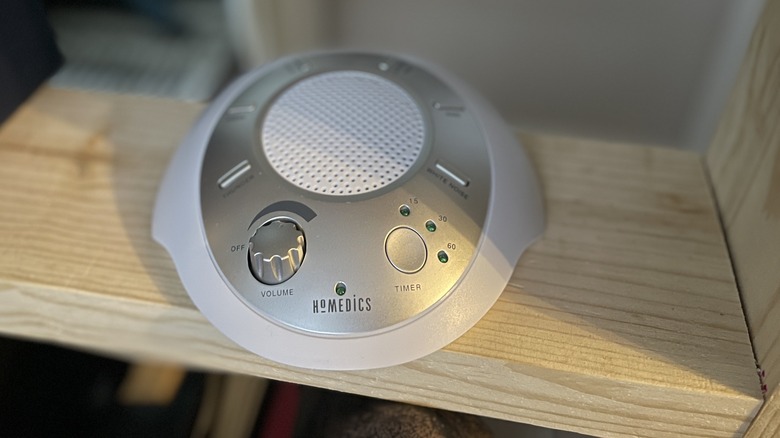 Diana Vilic/House Digest
If the HoMedics SoundSpa Sound Machine was the only option available at an airport or hotel gift shop, we'd purchase it again. But if we had a choice, we wouldn't. While this device that retails for $24.99 does exactly what it says it does, its competitors offer sound machines with more functions, better quality, and even Bluetooth capability for under $50. Because the price points are so close together, the HoMedics SoundSpa Sound Machine is not something we'd recommend to a friend.
While the portability and user-friendly features are nice in this lower-end model, there are competitor products that are designed to be carried in your pocket; they also offer better sound quality and a rechargeable battery for under $30. Then there are free options, like YouTube videos or apps, which can offer the same quality audio if not better. Why spend the money at all when you can get that for free?