This Simple Trick Will Help Make Your Christmas Tree Look Fuller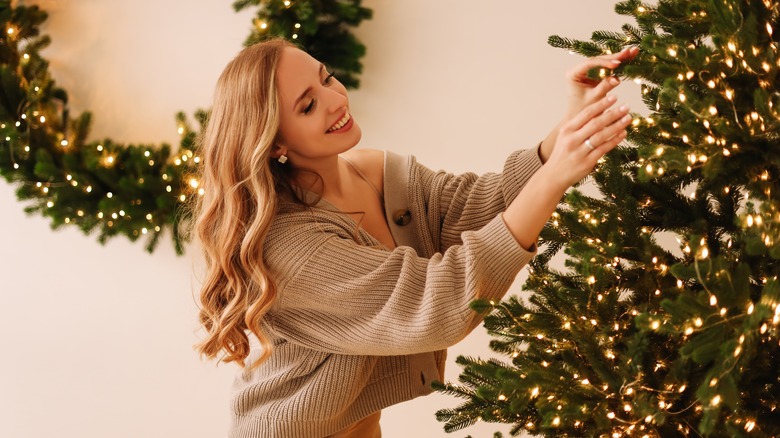 Elizaveta Starkova/Shutterstock
We may receive a commission on purchases made from links.
Before you can start placing ornaments on your Christmas tree, there's a less enjoyable step you need to complete: Fluffing the branches. Though fluffing is not the most fun task, it's an extremely important part of making your tree appear as full as possible. Career Girl Meets says that you should spend between 30 minutes to 2 hours rearranging the branches. When doing this, they recommend wearing gloves, as pine needles can be quite sharp.
However, even after you've taken the time to reposition every branch and cover up those inevitable gaping holes, your tree may still look a bit empty. Maybe you purchased it online, and the pictures didn't match reality. Or, perhaps the real evergreen you chose at the farm had a huge hole you somehow missed.
Whatever the case, there's no need to fret, as there are two simple tricks to make your tree appear fuller, and both have to do with filling in the branches with extra greenery.
Wrap garland around the trunk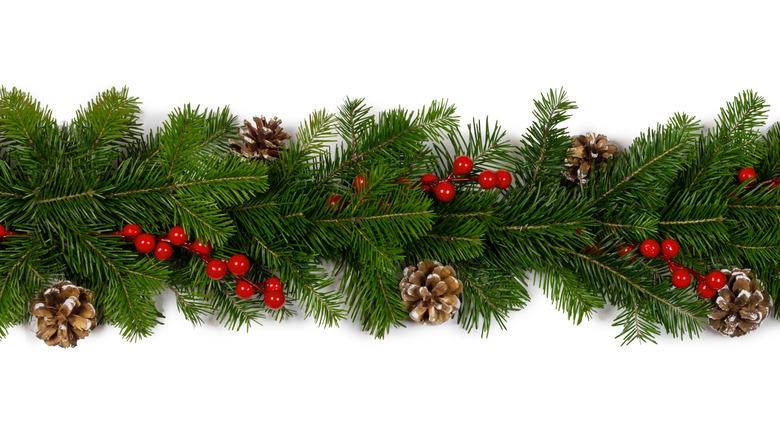 Yellowj/Shutterstock
The first way you could create fullness is by wrapping strands of pine garland around the trunk, adding depth to the inside of the tree. When doing this, don't feel like you need to choose garland that's the exact same green tone as the rest of the branches, as contracting shades would add interest, per Our Repurposed Home. However, a darker tone than the rest of the needles may look more realistic than a lighter one. If you're searching for some options, you could choose a simple design like this garland from Target or one with decorative berries and pinecones like this choice from Target. 
Garland can be added to the tree in a number of ways. Worthing Court recommends wrapping it diagonally around the entire tree. Another option you could try is starting at the top and meandering it around various branches while moving downwards on each of the tree's sides. When doing this, make sure you shove the garland as close to the trunk as possible. 
Push branches into the gaps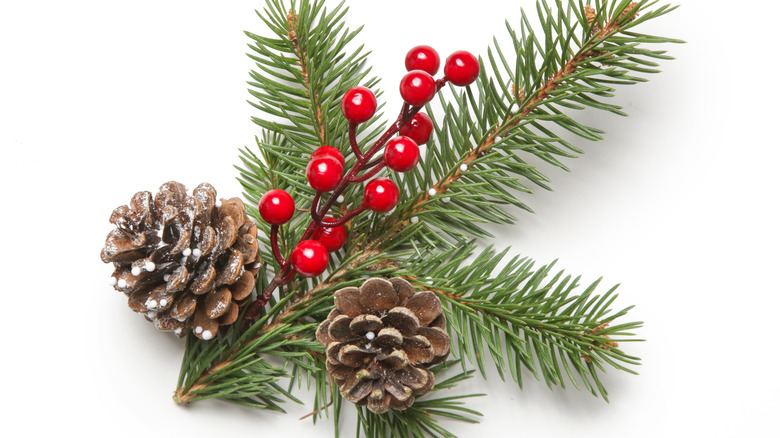 Triocean/Getty Images
On the other hand, instead of using a strand of garland, you could push individual branches into any gaps. This would be the best solution for those who want more volume on the outside of the tree. However, when doing this, keep in mind that unless the branches are secured to the tree, they may not be strong enough to hold ornaments. 
Just like garland, your branches shouldn't perfectly match the rest of the needles, and contrasting tones will create a more realistic look. You can either use natural pine branches like these from Amazon with a fresh scent or artificial branches such as these from Amazon that could be used for years to come. Further, picks come in many different colors and appearances, per Worthing Court. To take a more decorative approach, choose ones that look like red berries, pampas grass, or floral. Kirkland's recommends placing them in different directions, dispersing them evenly throughout the tree, and decorating with them in the rest of the room for a cohesive design.